Cozy Living Room Ideas for the Hygge Home
Hello my friends! Don't you just love being cozy? The Danish hygge movement of intentional coziness has become a phenomenon in the USA! Today I'm sharing cozy living room ideas that you can incorporate on a budget!
This post may contain affiliate links where I earn a small commission on your purchases.
Cozy Living Room Ideas for Hygge Enthusiasts
Once Christmas has passed and winter is upon us I dive deep into cozy living room ideas to warm up my family. Michigan winters are long and tedious so creating a welcoming and cozy living space is a goal of mine. Here are a few simple tips for creating a hygge home with intentional coziness. (You can see more about the hygge movement here.)
Pillows & Blankets
What would winter be without a plethora of pillows and blankets? Some may say that throw pillows are impractical and just for looks. I'd say….come join me at my home for a day. 😉 Not only do we fully use our throw pillows for comfort, they also make a mean weapon for the occasional pillow fight.
One of the easiest ways to purchase pillows that are extra cozy is to look for soft and rich textures, oversized shapes, and high pile fabric.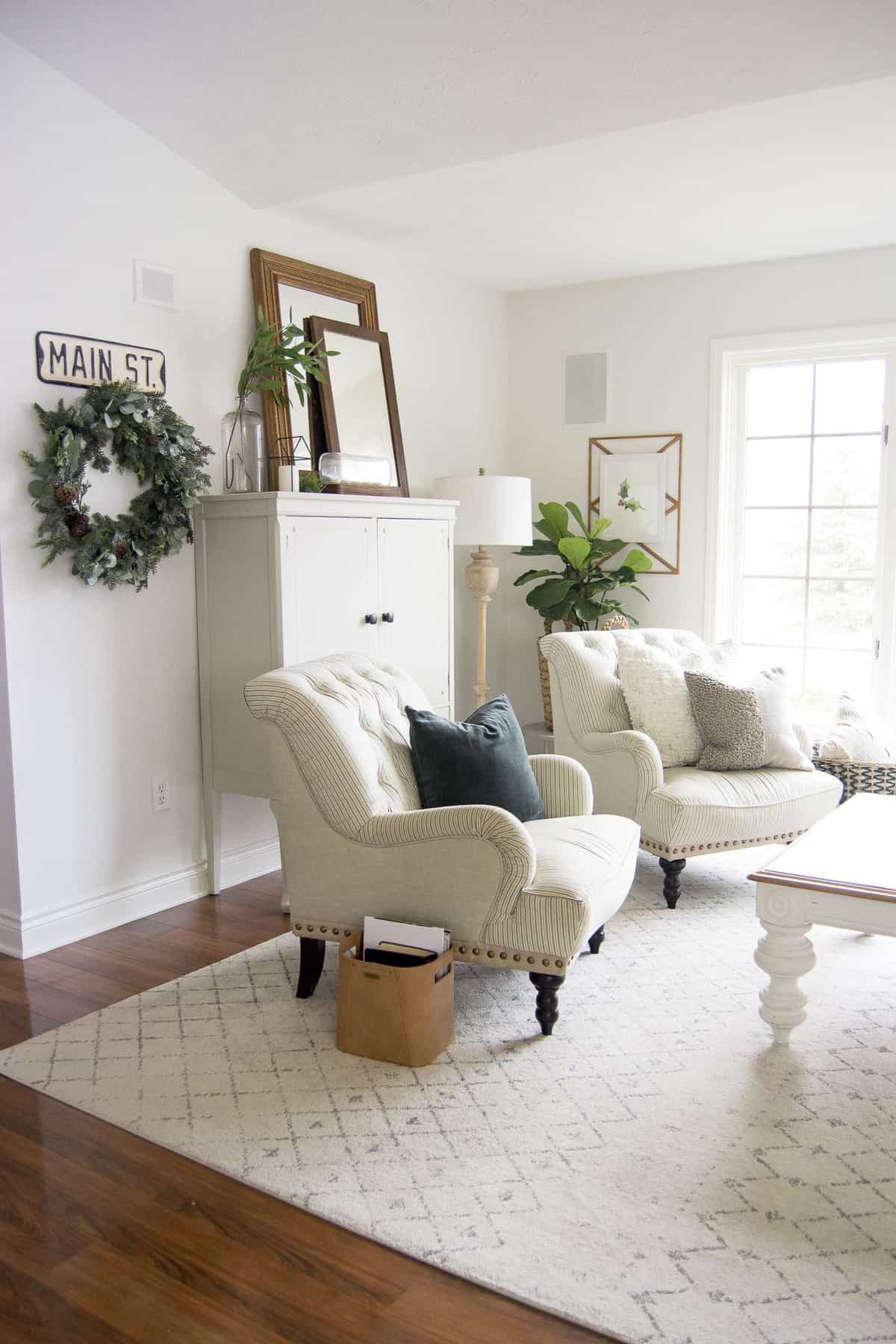 Velvets, linen and cotton are the best cozy fabrics. Considering the sensory feeling of touch can be an intentional way to incorporate cozy living room ideas.
Favorite Cozy Pillows

I also love blankets for their obvious function and also stylish addition to a living room. I am often asked for a blanket from guests because of our large, and sometimes drafty, house. Being able to provide that comfort to them with something that is beautiful helps meet my goal of having an inviting home.
Favorite Cozy Blankets

Soft Rugs
With carpet becoming the less-often chosen flooring source, area rugs are a great way to add cozy to your living space. Choose a rug with a soft pile for comfort and a wool blend for easy clean up. Our living room rug has been my favorite for quite a few years now and has held up remarkably well for its light coloring!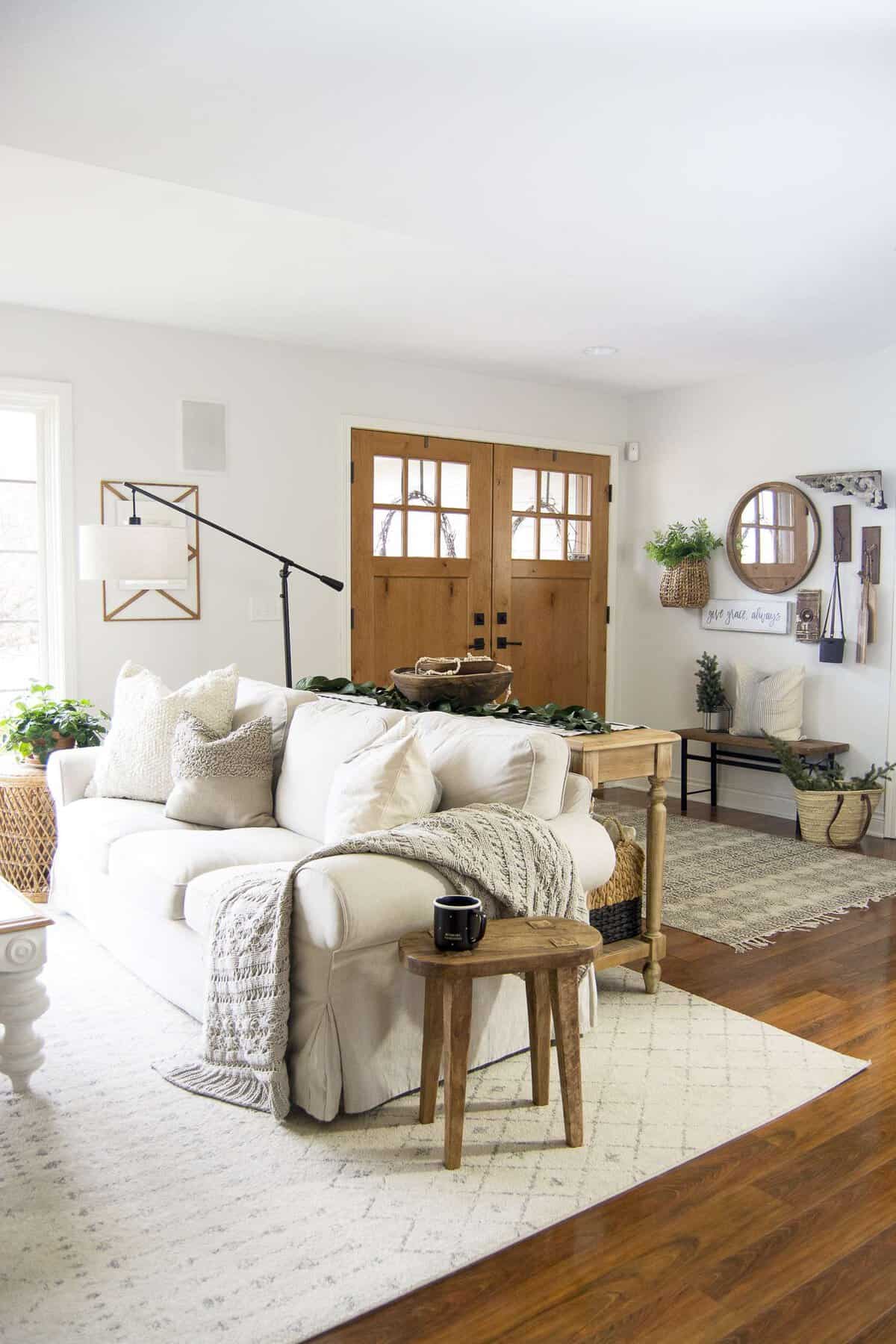 I stick to neutral rugs often because they can complement the rest of my decor easily. However, area rugs can easily be an amazing way to add life and color to a space that isn't a permanent addition like paint colors or large furniture.
Favorite Affordable Cozy Rugs

Greenery
Another way to add cozy living room ideas is to incorporate greenery. Whether you are a plant lover or choose to go faux, greenery is soothing because of its natural textures and colors.
If you're looking for some easy care plants, I've rounded up my favorites here for those who want to incorporate live plants indoors. If you're more of a faux lover, my favorite faux foliage and florals are rounded up here.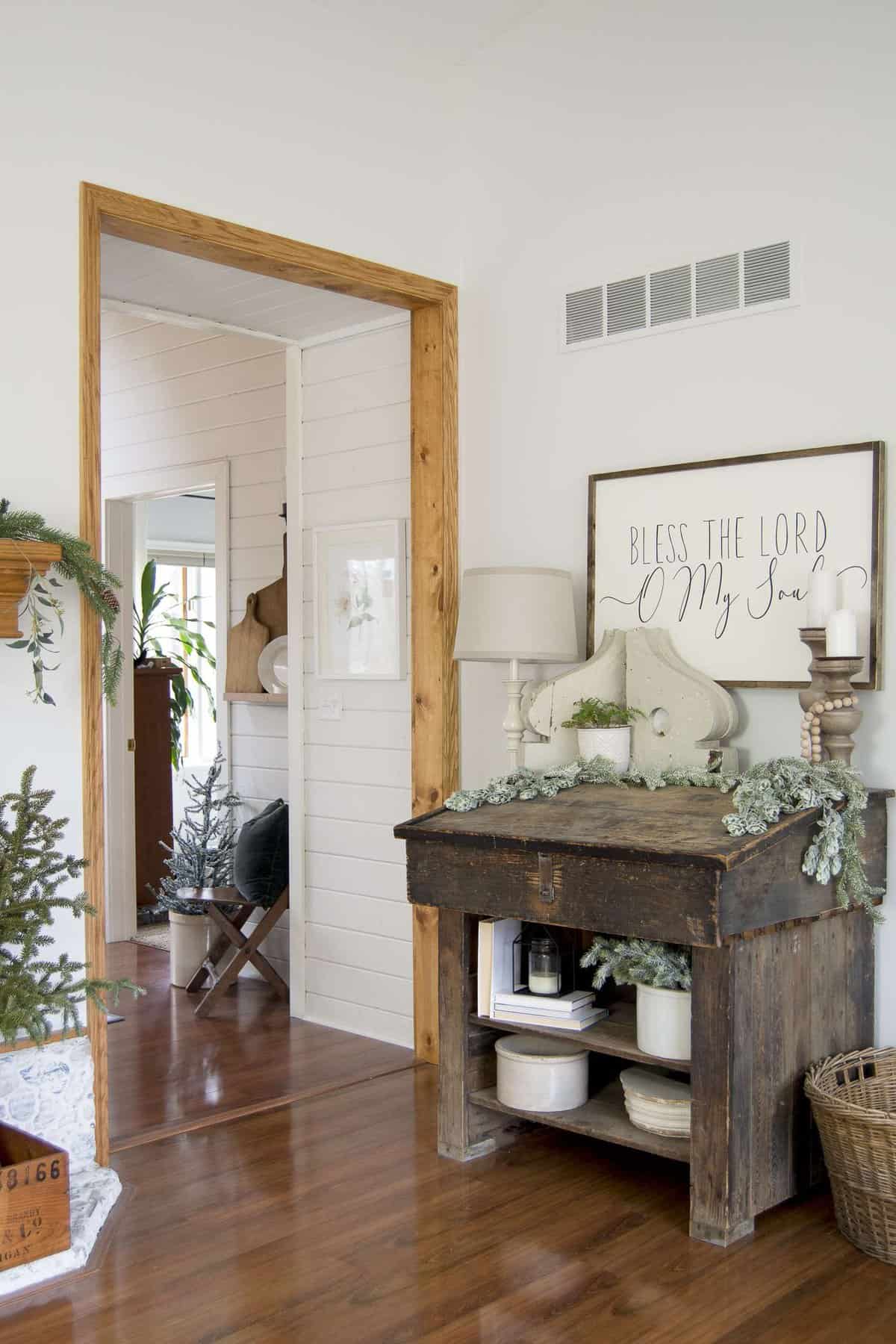 Soft Lighting
The final way to incorporate cozy living room ideas is to add soft lighting. This can be through lamps, candles, dimmer switches, or shades. Casting that soft glow has a calming effect on even the bitterest cold days of winter.
I hope these tips on cozy living room ideas have been helpful to you as you endure these long winter months! Spring is just around the corner my friends. Hang tight, the sun will reappear soon. 😉