Key Elements of a Modern Farmhouse Bedroom
Do you love a combination of modern, cottage, and farmhouse design styles? Today I'll be teaching you the key elements that make a simple modern farmhouse bedroom!
Ever since Joanna Gaines hit the screens the modern farmhouse movement has been strong in the design world. But what makes up the key elements of the modern farmhouse design style? And how do you accomplish it in your own home? These are the questions I'll be answering today, using my modern farmhouse bedroom as an example!
This post may contain affiliate links where I earn a small commission on your purchases.
Modern Farmhouse Bedroom
When we first moved into our home I completed our bedroom accent wall with this simple board and batten (tutorial here). This was the first step in my design move towards the modern farmhouse style. Over the next year I've added different elements to continue to combine two of my favorite styles: modern and farmhouse.
Here are the key elements to look for as you consider incorporating this style into your own home!
Key Modern Farmhouse Elements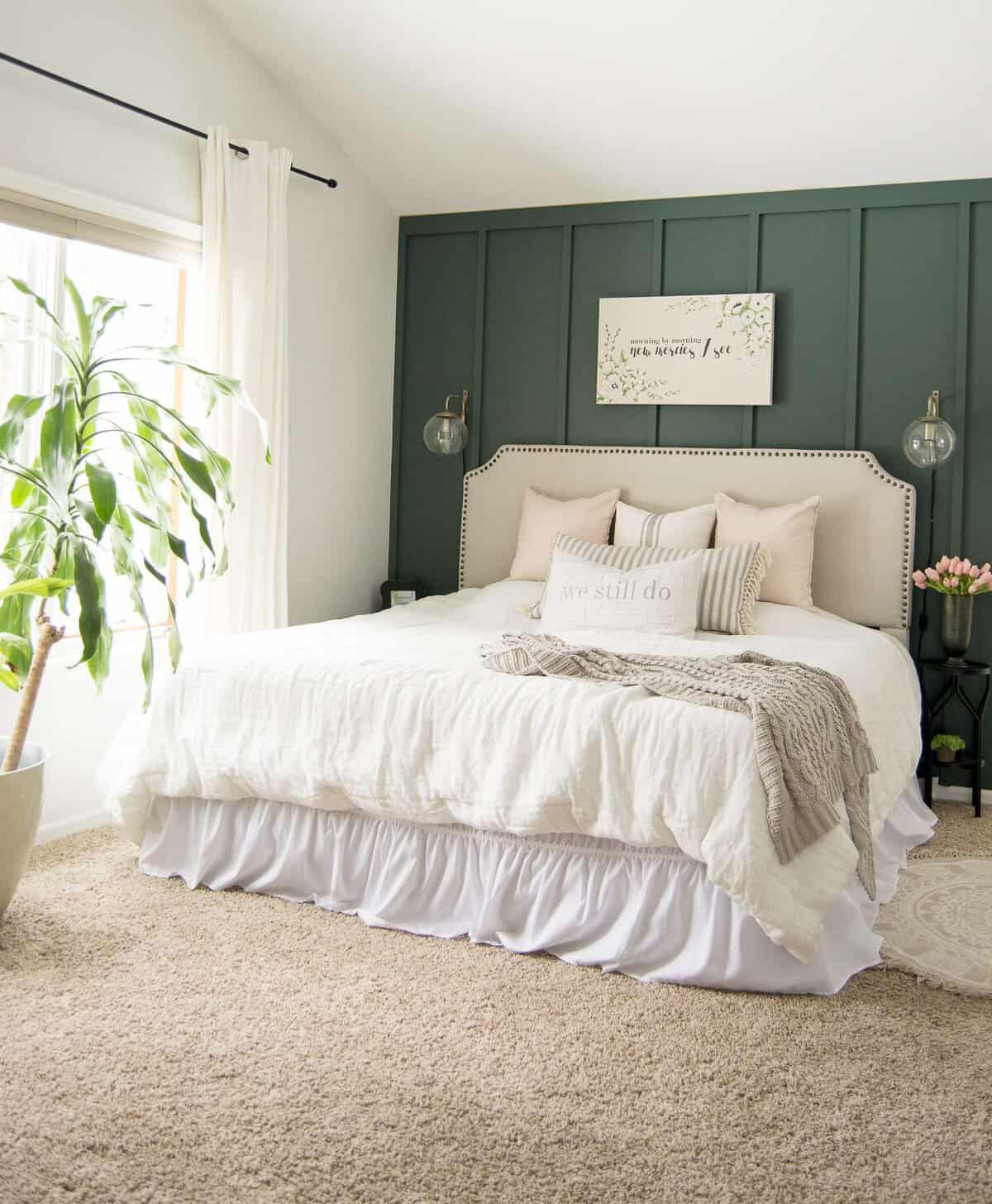 Farmhouse Style Elements
The farmhouse design style includes several sub categories. Cottage style, primitive elements, and natural living are large themes for farmhouse lovers. In my modern farmhouse bedroom I've added farmhouse elements with casual bedding, simple lines, and an organic palette.
Shop Farmhouse Style

The cozy bedding and soft textiles tone down the modern elements I'll talk about next. This space was designed to be a retreat for authentic living and inviting rest. The feeling that you get from this space is the feeling that farmhouse design lovers are seeking: nostalgic and casual for a place you want to gather in.
Modern Style Elements
On the other hand, the modern design style is more clean cut, artistic, and functional. The high contrast of my deep green accent wall (in Regal Leaf by Magnolia Home), compared to the soft natural tones of the rest of the room is a nod towards modern design.
In addition, the brass wall sconces help to heighten the design of the modern farmhouse bedroom because of their sleek design.
Shop Modern Style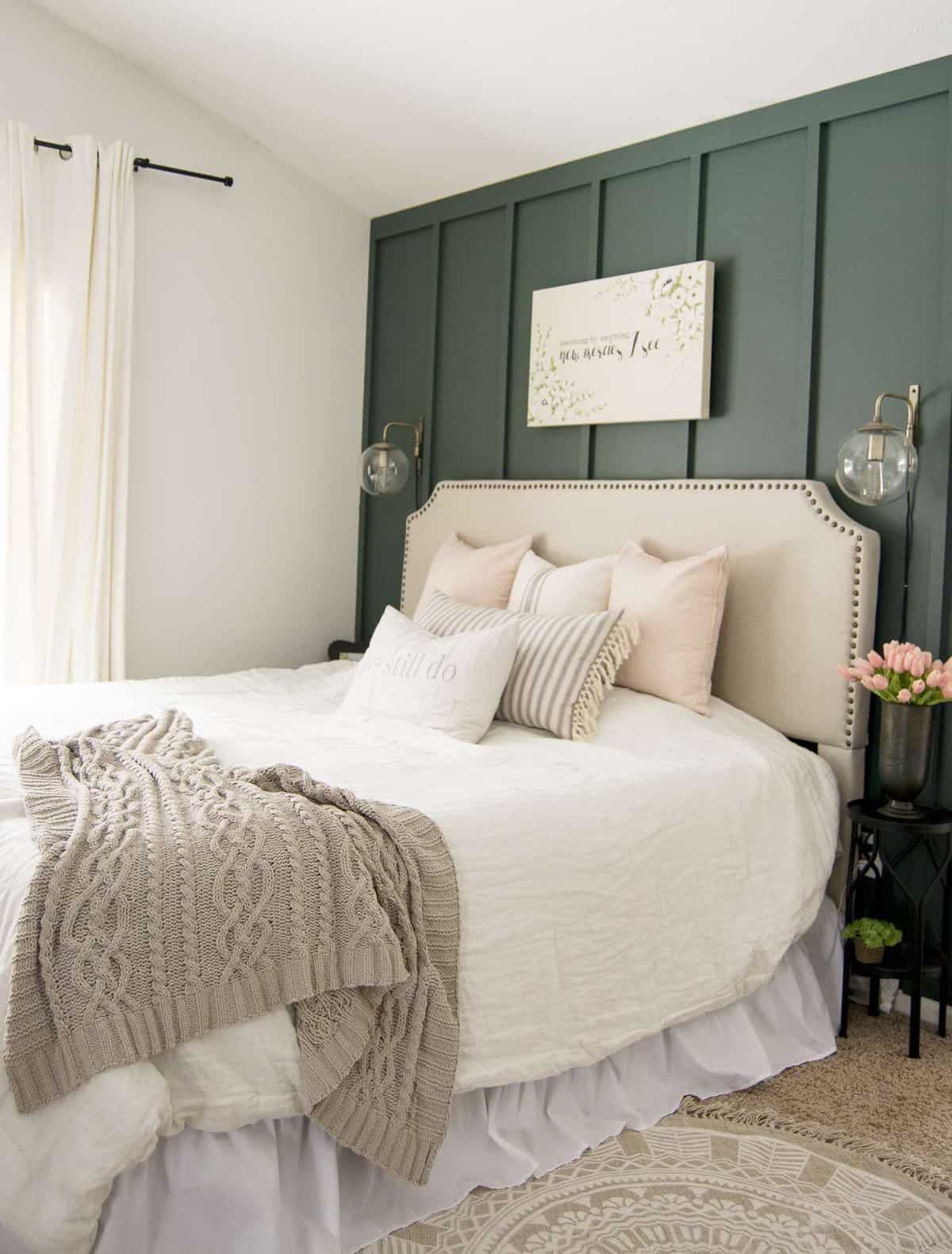 Modern Farmhouse Style Elements
So, as we look at both the modern and the farmhouse styles separately, we can see a distinct difference. One is organic and aged while the other is edited and straightforward. However, the beauty comes in the combination!
It is a lovely mixture of past and present, comfort and clean lines, welcoming and functional.
It is also one of the easiest design styles to accomplish because the mixture of two contrasting styles allows you to get creative and doesn't put a box around design. You can stretch your boundaries using the modern farmhouse style without feeling like you've changed directions.
I hope that this look at the key elements of a modern farmhouse bedroom has been helpful for you! Take these simple themes and incorporate them into any space you're designing for a beautiful result.
For more information on implementing your design plans, please check out my book, Designing a Life: From House to Haven. This 10 step method takes you from dream to reality by helping break down the process of design and changing your mindset towards creating a haven.