So you want to become a blogger. I am SO excited for you! In 2017 I started Grace In My Space and it has been a blessing everyday since. It has also been filled with trial, learning opportunities, and hard work. But along the way I continually encountered blogging courses that left me feeling lost. So I've created a Masterclass Blogging Course that guides you from beginner to advanced with a simple progression of knowledge, because I want to help you succeed.
What makes my blogging course unique? I won't tease you with a golden nugget and then hide the ketchup. I want to lay it all out for you so that you have a solid foundation to start and grow your business from beginner blogger to advanced.
Masterclass Blogging Courses
I want you to walk away from my course with actionable steps to keep your business moving forward. The best blogging courses provide a guide for you to always be taking the next step towards success. In this course you'll learn:
Basics of How to Start a Blog
How to Pick a Niche
What it Takes to Build a Blog (the technical stuff)
Cost of Running a Blog
Content Creation
SEO Basics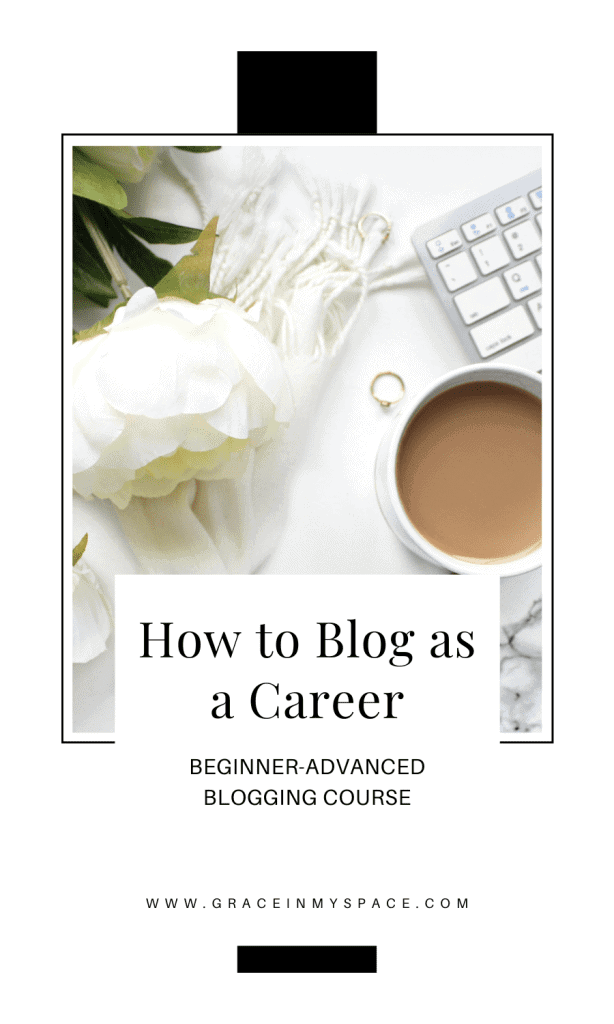 Intermediate Blogging (Coming Soon)
How to Craft Your Brand
Time Management
Project Planning
Photography & Video Tips
Promotion Guides

Email Marketing
Social Media Development, with special focus on Instagram and Pinterest

How to Deal with Burnout
Advanced Blogging (Coming Soon)
Profitability
In Depth Brand Collaborations Guide
Media Kits
Knowing Your Worth
Pricing Yourself Fairly
Selling Your Own Products
Long Term Planning
About Me
If you're new to Grace In My Space, I thought I would share a few notables about my journey. I started my blog in 2017 with zero knowledge of blogging and zero formal education in interior design, which is my main niche. Since then, God has blessed me with some amazing opportunities!
Had the privilege of working with over 200 brands
Grown my audience to over 200,000 across Grace In My Space platforms
Established a successful blog with a full time income
Published my first book, Designing a Life: From House to Haven
Published in 2 magazines

June 2021 Issue: Feature & Cover in American Farmhouse Style Magazine
Dec. 2019 Issue: Featured in Country Sampler Farmhouse Style Magazine

Awards

Amara Interior Blog Awards Winner: Best Home Styling Blog 2019
Amara Interior Blog Awards Shortlist: Best Home Styling Blog 2020
The Makeover Centre: Best Interior Design Instagram 2020 Award
I say none of this as bragging rights, but rather to show that if you are like me and are entering the blogging world with zero knowledge, you can achieve great things too! And my online blogging course will guide you along the way.
I am also a perpetual learner, so as the industry changes, I want to constantly adapt my business as well, and teach you how to do the same.
Sarah Symonds in a Nutshell (That's me)
Blogger, Grace In My Space {Living & Designing in Grace}
Momma and Wife
Interior Stylist, Homemaker, DIY Adventurer & Small Business Owner
Former Director of Digital Marketing for a University
Education: Masters of Business Management