Styling A Rustic Barn Beam Mantel with Modern Farmhouse Mantel Decor
Barn beam mantels give a home so much character and warmth! Today I want to share how to easily modernize a rustic mantel with modern farmhouse mantel decor!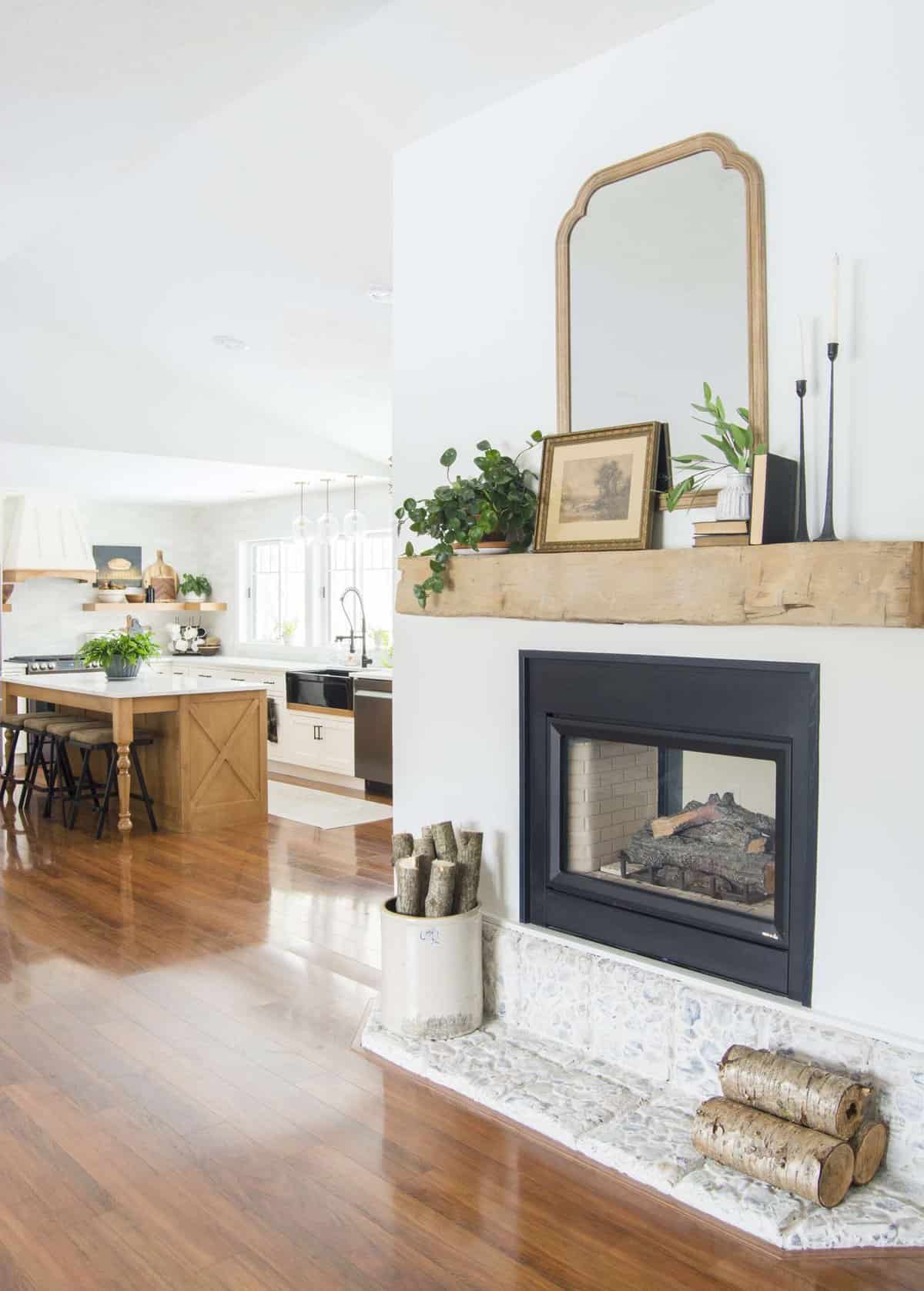 This post may contain affiliate links where I earn a small commission on your purchases.
Modernizing a Rustic Barn Beam Mantel
If you'v been following along with me for any length of time, then you know that we recently installed our own authentic barn beam mantel. I absolutely love the warmth and character that it adds to our 90s home!
However, having a rustic mantel as the focal point of our more modern farmhouse style home can be tricky to style! So today, I'll share a few tips for how to modernize a rustic mantel with modern farmhouse mantel decor!
You can also download my free guide to mantel styling below!
Modern Farmhouse Mantel Decor Ideas
The first step in styling your mantel is to choose a focal point. For all of my examples, I'm using this modern farmhouse style mirror.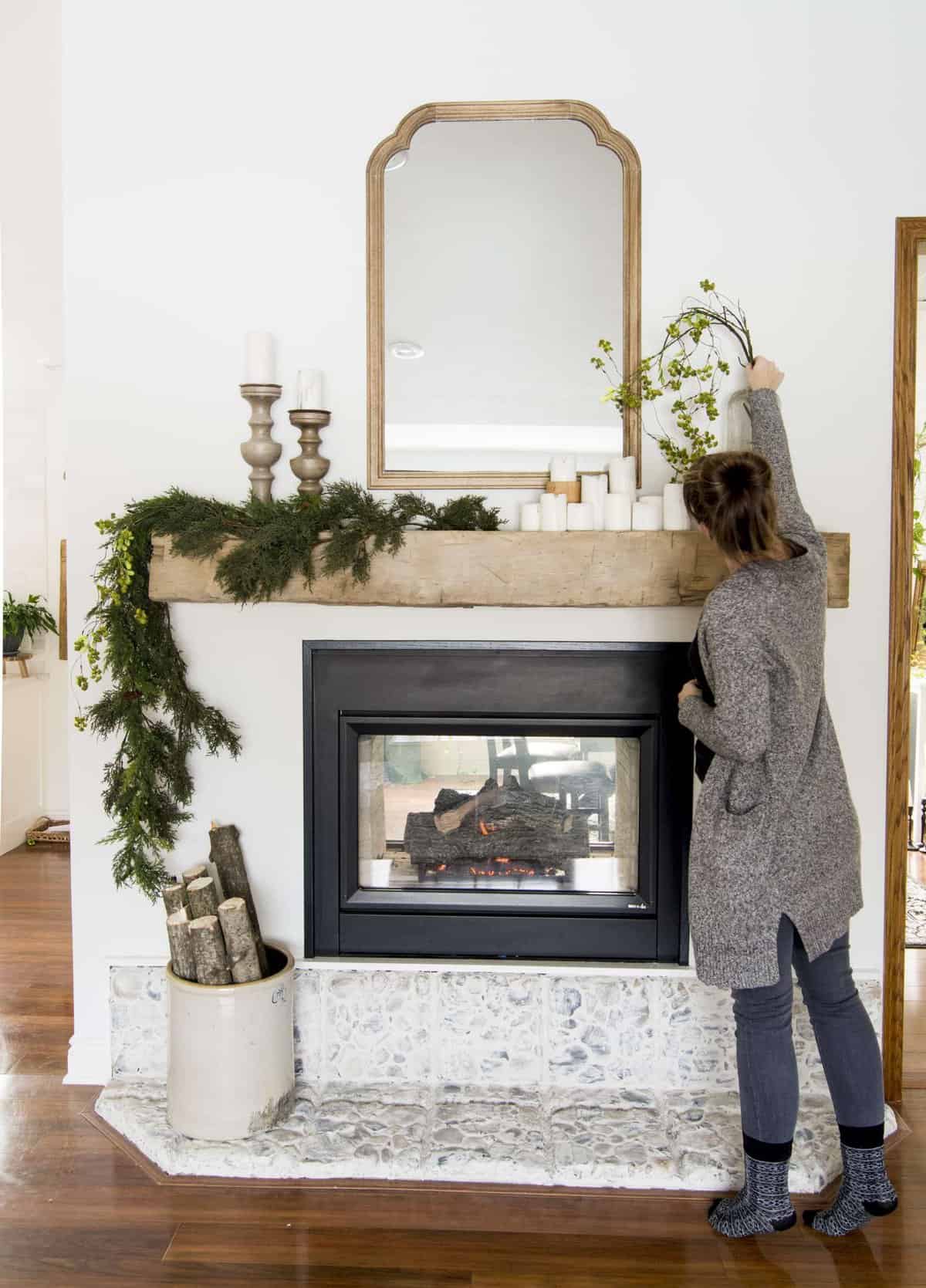 For winter, I love adding lush greens. The asymmetrical style garland is popular right now and I love that it allows me to balance my decor. I can add more heavily to one side because the garland makes such a statement on the other side.
Modern Farmhouse Staples
So, let's talk about modern farmhouse style decor staples. They are basic yet classic.
plants
wood elements
vintage prints
candles
greenery
books
vases/bottles
mirrors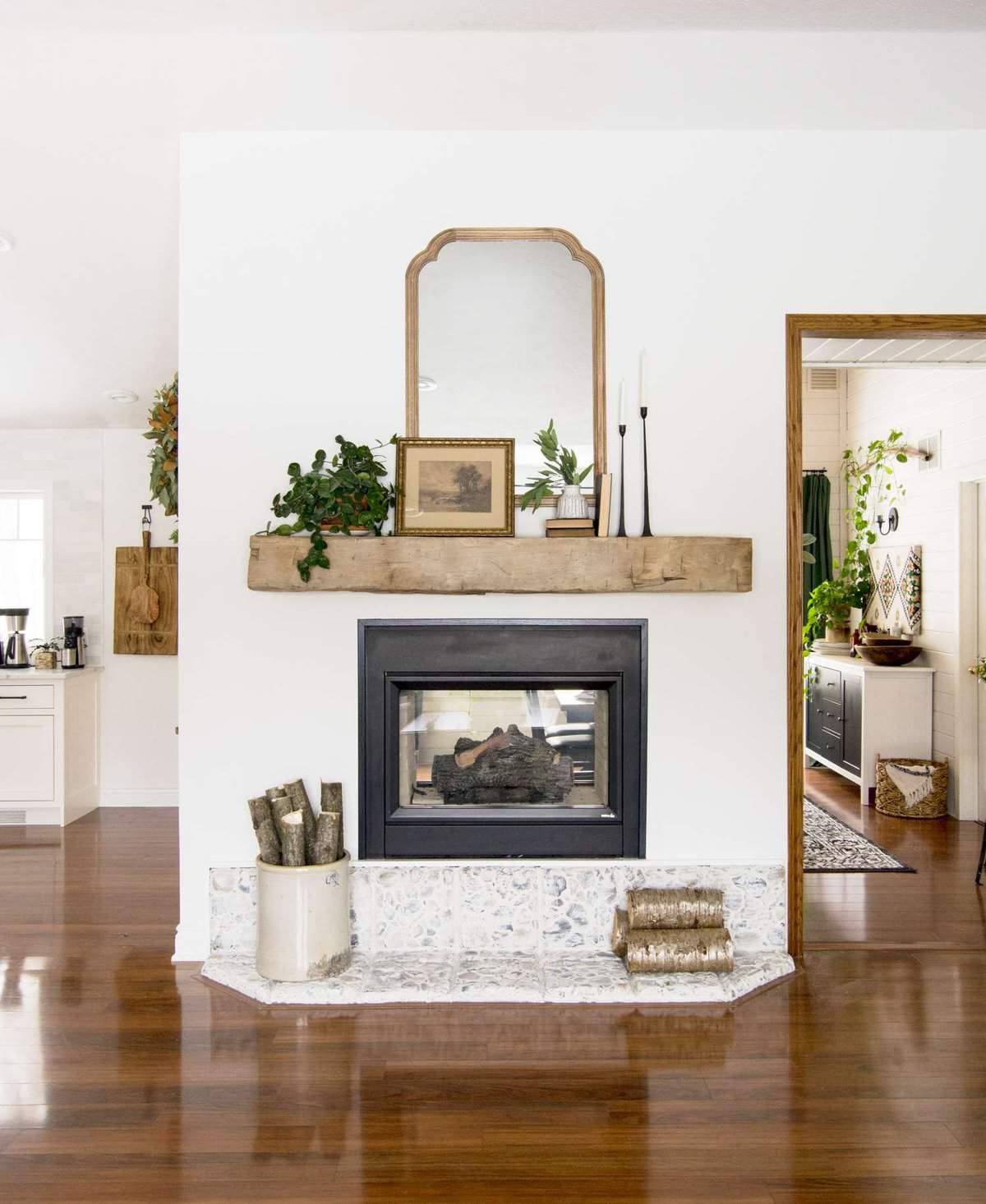 Depending on what you choose to include, you can create several looks that offer varying levels of the modern farmhouse design style.
Vintage farmhouse
Classic Modern farmhouse
Cozy Cottage farmhouse
Modern Rustic
Traditional farmhouse
Bohemian Farmhouse
Etcetera! The combinations of decor staples you choose will direct the design style you end up with. All of them are very similar, however, each has a different level of modern touches.
Cozy Cottage Accents
If you want to modernize your rustic fireplace mantel without losing the coziness, then I recommend sticking with chunky wooden candlestick holders and layers of pillar candles. These are my favorite affordable pillar candles.
Bohemian Farmhouse Accents
If you lean more towards a bohemian vibe, live plants are 100% the way to go! Trailing indoor plants are the best option to get that boho look.
Make sure to visit this post if you're interested in learning more about my favorite trailing indoor plants and how to care for them!
Vintage Farmhouse Accents
Perhaps my favorite design combination right now is styling rustic and vintage elements together.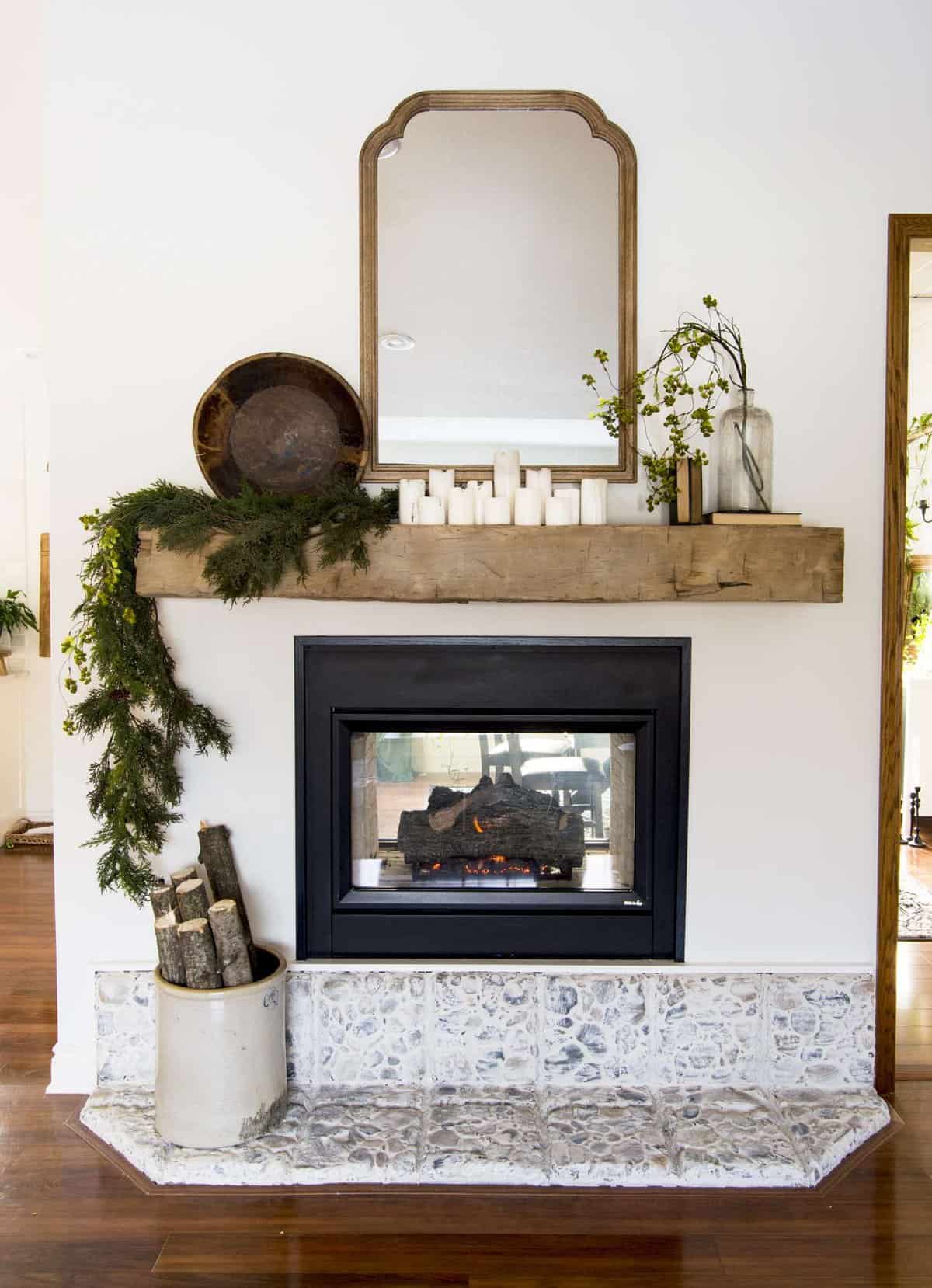 Pairing this chunky rustic bowl with a glass vintage vase balances the design. While the vase is not necessarily a modern vase, it helps elevate the fireplace mantel decor.
Glass accents are similar to metal accents. They add a cozy glow and break up the way your eye flows across the mantel. Using vintage bottles is a great way to add in that vintage farmhouse element.
Less is More
When it comes to modern farmhouse mantel decor, go with the mantra that less is more.
Using decor sparingly keeps the modern side of this style in tact. Adding in more rustic or vintage elements ensures that it has an edge of farmhouse.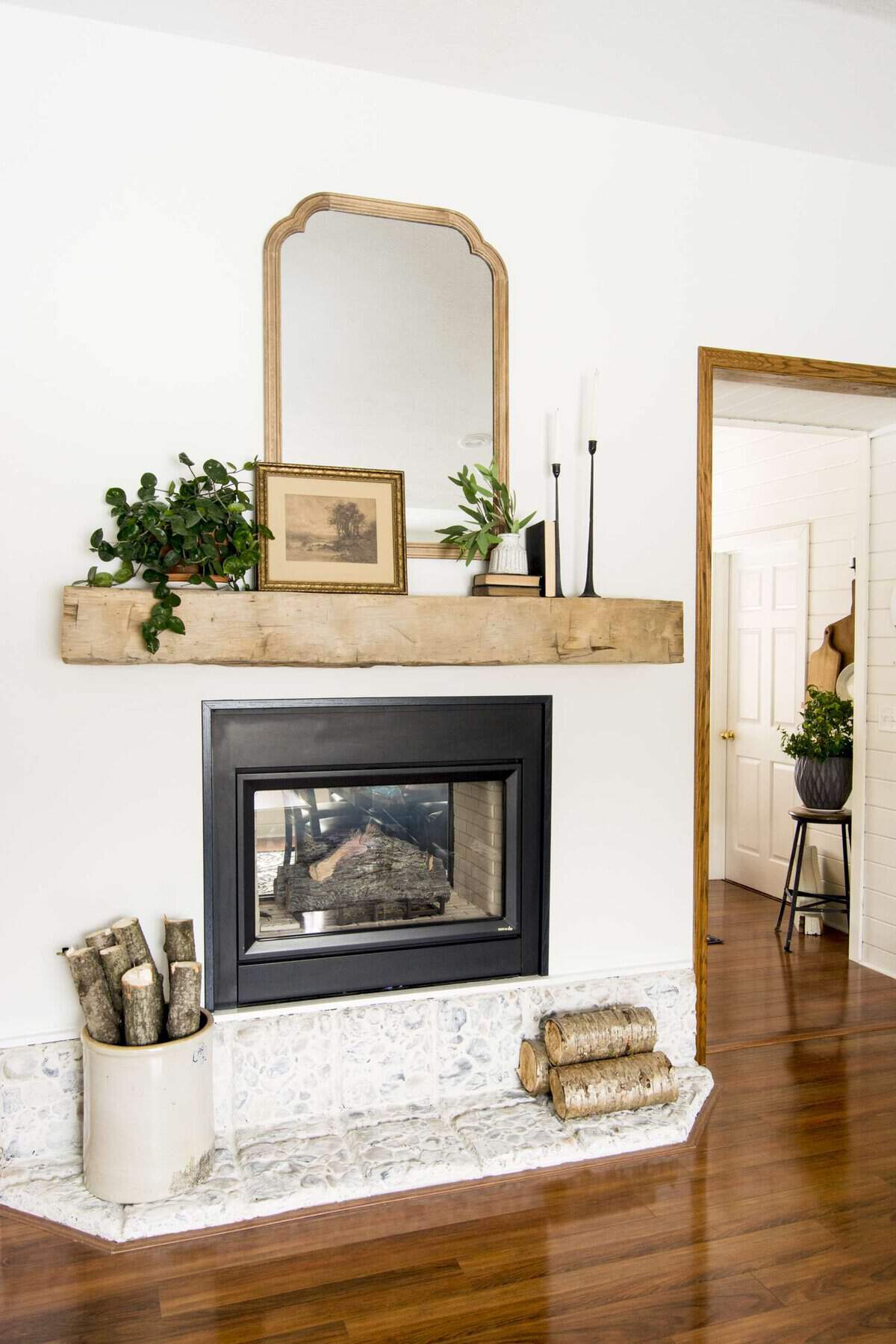 Here are some quick mantel styling tips that are applicable for any design style:
Use simple layering to keep it cozy and interesting.
Create height with books so that your eye wanders the length of the mantel.
Stagger your accents to ensure they aren't all the same height.
Group in odd numbers.
If you'd like to see the thought process behind my mantel styling, make sure to check out my IGTV video! I show you three ways to style a winter fireplace mantel using simple modern farmhouse decor.
Stay Connected
Thank you so much for visiting the blog today! I hope that these tips help you get a start to styling your own fireplace mantel!
I am so passionate about helping others create a haven in their homes. If you're looking for more tips on haven making, make sure to check out my book, Designing a Life: From House to Haven.
I share a simple 10 step process to designing your home to create a haven for you and your family.