How to Style a Small Foyer with a Narrow Entryway Bench
Small foyers can be a challenge to design. Here are 3 ways to style your small foyer with a narrow entryway bench that's sure to make a statement!
This post may contain affiliate links where I earn a small commission on your purchases.
Small Entryway Ideas
One of the most frequently asked questions I get is, "How do I decorate a small foyer?" So often people want to take a small space and add lots of decor to make it seem larger. However, that usually has the opposite effect!
To combat a small foyer feeling cluttered, I like to add two simple focal points and style around those. For today's post, those two items are a statement mirror/artwork and a narrow entryway bench.
But, before we get into those details, I also want to point out that my small entryway was made interesting by adding a wall feature first!
Create an Interesting Entryway with a Wall Treatment
Sometimes, when we have small spaces, the most important element to add is architectural detail.
This is how my small foyer looked before. Isn't that sweet little bench precious? My father in law made it for me. But if you're looking for your own narrow entryway bench, fear not, I will link some of my faves in this post!
Back to the wall, it is very boring. In my first attempt to make it unboring, it came out feeling cluttered. Cute, but still cluttered.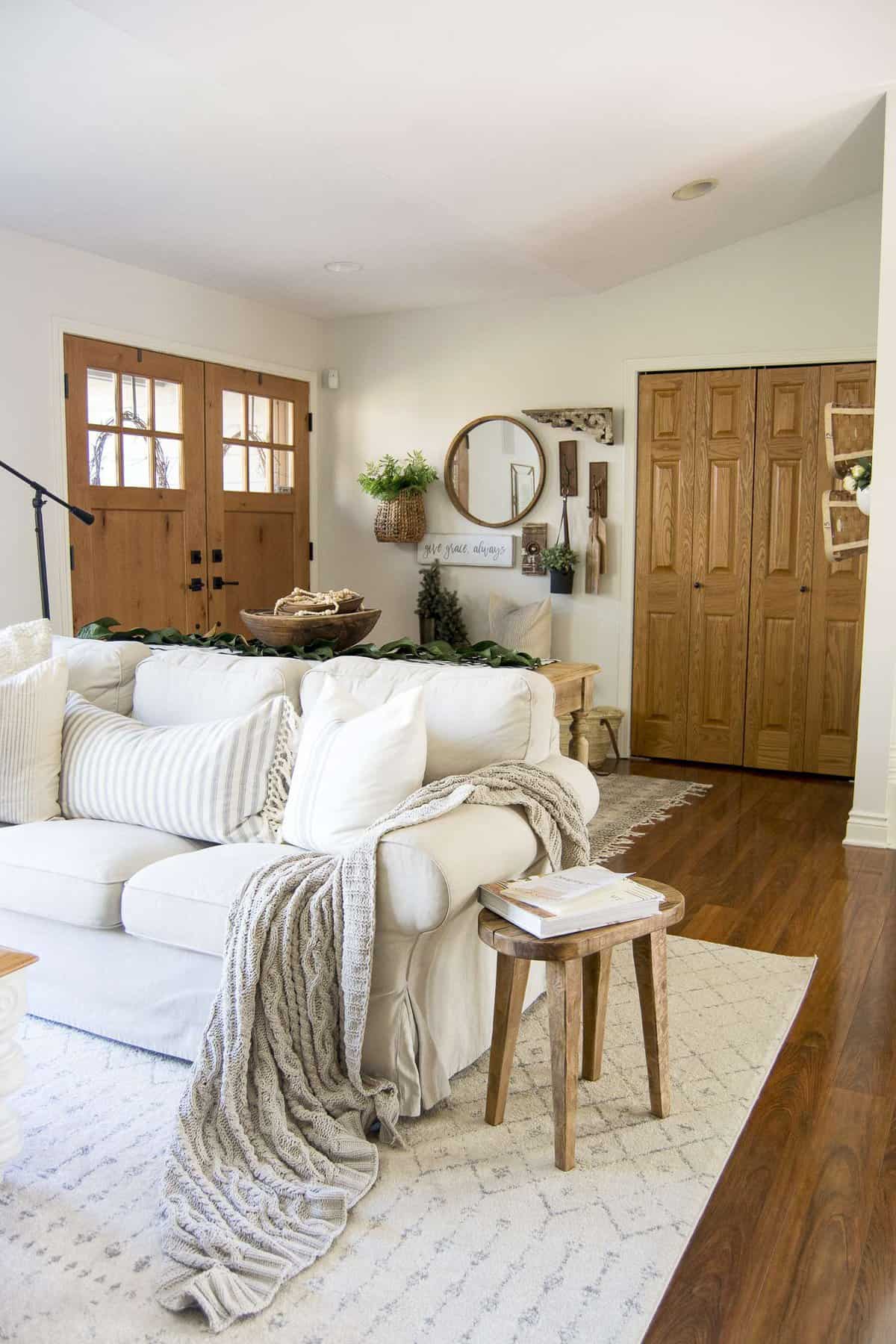 So, I followed my own advice from my book, Designing a Life: From House to Haven, and figured out what was missing.
I wrote a three part series on creating spaces that you love as part of this transformation!
Do you see the difference before and after?! So much more interesting! And there is no decor even added yet, besides my feeble attempt at making the space look decorated. Ha!
So, when in doubt, adding some architectural detail can take a small entryway from blah to beautiful all on its own.
Using a Narrow Entryway Bench As An Anchor
Over the seasons, my entryway wall decor has changed very little. I found a beautiful and simple mirror and styled around it. The element that gives me more flexibility is my narrow entryway bench.
I needed a very small bench to fit this space with doors on either side. My father in law made this small bench for me and it is the one piece of furniture that my instagram friends always ask me about!
So, I thought I'd share a few ways to style a small foyer with a narrow entryway bench!
Spring & Summer
The best part of using a piece of furniture as a staple in your decor is that you can add and take away simple accents like pillows and baskets to change up the look.
Plus, a bench serves practical purposes by providing seating to put on shoes and storage for things like hats and gloves.
Last spring, I let some live plants and a cute hat make the statement. Adding neutral baskets adds texture and breaks up the space vertically.
A single lumbar pillow from my favorite pillow shop adds a little comfort and style while remaining simplified. (You can use code GRACE15 at Bianca's shop to get 15% off your order!)
If you have space, I also love my console table. Obviously, this post focuses on small foyers and my table is quite large. However, there are many small console tables available that are great options to create a drop zone or just add some pretty decor.
Fall & Winter
As you can see, spring and summer entryway decor is very simple. So often we feel like we need to make big changes to a space for it to feel fresh. However, it's much easier (and more affordable) to make small changes with color and texture.
For the fall, I swapped out my pillows (from the same maker above) with some darker hues that mimic nature in autumn.
I also changed out the baskets for a fresh look and added pops of autumn colors. Nothing else changed!
If you follow me on Instagram, you may remember my leaf wall. That was a fan favorite last year that was SO SIMPLE! I love adding surprising elements to this space to pack a punch.
You can also see how I styled my entryway for Christmas here! It looks complicated but it's really so simple to make a statement!
For winter, I've gone very simple. I wanted to change up the mirror situation slightly without purchasing anything new. So I added this realistic magnolia leaf garland for a happy little surprise.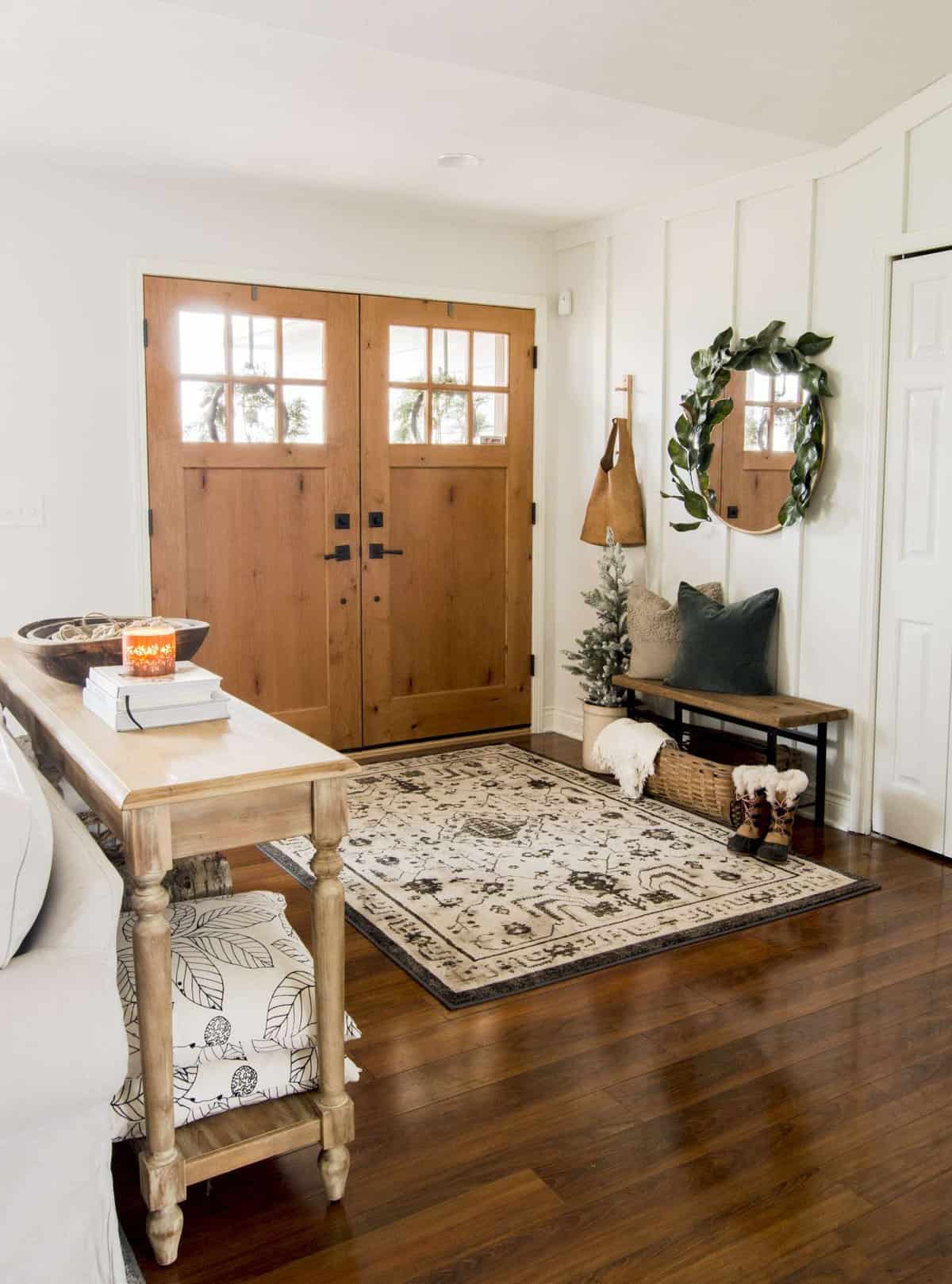 I also swapped out the basket for a vintage find that feels cozier than my other baskets did. Adding a flocked pine tree keeps it feeling wintery.
Then, I simplified my console table. I love how it feels with piles of books and cozy candles for winter.
I'm often asked what design books I enjoy. These are the ones that I have displayed here, but I definitely want to add to my collection!

---
This one by Lauren Liess is next on my list to get!
And, as promised, I've linked some of my favorite narrow entryway benches for you below! Just click the image to shop.

---
Stay Connected
I hope that this post has given you some ideas for styling a small entryway! It really doesn't have to be complicated to be something you enjoy in your home. Thanks so much for stopping by the blog today!