Amazon Haul 2024 | Best Women's Outfits Under $50
If you're looking for affordable outfits, look no further than this Amazon haul of women's clothes! After five years of blogging, this may be the first time I've brought women's fashion to the blog. But over on Instagram I get asked daily where my tops are from, so I wanted to make an easy access, one-stop-shop, to showcase my favorites! We're keeping it budget friendly with each piece under $50!
This post contains affiliate links. I am an Amazon Associate and earn from qualifying purchases.
Amazon Haul 2022
It's no secret that I love shopping on Amazon. Each year Amazon seems to get more and more fashionable clothing options, on-trend home decor, and still keeps up with fast shipping timelines.
I've never been a fan of clothes shopping in person. Clothing stores tend to overwhelm me, and trying clothes on feels like a real chore. So I love that I can hop on Amazon, look at reviews before buying, and try on everything I ordered at home.
(With my mirrors and my lighting! Which makes a big difference to me.)
Plus, the returns are super easy if I don't love it.
So, here are my favorite Amazon finds for women's fashion!
Amazon Clothing Haul
This amazon fashion haul is made up of women's tops, and some of my favorite bottoms and shoes. Of course, all of the photos are of home reveals where I happen to be wearing one of my Amazon haul finds! Real life modeling at it's finest. 😉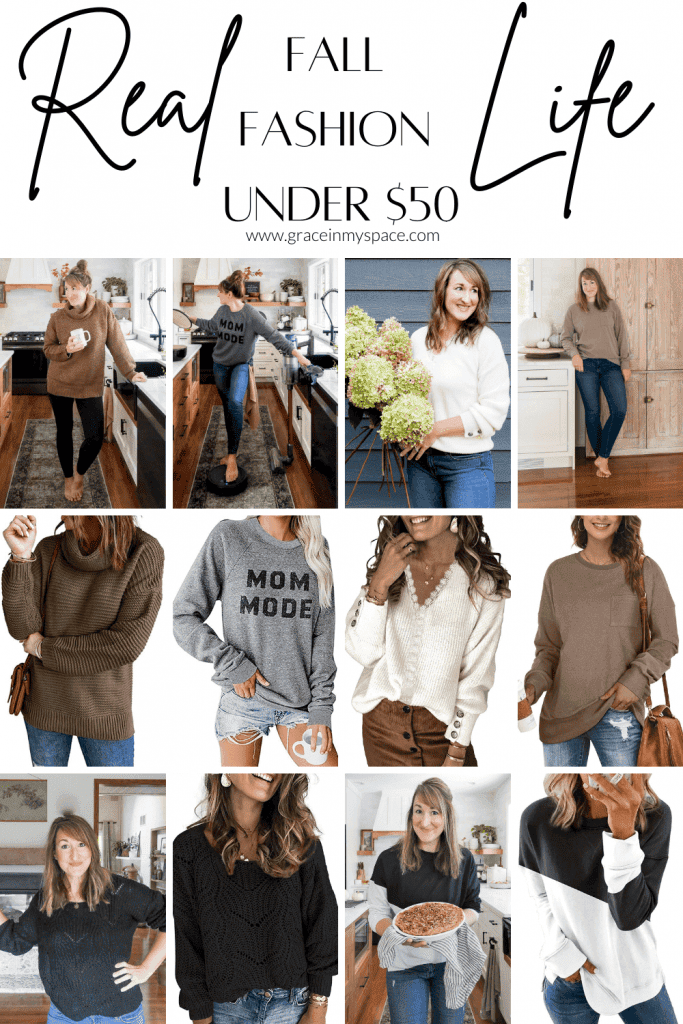 I plan to continue adding to it as I order more throughout the seasons, so make sure to Pin or bookmark this page to come back to for next season!
For size reference: I am 5'9″ and wearing a medium unless otherwise noted.
Sweaters
First up, I love a cozy sweater. These are my go-to sweaters when I want to look polished, but don't want to be uncomfortable.
In case you didn't know, I don't wear clothes that aren't comfortable. So these all pass the cozy test!
This classic black sweater is my favorite find this season. It comes in multiple colors, is lightweight, and makes me feel cleaned up, even in a pair of jeans.
My second favorite sweater find this season feels a tad more dressy with lace trim around the neckline and down the front. Plus, cute cuff buttons! This also comes in multiple colors.
And, this super cozy cowl neck sweater is my favorite extra warm choice! I love that it has the oversized turtleneck, longer tunic length and side slits. It's extra comfortable and I love the color I chose. The brown green color is a great chameleon color.
These are my top sweater picks from my Amazon haul!
Cozy Sweatshirts
Next, let's focus in on my everyday wear. Cozy sweatshirts are my favorite finds for my normal home outfit. Each of these are super cozy and feel more polished than a traditional sweatshirt.
This super soft sweatshirt with a pocket is a longer length. It is promoted as a tunic length, or you can do a front tuck like I do!
My next favorite this season is this two-toned lightweight sweatshirt. It has a weight somewhere between a long sleeve shirt and a lightweight sweatshirt. Perfect for a comfortable top that has modern style.
If you're craving that pie now, make sure to check out the recipe for German chocolate pie here.
And of course, I've got to plug my favorite mom mode sweatshirt. It is lightweight, lose fit, and super cozy. I ordered the color grey, which I feel is darker in person than the photo online. But I still love it!
Here are all my favorite sweatshirts this season! Plus, a couple of super soft long-sleeved tees.
Cozy Sherpas and Jackets
This sherpa jacket is incredibly warm. It has been perfect for cold Michigan falls and I can see it working well into winter! It comes in multiple colors and has cute contrasting trim.
This half zip sherpa pullover is a great weight and super cozy. I sized down to a small for this one and it still fits with a roomy style.
Both come in multiple colors! Pay attention to the color choices on the half zip. I did not like the color called B Gray when I ordered it as it looked splotchy. I have the color Aa Grey and love it!
Aa Grey Shown (multiple colors)
Sherpa Jacket (multiple colors)
Layering Tees
Last, but not least, here are some favorite layering tees! Both are a longer tunic length. I sized down to a small in both and they still fit for a longer length.
Tunic with front seam (multiple colors)
Classic loose fit pocket tee with cuffed sleeves (multiple colors)
Leggings, Bottoms, Jeans
Now let's cover a few favorite pants from my Amazon haul! Personally, I rarely wear anything but jeans or leggings. Comfy and cozy is the way to go. If it doesn't feel good, I don't wear it.
These leggings are my number one go-to for daily comfort when I'm at home. The leggings are super soft and comfortable. They are high rise and stay in place. Thankfully, they are NOT an athletic fit with compression. I can actually breathe in these and they don't squeeze my stomach. And, they are extremely affordable!
I'm 5'9″ and was on the boundary between "one size" and "one size plus". I ordered both and found that the one size plus, fit. However, it was loose and I felt it would stretch out too much. The one size fits perfectly with no unwanted tightness!
I loved them so much I ordered them in the version with pockets as well.
Boots and Shoes
I'm not a big shoe person. If I find a pair that I love I wear them until they have holes. But these are my faves I wear for every season!
Water Resistant Short Boot (Color Barley)
Summer Sandal, super comfortable with padded arch (multiple colors)
Spring Rain Boot (multiple colors)
More Amazon Fashion Finds
I plan to add to this list as I find more favorites!
You can always follow my Amazon storefront as well for all my favorite Amazon fashion finds that I add in real-time!
Thanks so much for stopping by the blog today! Make sure to follow along with me daily on Instagram and weekly on YouTube as well!
Happy Shopping,