Cheap Christmas Decorations That Make a Statement
Buying new Christmas decor each year can quickly break a budget. Christmas is my favorite season to decorate for, but it's also the one that passes the quickest! So today, I'm sharing 4 cheap Christmas decorations that won't break the bank but make a statement and offer a cozy atmosphere to enjoy while the season is here.
This post may contain affiliate links where I earn a small commission on your purchases.
Cheap Christmas Decorations
Each year, the pressure to buy all new Christmas decor grows as I dive deeper into the blogging world. It is my favorite season to decorate for, my style changes monthly, and it is all soooo beautiful!
So it is easy to see why it would be tempting to go all out each year with new decor. However, it's also the time of year when budgets are already tight, the decor is only relevant for one month of the year, and I'm running out of storage space.
So this year, I bought very little new Christmas decor. A couple of bells I've been wanting for 2 years, some cheap bottle brush trees, and a new pillow cover set. That's it! All very affordable, easy to blend with my previous Christmas decor, and small enough to store easily.
But, rather than talk about my new decor, I want to focus on cheap Christmas decorations I've used every year in my home. These simple staples are the pieces that you buy once, use forever, and can also incorporate into your everyday decor!
Garlands & Faux Greenery
It is no secret that I love greenery during the holidays. My entryway is evidence enough of that!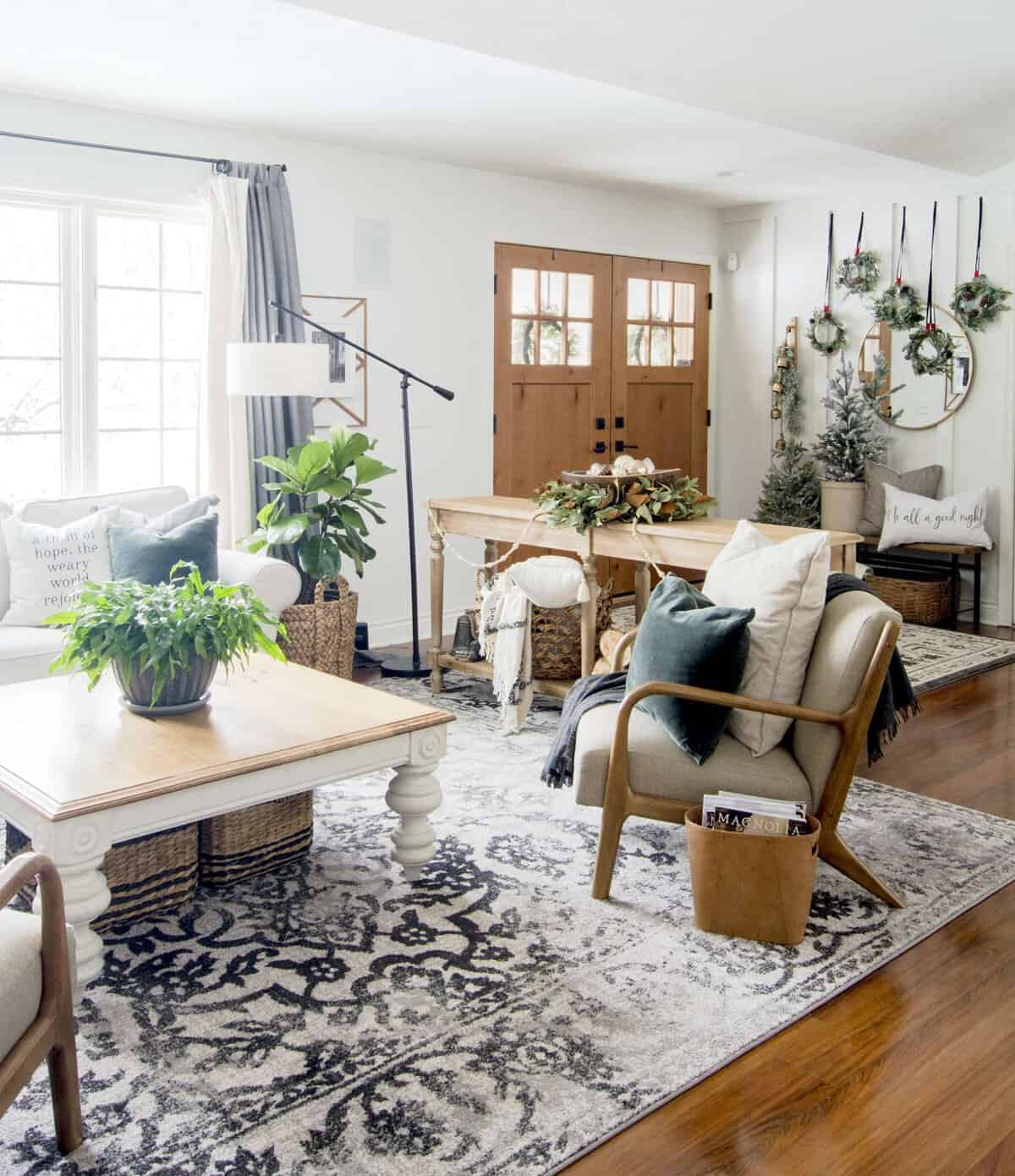 What I love about faux greenery is that it is something that will never go out of style. I am very picky about my faux greenery and only buy pieces that look real and I know will last for years.
I also choose very simple greens without a lot of frills so that they are timeless.
And the last two years, I've also added simple wood garlands to the mix. These types of Christmas decor can be used multiple ways over the years without them feeling tired and out of style.
Shop Garlands

---
This year, I used my wood bead garland on my long console table, rather than wrapping it traditionally around a tree or mantel. It is a simple touch that feels festive and makes a statement.
Glass Ornaments
Another cheap Christmas decoration is glass ornaments. (Or…ornaments that just look like glass!) Don't limit your beautiful ornaments to the tree.
They are so easy to display in a bowl, hanging from a window, along a railing or on the mantel.
In my opinion, ornaments make the biggest statement when grouped together. Here are some of my favorites this season!

---
Cut Wood & Trees
Last year we had a beautiful tree fall in our woods. Rather than use it solely for firewood, I had my husband cut me a few chunks to display inside for the winter.
I love how cozy this simple addition of nature is. I'll be keeping them as part of my decor all winter long.
Cut wood and mini trees can often be found at extremely reasonable prices if you don't have the property to cut your own. But, if you're blessed like myself and my friends over at Vintage Society Co., then enjoy this free Christmas decor!
Make sure to take a peek at their home decorator holiday tips! I love how they use their land to decorate for Christmas.
Every Day Cozy Decor
My last tip for using cheap Christmas decorations in your home is to incorporate your every day decor! Cozy pillows, throw blankets, warm wood tones, and even live plants are all excellent additions to Christmas decor.
The key is to choose accents that are neutral enough to blend with any festive Christmas decorations you want to use. Soft velvet pillows are a great way to blend everyday decor with traditional Christmas decorations.

---
Just because something isn't overtly Christmas related doesn't mean it can't help create a cozy atmosphere for the holidays! Here are some of my favorite cozy throw blankets.

---
Build Upon Each Year
Now for the real bonus tip for how to use cheap Christmas decorations to make a statement! You have to be patient.
Looking at my home, it would not be cheap to go out and recreate my spaces in one season.
However, each year, I've added one or two timeless pieces to my decor. 13 years into marriage, I have created an arsenal of my favorite Christmas decor that I use every year!
As they say, "Rome wasn't built in a day." And neither is your home. You can learn more about my strategies for creating a haven in my book, Designing a Life: From House to Haven!
Stay Connected
I hope that some of these ideas are helpful to you as you create a haven this Christmas season! Thank you for stopping by the blog!
If you're looking for more ideas for the holidays, browse my Seasonal Decor archives! I've shared many decor tips, DIYs and home tours this Christmas with more yet to come.