How to Decorate with Vintage Home Decor
Do you love vintage home decor, but aren't sure how to use it in your home? Today I'm excited to share 5 style tips for how to use vintage items in your home decor.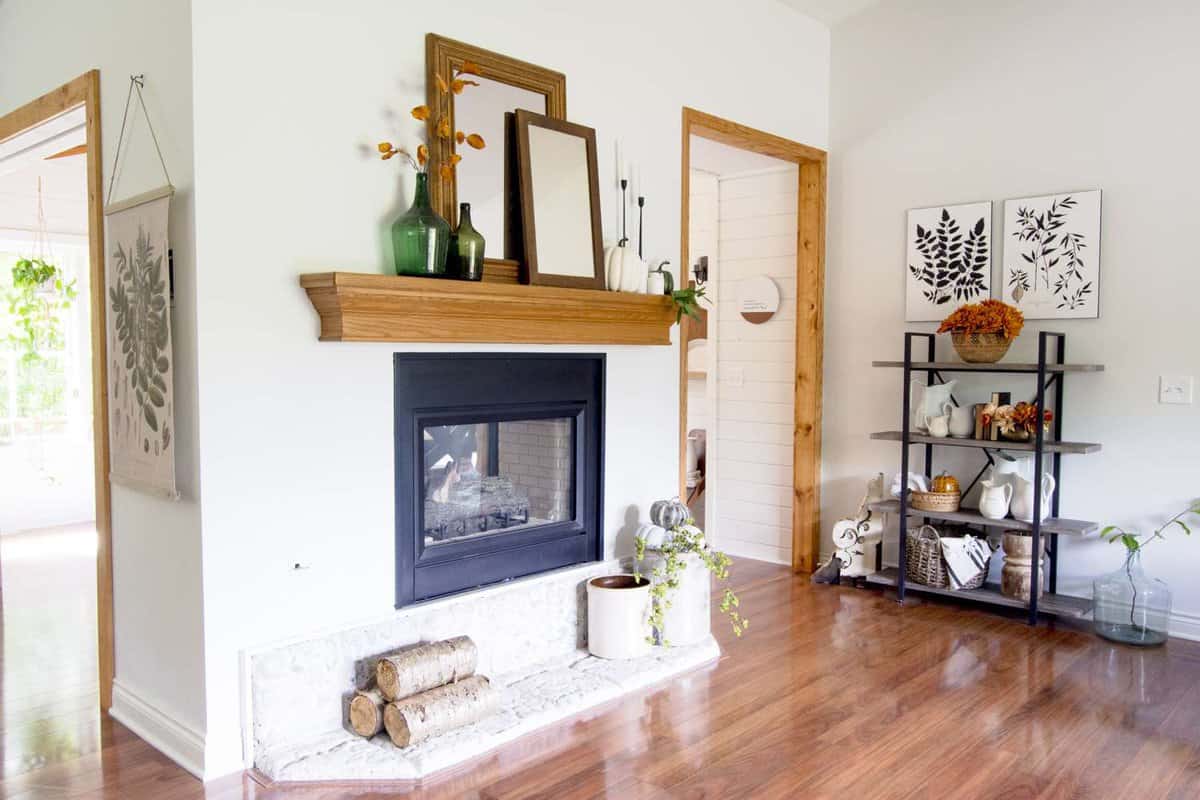 This post may contain affiliate links where I earn a small commission on your purchases.
Styling With Vintage Home Decor
One of the most frequently asked questions I get from my Instagram followers is, "How do you use vintage decor to style a modern home?" I love this question! It gets me excited to share the answer with you!
I absolutely love creating a home from modern pieces that keep my style up to date, and then grounding it with vintage pieces to add character and warmth.
With that said, here are 5 style tips for incorporating vintage (or thrifted) items into your home!
Use Any Vessel as a Vase
One of my favorite collections is vintage bottles. Demijohns are my favorite as they remind me of our trip to Portugal where I saw tons of beautiful wine and olive oil demijohns.
Often I simply group my bottle collection for more of an impact, but my favorite way to display them is as a vase! Whether I'm using faux florals in them, or using them to try to sprout new pothos (come on little guy), they are a beautiful way to display foliage.
Group Collections for Added Interest/Texture
My favorite way to display vintage collections is in a group. The quantity makes a statement that this is something you love! Visually, the eye is more drawn to multiples.
So when I found these vintage grain sacks, I simply folded them to add some texture to this little corner in my dining room.
Display Them In An Unexpected Way
My favorite idea this year has been my new wooden bowl display. I was loving the "basket wall" trend that was taking over the bohemian design style and wanted to create my own take on it.
My vintage wooden bowl collection is my favorite. So, I was excited to try this idea to take that basket wall idea and make it work for my more vintage farmhouse decor style.
---
You can see how I created this wall feature in this article.
Layer Various Flat Pieces
If you can't tell already, I'm not a minimalist. But I do prefer clean looks over clutter. So one of the easiest ways I accomplish that is to layer coordinating items that feel seamless together.
I have a small collection of vintage mirrors that I have layered in several areas around my home throughout the years. This year, I found this sweet vintage print that worked perfectly for the fall and winter seasons to add.
Repurpose Vintage Items
Another fun way I like to incorporate vintage home decor is to completely repurpose it! These "candle holders" were originally lamp bases.
I simply removed the electrical wiring from the piece and placed cardboard in the bottom to catch any dripping wax. Next, I added inexpensive pillar candles to top them off!
Bonus Tip: Use it for its original purpose!
Of course, I would be remiss to neglect saying that you can also just use your vintage home decor for the purpose it was created!
My small collection of vintage crock bowls is used daily in my kitchen (after a very thorough cleaning). I also use them to display dried florals, or just as eye candy. However, I love the character they add to my otherwise more modernized kitchen.
More Vintage Home Decor to Love
I hope that some of these tips give you ideas for how you can style vintage items in your own home! Make sure to check out my other articles showcasing how I've used vintage home decor in other spaces in my home.
Thanks so much for stopping by the blog today! I'd love for you to become a blog subscriber for my weekly e-newsletter! And make sure to follow along with me for all my daily shenanigans on Instagram!