Meaningful & Elegant Family Christmas Tree Decor
Choosing family Christmas tree decor can be both meaninful and elegant! You don't have to sacrifice one or the other. Learn how to decorate your Christmas tree in a way the whole family will enjoy with this simple tip.
This post may contain affiliate links where I earn a small commission on your purchases.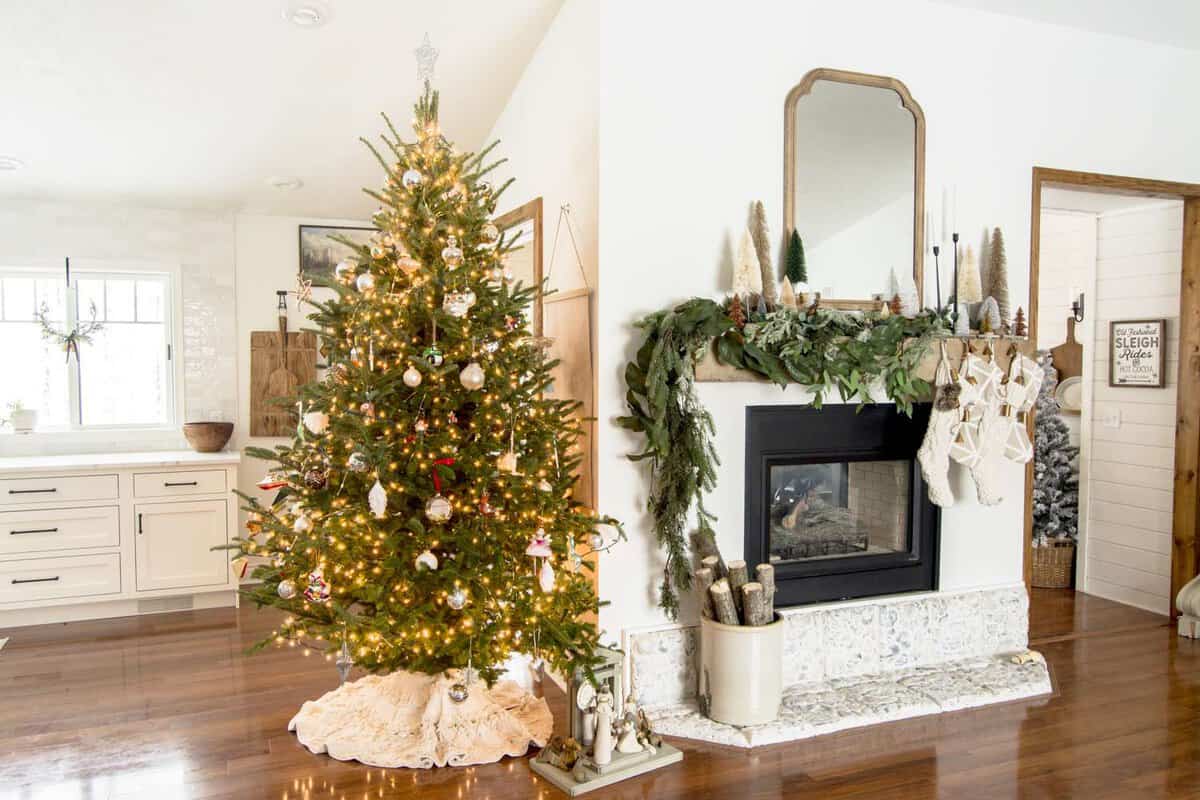 Family Christmas Tree Decor Idea
Growing up, my mom always decorated the most beautiful trees. She still does. Each one she creates is magical. She typically decorates at least two, and one of them was always what she called the "family tree".
This family Christmas tree consisted of ornaments that held a special meaning, were handmade, or were vintage. I always loved decorating that tree with her and reliving those precious memories every December.
So, I wanted to create the same tradition with my kids. Thankfully, my mom knows how to decorate for both meaning and elegance!
Glass Christmas Ornaments
Each year, my mom gifts every family member an ornament that holds special meaning.
A boat for the year my son and husband went big lake fishing. A soccer ball the year my son really got into the sport. A paint brush the year I dove headlong into my decor blog. A tiger for my daughter's obsession with large cats.
Each ornament is directly tied to a memory, a big life event from the year, or something the person loves.
The trick to creating an elegant family Christmas tree is to use glass Christmas ornaments for these special decorations.
Cohesive Yet Meaningful & Elegant
These types of ornaments are beautifully crafted and give off a soft glow from the tree lights. This makes them blend beautifully to create a cohesive tree, even though the subject matter is very playful and non-traditional.
Shop This Look

---
In addition to our memorable ornaments, I add in glass bulbs in neutral colors to fill the rest of the tree. Golds, silvers and whites are my favorites to allow our family ornaments to steal the show.
We love decorating the tree each year with these special glass Christmas ornaments. Every one that is pulled out and placed on the tree is a memory to enjoy and reminisce together over.
They will be treasured for years to come. And, I hope will be a favorite memory for my own children when they are older.
Favorite Places to Shop for Family Christmas Tree Decor
My mom does most of her ornament shopping at Bronners, a Michigan based Christmas store not too far from us.
I also love the selection at Hobby Lobby for unique ornaments.
For my filler ornaments, I've linked up some of my favorite bulbs for you below!

---
More Christmas Decor Ideas
What kind of family Christmas ornaments do you enjoy each year? I'd love to hear all about your mismatch and memorable trees! Leave me a comment!
If you're looking for more Christmas decor ideas, I have a few blog posts up for you already this year!
Many more Christmas decor related posts are on their way this season! Make sure to subscribe to the blog to be notified via a weekly newsletter when they are live!
And I'd love for you to join me daily on Instagram where we are creating a community of haven makers.
Thank you for stopping by the blog today!