Front Porch Christmas Decorations | Tree Farm Style
My favorite kind of Christmas porch decorations are the ones that take no time at all! Learn how to create a 5 minute grand entrance with these simple front porch Christmas decorations. Welcome to the tree farm!
This post may contain affiliate links where I earn a small commission on your purchases.
Winter Arrived Early This Year
November 2019 has easily been one of the coldest Novembers I can remember! We are seeing temps that we would expect in January, so it put me in the Christmas decorating spirit a bit earlier than normal.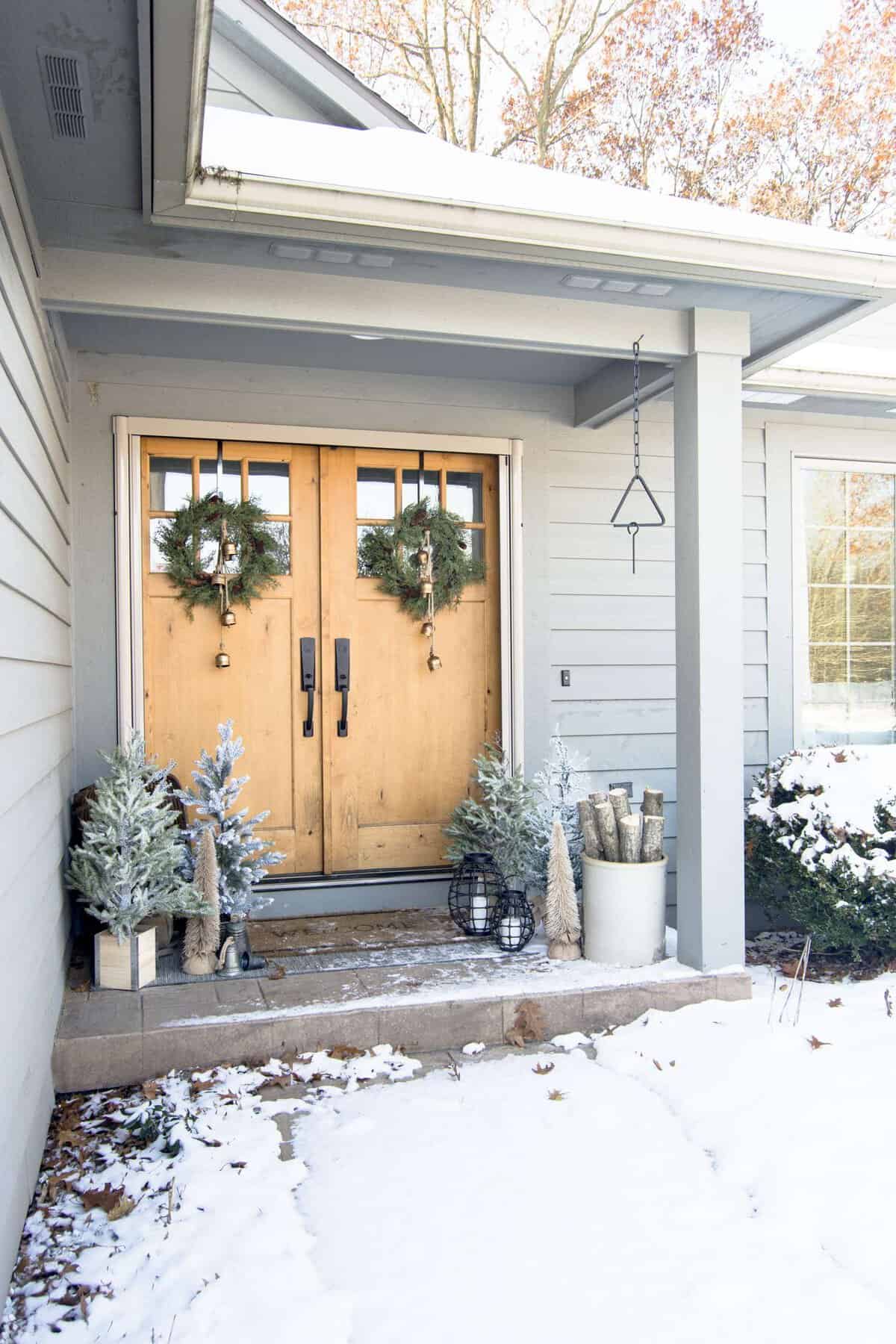 I decided to sweep off my front porch, toss the pumpkins in the woods, and create a mini tree farm to welcome guests with some simple front porch decor.
One of my goals was to use Christmas porch decorations that I could easily transition to winter after the Christmas season ends. So I kept it simple, which will also make it easy to transition when it's frigid out in January!
Front Porch Christmas Decorations
This year, I wanted to create a "tree farm" theme. I have so many mini trees from years past that I wanted to use in a new way. The key to this is using trees that aren't flocked in the traditional sense.
Faux Christmas Trees
Look for faux "flocked" trees that have more of a glitter or pasted snow rather than traditional flocking. This will allow them to be outdoors without getting ruined by snow or rain.
Shop Faux Trees

---
Also, make sure to vary the height of the trees. This draws the eye to each tree rather than them all blending into one line.
Next, simply mix in a few accents. These silver bells are perfect for Christmas, and can easily be removed once it's time to transition to winter porch decor.
On the other side, I added a vintage crock full of fresh cut logs. My son wanted to practice his hand-sawing technique. 😉 Using nature is the easiest way to transition from the outdoors to inside your entry.
Simple Wreaths
The final touch is a bit of jewelry for your front door. These gorgeous cedar wreaths have a beautiful realistic appearance. The simple addition of pine cones helps them stand out.
And for a little glamor, I added rich toned hanging bells. These are so warm and beautiful and turn a simple wreath into a statement maker.
Shop Door Decor

---
Transitioning Christmas Porch Decorations to Winter
Once Christmas has come and gone, my plan is to remove the Christmas trees to transition to winter porch decor.
I will most likely leave the lanterns and logs, and then add in a few simple touches of greenery. Perhaps a basket of pine boughs from our Christmas tree would add a bit of coziness for the remainder of winter!
Simple. Affordable. Doesn't include stringing lights in 10 degree weather. This is my kind of front porch Christmas decorations!
I hope you enjoyed these easy tips for creating a welcoming front porch for the holiday season! This is the first of many Christmas-decor related posts to come.
In the mean time, you can see all of my Christmas decor from years past, here, to begin to get ideas!
So make sure to subscribe to the blog to be notified of new ideas via a weekly newsletter! And I'd love for you to join my community of Haven Makers over on Instagram where we connect daily!