Mudroom Built-In Ikea Hack that Saved 2,000 Dollars
Do you need more mudroom storage but lack the space and budget? This mudroom built-in furniture hack added tons of storage and saved $2,000 rather than building a custom cabinet!
Learn how to recreate this Ikea hack for your tight space!
Shop This Look at the End of the Post
This post may contain affiliate links where I earn a small commission on your purchases.
Mudroom Built-In Storage
If you're new to this series, I recently remodeled my mudroom 100% DIY style. You can see the entire makeover process in this post.
My small mudroom makeover began with a quote to build custom built-in cabinets in an already established nook. It had a mudroom bench that was not practical for our family. (Already removed in the below image.)
My mudroom design plans included using that space to create vertical mudroom storage.
However, my design plans did NOT include a $2,600 quote! Yikes! There are many times that I believe a professional is worth the cost, however, this was not one of those times.
Instead, I started searching for alternatives that would accomplish the same purpose. My vision included:
Specifically, 4 drawers. One for each family member to store hats and gloves.
Space for shoe storage.
Room for dog supply storage.
Tall space for tall boots/boot heaters.
All concealed. (AKA, no open shelving)
Make sure to check out my previous post in this series for all the before photos! I also explain why I specifically chose to remove mudroom lockers.
Mudroom Built-Ins: The Dilemma
The problem that I kept coming across over and over was that no existing piece of furniture fit the dimensions of our small mudroom nook. If I found a piece that was the right width then it was too deep. If I found one that was the right depth then it was too wide.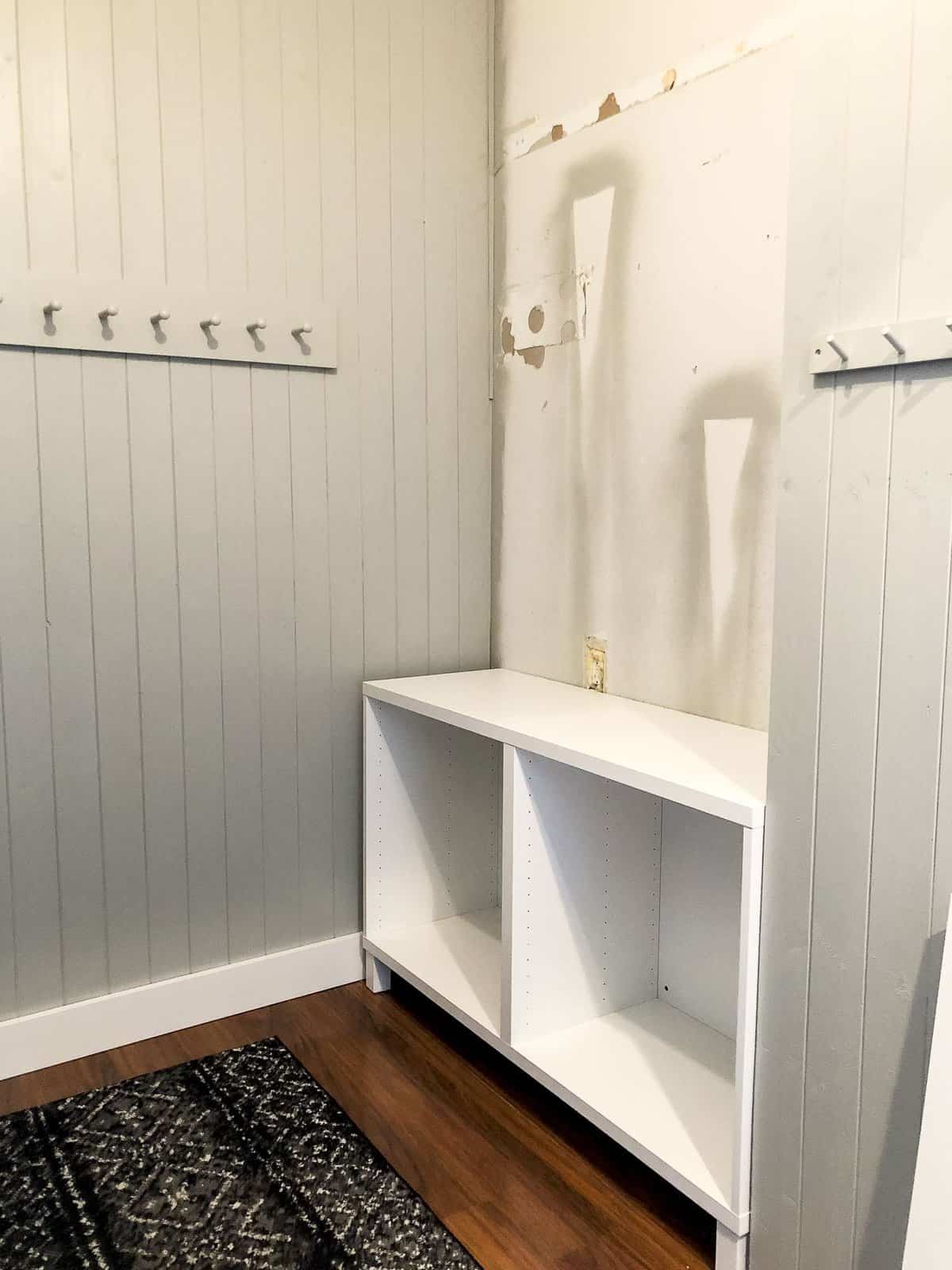 Soooooo, I almost bit the bullet on a custom cabinet. Then, an Instagram follower, suggested I check Ikea.
Guess what?
Ikea didn't have anything either. That is….they didn't have anything that was intended to be a "built-in".
Mudroom Built-In Ikea Hack
What they did have was a:
Wall Cabinet
TV Stand
Buffet
I shared my plan to combine these different pieces of furniture with my husband and said he trusted me. So, I went for it!
The key to this entire mudroom built-in Ikea hack is making sure that each piece has the exact same width and depth. The height doesn't matter as long as once all three pieces are stacked together, they will fit with your ceiling height.
Ikea Furniture
I created the built-in look by stacking these three pieces one on top of the other.
My reasoning for putting the TV stand in the middle (with the opening) was so all four of my drawers were stacked on top of each other. This allowed them to be low enough for my kids to easily access.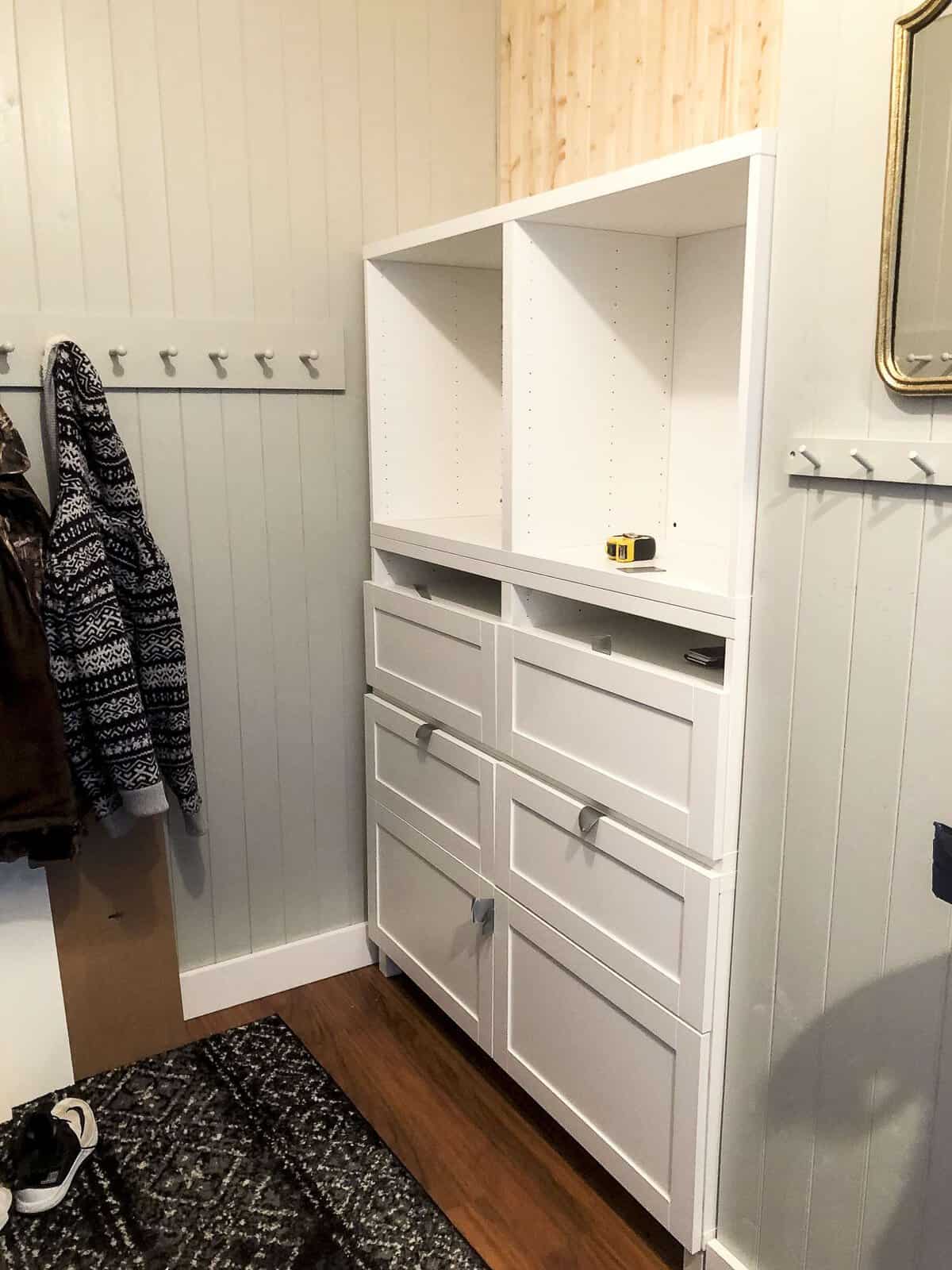 You could stack these in any order that fits your needs! It is also nice that the shelving is customizable. I added shelving to only one side each of the wall cabinet and buffet and left the included shelving out of the other for taller items.
Mudroom Storage Solution
Building these three pieces of unconventional mudroom storage as one unit allowed me to check all my boxes!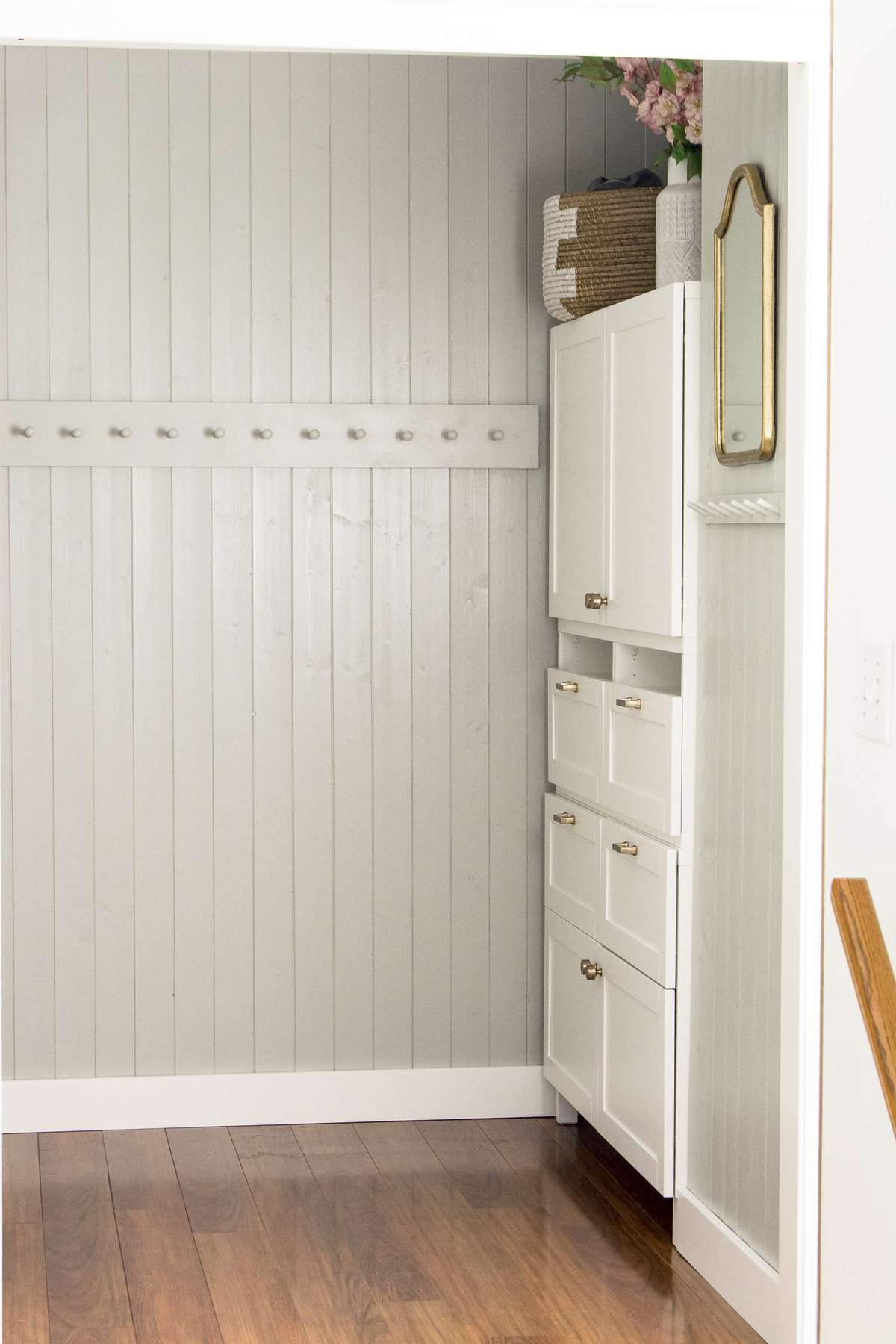 Top to bottom, I use the mudroom built-in to store:
Wall Cabinet:

Right side is open to house tall boots/boot heater.
Left side has shelving for grocery bags, paperwork and miscellaneous.

TV Stand:

The random little openings have been great for quick access key, wallet, and sunglass storage. I'd like to also add paper trays for mail.
Drawer section for hats and gloves.

Buffet:

Drawer section for hats and gloves.
Left side has shelves for shoe storage.
Right side is open for dog food storage.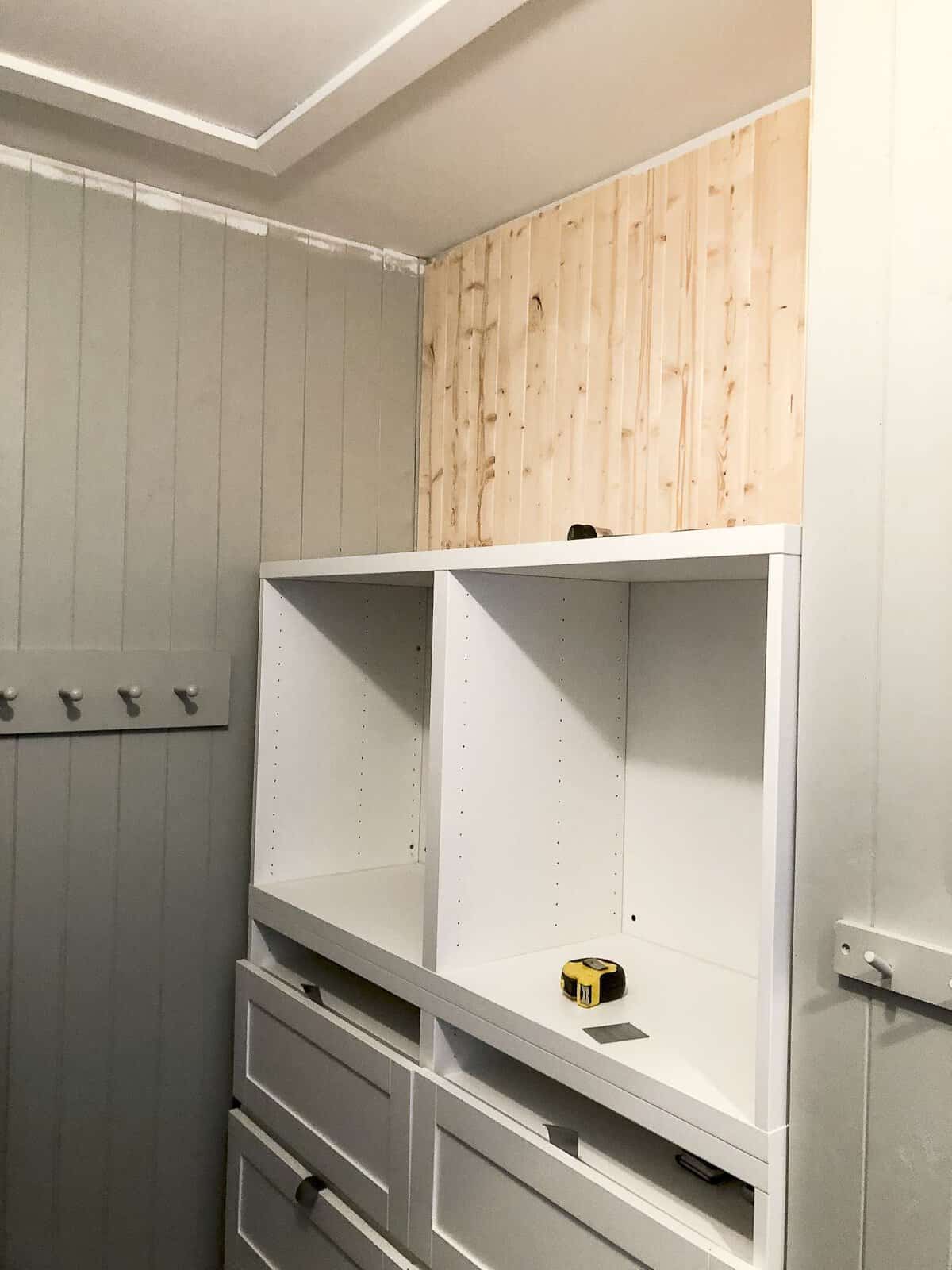 The final step to making it look like a custom mudroom built-in was adding the tongue and groove above it to match the walls.
Originally, I wasn't sure how the sides and top would look once it was assembled. Had it been uneven or looked unfinished, I planned to add trim work or crown moulding on the sides and top to give it that "built-in" look.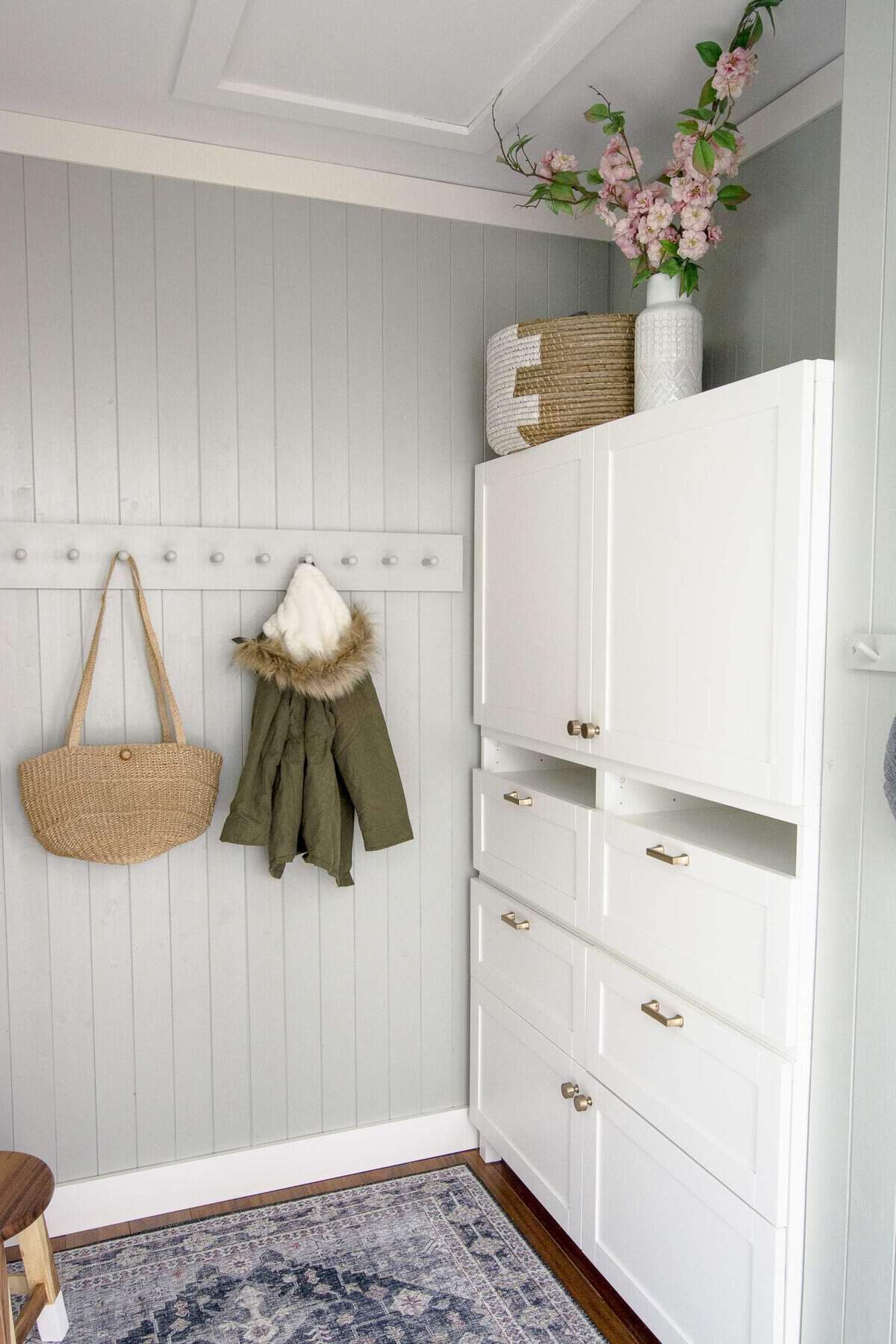 However, I loved how it turned out and didn't think it needed those extra details!
Custom Mudroom Furniture For Less
I'm so happy with how it turned out! It feels like a custom piece of mudroom furniture, but only cost a fraction of the custom quote!
Ikea also has many variations of the BESTA product line that would make it very easy to customize this for your style or space. Different colors, finishes, drawer/door front styles and sizes are available.
I finished out the built-in look by adding beautiful chunky brass knobs and pulls. This really polished the look and helped bring it all together.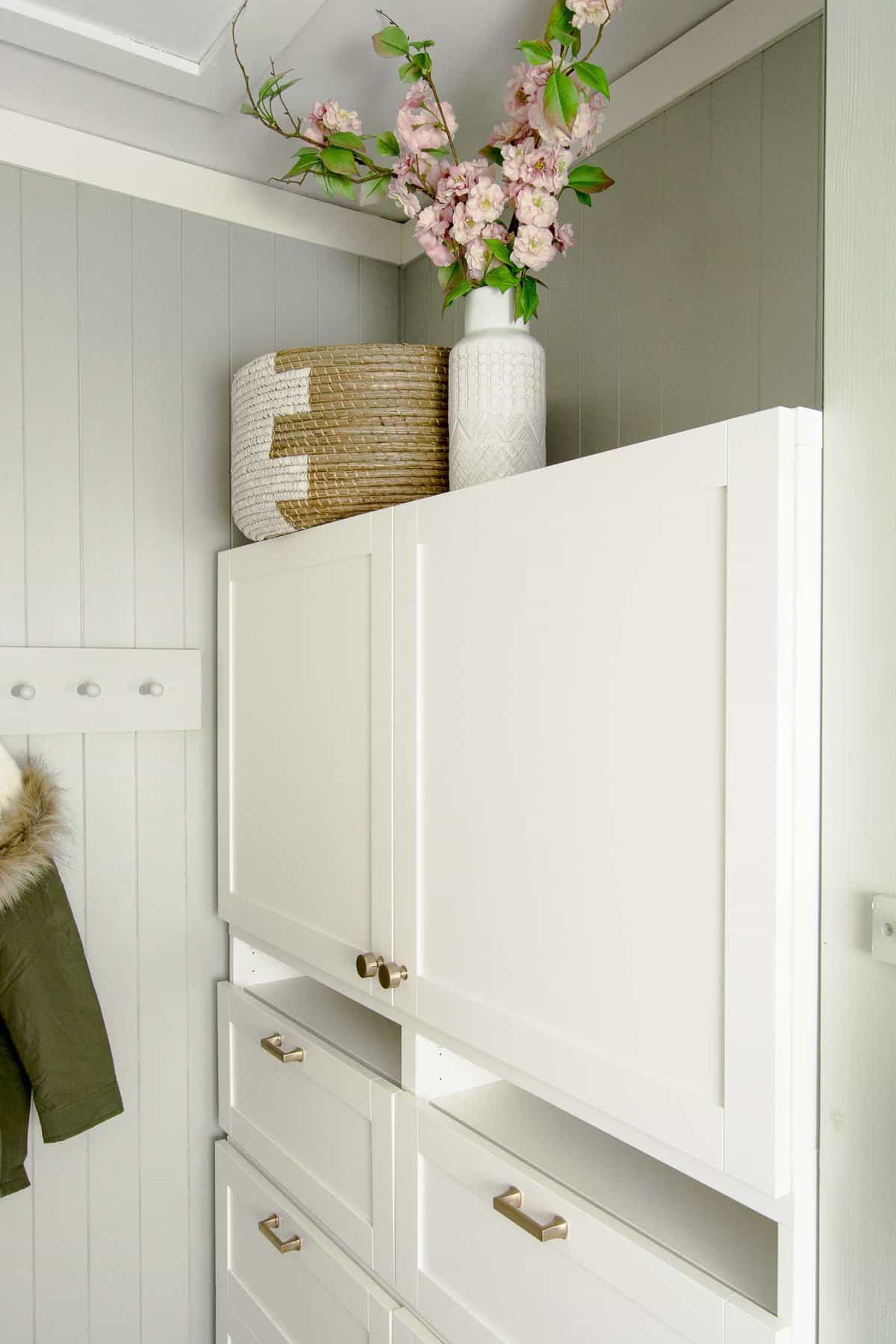 This hack would also be a great way to create storage in a pantry, closet, or laundry room!
Secure, Secure, Secure!
One final item to note: Please make sure to secure each piece of furniture to the wall! My greatest sorrow would be if a child or person were to be hurt by the piece tipping onto them.
I anchored the TV stand to the wall behind it with the provided anchor points. Then, we secured the top wall cabinet to each side wall directly into the studs. This baby isn't going anywhere and that's how it should be!
I also used the extra provided leg support in the center of the bottom cabinet since there is additional weight.
Stay Connected
Thank you so much for stopping by the blog today! I hope that this simple IKEA hack helps save you time, space and money on your next project! If you use this hack, make sure to tag me on Instagram and show me your built-in!
I'd actually love to see how it turns out in some of the fun colors and styles Ikea offers in this series!
Make sure to check out the next tutorial in this mudroom series: a DIY shaker peg rack tutorial!
---
Shop the Look

---

Pin It for Later