Hello Friends!
I've spent the last couple of weeks working on revamping my son's bedroom and I decided to start with trying out some chalk paint! He's becoming a big boy (insert momma tears) and his room needed a bit of a refresh to a more sophisticated look. But let's remember, he is only 6. So I was looking to accomplish three things with this revamp.
Organize the chaos.
Lighten up the dark accents.
Simplify the "themed" elements of the room.
This is the before. Now, let's remember that this is a judgement free blog. 😉 I literally snapped this photo out of the blue one day because this was my reality. Bed NEVER made. His "treasured" collections (a.k.a. random rocks, two second art projects that he considers Van Gogh's, last year's birthday balloons and chuck-e-cheese trinkets) scattered EVERYWHERE. Messy, messy, messy. It made my mom OCD go crazy every time I passed his room.
So I decided something must be done! And it all started with objective #2: lighten up the dark accents. His furniture is the same set we bought when he was born (can I get a hallelujah for convertible cribs?) and still works perfectly fine. So I figured I could just paint it! FYI- I really hate painting. Like, a lot. But it is an easy DIY and affordable so I went to work. And that is where this post comes in!
I've never before tried Chalk Paint. I know, I know. This has been around for some time now and that is why I am definitely not doing a tutorial for you. There are a ton of them out there already and mine would be subpar I'm sure. So instead I wanted to share a quick review on the brand I used: Rustoleum Chalked Ultra Matte Paint in Country Gray. (Side note: I started with Aged Gray, which is the lighter version of Country Gray. Be warned! Aged Gray is actually baby blue. Boo….)
I wanted a medium true gray and I didn't want to pay an arm and a leg for it or have to go "into the city" to find it. Because we live in a small town with very limited hardware store selection and no Home Depot. Which is a very sad thing in my opinion. 🙁
So as you can see the wood is an engineered cherry wood finish. I did not want to sand this, hence the chalk paint. So I took the bed apart, with the help of my handsome hubby, and set up shop in the garage. On my card tables. Because isn't that how all handy DIYers do it? 😉
I was highly doubtful that it would only require one coat to get the coverage that I needed like it claimed. Nothing EVER only takes one coat when it comes to painting. Hence why I hate painting. You have the painting, the waiting, the more waiting, the second coat, the waiting, the finish coat, the waiting…..you get the picture. I am impatient and that's all it boils down to.
Above you can see the coverage after one coat. Now there are certain projects where a person may want a distressed look. If that is what I was going for then I could have stopped here and strategically sanded down areas to give it that look. But I have a feeling my son is going to distress this all on his own with everyday use. 🙂 So I wanted to give it a little more durability with a second coat.
As you can see, even after the second coat there were some spots that rubbed off. But I personally think that is because I was impatient and should have given it another hour to dry. Plus, I didn't mind the few areas that rubbed, so I moved forward with the finish coat.
This is where I wavered on what to do. I really didn't want to do another two coats of a top-coat. Because: Impatient. But I asked around on Instagram to some of my fabulous DIY friends and they assured me I would regret it if I didn't. So I used Rustoleum Ultra Matte Chalked Top Coat. I added two coats of this for extra durability.
And here is how I feel about the products I used. (Note: I'm not getting paid to review these. I didn't get them for free and am not partnering with Rustoleum in any way. I just wanted to share my experience with you in case you're also looking for a cheaper chalk paint option! However, I do earn a small commission if products are purchased using the affiliate links above to help this little blog keep a-goin'.)
PROS
Much cheaper than many other chalk paint options.
Sold in many stores and not hard to obtain. (I found mine in our local grocery store!)
Did stick VERY well on un-sanded furniture. And the angels rejoice!!
Only took two coats to cover a dark stain, whereas latex paint most likely would have taken three.
Leaves a nice finish that is not streaky with brush strokes.
Has a matte finish, which you typically want in furniture.
Cleans up well with water.
Easily sands for distressing if you prefer that shabby chic look.
CONS
Does not cover in one coat like it claims. But really, I didn't expect it to.
Limited color options. This is not tintable so what the can shows is what you get! (Unless you buy Aged Gray, like I said above. In which case you get baby blue.)
You HAVE to do a top coat to ensure the durability of the paint. And most likely two top coats.
Top coat is very runny and can leave drip marks easily if you aren't watching it closely.
So there you have it! My take on this brand of chalk paint. And now, drumroll please…..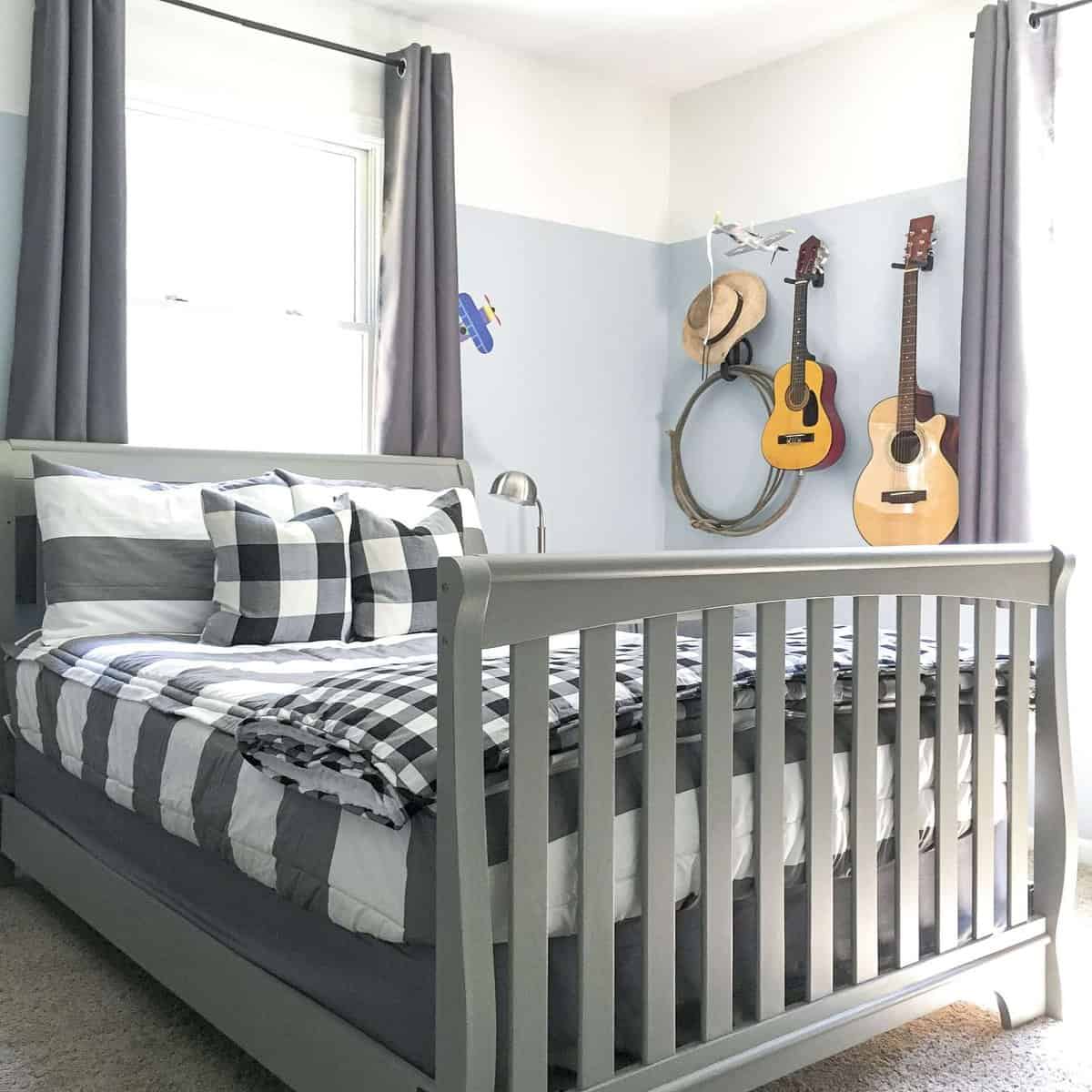 Ta-da!! This is a little sneak peek of my son's revamped room!! I LOVE how bright and airy it feels, even though I didn't paint the walls. Removing all the dark furniture brightened it up so much. And on my next post, I'll be sharing the full reveal. Including how I accomplished goal #1 and #3 above. And here's a little hint, this gorgeous bedding has something to do with it. 😉
Be blessed friends! Until next time,
Sarah
{Each day of our lives we make deposits in the memory banks of our children. – Charles R. Swindoll}
SaveSave