Strawberry Basil Lemonade Recipe
As the saying goes, when life gives you lemons, make strawberry basil lemonade. 😉 Out of the over abundance of my herb garden one year came this sweet, simple and refreshing drink recipe! Whip up this strawberry basil lemonade in minutes and use up that extra basil to give your guests a flavorful surprise.
Strawberry Basil Lemonade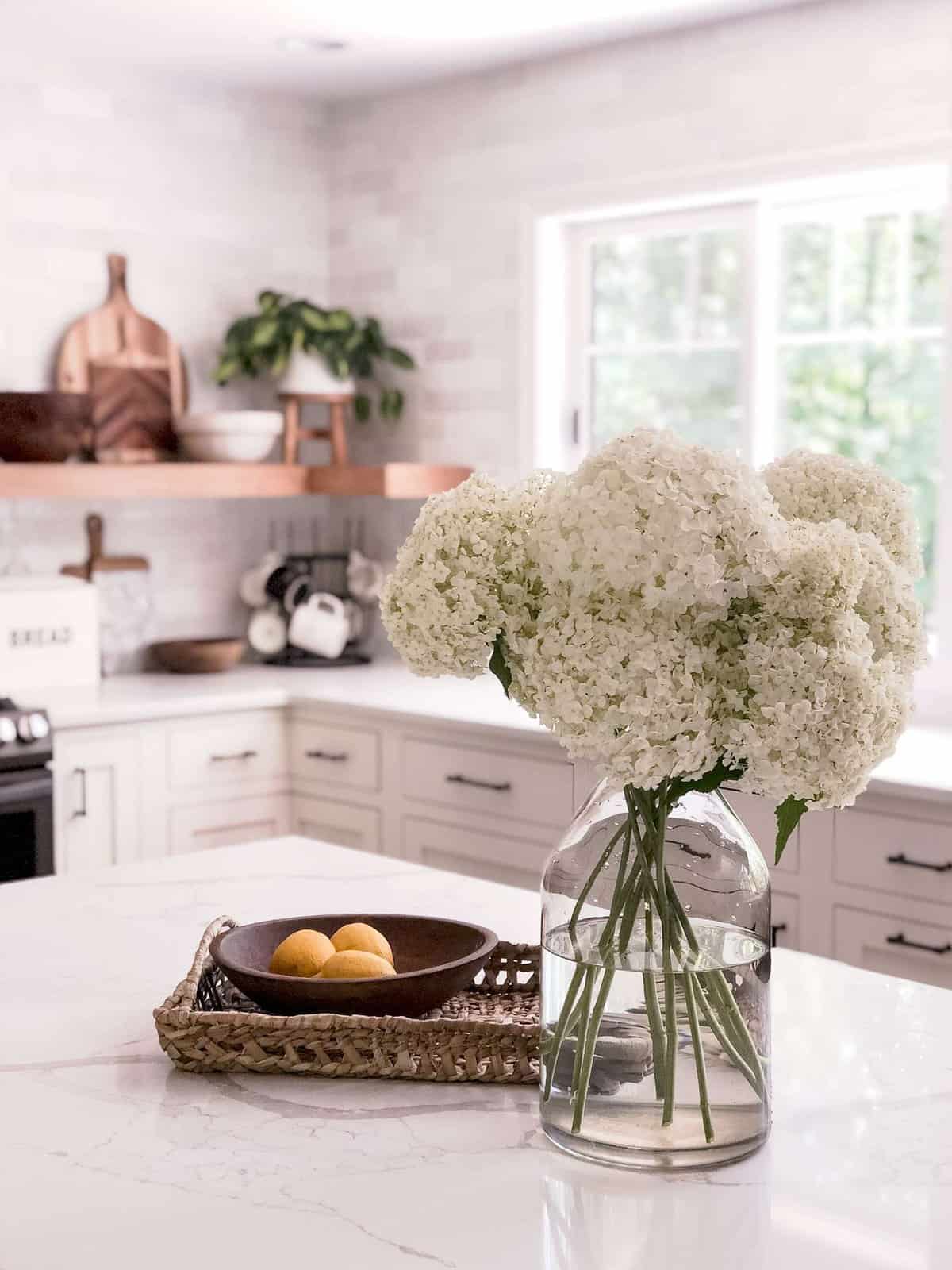 This post may contain affiliate links where I earn a small commission on your purchases.
A few years ago my basil was overflowing from my herb garden. I did all the traditional things to preserve it: dried it, froze it, froze it inside olive oil ice cubes, added it to every dish I made for a month. It was that wild. Then one day I decided to throw a couple of springs into my lemonade and a new favorite was born.
This lemonade recipe works well in many different varieties. Traditional lemonade with just basil is also delicious. However, I like things to be extra sweet so I spruce a traditional recipe up by adding a little twist.
I honestly thought basil was a well known addition to drink recipes, but when I shared it on Instagram I had people coming out of the woodworks asking me for details. So here ya go, folks. 🙂
Kitchen Decor Sources

This strawberry basil lemonade recipe is made for people like me. People who want to look like they put a ton of effort into a drink without actually doing so. Where are all my people at? Raise those hands! 😉
The Process
Ok, so here we go. Be ready to be done in 5 minutes.
Step 1: Choose any kind of lemonade mix. I use Country Time Pink Lemonade powdered mix. You can choose the pre-mixed containers, a different brand, regular lemonade, or even Strawberry Lemonade mixes (which would make complete sense.) It really doesn't matter, as long as you like the flavor of the lemonade you choose.
Go ahead and find a fancy container like my favorite affordable dispenser. Next, mix up your lemonade. Cut a lemon and squeeze half the lemon juice into the container. Keep the other half for slices to garnish.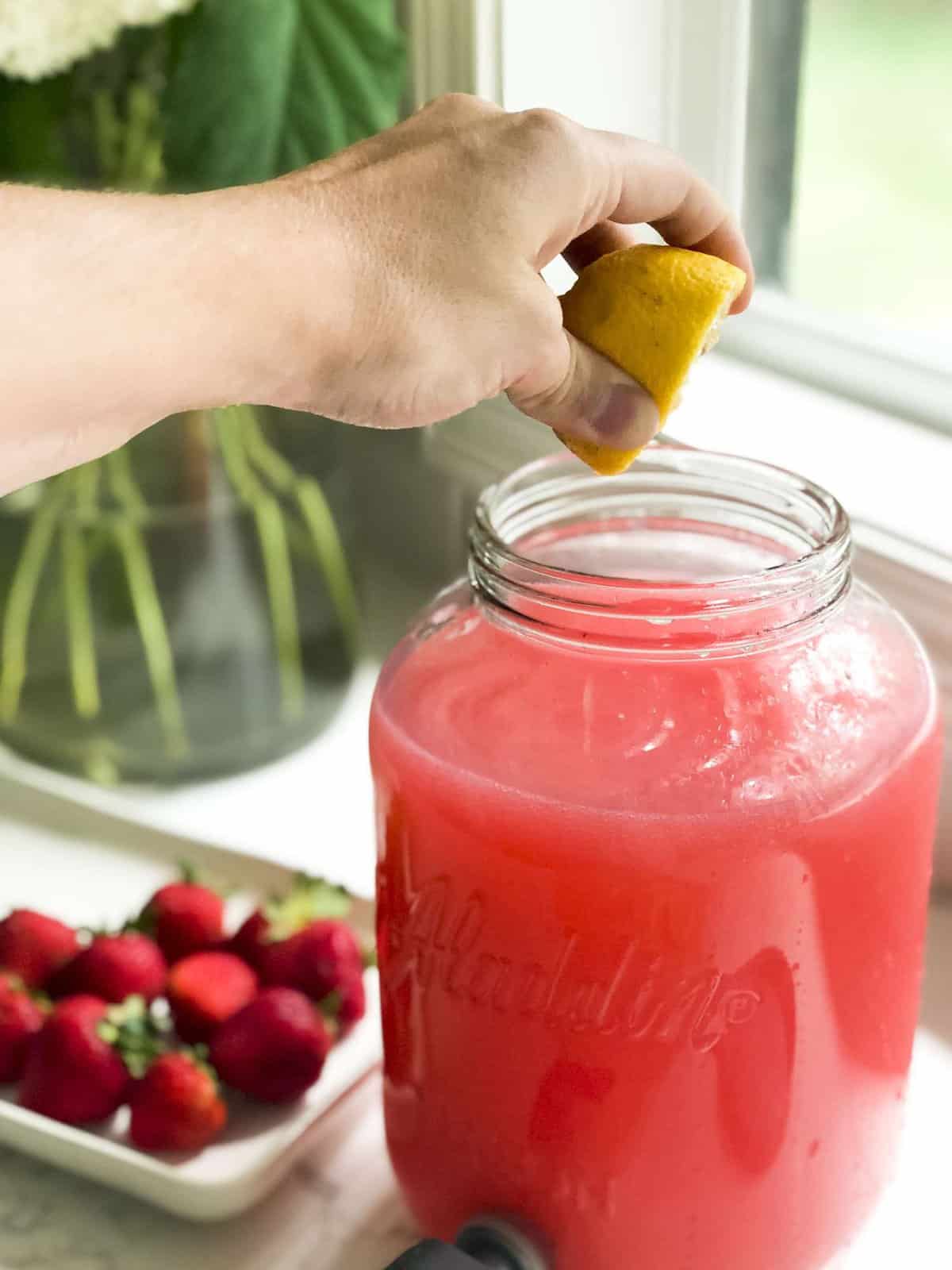 Next, slice up some strawberries. I usually add 6-8 depending on their size and how big my container is. Crush a couple of strawberries and place those in the dispenser too for more flavor.
Now comes the main ingredient! Fresh basil. Cut 5-6 sprigs off your plant (or from the store) and just throw them into the container. Yep…don't even take the leaves off. Just toss the whole stem in.
You really can't add too much basil. The amount I had on hand for this recipe post is actually much less than I'd normally add. But when you've been making a lot of strawberry basil lemonade…your plant becomes quite sparse.
Let all those flavors meld together a few hours in the refrigerator before serving it to guests. It takes that long for the basil to steep and really make it that unique flavor you're looking for.
Finally, pop out your favorite glassware and serve with a lemon garnish! It's pretty. It's simple. It's pink. It's sweet. It's tart. It's refreshing. It's basically perfect.
Spice Things Up
This recipe is very versatile. I've also made this into a spritzer of sorts by following the same recipe as stated above and then adding Sprite. Simply fill glasses 2/3 full of the strawberry basil lemonade recipe and then top off the last 1/3 with Sprite.
Strawberry Basil Lemonade Recipe
Strawberry Basil Lemonade
A delightfully refreshing take on a traditional summer drink. Whip up this uniquely flavored lemonade in minutes for your family and guests to enjoy.
Ingredients
6-7 Strawberries
1 Lemon
1-2 Lemons for Garnish
5-6 Sprigs of Fresh Basil
Instructions
Mix lemonade according to package directions.
Slice strawberries and place in dispenser.
Cut one lemon in half and squeeze half the lemon into the dispenser.
Slice additional half and place lemon slices into dispenser.
Add full sprigs of basil directly to the dispenser.
Stir
Chill in the refrigerator 2-3 hours.
Serve with lemon garnish.
Notes
Let steep in the refrigerator for 2-3 hours for full flavor.
*Optional: Mix with Sprite to create a flavorful spritzer.
Nutrition Information:
Yield:

16
Serving Size:

8 oz
Amount Per Serving:
Calories:

100
Enjoy!