75 Best Gift Ideas People Actually Want (2023)
Holiday and Christmas gift shopping can feel tedious and overwhelming. It can be tempting to stick to gift cards (which, admittedly, I still think are great gifts when given appropriately). However, I went through years of gift giving and receiving, asked for feedback from others, and pulled together the top 75 best gift ideas that people actually want!
Even if you've come across this list after the official gift giving season is over, keep it on hand for when birthdays and special occasions roll around!
This post is sponsored in part by Caraway.
All thoughts and opinions are my own. This post contains affiliate links for your convenience.
Gift Ideas People Actually Want
To make your gift shopping a little easier, I've divided these 75 best gift ideas into categories.
However, I want to call out my absolute favorites from multiple categories first.
1. Caraway Non-Toxic Bakeware and Cookware
If you have a loved one who loves to cook or bake, add Caraway non-toxic kitchenware to the top of your list.
I've used Caraway since 2021 and absolutely love how it cooks and bakes our food. Even more importantly, it is non-toxic so I know I'm doing my very best for our family. You can read all about my experience in this post.
While I have the entire cookware set, and the bakeware set, I do have a few favorites.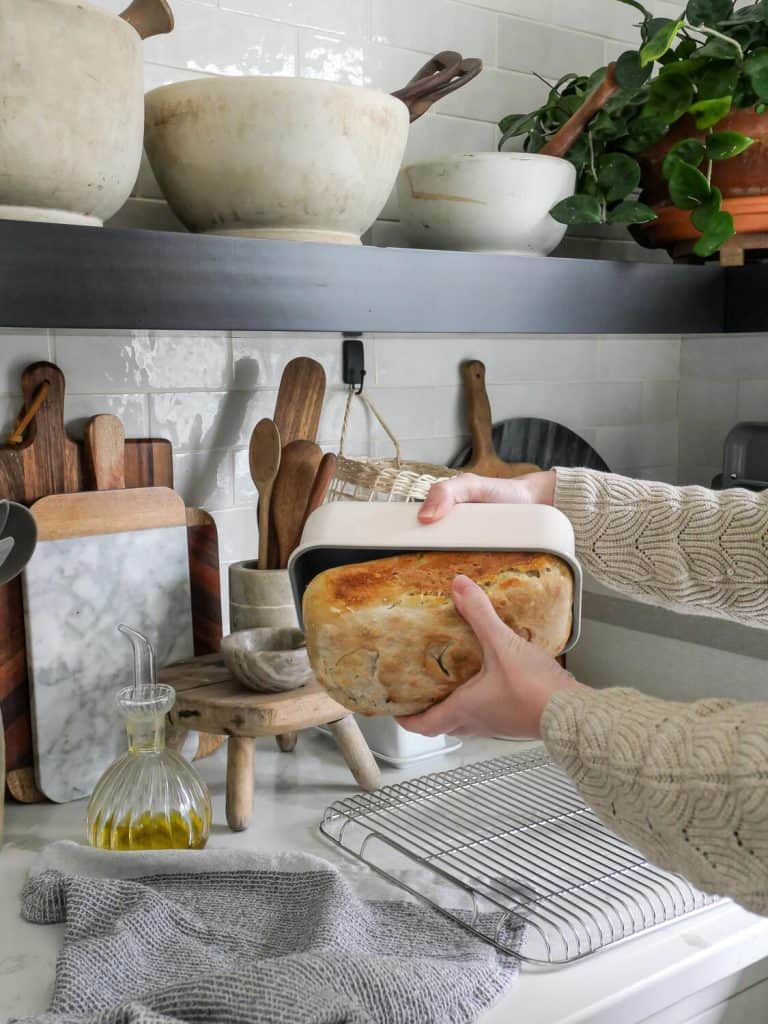 These are the products I use every single day to make dinner:
15×10 baking sheet
4.5 qt saute pan
3 qt sauce pan
When I'm baking bread or cakes, the loaf pan, 9×13 rectangle pan and cake pans are absolute stars. I never use grease, sprays or even butter and flour to prep my pans, yet my breads and baked goods slide out without any issues every time.
I absolutely love the non-stick, non-toxic nature of these pans and I'm positive your loved one will too. Make sure to take advantage of Caraway's holiday sales as it is rare that Caraway goes on sale!
Use my link to save up to 20% off automatically at checkout through 11/28/23.
2. Cozy Minky Blankets
Next up are our family's favorite minky blankets: Minky Couture.
Minky blankets are a dime a dozen, but if you want the very best quality, Minky Couture is worth the investment for your loved one.
I've owned my oldest Minky blanket since 2017 and it still feels as minky and luxurious after dozens of washes as it did the day I got it. This year I finally invested in our fifth blanket so that every family member has one.
No more fighting over the favorite! My preference is the Monster size. It fits one person perfectly head to toe; but if you're a cuddler, two can sneak under it too.
You can use code symonds45 to save 45% off your order.
3. Tools to Make Life Easier
Sometimes cleaning tools can get a bad rap as a gift idea. However, if I am given something that makes a daily task easier, then that's a win in my book.
These are my favorite cleaning buddies that I have even loaned out to loved ones. Believe me, it can be a bear to get them back. 😉
Both of these items make cleaning the toughest bathroom and floor messes simple and quick. They are back savers and are especially helpful for hard to reach places like deep tubs and behind toilets.
4. Heated Accessories
The final call out I'll discuss is the heated items I love.
If you have a loved one that is a sports parent, outdoorsman or works outdoors, then these items are for you. They have saved me and my mom at sporting events. My husband wears his heated vest for all our soccer games, outdoor work, and hunting adventures.
75 Best Gift Ideas For Your Loved Ones
Now let's cover it all! From stocking stuffers to the best gifts for parents to kid's gift ideas, these are my tried and true favorite gifts to give!
*Denotes items I have and love.
Stocking Stuffer Gift Ideas
While I love all of these stocking stuffer gift ideas, and have tried to keep them below $10, I do have to call out the apple air tag. This is a great gift for someone who is always losing things.
Gift Ideas For the Artist
My daughter loves art and owns all of these items! Her favorite is the wood box art painting and drawing set for its huge variety of mediums.
For the Home Enthusiast
Shopping for a home enthusiast is the easiest, in my opinion. You can't go wrong with a single item in this list.
Or, grab a basket and tuck a few favorites into it for a thoughtfully curated gift basket.
Looking for a very unique gift? For those who really want to invest in their home, consider buying them a subscription to the Elite Decorating Academy by She Holds Dearly (#18). In this online course, they will learn countless details about interior design and home decorating.
For the Fashionista & Beauty Enthusiast
If you have a fashion and beauty lover, I swear by DIME's skincare products. They are a clean skincare company and I've seen such a huge improvement in my skin that I no longer use any makeup beyond mascara and blush!
Tuck a few boxes of DIME in with a cozy sweater and pretty jewelry to create a wonderful gift idea.
For the Chef, Baker and Grill Master
I've already detailed my love for Caraway above. However, some other items I couldn't live without in the kitchen are my meat masher, marble spice canisters (so pretty!) and my favorite kitchen towels with easy hooks.
For the Outdoorsman, Traveler or Soccer Mom
We chatted about my love of heated accessories above. Now, snag one or two other items from my outdoorsman list to round out the gift!
I almost added the WorkTunes Bluetooth Hearing Protection to my call out list above as well. This is a set of hearing protection that has built in bluetooth speakers. My husband uses these every time he does work on the lawn or his tractor. Hearing protection while he listens to a podcast or music!
Gift Ideas For Kids and Teens
Kids and teens can be either the easiest or the hardest to shop for. These 14 items have been my kids' favorites over the years from the age of 3 to 13.
Stay Connected
I hope these 75 best gift ideas have been a helpful jumping off point for your holiday shopping!
Thanks so much for stopping by Grace In My Space today! Make sure to subscribe to access all my free guides. Plus, you can follow along with me daily on Instagram and weekly on YouTube!
~Sarah