8 Benefits of Non Toxic Baking Pans (2023)
Non toxic baking pans are an essential part of healthy cooking. I've been slowly making the switch to non toxic cookware over the last few years. Today, I'm excited to share 8 major benefits of switching to non toxic bakeware in your kitchen! Plus, my favorite non toxic bakeware and pan sets!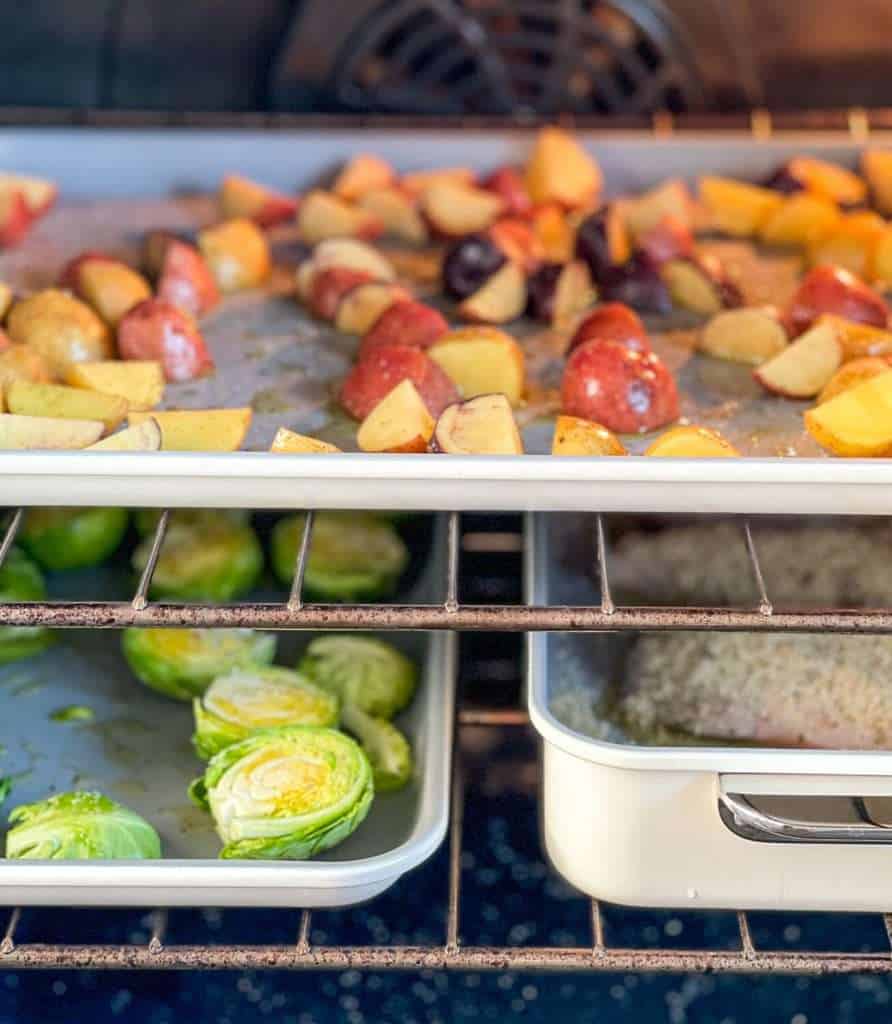 This post is sponsored with thanks to Caraway.
All thoughts and opinions are my own. Post may contain affiliate links provided for your convenience.
Why Switch to Non Toxic Baking Pans
Did you know that over the years, we've been introduced to pots and pans that have actually proven to be harmful to our health? Non stick bakeware that has teflon coatings can produce chemicals leached into our food and air with every meal.
I'm so grateful that we now have healthy alternatives!
What is the Healthiest Type of Bakeware?
It is generally agreed upon that there are several options to choose from for safe bakeware.
Glass
Stainless steel
Enameled cast iron
Ceramic or ceramic coated
Stoneware
What Material Is Good For Baking Because It's Non Toxic?
My favorite type of non toxic bakeware is ceramic or glass. Ceramic coated aluminized steel usually wins out because it provides such even baking, while being completely non stick.
8 Benefits of Non Toxic Bakeware
Here are the top 8 benefits of switching to non toxic baking pans.
Doesn't contain lab made chemicals like PFOA, PTFE, or other PFAs
Doesn't contain lead, cadmium, or toxic heavy metals
Doesn't leach toxic materials into food
Doesn't off-gas toxic fumes when heated
Even heating for quality baking at lower temperatures
Non reactive to acidic ingredients (won't rust)
Easy to clean
Beautiful bakeware sets to enjoy!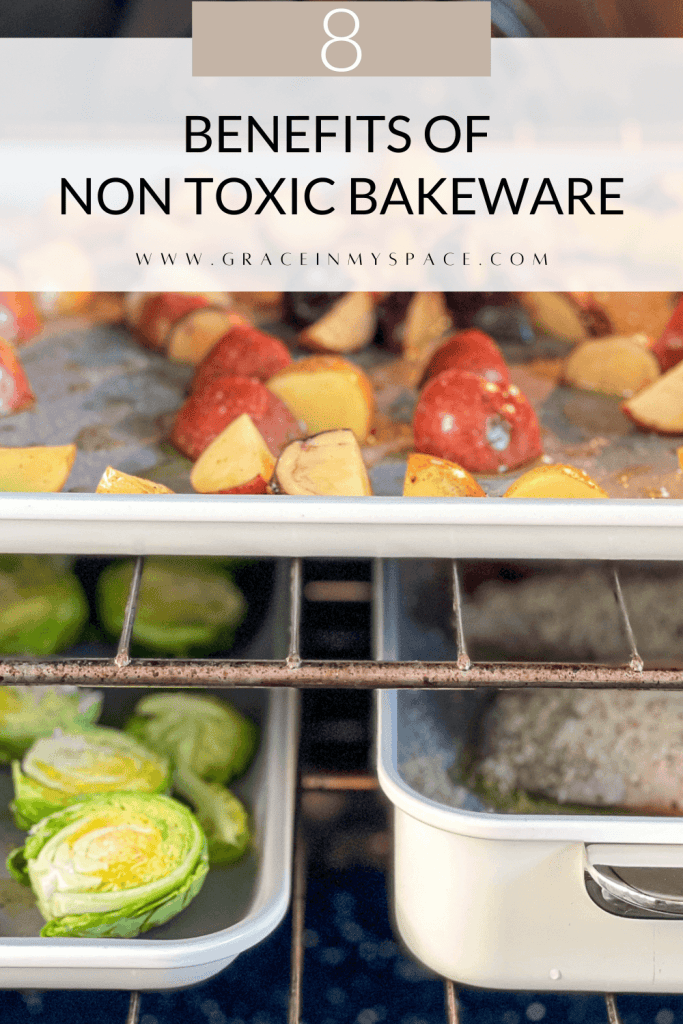 The Best Non Toxic Baking Pans and Cookware
I've tried many different brands of ceramic bakeware and have always come back to Caraway.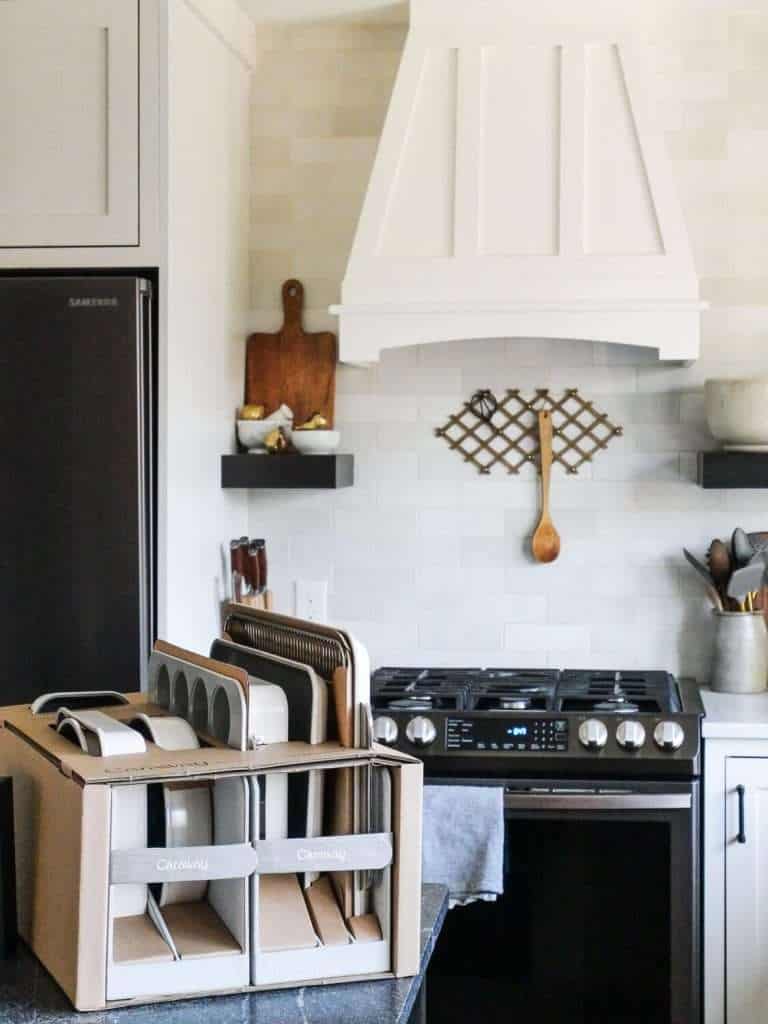 I LOVE the way they cook and bake. I've used the 6 piece cookware set for months and had to grab the 11 piece bakeware set next. I love that it comes so perfectly packaged and organized.
From personal experience, these are my favorite features.
Non toxic, does not contain any lab made chemicals or heavy metals.
Non stick, food slides easily from the pan when baking or cooking without using heavy oils or butter.
Easy to clean, no stuck on residue! Just a swipe with a soapy rag and they are clean in seconds.
Even cooking at lower temperatures, making food is simple and baked goods turn out delicious!
A variety of colors to choose from that are beautiful to use.
Organized storage systems come with the sets.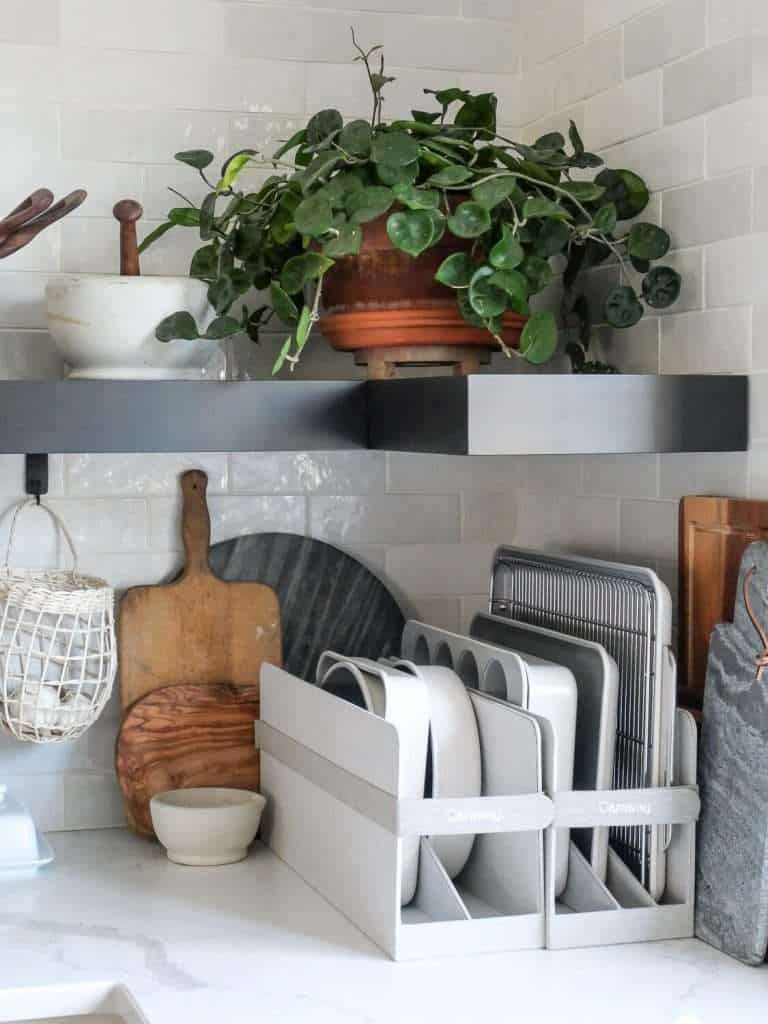 I've had my set since September 2022 and enjoy using not only the pots and pans, but also the bakeware set, immensely!
CHECK IT OUT
10% Off Caraway
Bonus: Full Meal Plan With Recipes
I've loved cooking with my Caraway non toxic baking pans and am excited to gift you a full meal plan!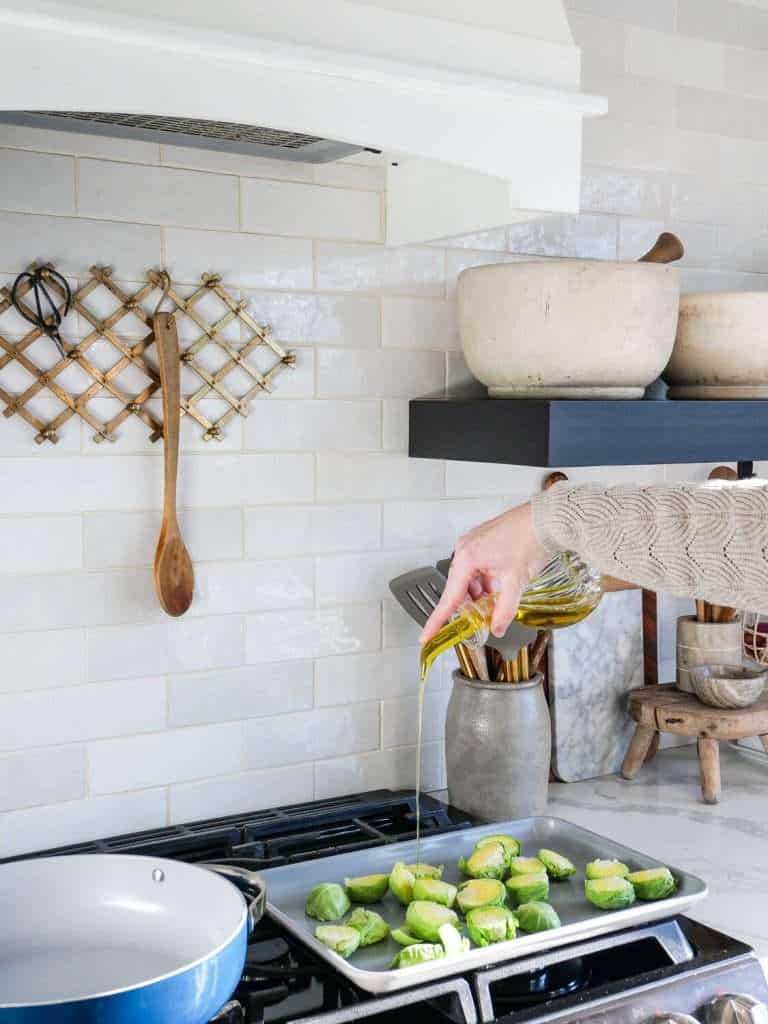 Grab each recipe I've shown in today's article via the links below. And, don't forget to sign up for my weekly Grace Notes newsletter to get all my free recipe printables!
Today's Recipes
Fingerling Potatoes: Half and drizzle with olive oil and seasoning
Brussel Sprouts: Half and drizzle with olive oil and seasoning
Bake both at 425 for 20-25 min.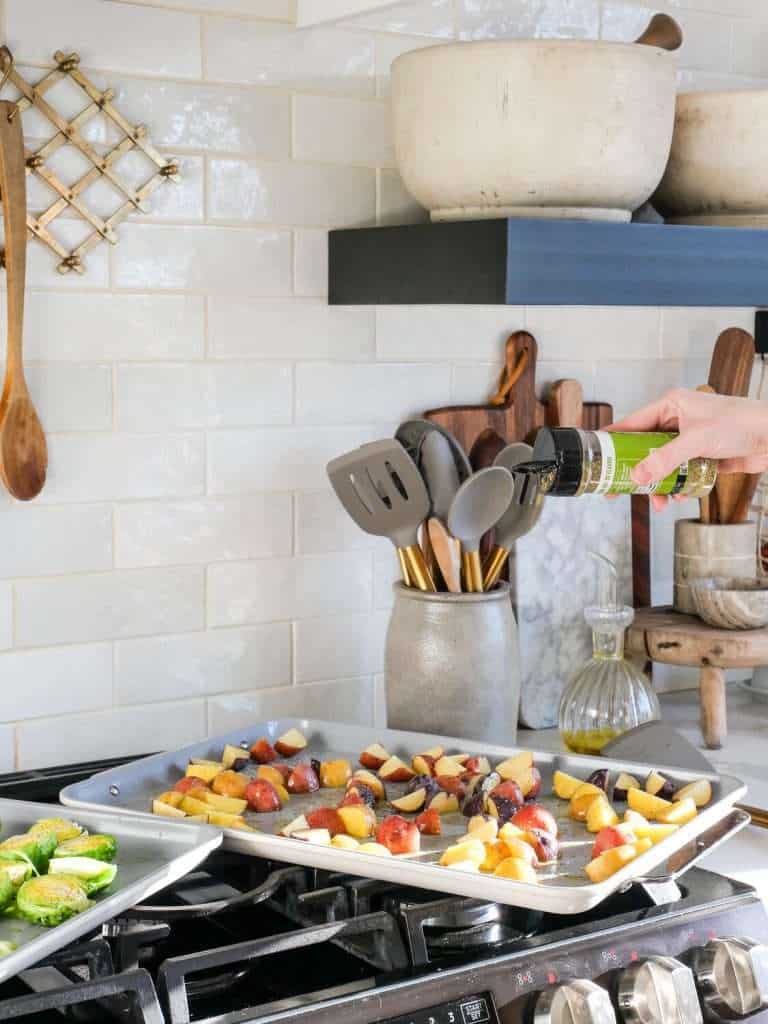 You'll Also Enjoy…
I hope that this article on the benefits of switching to non toxic baking pans was helpful! Make sure to check out Caraway's cookware and non toxic baking sets via my link for 10% off your order.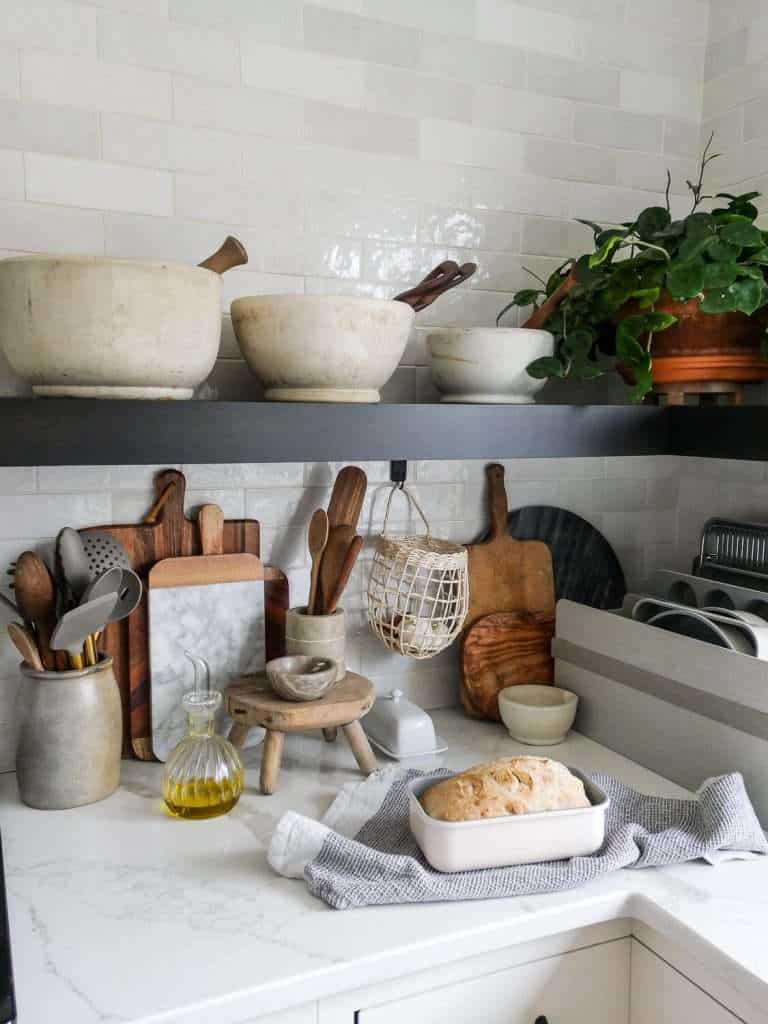 You might also enjoy these articles:
Thanks for stopping by the blog today! Make sure to subscribe to get my Grace Notes directly to your inbox and to access all my insider perks. You can also follow along daily on Instagram and weekly on YouTube!
~Sarah