Best Non Toxic Bathroom Cleaner (2024)
I know I'm not alone when I say the bathroom is my least favorite room to clean. I mean, just eww. This space takes the most amount of time and work to clean since it has so many different types of surfaces and by its nature, it is a place that needs to be cleaned often! So, to make this experience more enjoyable, I have compiled a checklist of non toxic bathroom cleaner options that make quick work of cleaning the bathroom organically!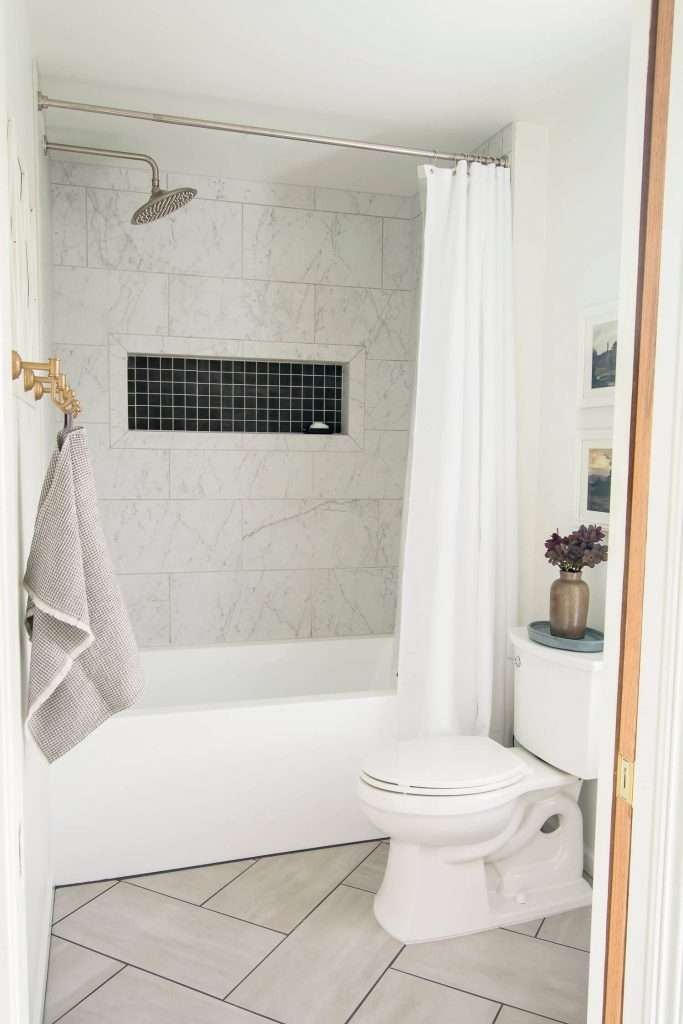 This post contains affiliate links where I earn a small commission on your purchases at no additional cost to you.
Organic Bathroom Cleaners
As I've continued to explore removing the toxins from my home cleaning routine, I was particularly interested in how to find organic bathroom cleaners that actually work.
I think that American culture has woven the story that for something to be truly clean, we need to bleach it to oblivion.
However, I've found that bleach is highly overrated, especially in bathroom cleaning. Bleach is one of the main ingredients people look for when shopping for bathroom cleaners. However, while bleach disinfects, it is also releases harmful toxins into the air that we are breathing in and touching.
It can also be extremely damaging to surface finishes. It can tarnish and eat away at metals and protective finishes that are on our bathroom fixtures, causing more damage than it's worth!
With my switch to organic bathroom cleaners, I've found that my bathroom is just as clean as when I was using the "hard stuff". And now I can feel good that I'm creating a safe environment for my family.
Plus, I am confident that my non toxic bathroom cleaners are even safe for my kids to use. Therefore….momma can spread out the chores to the littles. All a part of parenting, am I right? 😉
Best Non Toxic Bathroom Cleaner
The best non toxic bathroom cleaner for you depends on your needs! Some people want to use natural bathroom cleaners that they can simply purchase already made for convenience.
Others, want to make their own non toxic bathroom cleaner so they can see exactly what goes into it.

So, I've got some options for you!
Let's focus on each section of the bathroom and you can decide what method works best for your lifestyle and schedule.
Non Toxic Bathroom Cleaner Supply List
As you switch to non toxic organic cleaning, you'll want to gather some basic supplies that you'll use over and over again.
These will be an upfront cost, but in the long run, it is cheaper to clean organically than to purchase traditional cleaners each month.
Here are my essentials for non toxic cleaning, with shoppable links:
Branch Basics Starter Kit (Use code GRACEINMYSPACE for 15% off)
Essential Oils (If you're new to essential oils, start with the starter pack as it's most economical. Search #26666)
Baking Soda (Same thing you use for cooking!)
How to Clean the Bathroom Naturally
Mirrors
Mirrors are a simple one. They are usually the least dirty (unless you have a vigorous spitter).
But regardless of their cleanliness level, both of the below methods work perfectly to get a streak free shine.
Clean with a 50/50 vinegar and water mix in a spray bottle and wiped with an E-cloth polishing cloth.
Use the E-cloth window cloth and polishing cloth alone (wipe with wet window cloth, dry with the polishing cloth).
Natural Shower Cleaner
Cleaning the shower and tub are next on the list, and arguably the most important when it comes to non toxic bathroom cleaning.
The tub especially, because bathing kids, or taking a good soak as an adult, means that you are literally sitting in whatever cleaner you've cleaned your tub with.
Personally, when I first considered that my kids were soaking in bleach remnants, it was a light bulb moment that really pushed me to learn more about organic cleaning.
I use Branch Basics for all my general cleaning. It is a concentrate, so your non-toxic product stretches a long way.
However, you can also make your own natural shower cleaner with this simple recipe.
Ingredients
1/4 cup borax
1 cup white vinegar, heated in microwave for 30 seconds (to help dissolve borax)
10 drops lavender essential oil
5 drops lemon essential oil
Instructions
Combine all ingredients in a bowl or squirt bottle. Mix well until borax is dissolved.
Spray shower walls and tub liberally with mixture and let sit for 5-10 minutes.
Wipe down and rinse.
Counters & Cabinets
You can use bathroom E-cloths for both of these.
A 50/50 vinegar/water solution will clean tile, counters, cabinet fronts and soap scum in the sink.
A baking soda and water paste will clean stuck on gunk in the shower and tub (use vinegar instead of water for really tough stains).
Non Toxic Bathroom Cleaner: Toilets
I use Branch Basics on the toilet surfaces. Simply wipe down with an E-Cloth after spraying!
It is completely non-toxic. It is also great for everyday cleaning around the home!
For toilet bowls with stubborn stains, try this fool proof DIY toilet bowl cleaner that is septic safe! It is a non toxic toilet bowl cleaner that you will be amazed at the results.
I had tried everything to clean my hard water stains from our toilet bowl. CLR, Lime Away, bleach…nothing worked until this!
I also combine that cleaner with a pumice stone if necessary. Nothing can withstand these!
Air Freshening
Having two kids running around the house can make keeping the bathroom clean difficult. It also does not help with maintaining a fresh smell in this space.
However, products like Febreeze and Lysol spray have a host of chemicals that can be harmful to children. To freshen the bathroom without the toxins, try these natural ideas:
Diffuse an essential oil blend. I highly recommend Young Living for their Seed to Seal guarantee and pure 100% therapeutic methods. You can shop essential oils here.

Try this simple combination!

6 drops Purification essential oil blend
3 drops Lemon essential oil
1 drop Tea Tree essential oil (Exclude if you have pets as Tea Tree oil can be toxic to cats and dogs)

Try a DIY linen spray to spritz onto your towels or linens! This article has some great recipes.
Bathroom Design Details
I hope that this article on the best non toxic bathroom cleaners has been helpful to you as you create a healthy environment for your family!
If you're looking for details on my bathroom design or shoppable sources, check out the remodel details here.
Stay Connected
Thanks for stopping by the blog today! Make sure to Pin this post for later so you can access your favorite non toxic bathroom cleaning recipes.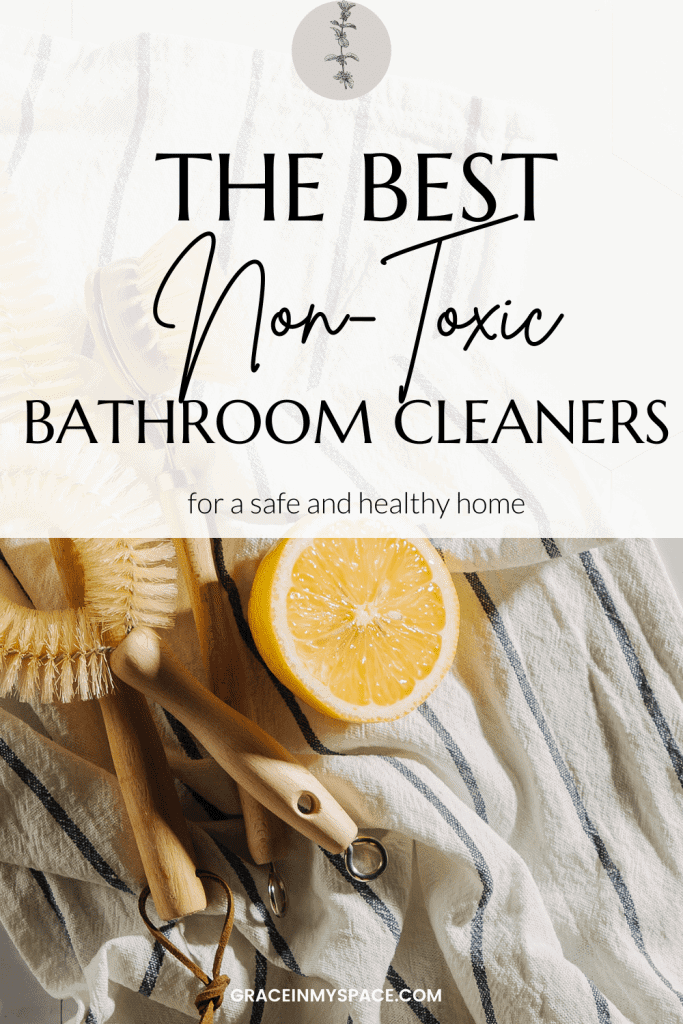 I'd love it if you'd join the Grace In My Space community! You can subscribe to the blog below, or follow along with my daily on Instagram and weekly on YouTube.