Organic Modern Bathroom Design Plans
Bathroom remodels can increase home values and create an oasis! However, they are usually one of the last rooms to get a facelift because of the expense of a bathroom remodel. I've done some smaller projects to modernize our guest bath, but it is finally time to do a larger remodel. I love sharing my design plans for these types of projects with you and I hope you're inspired by these organic modern bathroom design ideas for our guest bath remodel!
This post may contain affiliate links where I earn a small commission on your purchases at no additional cost to you.
A big thanks to my partners in this bathroom renovation: Signature Hardware, Atlas Concorde USA, Lakeside Surfaces
Bathroom Design Ideas 2021
There are so many incredible bathroom design ideas in 2021. I've loved seeing how the trend is becoming broader to include more design styles as people really lean in to designs they love. Being at home more in 2020 lit a fire in many people and designers to truly enjoy their homes, and from that has come an explosion of creative ideas.
Now, we are seeing so many different styles become popular. Light and bright, traditional, modern and sleek, colorful and playful, and organic and earthy designs are everywhere. All of these bathroom design ideas are so different from one another, yet each holds its own unique beauty.
As I've searched for the bathroom design ideas that I gravitate towards, I've found myself continually going back to an organic modern bathroom design. I love the juxtaposition of organic and earthy textures and tones combined with sleek and modern metals. So today, I'm sharing how to combine those two looks to create a cohesive bathroom design!
If you aren't sure how to figure out what your design style is, make sure to sign up for my free three module e-course! You can learn the basics of creating a haven in your home to help you on your way towards understanding interior design.
Small Bathroom Updates that Make a Statement
Even though we are ready to fully remodel our guest bathroom, it isn't in budget for many people to do the same! I am a big proponent of making small changes to a space as you save to do a larger remodel. So if you're in that boat, make sure to head to my guest bathroom makeover post from when we first moved in.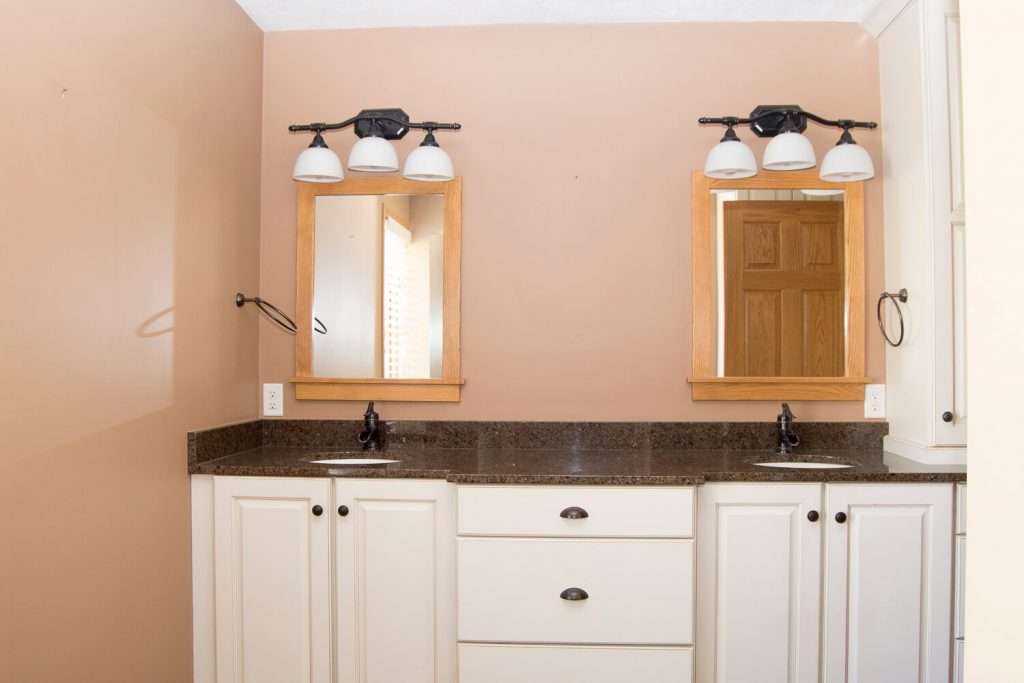 You can see the small changes I made to this space on a tight budget! It is possible to make a big impact in design without doing a full remodel.
Organic Modern Bathroom Design Plans
My modern organic bathroom design plans have shifted a few times throughout the design process so far. My original mock up included these finishes, which I still love!
Initial Bathroom Design Ideas
After ordering samples of some of the items, I quickly realized that while I love the look, they weren't going to work for my space. Budget also played a part in having to cross certain items off the list. Here is a source list for those who want more details on these items!
The brass lighting is beautiful, but I've decided to try a DIY lighting option first to stick within budget. The terra cotta floor is stunning in person, but the scale was too small for our larger bathroom. The brass knob and pulls are a beautiful option, but I found some I love even more that I will share next!
I ordered the polished nickel faucet, and when it arrived I was struck by how large it was. It is a beautiful option for a kitchen, mudroom or laundry room; however, I felt it was too large for my bathroom space. So I returned it and ordered a smaller scale option.
And the soaking tub is a stunner, but was out of stock during my remodel timeline. So I ended up ordering a similar option and am hopeful that it will be as high of quality!
These are great examples of why design needs to be flexible as you go about any remodel. While they all look good on paper, seeing pieces in person or in the space can quickly change how well they fit with an overall design.
Bathroom Vanity Lighting Options
Below you can find similar styles of bathroom vanity lighting at varying price points. Simply click the affiliate image to shop.

---
Organic Bathroom Design Elements
Now, let's break down the elements I did choose to move forward with for our bathroom remodel! These organic bathroom design elements provide a calming atmosphere. I wanted to incorporate lots of natural stones and an earthy color palette to ground the space.
This helps keep a timeless design that isn't too trendy. When it comes to bathroom or kitchen remodels, I like to stick with more classic choices since they are too expensive to change frequently.
You can see how I used the same design process for our custom kitchen remodel in 2019.
Quartz Countertop
For the bathroom countertop, I chose a grey quartz with subtle veining. The Monterey quartz from Lakeside Surfaces is a durable option for bathroom counters. I'm so excited to work with Lakeside Surfaces again! They did my kitchen countertops and we've been so happy with the outcome.
I love the look of marble, but didn't want a white countertop. I rounded up 15 of the best marble look-a-likes when I did my kitchen remodel, and this one was on the list! I love the grey undertones and chose to bring the quartz up the wall for a more substantial backsplash.
You can see in the mock up above, Lakeside Surfaces was careful to continue the veining up the backsplash for a cohesive look. I can't wait to see it in person!
Shower Stall Tile
Continuing the organic feeling, I chose to bring the marble look into the shower room with oversized shower stall tile in the Eon Carrara porcelain wall tile from Atlas Concorde USA.
This will make a bold statement in the shower, with a contrasting niche tile to bring some weight to the design. I chose to go with a larger porcelain tile so there is less grout. This helps create a cohesive feel with less lines visually breaking up the space. Plus, it offers less grout maintenance!
For the large niche, I chose the Reflex Mosaic in the color, Night. This black will contrast with the more organic marble looking wall tile to pull together the organic modern bathroom design in the shower room.
Additionally, the Reflex line is what I choose for the flooring, just in a different color!
Floor Tile
Since I have a patterned countertop and shower stall, I wanted to keep the floor a solid color. However, I didn't want it to be boring! That's where the Reflex line from Atlas Concorde USA comes in. This line is a porcelain tile that looks like concrete, but has a shimmering metal detail. It is highly textural without being busy and provides a great detail when you want a solid color that doesn't fall flat.
At this point, the plan is to lay these large 12×24 tiles, in the color Mercury, in a herringbone pattern to add another interesting design element to the space. The pattern you choose to lay your floor tile in is as important as the tile itself! This seemingly small design decision can go a long way in adding interesting detail to your space.
Organic Bathroom Color Palette
If you've followed me for any length of time on the blog or on Instagram, then you know that I tend to lean towards clean color palettes with pops of color. The color usually being green. You can see some of the other bold ways I've used green in the posts below.
Sticking true to my signature colors, I'll be using greens and shades of white in the bathroom design. I wanted to keep the walls light so they don't compete with the stone elements. I haven't yet decided on a final color but they will be in the white/grey/cream family.
Rather than replacing the bathroom vanity, I will be updating it with paint and some more modern trim finishes. I've chosen Forestwood by Sherwin Williams, which is a creamy deep green with army green undertones. This earthy color will be a statement maker among other calm organic elements.
Modern Bathroom Design Elements
So far we've covered the organic elements I included in my design with various stones and an earthy color palette. Now, let's talk about the modern elements that create an organic modern bathroom combination. For the modern design factors, I chose to keep my metals classic with polished nickel and brass. Then, I used clean lines for the large bathroom mirrors that streamline the space.
Modern Cabinet Hardware
When I remodeled my kitchen, I used many products from Signature Hardware, including their cabinet pulls. I know the quality of their pieces so I'm excited to work with them again on this bathroom remodel! I chose to use satin brass on the cabinet hardware. I think it will pop off of the deep green cabinets beautifully. I always love a pairing of green and brass.
Organic Modern Mirrors
Then, I decided to incorporate the Dampier Rectangular Decorative Vanity Mirrors in Antique Brass. These mirrors have modern lines, but a more organic feeling due to the aged antique finish. They will pair beautifully with the more modern brass cabinet hardware.
Polished Nickel Accents
Then, to complete the modern look, I added nickel accents with the faucets, towel bars and shower fixtures. I love mixing metals to create a specific look. The mixture of modern nickel with organic brass helps keep that organic modern bathroom design in tact.
Bathroom Design Flexibility
As you can see, the final design hasn't strayed too much from my original plan. I was able to swap in a few elements that played better with each other and still married the organic and modern designs together. While at the same time, keeping within budget and project timeline.
Now, we just have to implement everything! This project will be a mixture of DIY and hired work. While I'll be tackling the cabinetry and lighting DIY style, I've chosen to have a professional install the tub and tile. There are some projects that I'm happy to muddle through and there are others where I know a professional will do a more quality job!
Make sure to subscribe to be updated when the project is complete! Before and afters are my favorite and we are going to take my current guest bath, below, and transform it to an organic modern design style!
Bathroom Remodel Update
Have you seen how the design came together?! My bathroom remodel is complete and you can find all of the details in the posts below.
Stay Connected
Thanks so much for stopping by the blog today! I hope you enjoy this breakdown of my organic modern bathroom design plans. If you want to watch projects like this unfold in real time, make sure to follow along on Instagram where I share all my home improvement projects.