Tile Shower Renovation Cost Break Down
Do you need to know how much it costs to remodel a shower? Gathering information is so important before striking out on a remodel. Bathroom renovation costs are so hard to nail down because every single decision you make, from the products you choose to how they are installed, factor into your final cost! There are many different types of shower remodels, and they can cost anywhere from $300-$15,000 and up! So today I'll be sharing some of the different types of shower remodels and what you can expect to pay. Plus, here is our tile shower renovation cost break down from our transformed bathroom!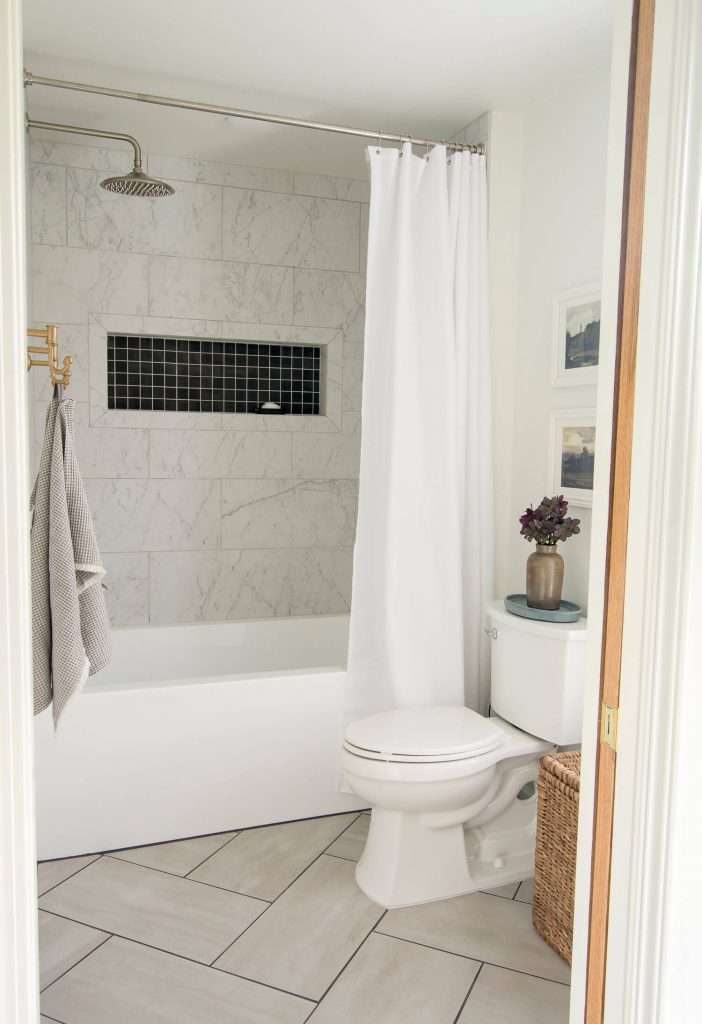 This post may contain affiliate links where I earn a small commission on your purchases at no additional cost to you.
If you missed it, make sure to check out my bathroom remodel design plan to see how the mood board prepared me for this bathroom renovation!
And if you're looking for help designing your home, I love being able to offer a free e-course to my subscribers! Sign up below to enjoy a free three-module e-course that will help you take those first steps in designing your haven.
How much does it cost to remodel a shower?
That is the question! While it would be ideal to have a one-size-fits-all answer, it is simply not realistic. A lot of factors play into the cost to redo a shower.
Materials used
If structural changes are necessary
Prefab v. custom
Changing the layout? Does plumbing need to be moved?
Tub v. shower stall
Door & Fixture choice
Size of the shower
DIY v. Hired Labor
Permits
Geographic area
What you may uncover that needs to be repaired after removing the old shower/tub.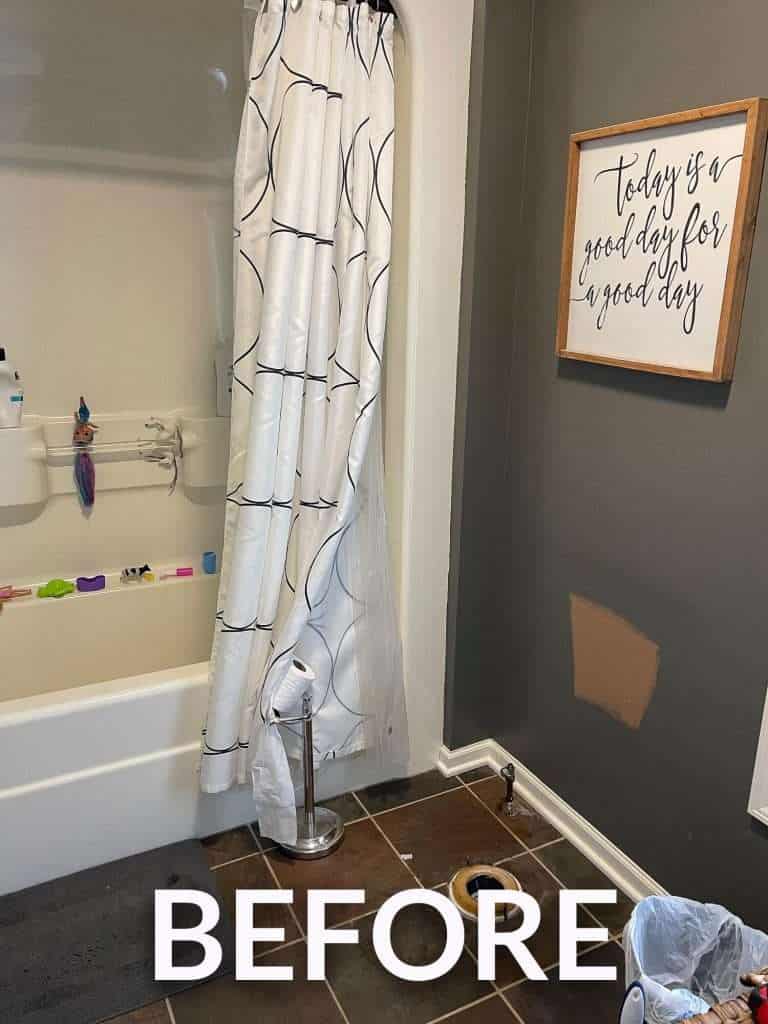 The shower renovation cost for our project is what I would call mid-tier. We chose to do a custom tile shower and tub combo to replace the prefabricated shower surround. We also chose to hire out the labor rather than doing it ourselves, and that is where the majority of the budget went! Let's dive into a few different shower remodel options so you can get a better idea of the average cost of a shower remodel.
Prefabricated
Prefabricated showers are the most affordable option. There are many varieties, sizes and styles to choose from. However, the are all essentially a similar model of either plastic, fiberglass or acrylic manufactured shower kits in a standard size.
These are much simpler to install than custom showers or tile as they are assembled, rather than being built by hand. This is what our shower was prior to our bathroom remodel. Above, you can see that removal includes lots of cutting as it's difficult to get an entire unit out in one piece!
Though many factors are involved, including labor prices, an average cost for prefab kits is around $1,000.
Tub and Shower Combination
Another type of shower remodel is a tub/shower combination. This is the version we chose during our bathroom remodel. I wanted to keep the tub as it is the only one in our home and the kiddos (and me ;)) love bath time!
If you choose a tub/shower combination you have choices on how to finish the shower walls. We chose to tile them, however you can also buy shower wall inserts in various styles and price points.
Again, many factors need to be taken into consideration, however average prices for this combination range from $4,000-$8,000.
Walk In Shower
The final option for a shower remodel is a walk in shower. This is ideal for those who have no need for a tub, or for greater accessibility. Walk in showers are often considered luxury showers and carry the highest price point. These can range from $6,000-$15,000 depending on size, labor, materials and finishes.
My Shower Remodel Cost
My shower remodel happened to occur during the spring of 2021 when labor and lumber prices have skyrocketed. If I had done the same remodel a year and a half ago, the price may have been less. This is just one example of how many different factors will impact your remodel! So let's break down my shower renovation cost.
Labor Cost to Install Shower
While most of my home improvement projects are DIY, I decided to hire the bathroom renovation out to licensed contractors. Plumbing, framing and tile installation are all skills that I would have had to develop through the project as they are new to me. And frankly, I didn't want to fumble through a project that puts our family down a bathroom!
If you choose to DIY your shower renovation you will save A LOT of money. However, it simply isn't an option for some! So here are the labor costs for my shower renovation.
Disclaimer: these are labor costs for my geographic location, in the middle of a pandemic, from contractors that we know and trust! We could have chosen to use contractors who gave us lower bids, however sometimes you get what you pay for. I highly recommend vetting your contractors thoroughly and working with licensed and insured professionals.
Contractor
Demolition of existing shower
Removal and disposal of all materials
Shower framing
Insulation (I had him add extra insulation around the tub due to it being on an exterior wall. Gotta keep those baths warm!)
Tub installation
Re-drywall ceiling and portions of walls due to removing the existing bulkhead
Shower wall installation to prep for tile
Trim work and other extra carpentry related tasks
$2,525

Working hand in hand with our carpenter, plumber fees also need to be considered. We had to move one vent pipe, as well as reconfigure where the shower head and tub faucet were located. He also set our toilet after finding cracks in the toilet itself and seals.
Plumber
Relocate vent pipes
Relocate shower fixtures
Toilet Installation
Sink plumbing
$775
Cost to tile a shower
Next, is the cost to install a tile shower.
Our tile guy, Perry. (Perry the Tiler. AKA Tyler Perry.) Did a fantastic job installing both the floors and the shower tile. All our tile for our bathroom remodel was sourced from my partner in this project, Atlas Concorde USA.
Our total labor fees for the entire bathroom included demolition of the existing floor tile, as well as reinstallation of the floor tile. For the shower alone, plus mortar and other materials (excluding the tile itself) his fee was $1,500. It took him a full week to do all of the demolition and installation working solo.
In talking with many of my Instagram followers, this price is considered extremely high and extremely low, depending on where they were from across the country! Geography plays a huge role in labor prices, so make sure to get multiple quotes if you are hiring for a project.
Didn't the shower turn out so beautiful?! I can't get over how high-end it feels with this beautiful porcelain tile and oversized soaker tub.
Shower Renovation Cost: Materials
So far, just for labor, our total for the shower is at $4,800. This should give you a good picture of areas where you can cut costs if you choose to do demolition and installation yourself. DIY is a huge money saver, as long as you know what you're doing!
On the other hand, a botched DIY plumbing or tile installation job could end up costing you more down the road! So keep that in mind as you weigh pros and cons for DIY v. professional installation.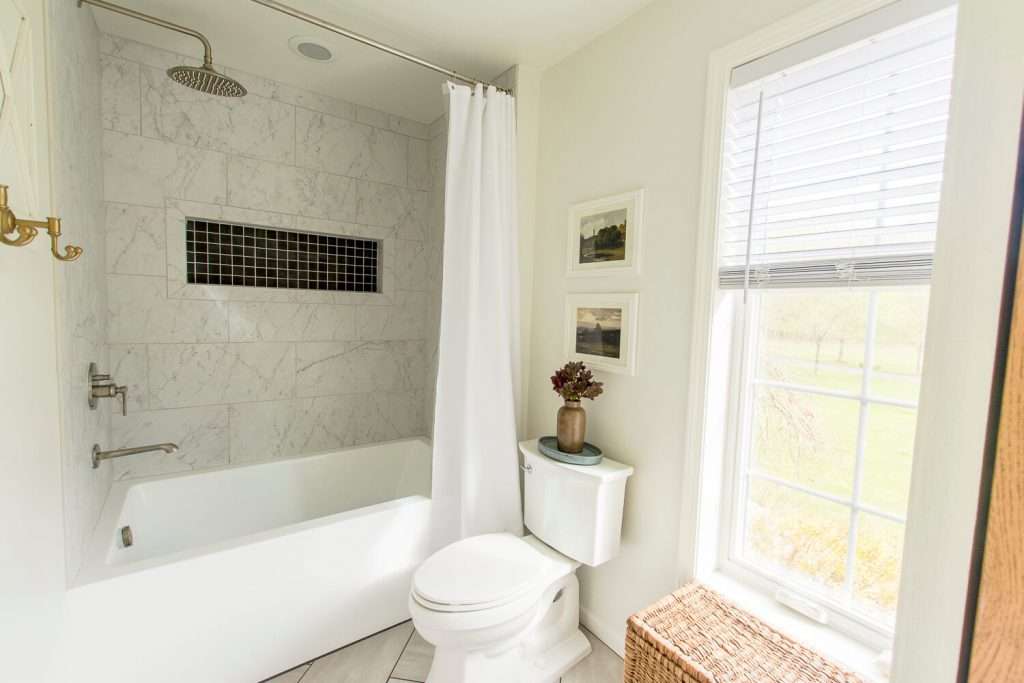 Next up in the shower renovation cost calculations is materials. This is another area where the materials and finishes you choose will greatly impact your total cost. Pre-fab kits are significantly cheaper than tile. And some tile is significantly cheaper than other tile!
Our tile costs for the actual material was:
4 sq ft-Reflex 2×2 mosaic Night – $70
85 sq ft- Eon Carrara 12×24 – $435
26 linear feet- Eon Carrara Bullnose – $150
However, shipping and agency fees are billed on top of that to clients, which adds approximately $800 to the total cost.
The best way to determine your tile costs is simply to measure your square feet, add 10-15% overage for cuts, and then determine your tile cost based on your tile supplier's pricing.
Additionally, we purchased our extra wide 36″ tub for about $500, and our rainfall shower kit, provided by Signature Hardware, costs $449.
Lumber, cement board, mortar, grout and other miscellaneous material costs were all included in our labor costs above.
Total Shower Renovation Cost
All in, our shower renovation cost came to approximately $7,200. This is right in that mid-tier level for a shower and tub combination. This is certainly my dream shower! The one area we chose to save money in was the shower door. Many tub/shower combinations these days have glass shower doors. There are many options available and they do look high end.
However, with our toilet location being so close to the tub, a curtain works just as well for us! And saved us hundreds of dollars.
Shower Decor and Details
Since our new shower tile is my favorite feature, I wanted to be able to show it off without seeing ugly product bottles. Swooping the shower curtain to the side lets the tile shine and a quick project with my Cricut transformed our shampoo and conditioner products into pieces of decor!
You can see a quick video on how I created this look on my Instagram!
You can find all of my favorite bathroom essentials, including the shower curtain, soap containers and curtain rod in my Amazon Storefront!
Make sure and head next to see the vanity side of our bathroom remodel! The before and after is one of my favorites and all the details are shared in this article.
You can also learn more about how to design a full height quartz backsplash in this article.
Stay Connected
Thanks so much for stopping by the blog today. I hope that this article on shower renovation cost is helpful to you as you plan your own shower remodel! Investing in updated bathrooms is one of the top home improvements you can make and one you are sure to enjoy.
Make sure to Pin and Share this article for later reference when you are ready to renovate!