Kitchen Design 2024: Corner Cabinet Ideas
Kitchen design has its challenges, like what to do with that wasted corner space! There are quite a few ways to design a corner cabinet in the kitchen, but not all are created equal. Here are some creative corner cabinet ideas to consider for your kitchen remodel.
Post may contain affiliate links where I earn a small commission on your purchases at no additional cost to you.
Kitchen Cabinet Design
I designed our custom kitchen a few years ago with several thoughts in mind: functionality, convenience, ample storage, and hidden features. You can learn all about my kitchen remodel in these articles:
However, my favorite customization was our corner cabinet storage. Rather than opting for a traditional lazy Susan in our corner cabinet, I had our cabinet maker create corner drawers. I'll share more details on this option later, but for now, here are the standard corner cabinet ideas for a kitchen remodel!
If you are in need of help with home design, make sure to sign up for my free e-course! This simple 3 module course will help you learn how to go about designing your haven, for your family, on your timeline!
Corner Cabinet Ideas for your kitchen remodel
There are two standard corner cabinet options that most people know about:
Lazy Susan
Corner Cabinet Stationary Shelves
These two options suffice, and some even prefer them, however I find that most people aren't a huge fan.
Lazy susans are known for spinning items out of control and toppling them, or worse, succumbing them to the recesses of the back of the cabinet never to be found again.
And stationary shelves are known for being extremely inconvenient since you have to constantly shuffle things around to access them. This wastes space since the cabinets are so deep and the back is hard to access.
However, there are a few new options available that are more convenient than the traditional spin or stationary design!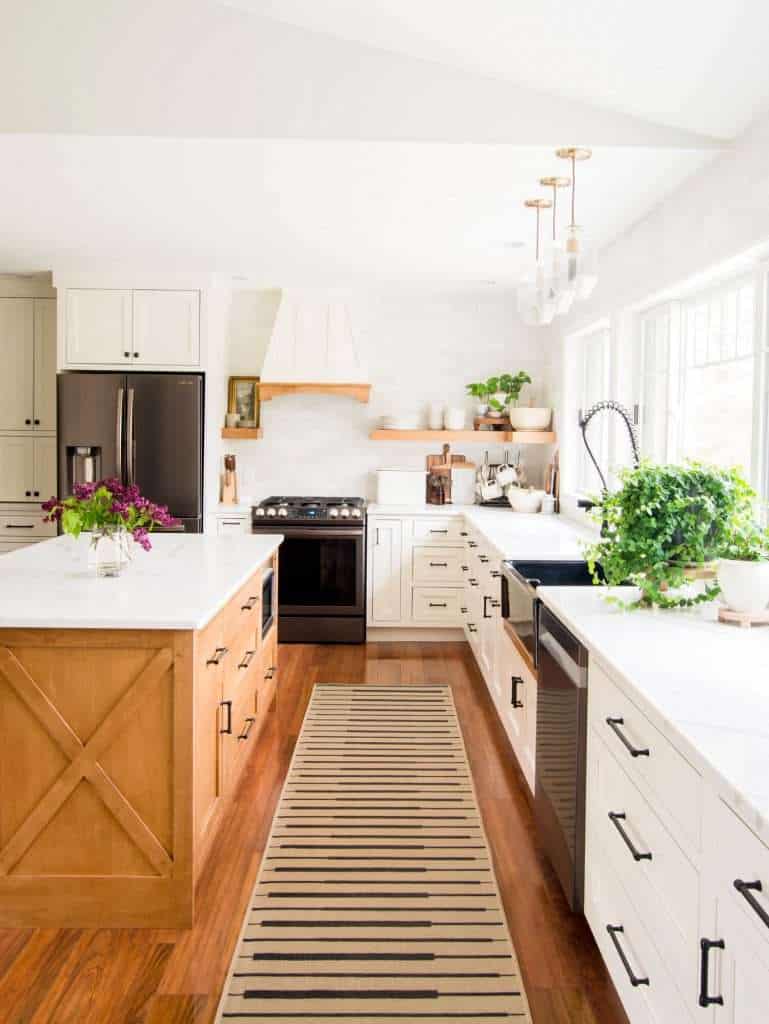 Non-Standard Corner Cabinet Ideas
Here are some corner cabinet ideas to consider as you design your kitchen.
Full corner walk in pantry in lieu of a lower and upper cabinet
Diagonal corner cabinet with a sink
Dead space (Not the most ideal for storage, but placing your cabinets at 90 degree angles eliminates the corner altogether.)
But the one I really want to talk about today, is the corner drawer solution! This is what I chose for my white kitchen cabinets and I'd do it again and again!
Corner Drawer Cabinet
We chose shaker kitchen cabinets from a design standpoint, but the corner drawer cabinet works as a solution no matter what style cabinet face you choose.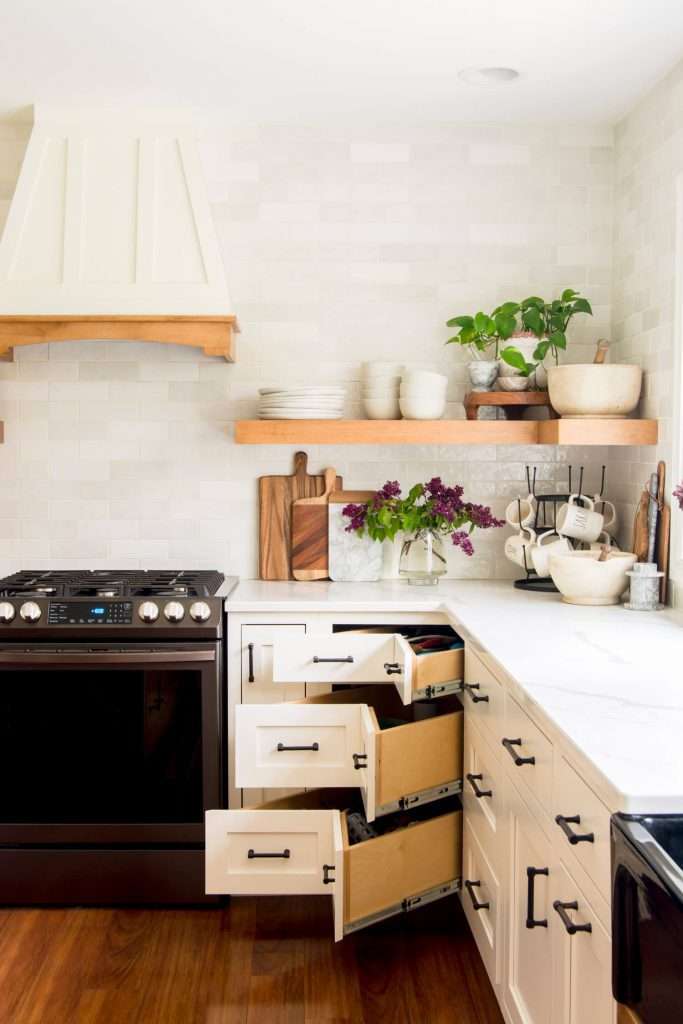 Our cabinet maker designed our corner drawer cabinet to have two deep drawers and one shallower drawer to match the size of the smaller upper drawers around the perimeter of the kitchen. This top drawer is perfect for larger utensils.
The drawers are very deep so they hold everything I need for cooking and baking utensils in one place. I organized them with three simple bins.
Then, the bottom two drawers are deeper. They hold our kids dishes and bulky items like water bottles. But realistically, they could hold anything you desire! They are deep enough for pots and pans, tupperware, serving platters, or anything you need to store.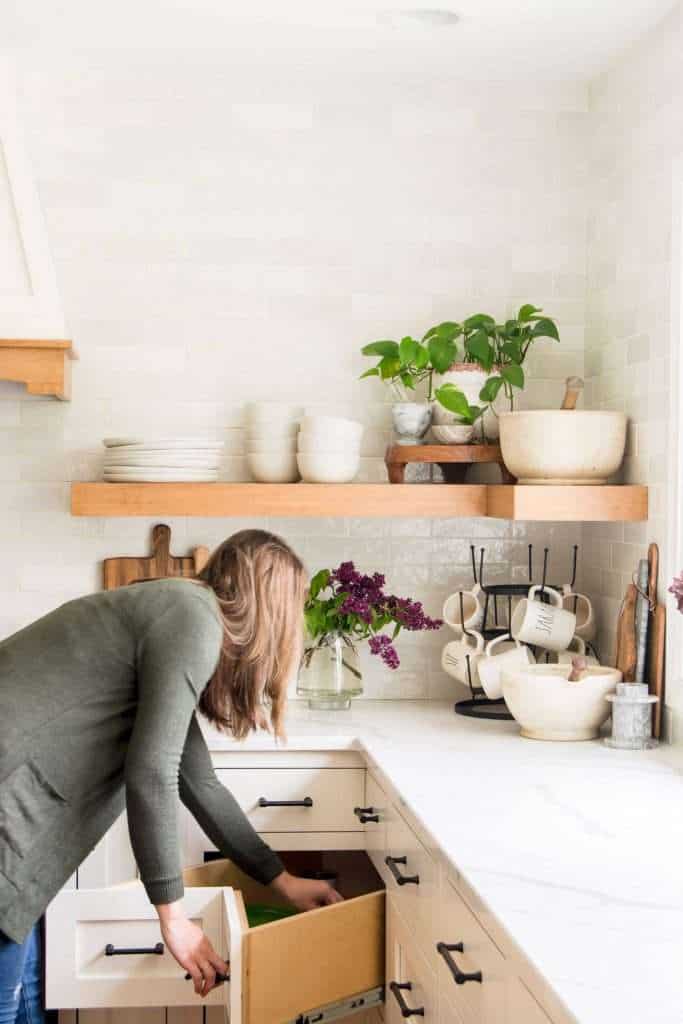 As you can see, they were designed as if there are two drawer fronts, but when you pull them out it is one large drawer. So the cabinet hardware is 50% for design and 50% for functionality. You can find our cabinet hardware from Signature Hardware. We've loved how durable these are with such a great quality.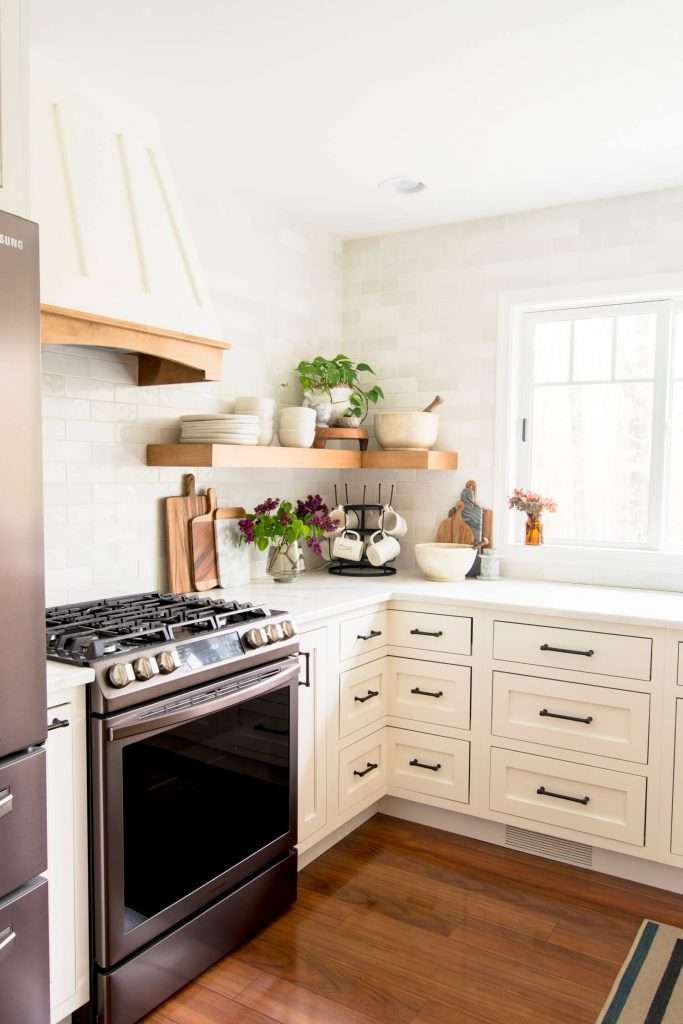 Corner Drawer Considerations
There are a few things to consider if you decide you want to include corner drawers in your kitchen design.
First, corner drawers are likely one of the most expensive options for corner cabinet ideas. They are more difficult to make than other corner cabinet options, and the price is reflected in that level of craftsmanship.
Second, if they are not well made, they can be difficult to open and close. Since they are such a specific build, if the cabinet maker skimps at all on the quality, they can get off track and cause problems with the drawer glides. We've had our cabinets for over two years and haven't had an issue with this. However, it was something we were warned about by our contractor and cabinet maker.
Third, there will be some dead space involved in the design. Since corner drawers go straight back, there is some dead space on the sides of each drawer. Personally, I find the functionality of them to outweigh the lost 4-5 inches of storage. But this is something to consider if you need every last inch!
Upper Corner Solution
So far we've talked about lower corner cabinet ideas, but what about the upper corners? Obviously, drawers would look very odd to put in an upper corner. So that's out!
My solution was open shelving. You can find 15 pros and cons for open shelving v upper cabinets in this article to help you understand my decision making.
I love how open and airy corner shelves are, as well as still being practical storage. We use our open shelving for our every day dishes, as well as some pretty decor.
Make Your Own Corner Shelves
If you have ever wanted to add corner shelves to your kitchen or living spaces, I have a full tutorial on the blog for how to make corner shelves DIY style! They are a fairly simple building project and doing it yourself will save hundreds of dollars.
Stay Connected
Thanks so much for stopping by the blog today! I hope you found this article on corner cabinet ideas helpful! The corner drawer solution has worked wonderfully for our family and is a great option if it is in budget!
Make sure to join my community of over 200K and subscribe to my newsletter to receive my free printables and DIY guides! And you can follow along with me real-time on projects over on Instagram!