Modern Farmhouse Kitchen Remodel FAQs
Remodeling a modern farmhouse kitchen is rewarding! In addition to increasing your home's value, it's also a haven making project. The heart of the home deserves to be loved! Here are the answers to FAQs of my custom kitchen remodel.
This post may contain affiliate links where I earn a small commission on your purchases.
Modern Farmhouse Kitchen Remodel
Our custom kitchen remodel is the largest project we haven take on to-date. In our previous home, we were able to remodel our kitchen after our house fire. However, in that kitchen remodel we left the layout as is.
In our current home, we changed just about everything. You can see the custom kitchen design plans here, as well as various posts detailing the project below!
Seasonal Decorating Ideas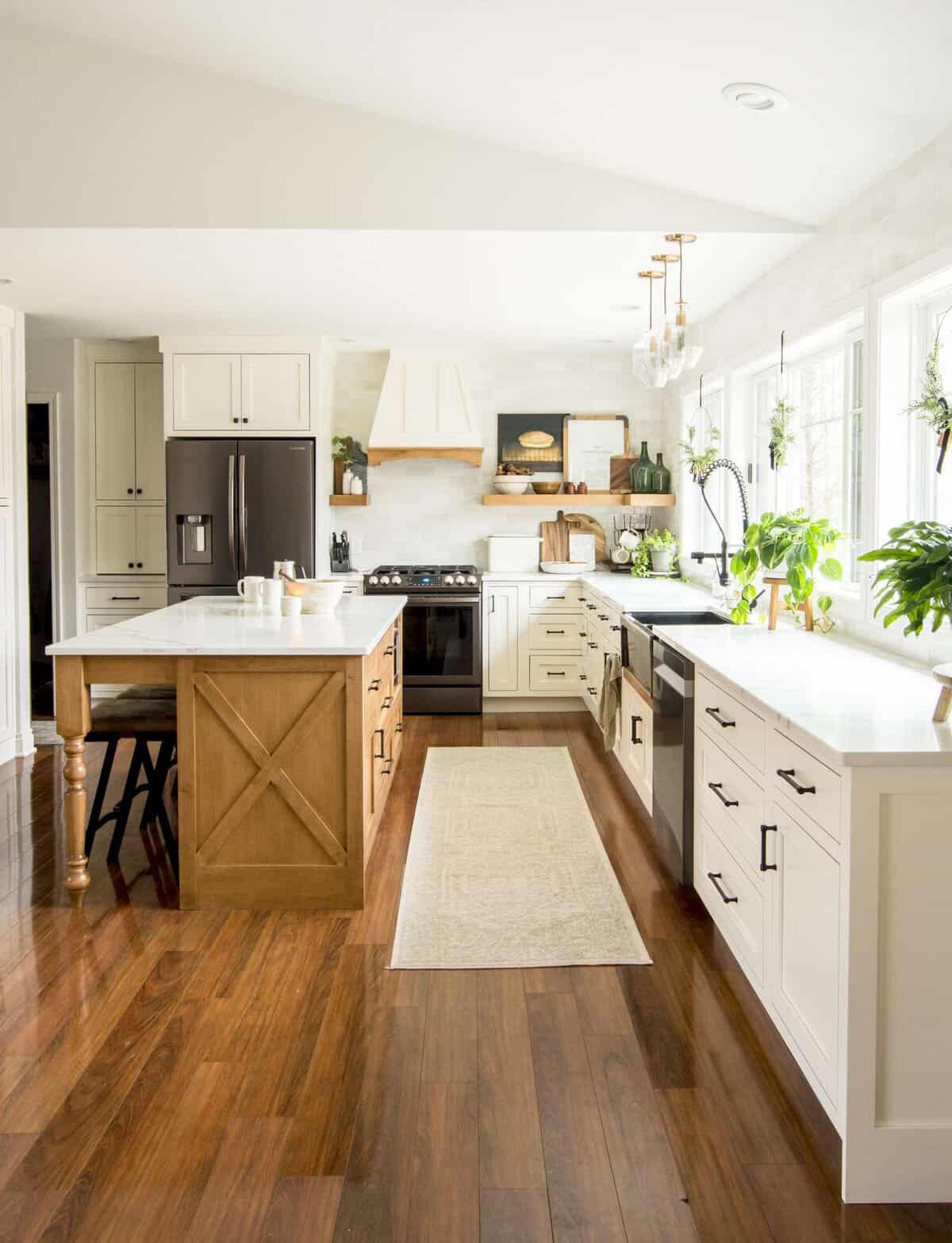 Our kitchen is certainly one of my favorite spaces in my home. And it is also one of the favorites in my Instagram community! So, I thought I'd round up the FAQs I always get when sharing this space!
FAQs Answered
Here are the most commonly asked questions on our kitchen remodel!
What color are your cabinets?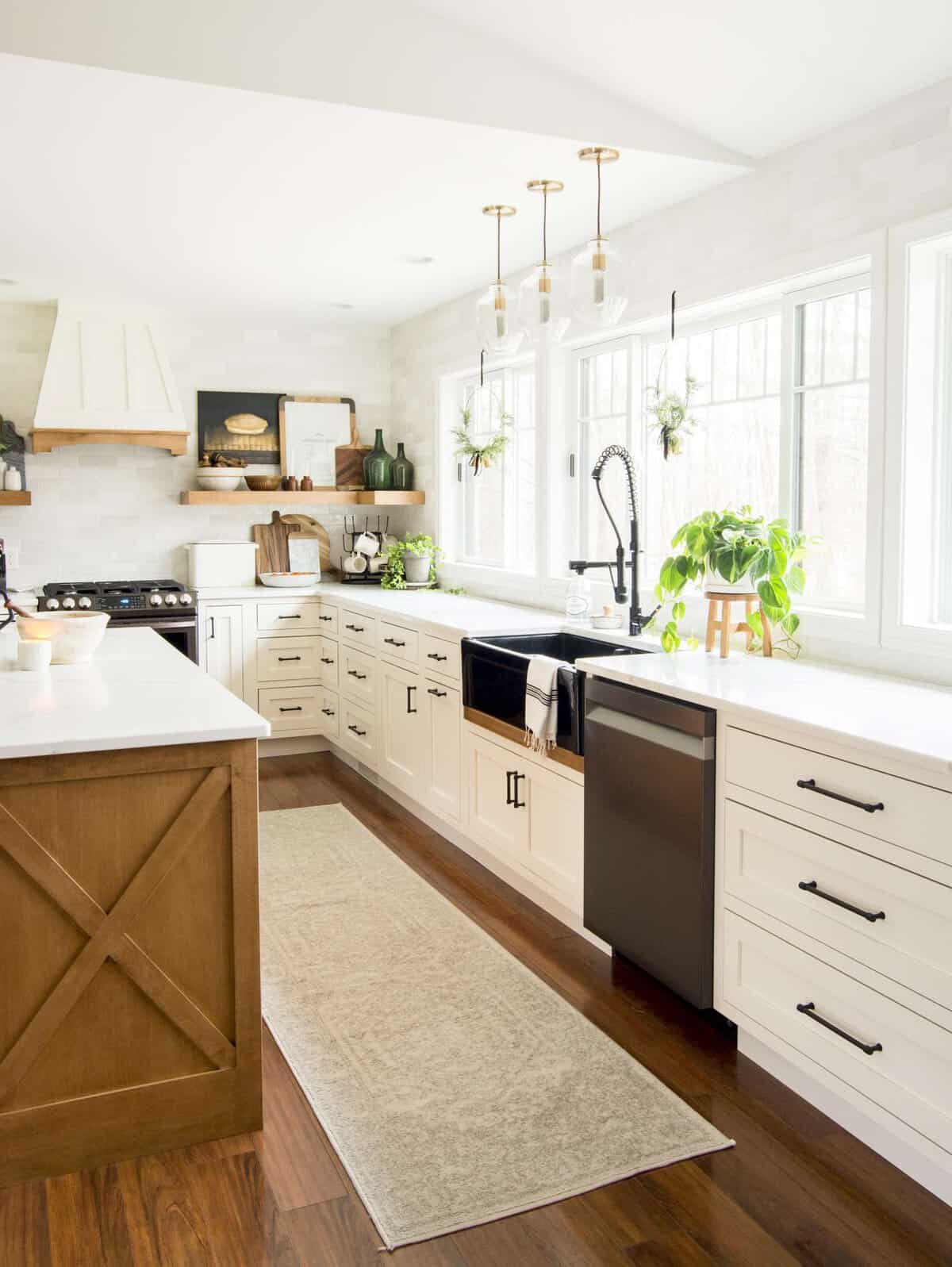 Our white cabinets are Benjamin Moore, White Dove. They are built with a simple shaker face and are inset for a clean finish.
The custom range hood is also White Dove.
The custom kitchen island is stained Maple in the color Autumn. This same stain color is repeated throughout the kitchen as accents on the open shelving, hood, and under the sink.
Where did you get your shelving?
We had the open shelving custom made by our cabinet maker. They built all of the cupboards, island, shelving, and range hood per my designs!
We loved working with a custom cabinet maker to get exactly what we wanted.
Where is your backsplash from?
Our backsplash is from Bedrosian's Tile. It is called Cloe in white. The classic subway tile has subtle color variations from white to cream to grey and has a handmade appearance.
We used the Cloe white bullnose to finish the edges!
Why don't you have upper cabinets for storage?
Our kitchen is very large, so uppers aren't needed. When we remodeled, we extended the lower cabinets by 7 feet and added a large center island. That lower storage allowed us to get the views I wanted with a wall of windows!
Additionally, we have a bank of pantry cabinets opposite the island that stores our food and dishes.
Where is your hardware and lighting from?
Our pendant lighting over the sink can be found here! They are beautiful, classic and understated to allow the rest of the kitchen to shine. Additionally, the brass really warms up the space.
All of our cabinet hardware, as well as our black farmhouse sink and faucet, are from Signature Hardware. You can read my review of our black farmhouse sink via the link above!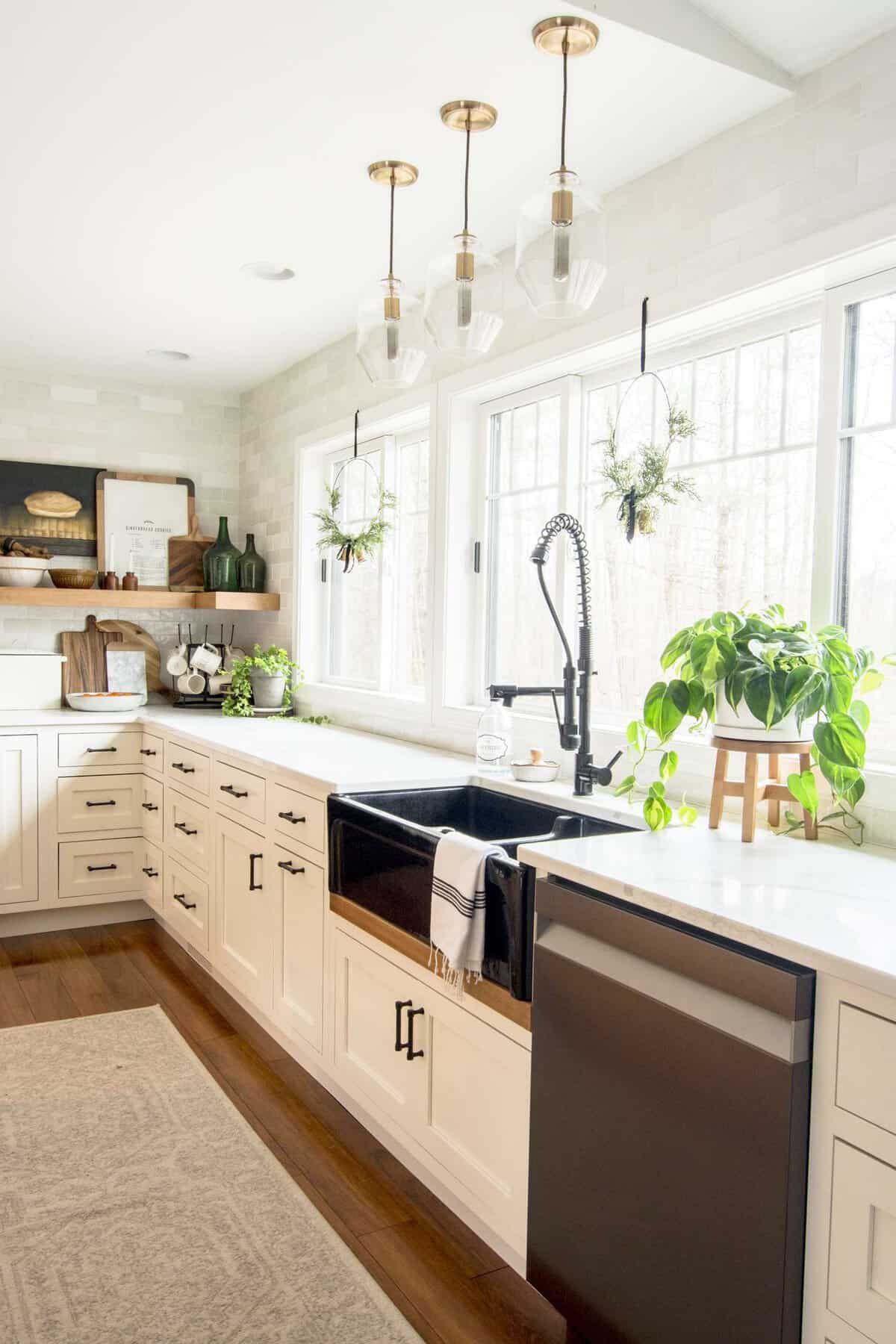 What's your favorite season to decorate in the kitchen?
Spring! There is nothing like flowers in a kitchen.
I plan to have a post up soon with all my spring kitchen decor ideas! Make sure to subscribe to the blog to be notified when it's live!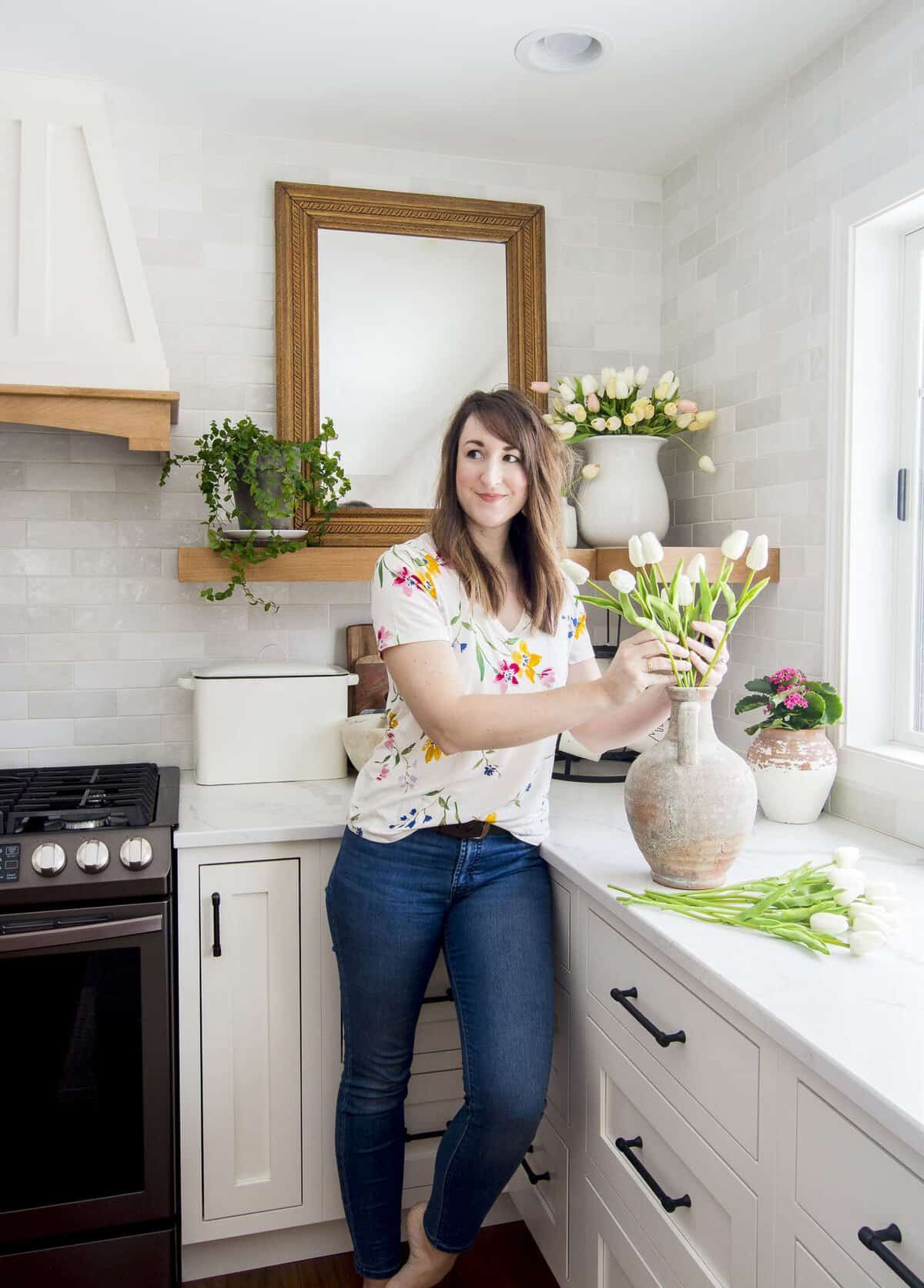 Where is your kitchen decor from?
While I change out my modern farmhouse kitchen decor for the seasons, I do have a standard set of kitchen decor staples that are usually styled here!
A lot of my kitchen decor is also vintage or found items. However, you can shop my available kitchen decor via the images below.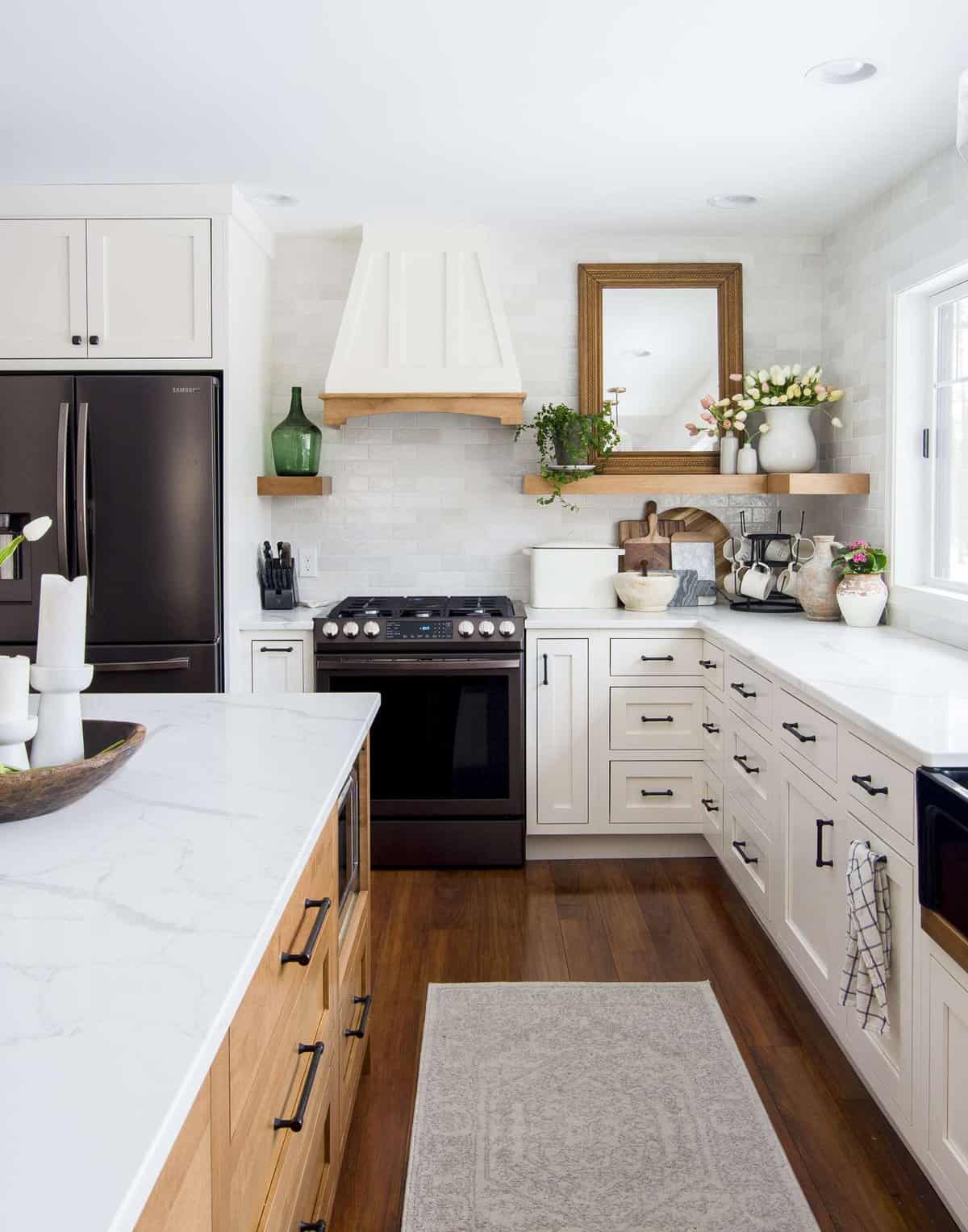 ---

---
Stay Connected
I hope that this FAQ session has been helpful to you! Make sure to leave your additional questions in the comments and I'll update the post with answers!
Thank you so much for stopping by the blog today!

Pin It For Later