Summer Kitchen Decor Ideas
Do you want to spruce up your summer kitchen with simple and fresh decor this season? Today I'm sharing three easy additions to your summer kitchen decor, that you should keep up year round!
Joining me today are some amazing bloggers as a part of the Easy Summer Styling blog tour hosted by my lovely friend Kelly from The Tattered Pew.
If you're hopping over from my sweet friend Kelly at City Girl Meets Farm Boy, thank you for saying hello!
Summer Kitchen Style Guide
If you've followed along on my own personal summer tour series, then you know my goal this summer was to simplify. I think that I've actually taken more away from my decor for summer than I've added to it. And that goes without saying for my summer kitchen as well.
Summer Decor Tour Series
If you've missed my previous summer tours, please visit them below.
Summer Kitchen Staple | Flowers & Greens
It is really amazing how easily your summer kitchen can be decorated. A vase of fresh flowers from your garden or the market is my only must have for summer. Michigan is such a cold climate, so the summer is when I soak in every bud and bloom for as long as possible.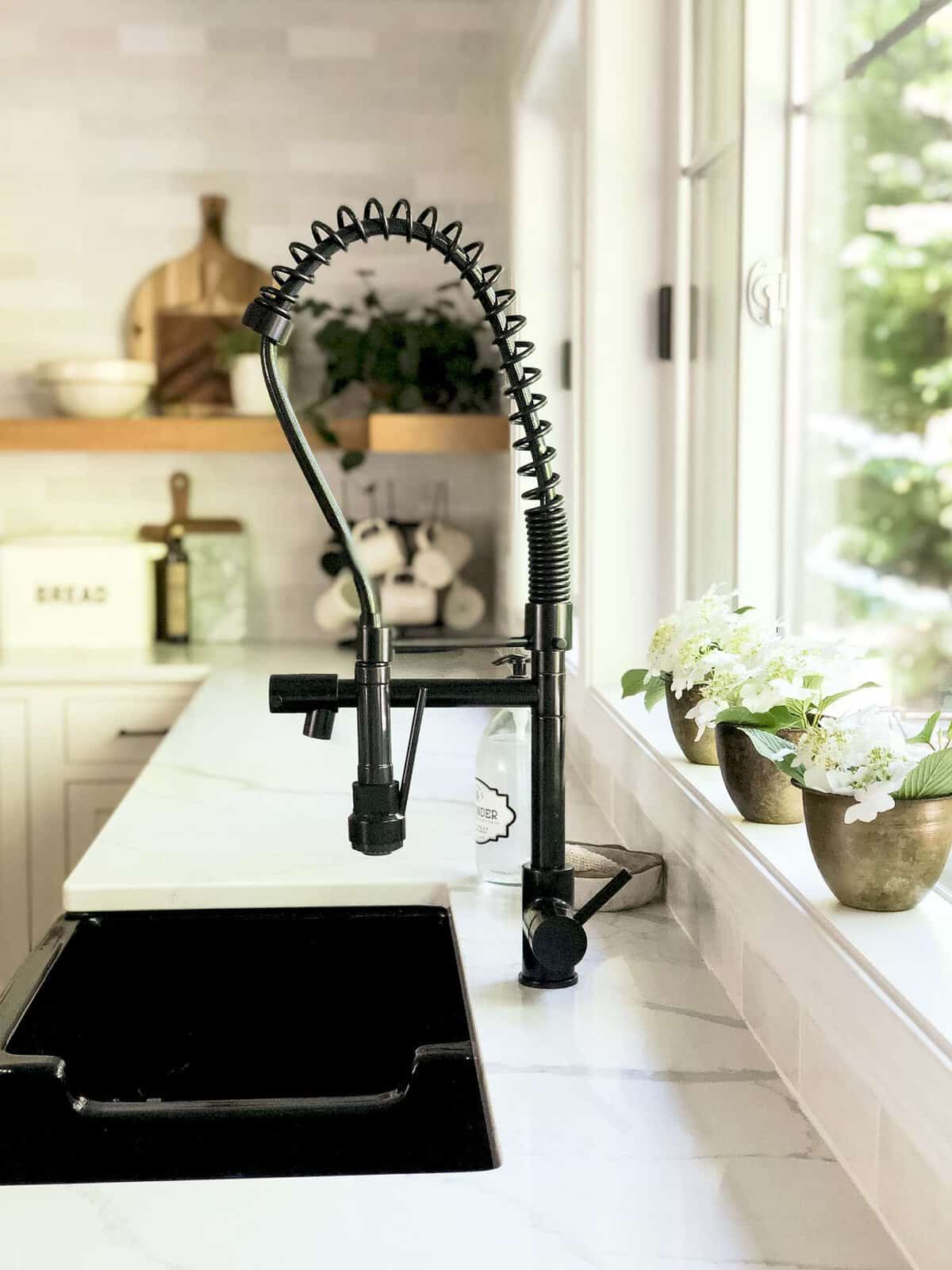 Thankfully, my garden does most of the supplying. I use simple vases like Ball jars to keep it feeling causal and inviting. I also like to mix it up by adding fresh flowers to pots, like these aged brass beauties.
Another, less expensive way, to freshen your summer kitchen with live plants is by using simple greens instead. Fresh flowers can be expensive if you don't have an abundant supply in your garden. So, instead you could opt for easy-to-care-for indoor plants. The kind you only have to buy once. 😉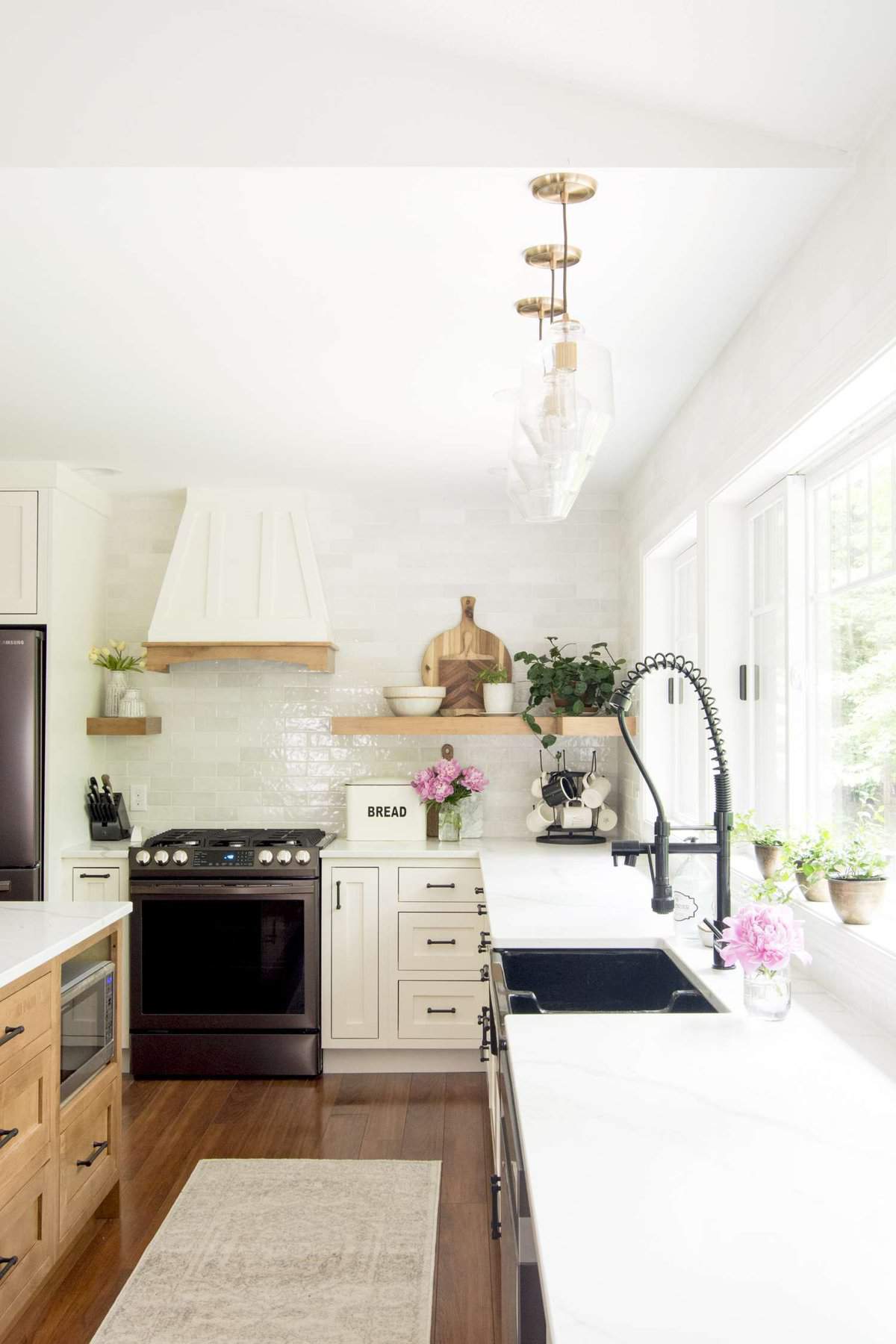 Organize With A Casual Tray
If you're anything like me and my family, then the kitchen is basically the dumping grounds for life. Our kitchen flows directly from the garage entrance, so all our daily belongings end up on the island.
It also happens to be the place where I keep our fresh fruit and my favorite bouquets. So, to help corral the clutter and add pretty and fresh summer decor, I added this lovely textured woven basket.
Shop My Kitchen

My kitchen pendants can be found here.
Not only does it help my everyday static items to appear more organized, it also feels summery with a picnic style construction.
Consider Everyday Items A Part of Your Decor
One of my most often asked questions is, "Do you use those cutting boards?" Why, yes, yes I do. 🙂
So often I think people overlook the beauty in utilitarian items. A rich wood cutting board, interesting design on a simple crock, a well made mug rack. All of these things are items I use daily, but also serve as decor when displayed with intention.
Plus, when you mix them in with simple pieces of summer decor, like live plants, it makes it feel more intentional and finished.
I hope that these three simple tips help you see the beauty in a simple summer kitchen. Keeping the kitchen as clutter free as possible lets those statement pieces shine and allows you full access to clear countertops and workspace.
Thank you so much for joining me today. You can follow along with me daily on Instagram and subscribe for a weekly newsletter to stay up to date and gain access to all my free resources!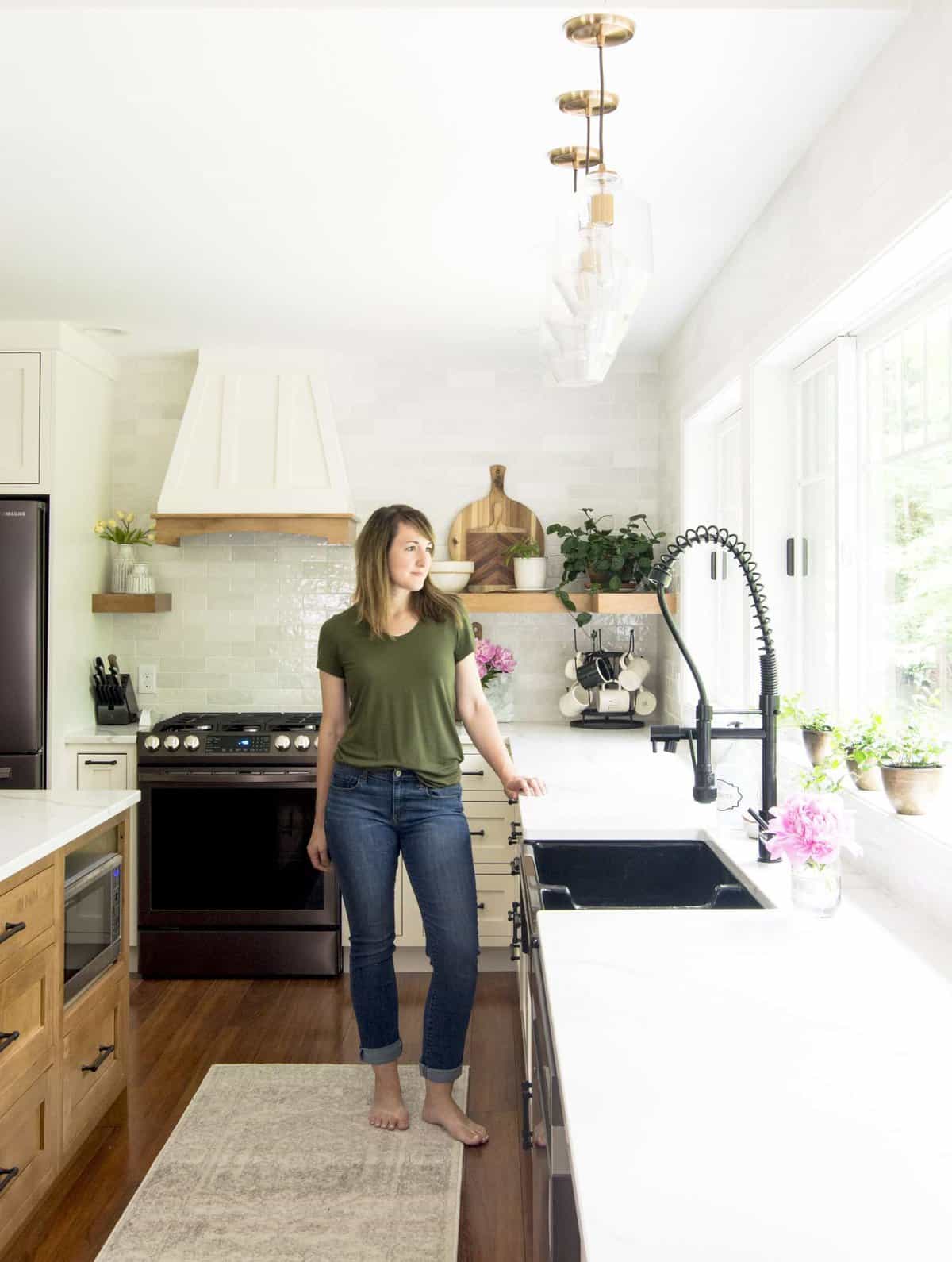 Please head next on our hop to Merichelle from We're the Joneses, and visit the lovely ladies below!
Come enjoy 13 talented bloggers sharing some easy summer styling this week! Sharing with me today are…

And sharing Thursday…