How to Create a Cozy Home With Layers
Do you love the hygge home movement? Learn how to create a cozy home using layers, textures, and warm tones. I'm excited to share my front room furnishings that help create a cozy home we love, plus a bonus tip at the end!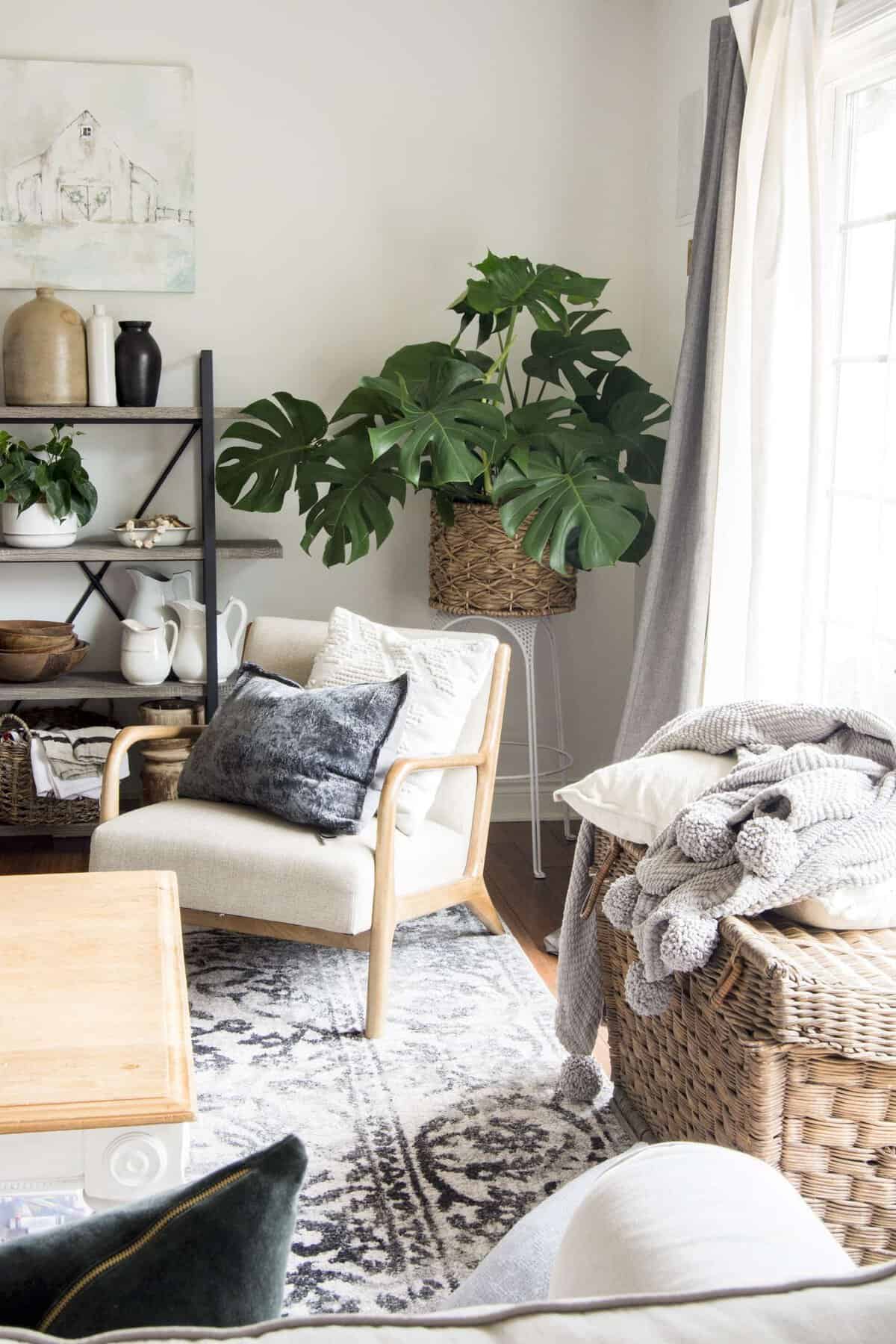 This post may contain affiliate links where I earn a small commission on your purchases.
Creating a Cozy Home | The Hygge Movement
Over the last several years, the Hygge movement has grown more and more popular. This Danish lifestyle movement is all about creating a cozy and contented environment.
Personally, feeling cozy in my home is very important! I always want my family to be comfortable, comforted, and contented in our cozy home. That is part of what makes my home a haven.
So, I'm excited to share some of the ways that I create a cozy home with my front room furnishings! These steps can be altered to fit any room in your home.
It's all about walking through the process of layering your home for comfort and functionality.
Start with a Solid Foundation
When designing a cozy home, I always start with the foundation of a room.
Just like a Christian must build their life on the solid foundation of Christ, and just like a house must be built on solid ground, a hygge home should be built on a soft and cozy floor.
How'd you like those analogies? I'm sure I could expound upon them but I'll let my Monday Musings of Grace do that for me.
Whether you have carpeted floor or a hard surface topped with area rugs, make sure to begin your cozy home design with something soft underfoot.
I've shared some of my favorite family-friendly affordable rug sources in this post.
An area rug sets the tone for a room and serves to designate zones in open concept homes. It's also an easy way to add personality to your home with thousands of designs, textures, and colors available.
Layer Furniture
The next step in creating a cozy home is to layer comfortable furniture. I believe there is a time and a place for structured and formal furniture, but in my home, I want it to be comfortable first and foremost.
Luckily, these days there are many affordable options for large pieces of furniture that are both pretty and practical.
I prefer to have at least two varying seating options in a main living space for optimal comfort.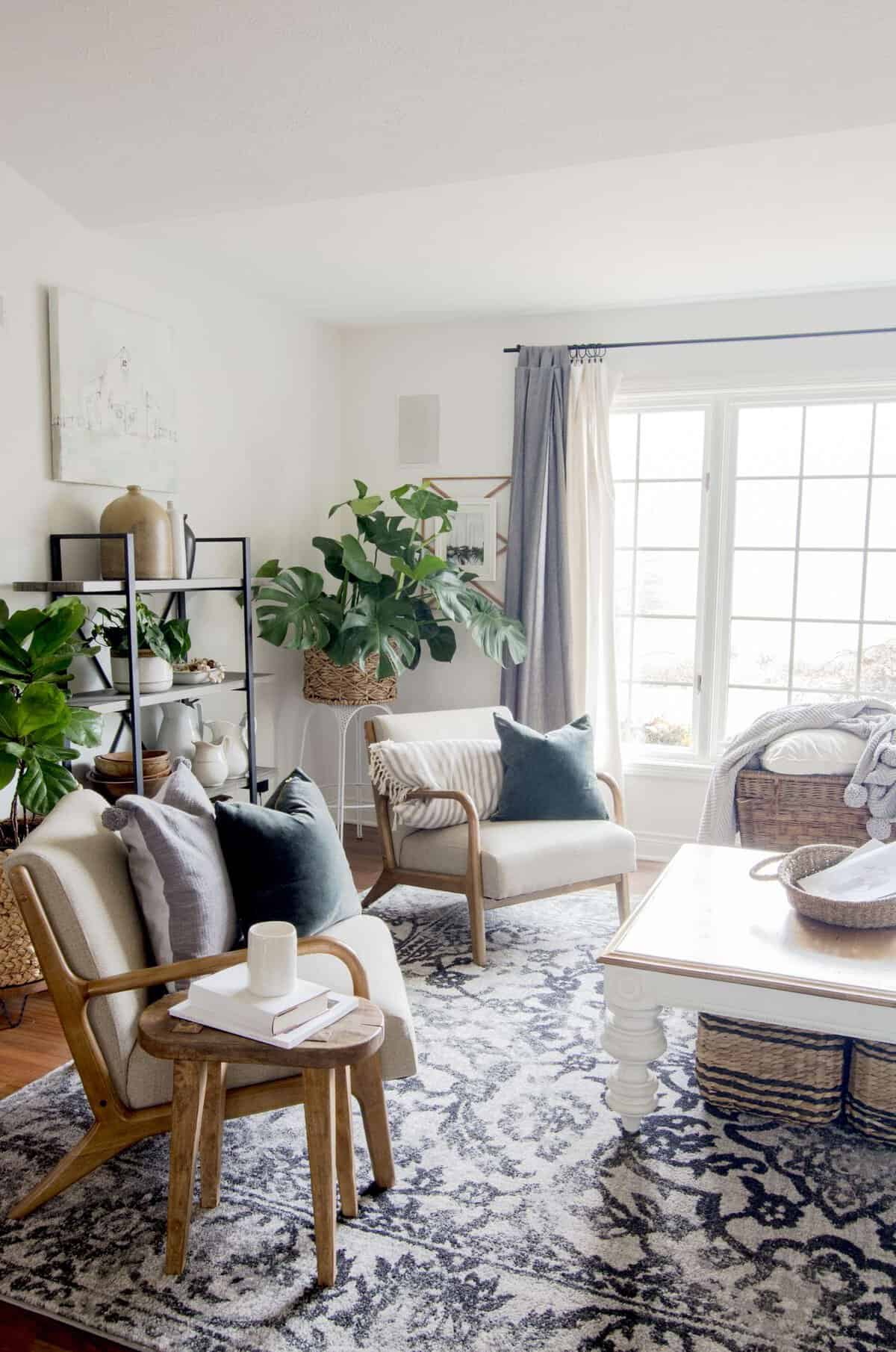 This allows people with different comfort levels to choose what works best for them. Some prefer a more structured chair over a cushy couch. So, I like to provide both options!
The next larger piece of furniture that helps create a cozy home is a coffee table or shelving. This gives you a place to place candles, magazines, plants, drinks/food, or other comfort materials within easy reach.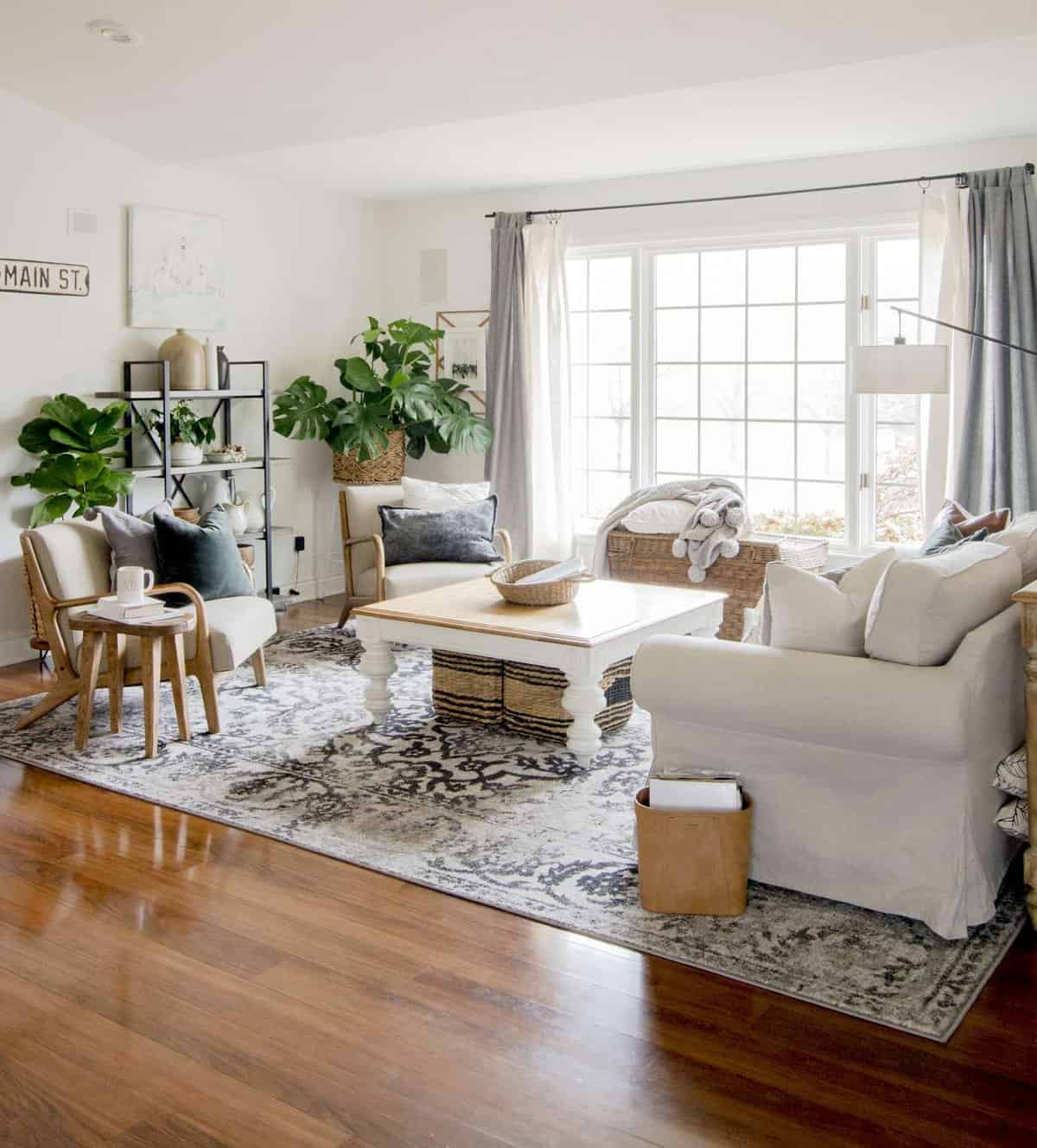 I found my oversized coffee table used and shared how I transformed it in this DIY post. It is one of my most popular posts to date! If you have the space, I also like to add shelving to highlight your favorite home decor accents.
Add Cozy Home Accents
Once you've built your foundation of the room, the finish touch is to add cozy home decor accents. These are the pieces that you will most likely change out for the seasons.
I always recommend investing more in the foundation of a room than the final touches. That way, you have given yourself more leeway to keep your budget in line with seasonal updates.
Pillows and throw blankets are the two basic home decor accents that offer the hygge feeling of cozy. They are also the most affordable accents to switch in and out for the seasons.
However, don't overlook warm textured baskets, comforting candles, or calming reading materials as a way to increase the coziness in your home as well.
A hygge home is less about the appearance of a home and more about the feeling you get when experiencing it. Bringing contentment into our homes is an often forgotten part of haven making!
Finish with An Attitude Alignment
This may sound like an odd way to end a post on creating a cozy home, but so much of our contentment in our homes comes from adjusting our attitude rather than buying more "stuff."
Chasing trends and feeling the constant pressure to keep up with the world has become a burden to so many home owners. With the over saturation of marketing being thrown at us from every direction, it is easy to get swept up in discontentment.
So, when I begin to feel like I've been left in the design dust, I know it's time for an attitude adjustment.
Yes, being a home decor blogger immerses me in a continual rotation of "things"; however, I want to always communicate that these "things" are not the only part of creating a cozy home.
Our contentment, gratitude, and satisfaction in the way we've built our homes should overshadow the things we've built it with.
How Will You Create Your Haven?
So, my friends, how do you plan to create your haven?
Yes, I do love creating a cozy home with rugs, furniture, and home decor accents! But, I also love remembering that the attitude I express about my home plays as much of a role in contentedness as the way I style what's in it!
I hope that this post has been helpful as you seek to love your home and create a haven for your family.
Living Room Source Book

---
Stay Connected
Thanks so much for stopping by the blog today!

Pin It for Later