Adding a faux fireplace mantel instantly creates a focal point and cozy atmosphere in a room. That's why I chose to add a faux mantle in my guest room to instantly amp up the cozy factor! Learn how to build a DIY fireplace mantel in any room with this simple beginner tutorial!
This post may contain affiliate links where I earn a small commission on your purchases at no additional cost to you.
DIY Faux Fireplace Mantel
One of my goals when I remodeled my guest bedroom was to create a cozy focal point. While I didn't want the expense of adding an actual fireplace, even an electric one, I did want the coziness that a fireplace surround could offer.
That led me to many tutorials on how to build out a fireplace surround to support an electric fireplace (which I didn't want). So, since I was coming up empty on the tutorial front, I decided to make my own!
This DIY fireplace mantel tutorial is intended for those who simply want the illusion of a fireplace or a fireplace mantel shelf to style.
It will not support an electric insert, though I'm sure it could be easily adapted to build it out for one!
I hope you find this tutorial simple for beginner DIYers who just want that extra touch of cozy!
Fireplace Mantel Plans
Your measurements will be dependent on the space you have to work with. However, I'll be sharing all my specs for this fireplace surround to give you examples!
The first step is to gather your materials: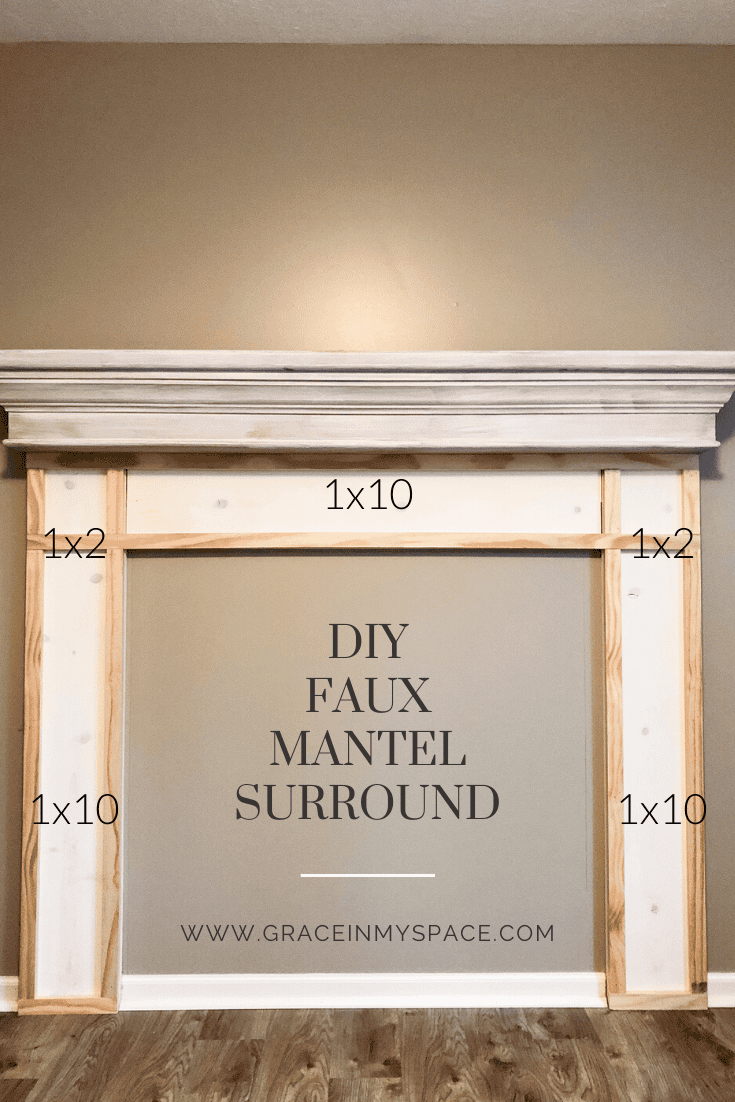 The mantel top, or shelf, that I used was left over after remodeling my upstairs fireplace with a barn beam mantel. However, you can find mantel tops at hardware stores, on Facebook marketplace, or thrifting. You can also make your own!
This mantel top is extremely similar to mine, if you like the look. Otherwise, I've linked some options for you below!
---

---
Video Tutorial
If you're a visual learner, make sure to check out my raw tutorial shared on IGTV. This was a fun project to do in my Instagram stories and my followers loved following along!
Faux Fireplace Mantel | Step By Step
Once you have gathered your materials, it's time to build! Begin by measuring your space to determine how large you want your fireplace mantel shelf to be.
This measurement will determine how much wood you buy for the rest of the project.
My mantel shelf is 70″ long and I placed it 5′ off the floor. That means that I needed:
3: 1x10x6 boards

1 for the top
1 for each side

3: 1x2x8 boards

As shown in the image, for the full surround detail.
Step 1: Mount Your Mantel Top
The first step of this project is to mount your mantel top to the wall. Make sure to secure it level into the studs because the mantel top hardware is what will be supporting any weight you place on your shelf.
With this tutorial, the fireplace surround boards are purely aesthetic and do not support the weight of the shelf.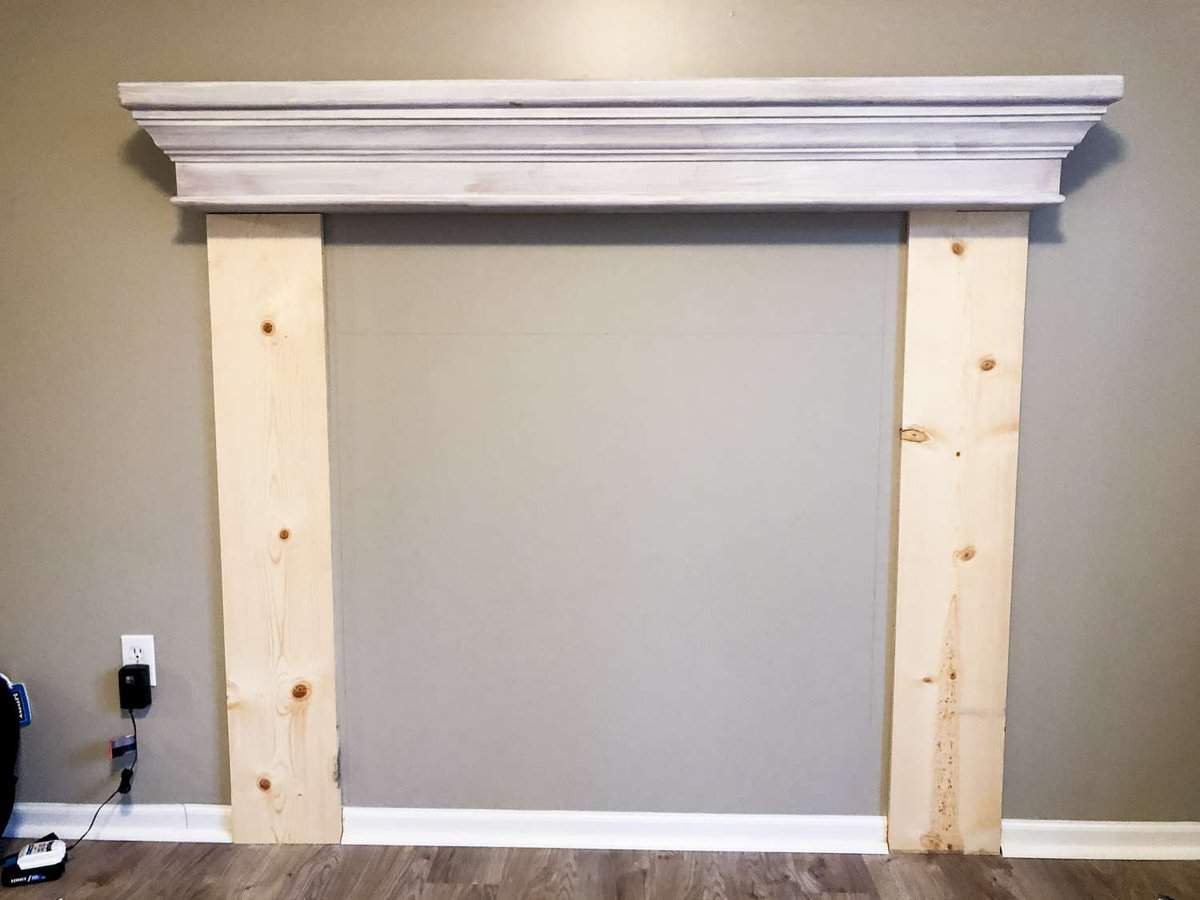 Step 2: Cut Your Baseboard Trim
The next step is to cut your baseboard trim with your multi-tool to accommodate the 1×10 side boards.
This step is necessary so that the surround sits flush to the wall.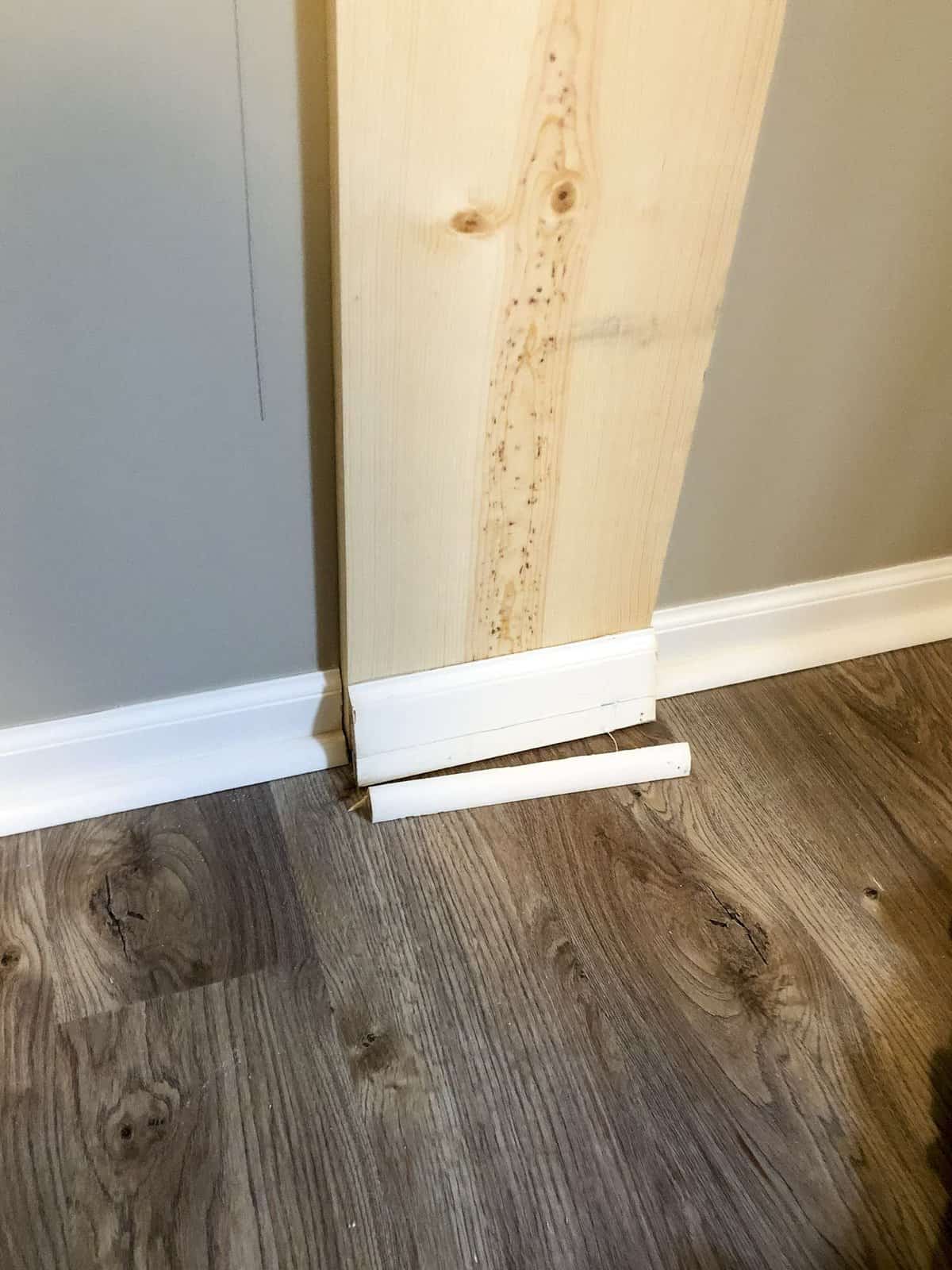 I kept my trim pieces in case I ever want to remove the faux fireplace surround. This way, I can repair the trim with caulk and paint without having to buy all new baseboard trim.
Step 3: Measure and Cut Your 1x10s
Next, measure the height needed from the floor to the base of your shelf and cut your 1×10 accordingly.
Mount your side boards with finish nails directly to your wall.
Next, measure the width between your side boards and cut your remaining 1×10 to fit in the middle. Mount to the wall with finish nails.
This step is where it's important to note that your faux surround does not support any weight. Since the mantel shelf is weight bearing, the side panels are purely decorative and don't need to be fastened into the studs.
Step 4: Measure and Cut Your 1x2s
Once you've installed your 1x10s, measure and cut your 1x2s. These will be placed as shown below, along the edges of your 1x10s. The purpose of the 1x2s is to create a detailed moulding and give it some visual weight.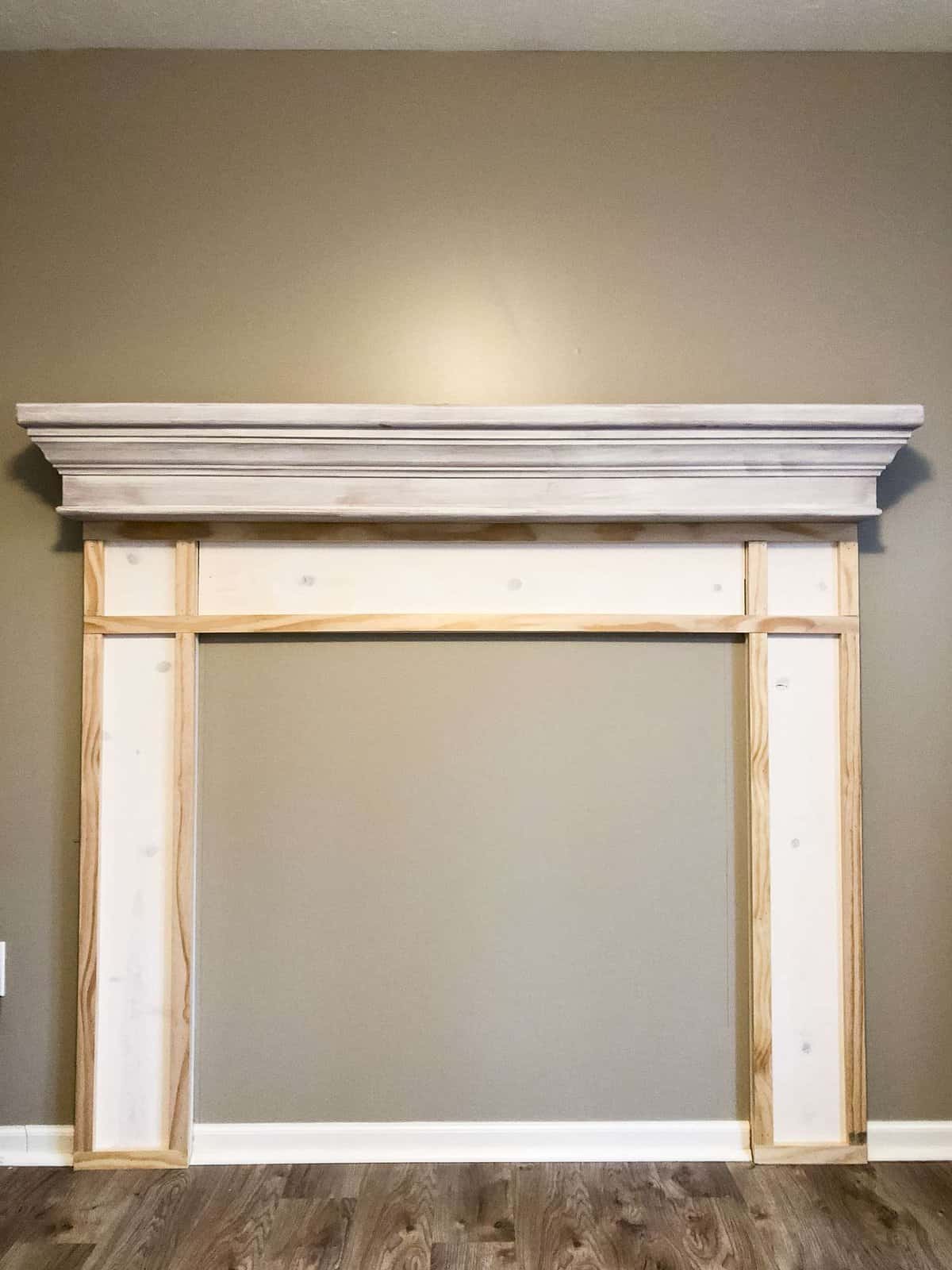 Secure them with finish nails as well, directly into the 1x10s.
Step 5: Caulk and Patch
Now you can start to see it coming together! Caulk all your seams, as well as along the wall. Then, patch your nail holes with wood filler.
This is an important step for the final look. Caulking and patching will give your faux fireplace mantel surround a finished look as if it's all one piece.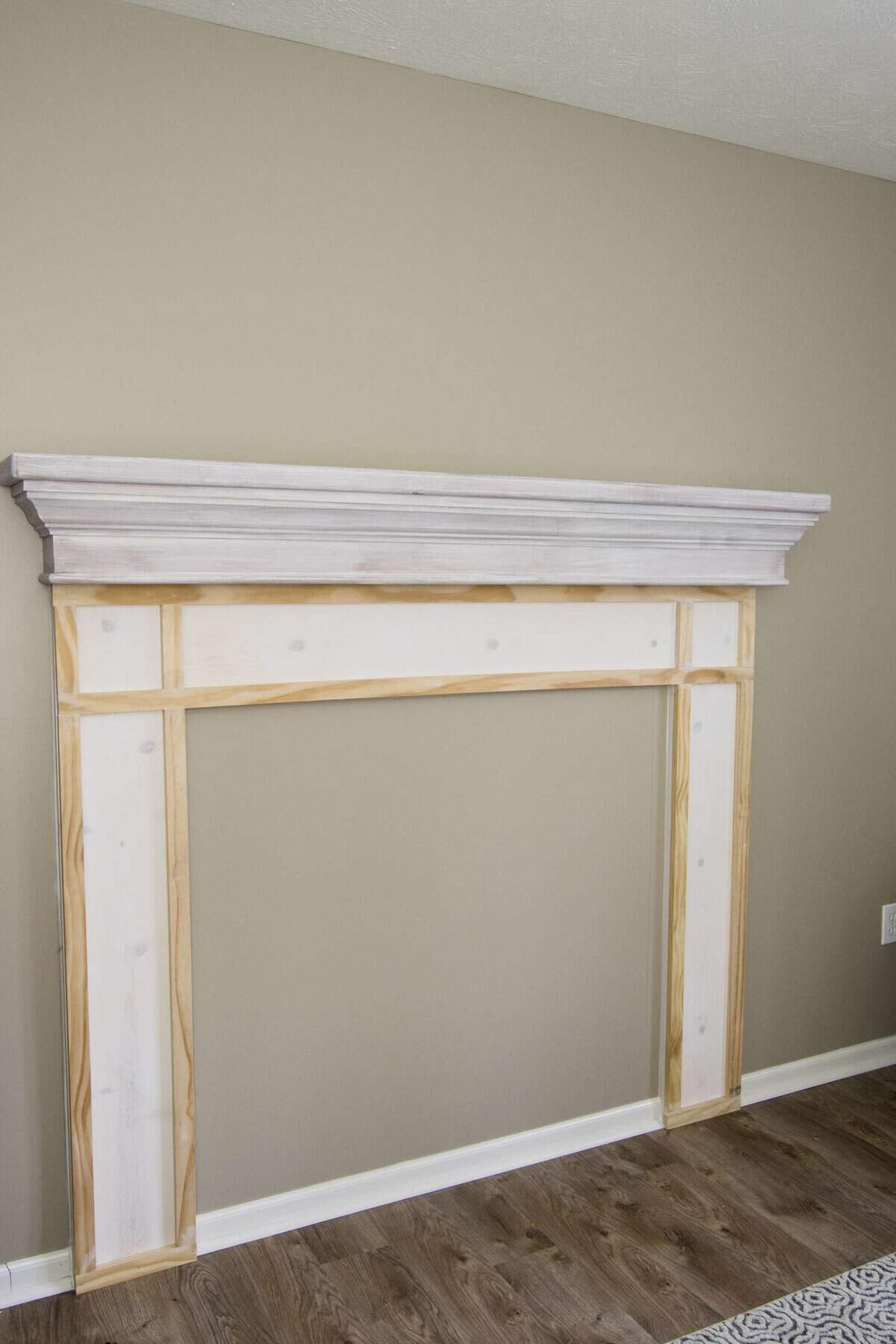 Step 6: Prime and Paint
The final step in building this faux mantel is to prime and paint! I chose a classic color, Fundamental White by Sherwin Williams. However, I can definitely see myself going bold with this at some point!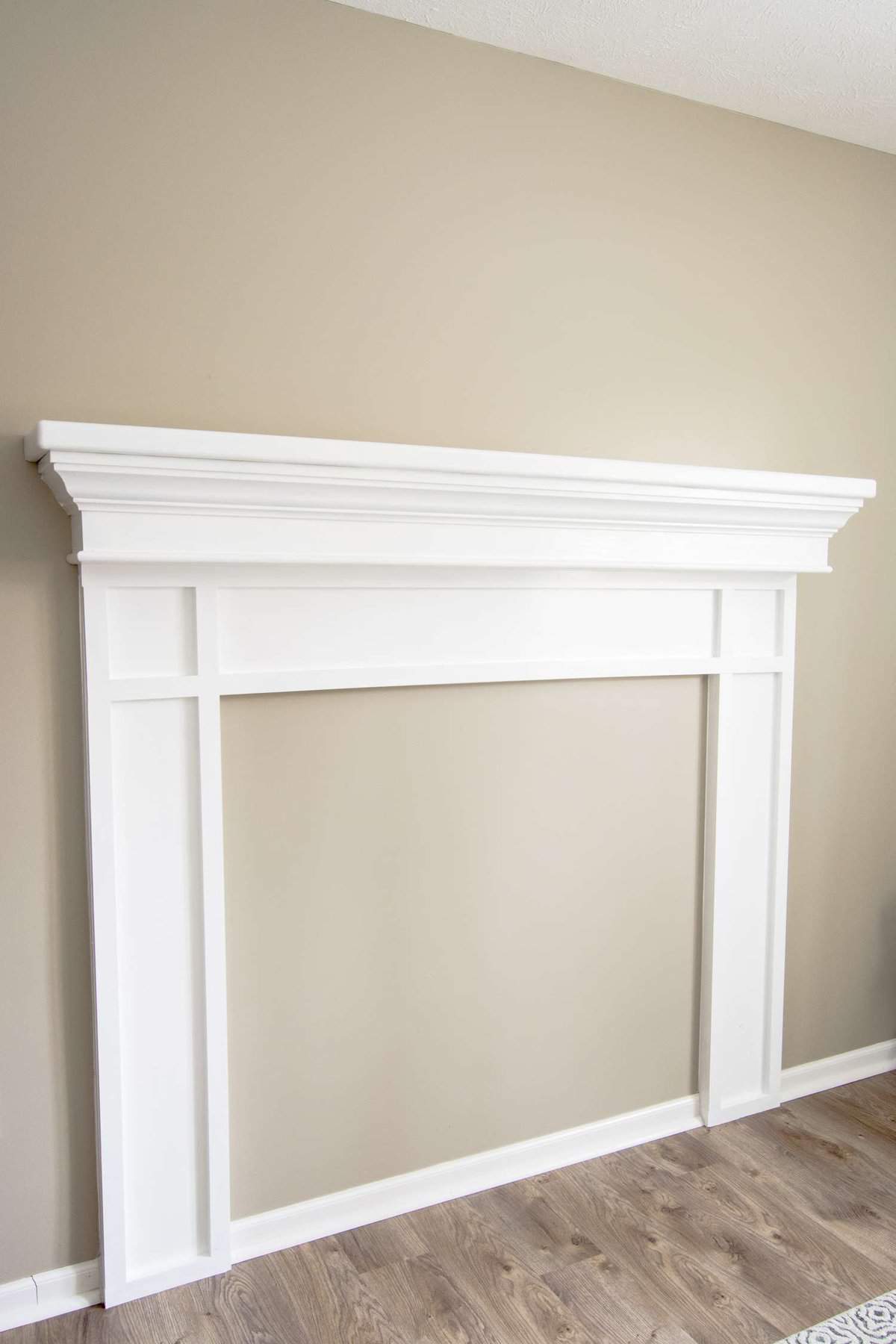 Styling Your Faux Mantel
And voila! You're done! (With stage one, at least!)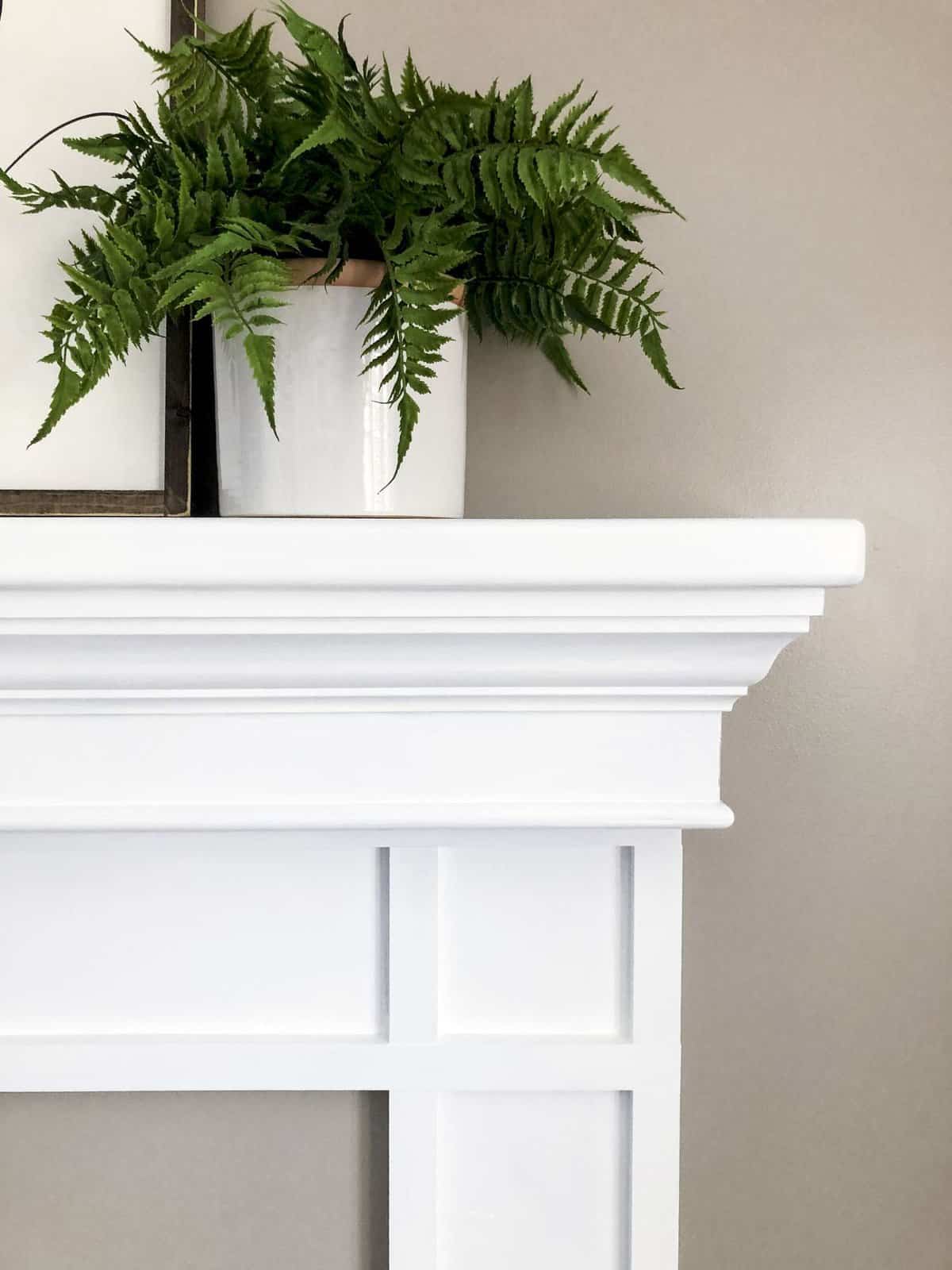 All that's left to do, if you want to stop here, is to decorate! I kept my mantel styling very simple for the guest room. I wanted it to feel homey but not personalized so anyone could walk in and enjoy it.
Faux Fireplace Mantel | Stage 2
Now, at this point you may be wondering, "What about the middle?"
That's totally up to you! You can choose to leave it as-is, or you can add decorative accents to make it feel more realistic.
I completed this project several weeks ago and yet, she still sits empty in the middle. However, my goal is to add a faux brick inset and then some kind of log feature to make it cozier. I just haven't completed stage 2 yet!
I'll be sure to share it on the blog when I do, so make sure to subscribe to be notified of new posts.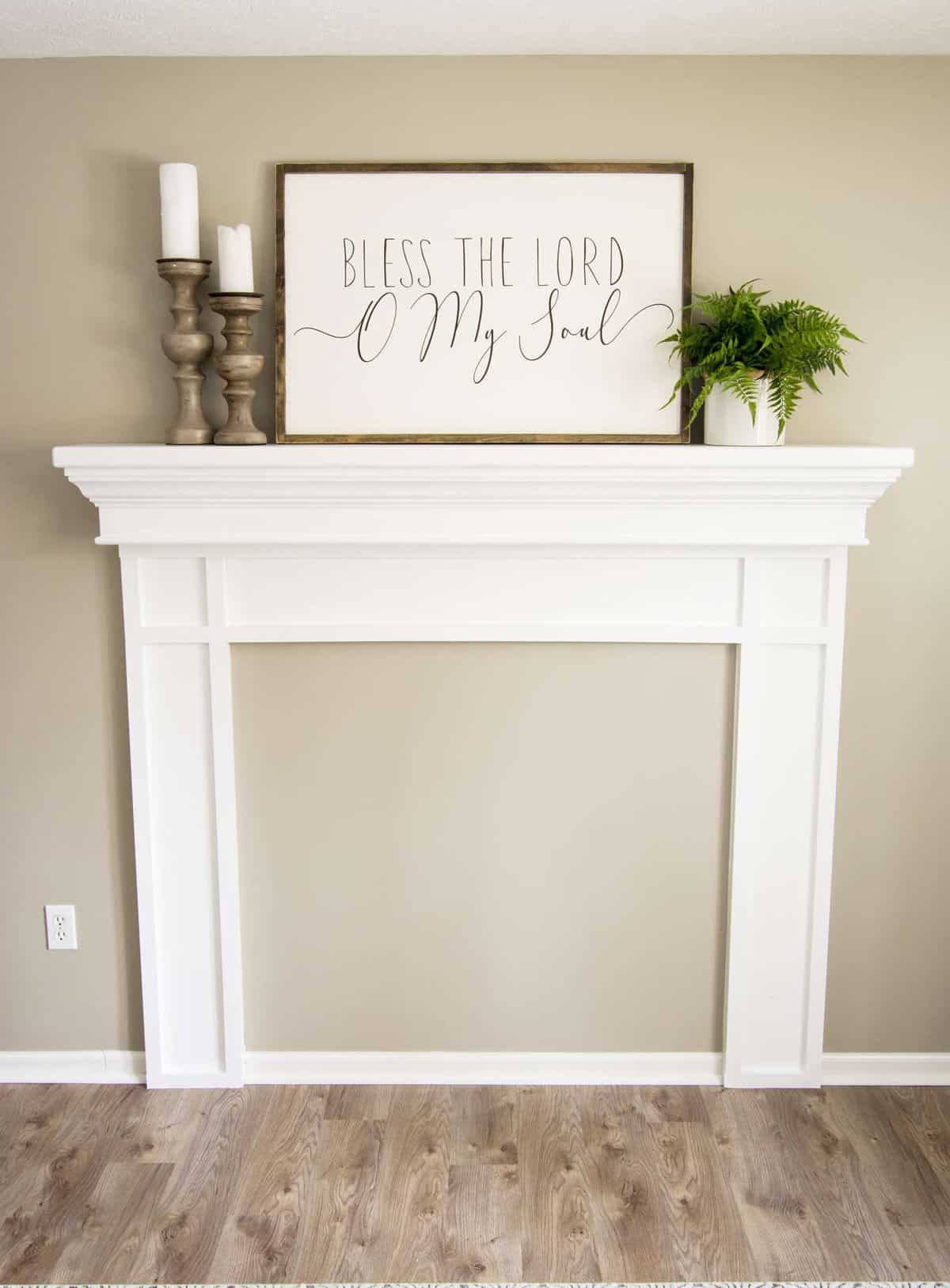 What would you put in the middle? I'd love to hear your ideas as well!
Stay Connected
Thank you so much for stopping by the blog today! I hope that this simple tutorial sparks some creativity for how to add a pretty focal point in any room!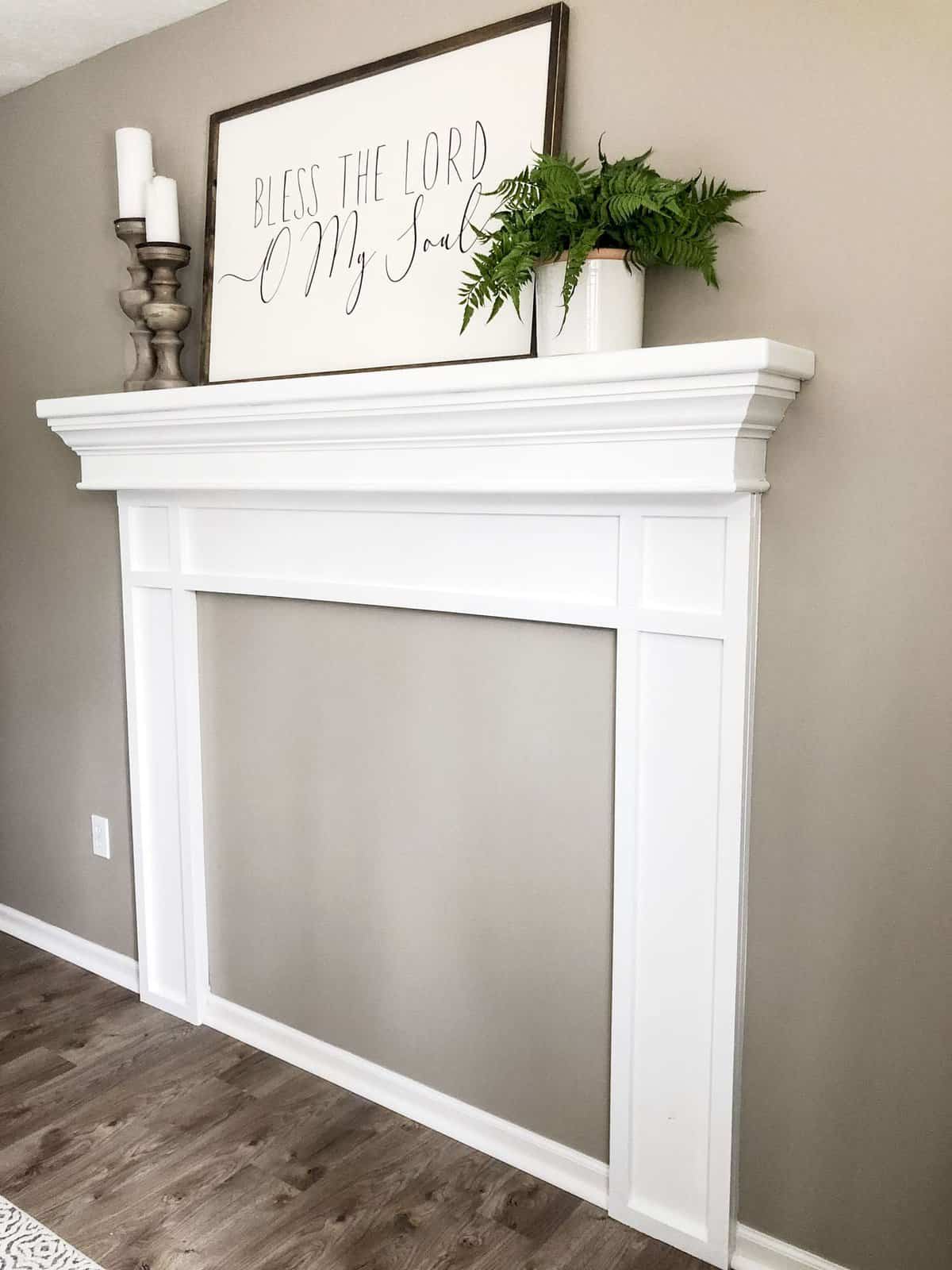 If you try my tutorial, I'd love to see how it turns out! Tag me on Instagram or Facebook and share your project with me!
I'd love for you to join my blogging community for daily newsletters, freebies, DIY guides and exclusive discounts! And, join me daily on Instagram as we build a community of haven makers!

Pin It For Later