How to Use a Pop of Color as Spring Decor In The Bedroom
Spring decor is often over-complicated when it comes to the master bedroom. We try to completely revamp our personal oasis each season when all it really takes is a little change to the color palette! Today, I'm sharing how to use a simple pop of color to liven up your spring bedroom design!
This post may contain affiliate links where I earn a small commission on your purchases.
Master Bedroom Spring Decorating
Do you like to decorate your bedroom for the seasons? I never used to change up bedrooms seasonally until last year. Then, I realized that having little touches of the seasons in our little oasis brought me joy!
So often as homeowners we tend to focus on styling rooms that other people see. However, our homes are our havens and bedrooms are a huge part of that refuge.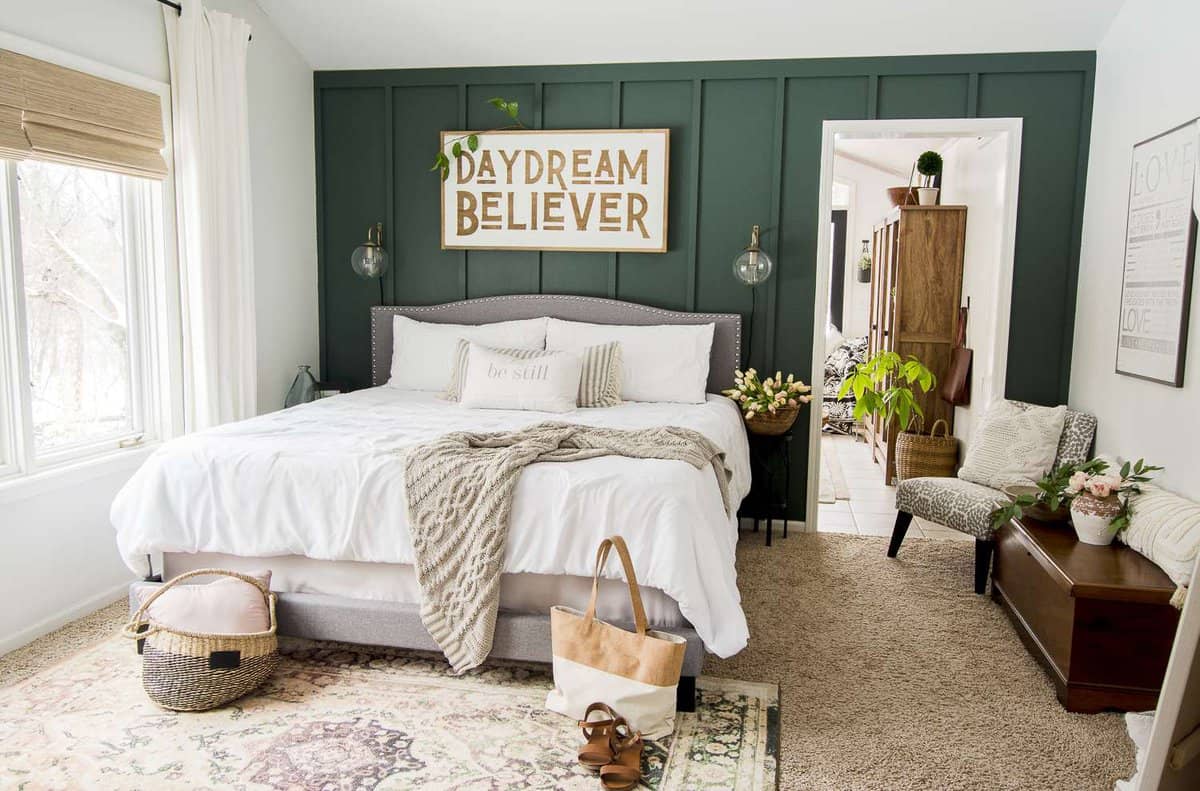 So, rather than completely revamping my bedroom decor each season, I've found that the easiest way to give it a little boost is to add pops of color.
You can see how my master bedroom was styled for winter as a comparison to the spring season. Not much has changed as far as decor goes. But I love that adding a pop of color makes the room feel alive for the spring season.
If you would like help getting a start at some interior design tricks, make sure to sign up for my free 3 module e-course! I share the beginning steps to how to design your home and making your design work to meet your goals! Sign up below for this free course!
So let's take a look at what I did to make subtle changes with a big impact.
Adding a Pop of Color for the Seasons
When looking at our master bedroom design, you might notice that it already has a noticeable pop of color with my favorite green accent wall.
This color is called Regal Leaf by Magnolia Home and is my favorite green paint! It makes a statement on its own and works for any season.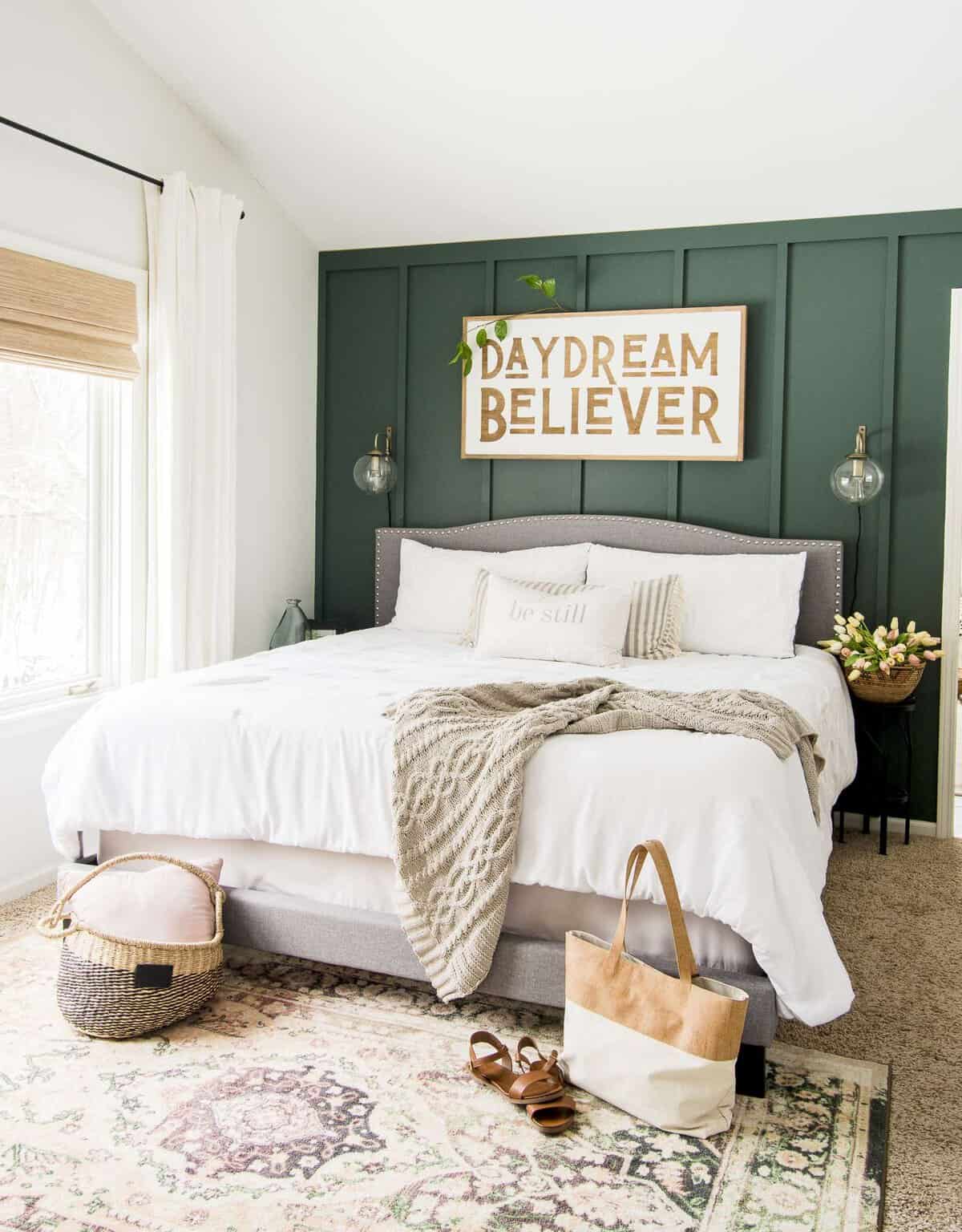 So my goal for spring decor was to add a complementing color that felt fresh and lively. Since I prefer neutrals, I kept all of my white and beige bedding and accents and added simple pops of pink.
Use Your Accent Color Strategically
Using a pop of color is risky for neutral decor lovers. That's why it's important to choose specific ways to incorporate your accent color without it feeling overwhelming.
From this angle, you can see that I've added pink with these amazingly realistic tulips. I shared these on my Instagram stories recently and my followers went nuts over them. That's because they are AMAZING!
These tulips come in many colors so I've used them for years as my main spring decor staple. They are so realistic that I've had many guests balk at me when I tell them they are faux. Usually, they have to touch them to believe me!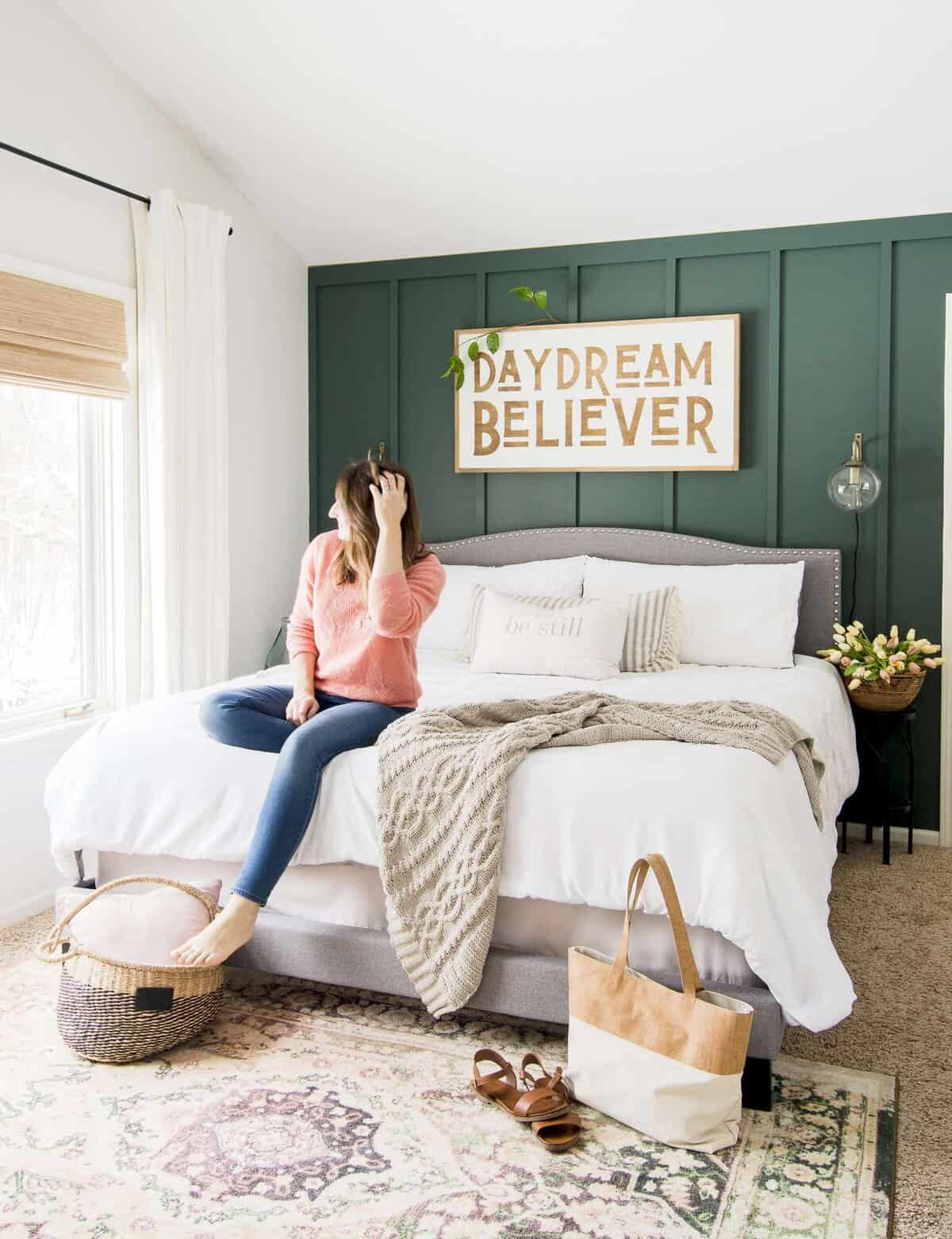 You can also see on this side of the room that I incorporated a soft pink hued pillow, light pink boxspring cover and a more vibrant pink in my area rug.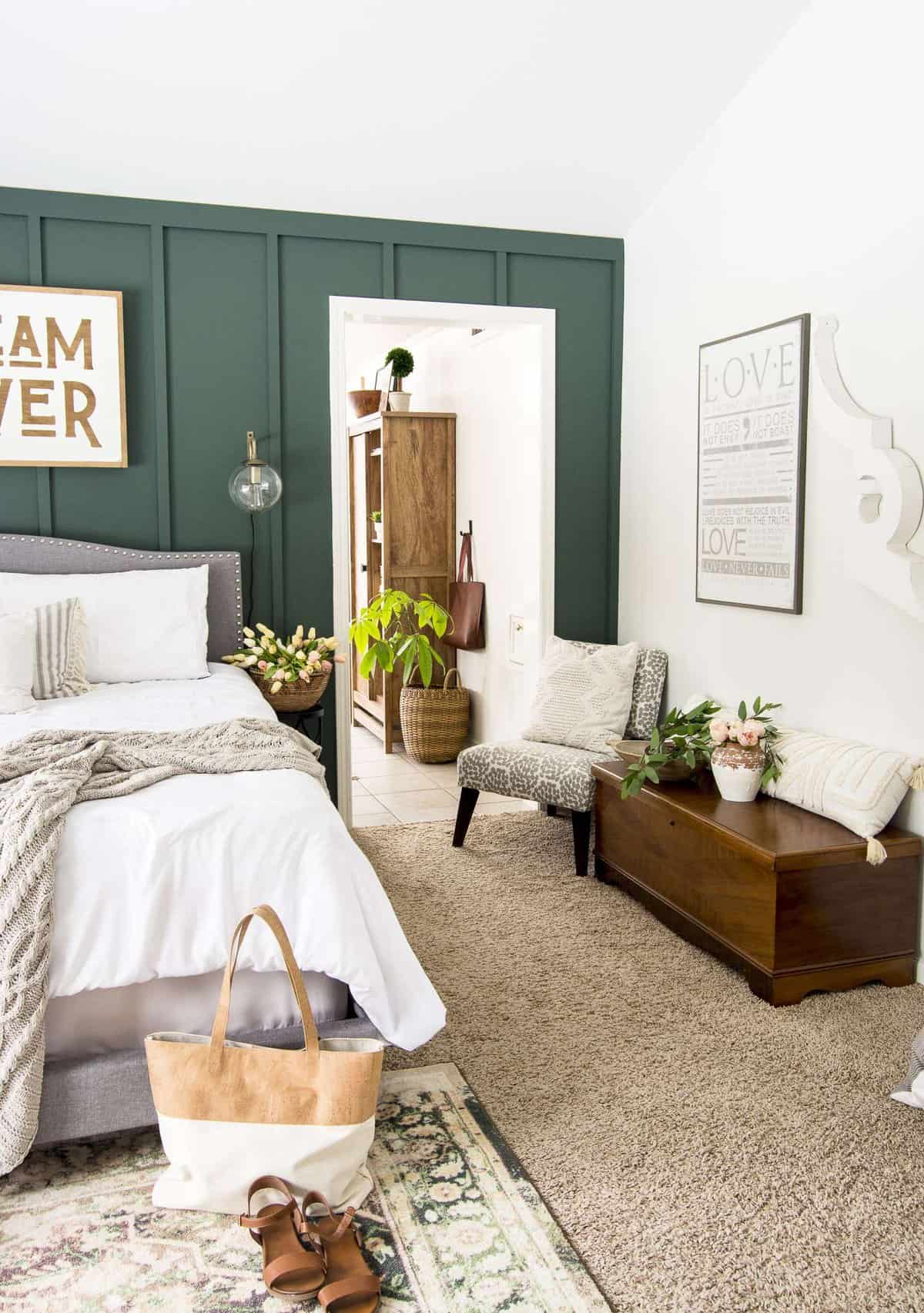 Mixing the shades of my accent color makes it more interesting while remaining cohesive.
Shop the Room

---
Make the Room Cohesive by Sprinkling Pops of Color
The final strategy for using a pop of color as your spring decor is to make sure you sprinkle it throughout the room.
Incorporating similar shades of the same color in several places pulls the entire room together.
On the opposite side of our master bedroom, I've added two additional touches of pink with more tulips and a spring scarf. Small doses of your accent color is all you need.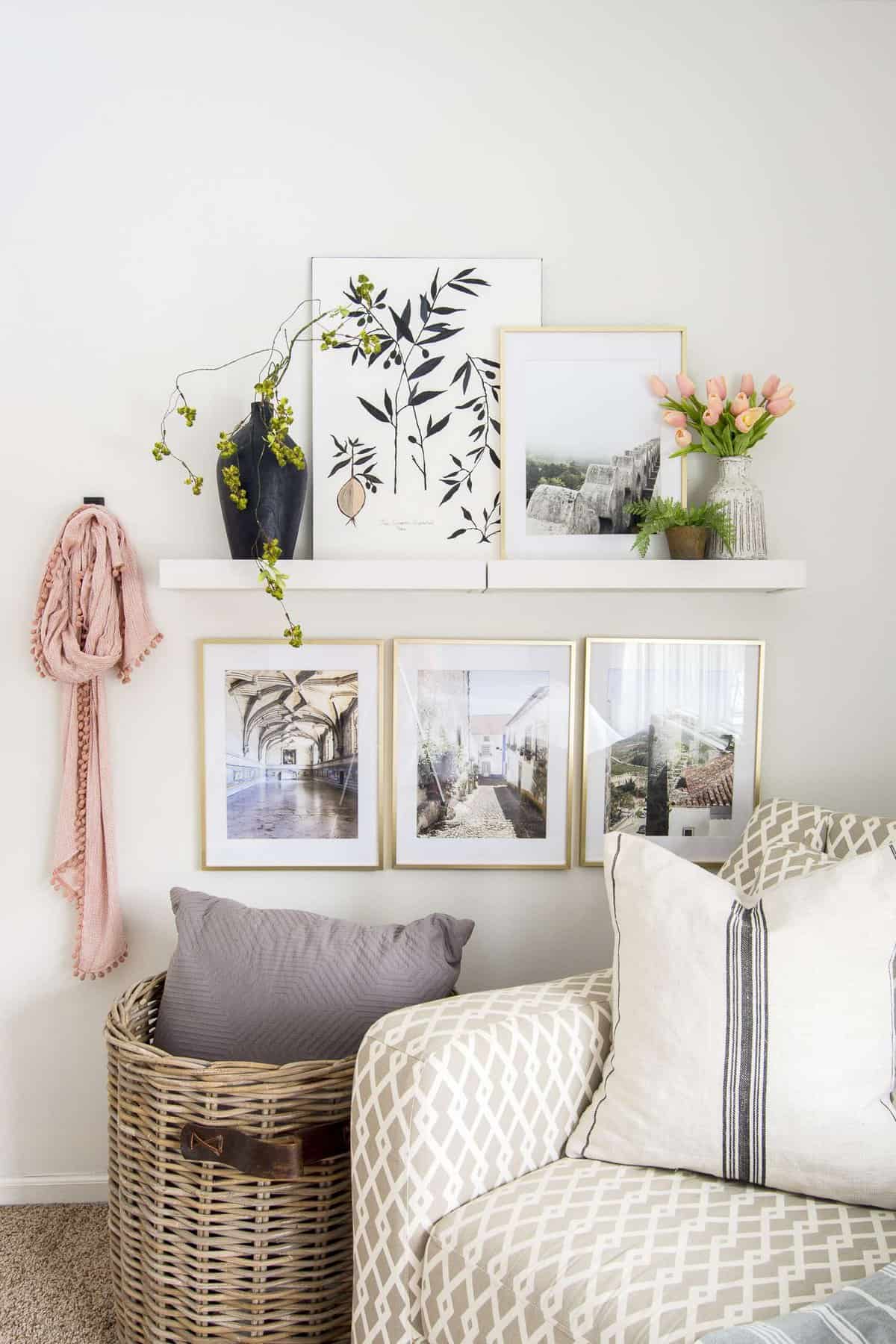 While many people may not view clothing as decor, it's one of the easiest ways to add color to a bedroom!
Add a simple hook or peg rail to your bedroom walls to be a catch all for pretty pieces like scarves and hats. Then, they can serve double duty as clothing and wall decor!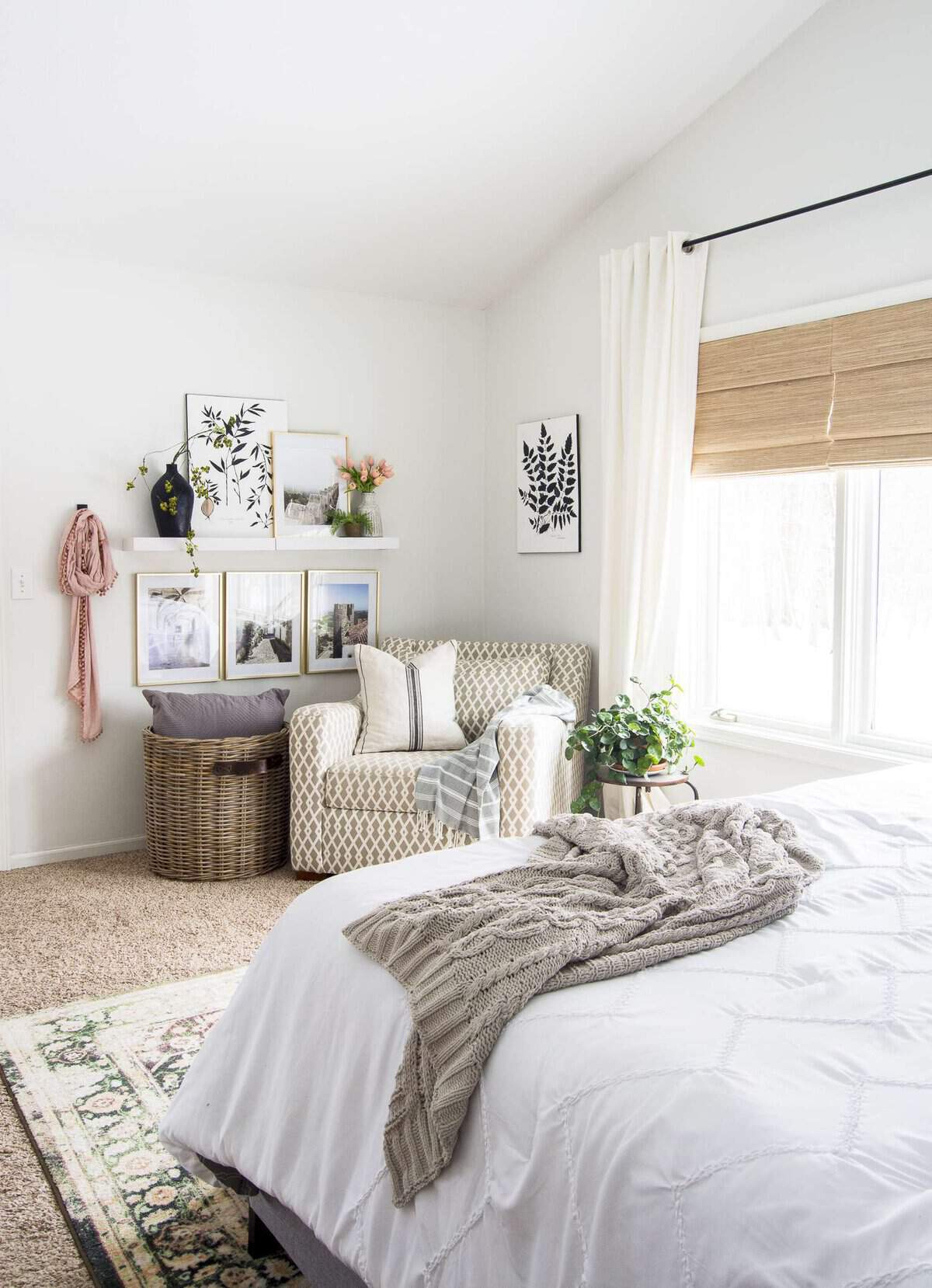 Stay Connected
I hope that these simple tips help you simplify your spring decorating in the bedroom! You can make a big impact with small doses of color which allows your spring decorating to remain budget friendly too!
If you'd like to see my bedroom styling in action, make sure to check out my IGTV episode on how I styled this space. A lot was trial and error, but in the end it's all about that pop of color!
Thanks so much for stopping by the blog today!

Pin It for Later