Modern Farmhouse Style Spring Shelf Decor
The modern farmhouse design style makes styling spring shelf decor effortless! Learn how to balance your shelf decor with these three shelf styling tips for the spring season.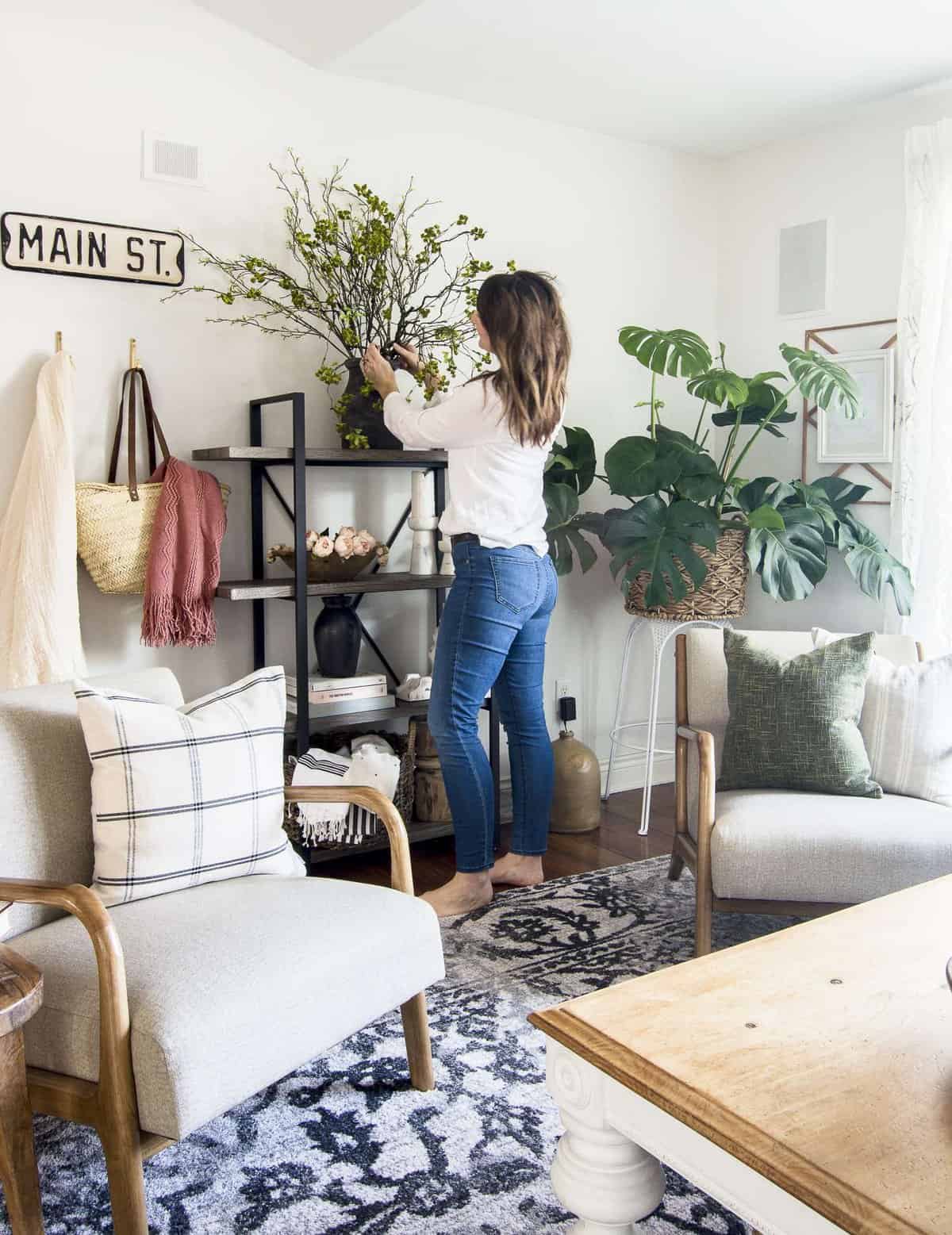 This post may contain affiliate links where I earn a small commission on your purchases.
Spring Shelf Decor Tips
Shelf styling is one skill that took me many years to feel comfortable with. I always overcrowded my living room shelves, put too many colors, or didn't group things well so that they felt cohesive. It's taken a lot of trial and error, but I'm finally at a place where I feel like I've got this. 😉
So I thought I'd share some simple shelf styling tips as I revamp my living room shelves for spring.
Shop My Living Room

---
Repeat Colors within your shelf decor
One of the easiest ways to create a cohesive look with your shelf decor is to repeat two-three main colors.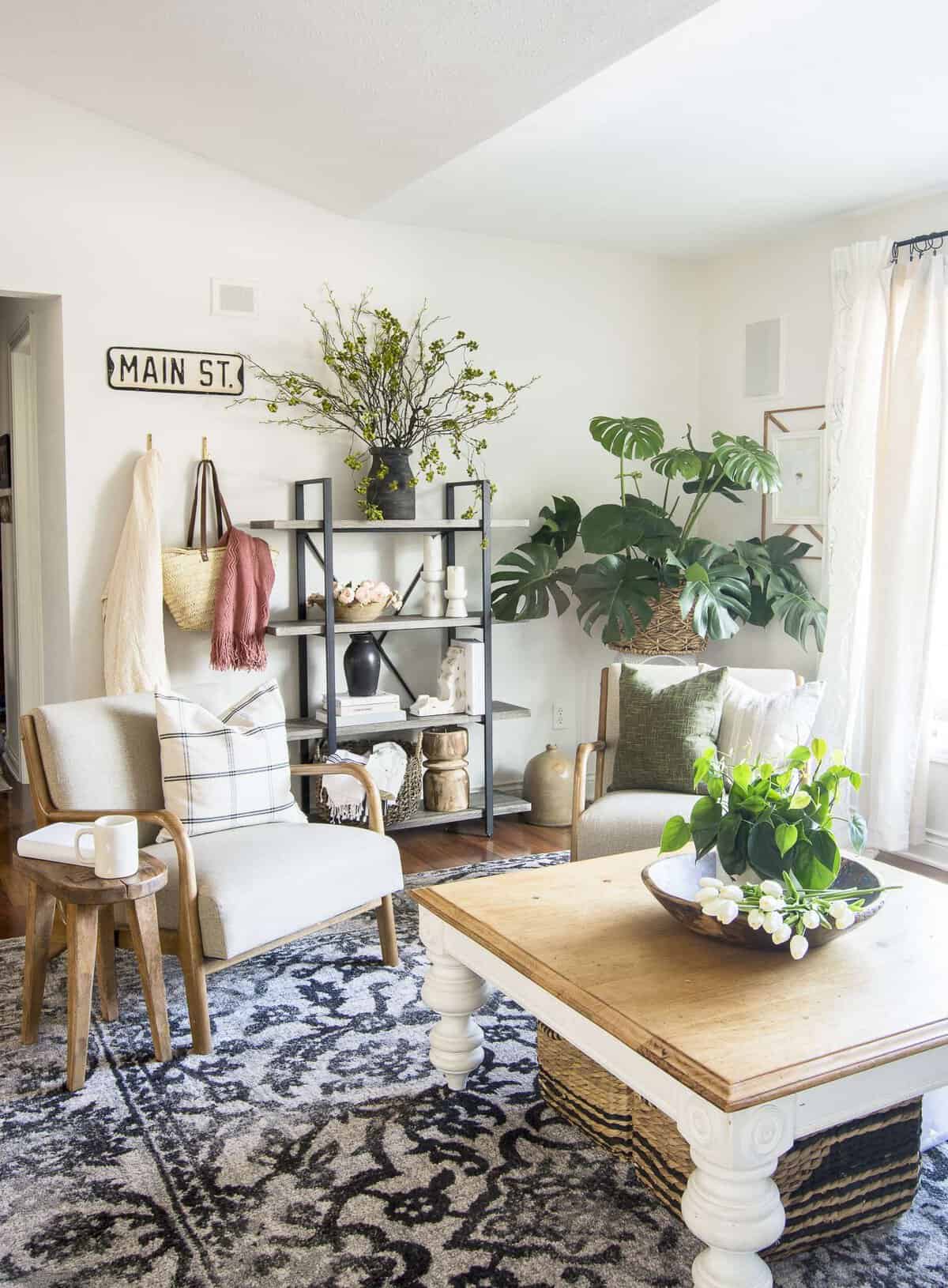 I'm a neutral loving gal, so wood and white are always my go-to color palette. For spring, I wanted to be able to add some pops of color while grounding the space at the same time.
In order to do that, I added in two black pieces. The top vase was a DIY I shared with my Instagram followers recently where I transformed a clear glass vase into "aged pottery" with paint and mortar.
It was such a fun project and now I'm itching to find more uniquely shaped vessels I can update with this method.
I made this my anchor point for the entire shelf with a large arrangement of my favorite faux greens.
It's best to repeat your colors at least once on the same shelf, so I added an actual piece of vintage pottery below.
Alternate Placement of Similar Items
Tip two for styling living room shelves is to alternate the placement of similar items. You can see on my shelves, I've placed two wood pieces, two black pieces, and several white variations in a zig zag pattern.
This draws the eye up and down the shelf as it bounces from color to color.
Another fun way to use color as a pattern is to group all like colors on each shelf. This lends more of a rainbow effect if you prefer monochromatic styles.
Layer and Group
The final tip for a simply styled shelf is to layer and group items. This allows you to use the height you have available to its fullest extent.
Adding the black vase on top of my stack of books filled some otherwise dead space, and drew the black color palette down the shelf.
Likewise, adding neutral colored textiles to the basket on the bottom adds texture and softness to the display.
Plus, it makes for practical and pretty storage for all my kitchen and dining room linens!
Styling Around Living Room Shelves
The final bonus tip for simple spring shelf decor is to repeat some of those same colors around your room.
Adding pops of green and pink to my living room as a whole ensures that the shelf decor isn't out of place. I plan to share my entire living room styled for spring soon, so make sure to subscribe to be notified when it's live!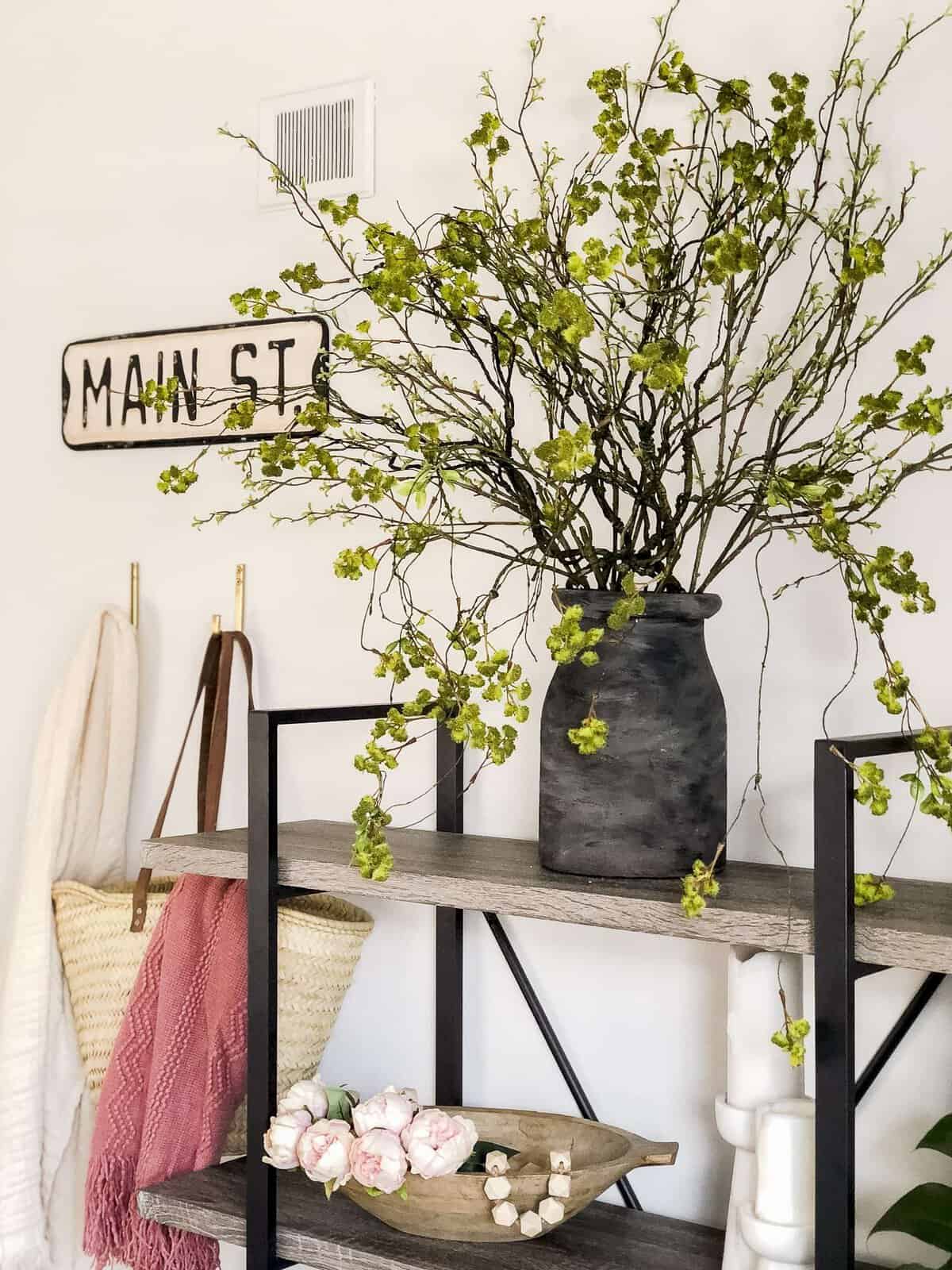 Stay Connected
Thanks so much for stopping by the blog today! I hope that these simple shelf styling tips were helpful as you break into your spring decorating!
Stay tuned for many more spring decor tips in the coming weeks. You can find tons of spring inspiration from years past here as well!