Simple Tips and Healthy Habits for Restful Sleep
Restful sleep eludes so many in our fast paced society! Here are simple tips and healthy habits to help you achieve restful sleep this year.
This post is sponsored by Tuesday Morning. All thoughts and opinions are my own.
This post may contain affiliate links where I earn a small commission on your purchases.
New Year | New Goals
Every new year the majority of us reflect on our past year and look ahead to what is to come. We develop goals, we focus more on self-care, and we aim to be our best selves.
One often overlooked goal for a new year is how to get more restful sleep. Better sleep = more energy, improved mood, and clearer thinking.
Did you know that how you style your bedroom can directly impact how you sleep? Specifically, choosing your bedding wisely can make all the difference!
I was excited to partner with Tuesday Morning to chat more about simple tips for choosing bedding, as well as offer ideas for healthy habits that will all contribute to more restful sleep!
The Right Sheets for More Restful Sleep
Let's start with your foundation. A quality mattress and box spring are necessary for restful sleep. Sagging support or mattresses that are overly firm can cause you to toss and turn all night. Investing in a quality mattress is your first step!
The second step is to layer on quality sheets! When choosing your sheet sets make sure to look at thread count and fabric type.
While browsing my local Tuesday Morning, I had tons of affordable name brand options to choose from and ended up selecting a set from Peacock Alley.
I ended up going with Egyptian Cotton for its durability, breathability, softness and ability to stay wrinkle free. I always look at thread count as well. 500-800 is my sweet spot, depending on the fabric type, to make sure my sheets feel luxurious against my skin.
Layered Bedding for Optimal Temperature Control
The third step in using your decor to help get more restful sleep is to layer your bedding with temperature control in mind.
Our bodies rest best between 60-67 degrees Fahrenheit. So, when you're choosing bedding, make sure to choose breathable sheets first.
Then, layer a comforter or duvet (weight dependent on the season). And finally, finish it with an additional throw blanket for those extra cold nights.
Layering your bedding allows you to shed layers as needed to control your body temperature throughout the night.
I was excited to find this beautiful 6 piece comforter set at Tuesday Morning. I always love how fresh white bedding feels in the winter. It has been a great weight for our Michigan winters!
Purchase New Pillows Regularly
One culprit of fitful sleep that many overlook is a bad pillow. Bed pillows wear out much faster than most of us replace them!
Determine how you typically sleep (side, back, tummy…) and then purchase quality pillows quarterly. Replacing these will help support your neck and spine for optimal comfort.
I prefer a firmer pillow while my husband rests best with down feathers. Thankfully, Tuesday Morning is a one-stop shop and had all the variety I needed to find what suits us both best.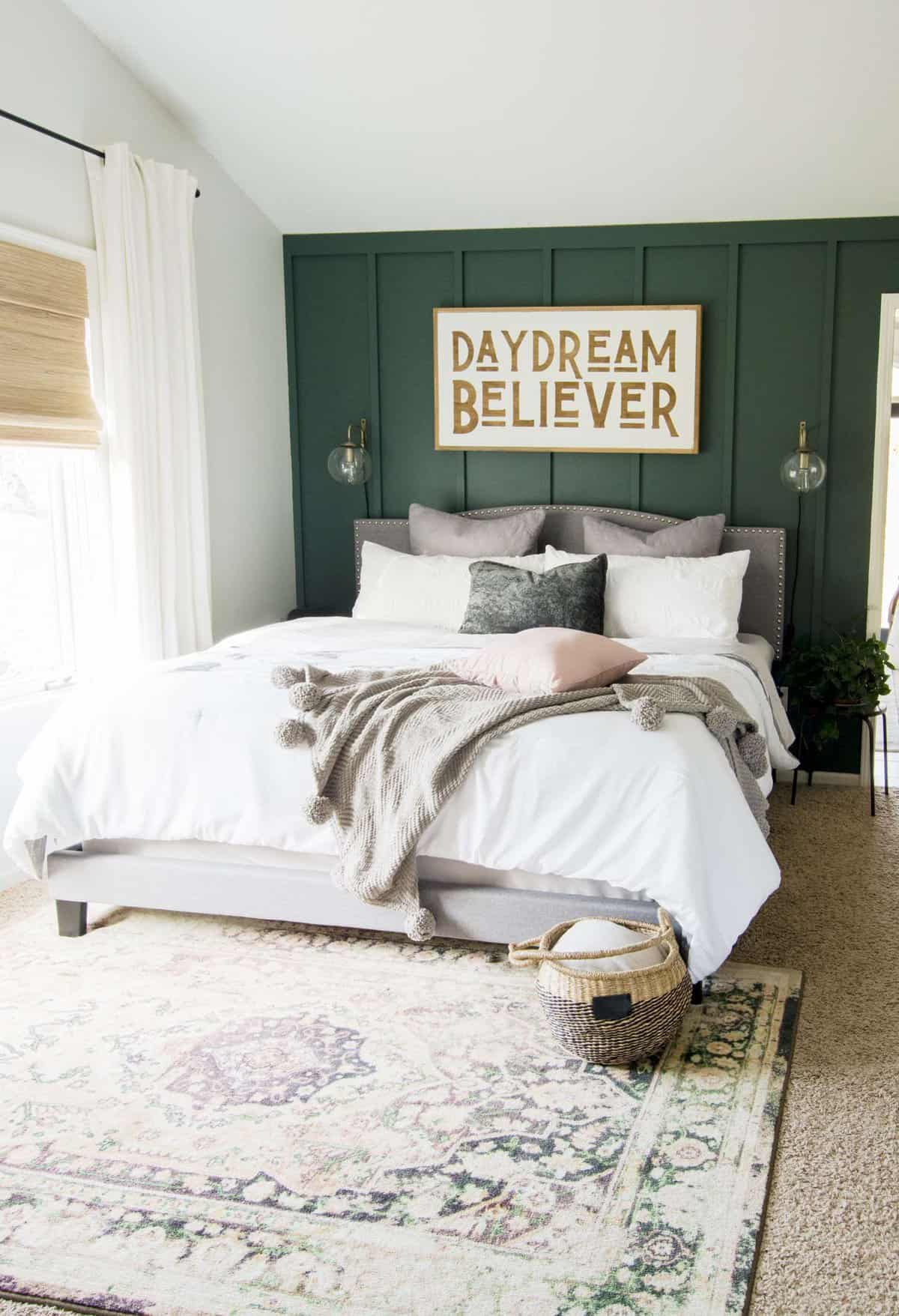 While you're at it, add some euro shams and a throw pillow or two for a well made bed. While they may not help with sleep, they are pretty to look at!
Consider the Light
Blue light, yellow light, sunlight, all the lights. The main point, light messes with your melatonin! The best healthy habit to get into is to turn off phones and reading lights, as well as draw your shades, well before bedtime.
This gives your body time to wind down before you climb into your freshly made bedding.
Rest Your Mind
It's also a good practice to run through a mental list of to-dos for the next day and write them down before climbing into bed. This helps your mind settle for more restful sleep.
Add Plants
Another healthy habit to get into is to add live plants to your home. I've shared all my favorite indoor plants with you in previous posts, but did you know that certain plants can help you rest?
Some of my favorites are lavender, english ivy and snake plants.
Simple Bedding Storage
After your restful night's sleep, a question I often receive from my Instagram community is, "Where do you store all your shams and pillows?"
My simple answer: a gigantic basket. Not only is it pretty, but oversized baskets are an easy spot to toss your fancy pillows when the bed is in use.
Stay Connected
I hope this post on how to get restful sleep has been helpful to you! With the new year in full swing, make sure to find a Tuesday Morning near you to discover all your best deals for new sheets and bedding!