Modern Farmhouse Interior Design Style Guide
Are you ready to transform your home to the modern farmhouse interior design style? After a full year of living in our current home I'm finally pulling together all my sources into one post. Here is my full home style guide with my best modern farmhouse decor sources and paint colors.
Modern Farmhouse Interior Design
Welcome to my home!
I've slowly gravitated to the modern farmhouse interior design style over the last year. I'm adding less rustic pieces and more modern decor with clean lines. I love the contrast of farmhouse interior design with a splash of modern additions.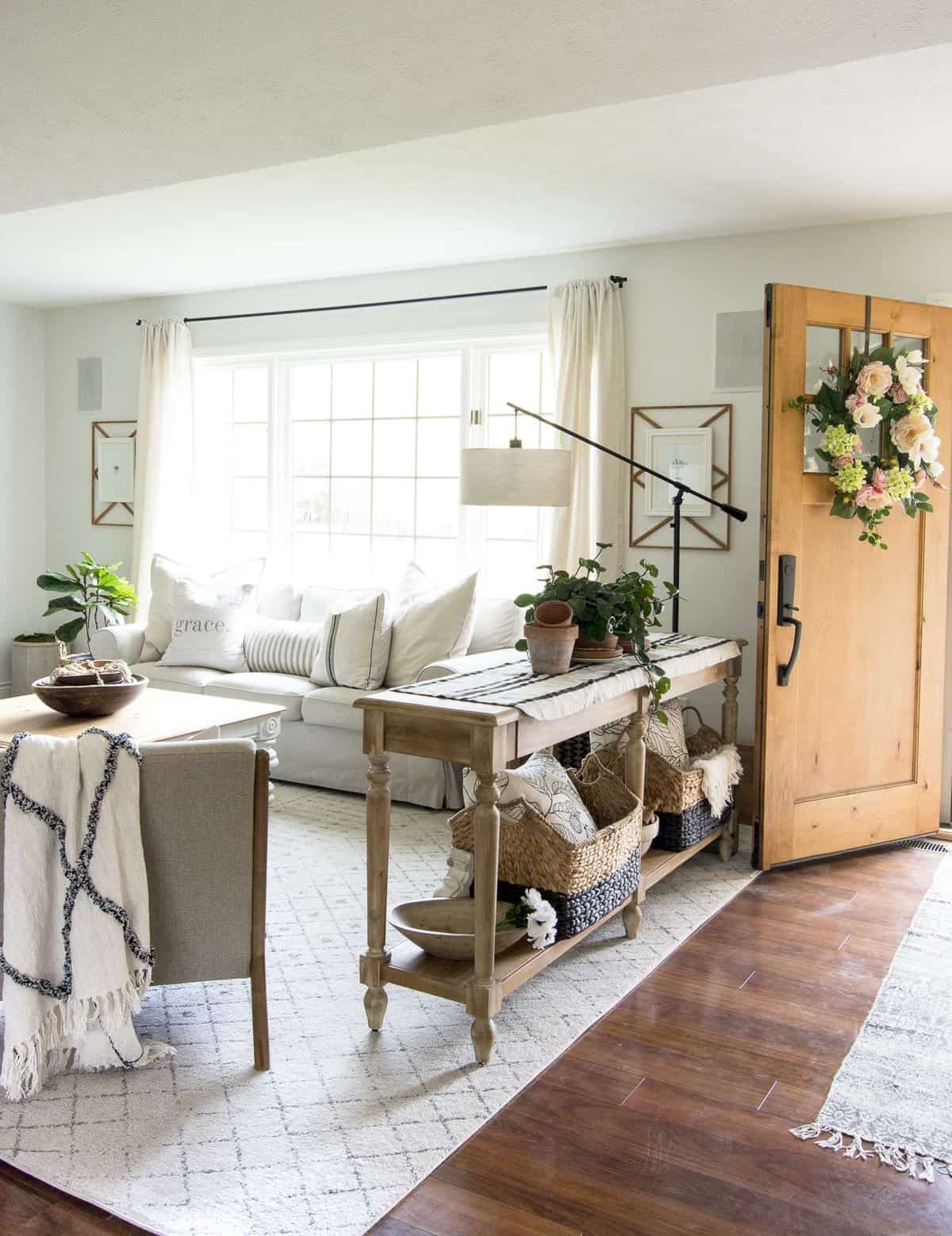 This post may contain affiliate links where I earn a small commission on your purchases.
My most asked question by readers and on Instagram is: "What paint color is that?" I am always honored when I am asked that question because I find it to be a great compliment! So I will be sharing all my paint colors as well as decor sources today.
However, I must caution you! Make sure to try samples of any paint you choose on your walls before purchasing large quantities! The way a paint color looks in my home, on a computer screen, will be very different than how it looks in your home. Home lighting, photo editing, and even the other colors in a room all impact how a paint color appears.
Home Style Guide
So let's get down to my modern farmhouse interior design style guide. I'll work through my home tour room by room to give you all the paint colors and home decor sources. Be on the lookout for additionally linked posts where I will go into detail on DIY projects and additional details!
Exterior
I love to welcome guests to my home with a set of beautiful wreaths. Double layered welcome mats also add a little bit of interest and coziness. I am always asked about the door source, however these front double doors were original to the house. Unfortunately, I don't have a source!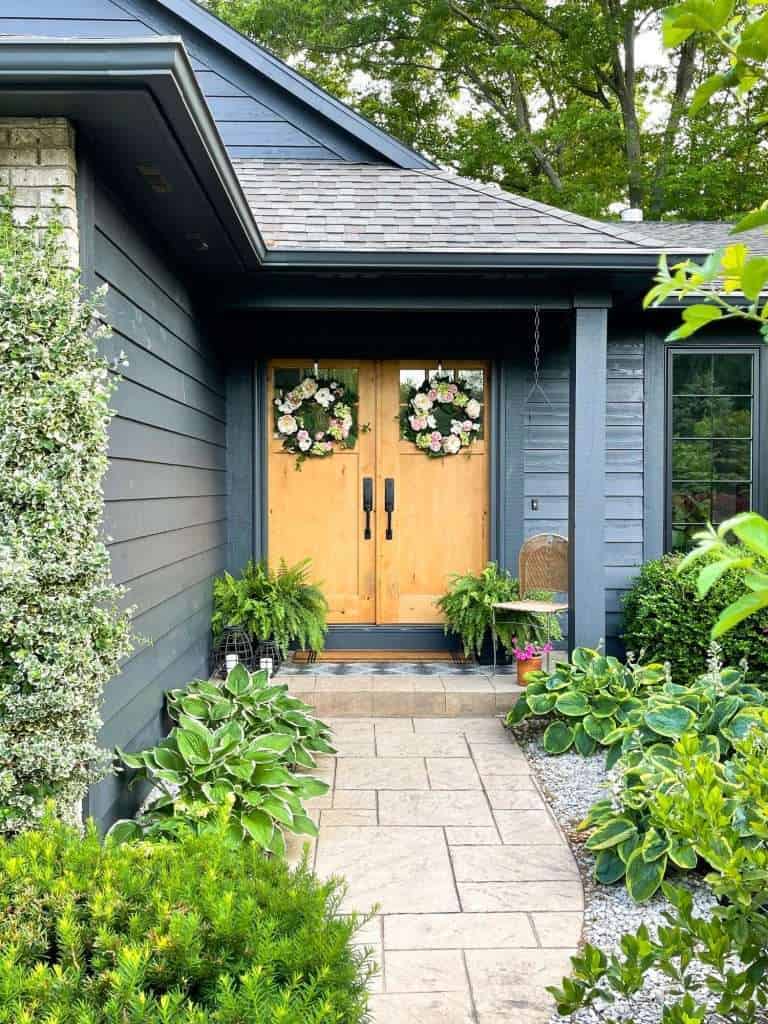 PAINT: Color matched to Graphite by Benjamin Moore.
Shop This Space

You can see more of my outdoor spaces in the below posts.
Entryway + Living Room
Our entryway flows into our living room. This space sets the tone for the entire house. I've used my favorite console table to create a defined entryway without a wall and it serves to display my favorite pieces of decor as well.
PAINT: The majority of our home, including the living room, is painted in Shiplap by Magnolia Home Paint.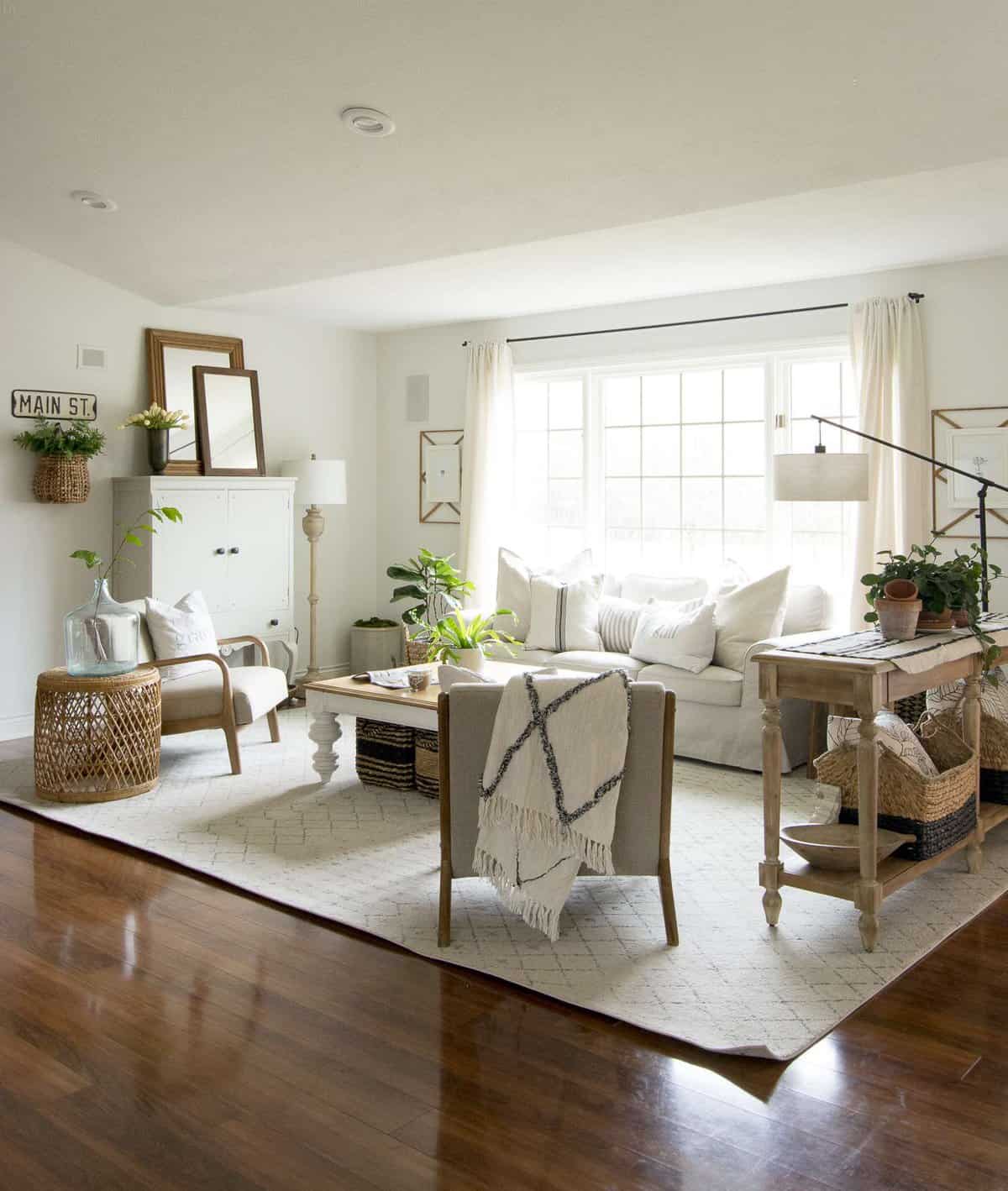 Shop This Space

You can see more of my living room in these posts!
My all time favorite pillow covers can be found here. I love the soft and durable canvas and customization options.
Fireplace
Our fireplace is literally the center of our home. It breaks up an otherwise completely open space from our kitchen, dining room and living room. You wouldn't believe how much this space has been transformed in the last year! We've taken down walls, removed an indoor hot tub (yep…), and updated the hearth.
Since writing this post originally, we've updated our fireplace to include an authentic barn beam mantel. You can learn how we installed it in this article.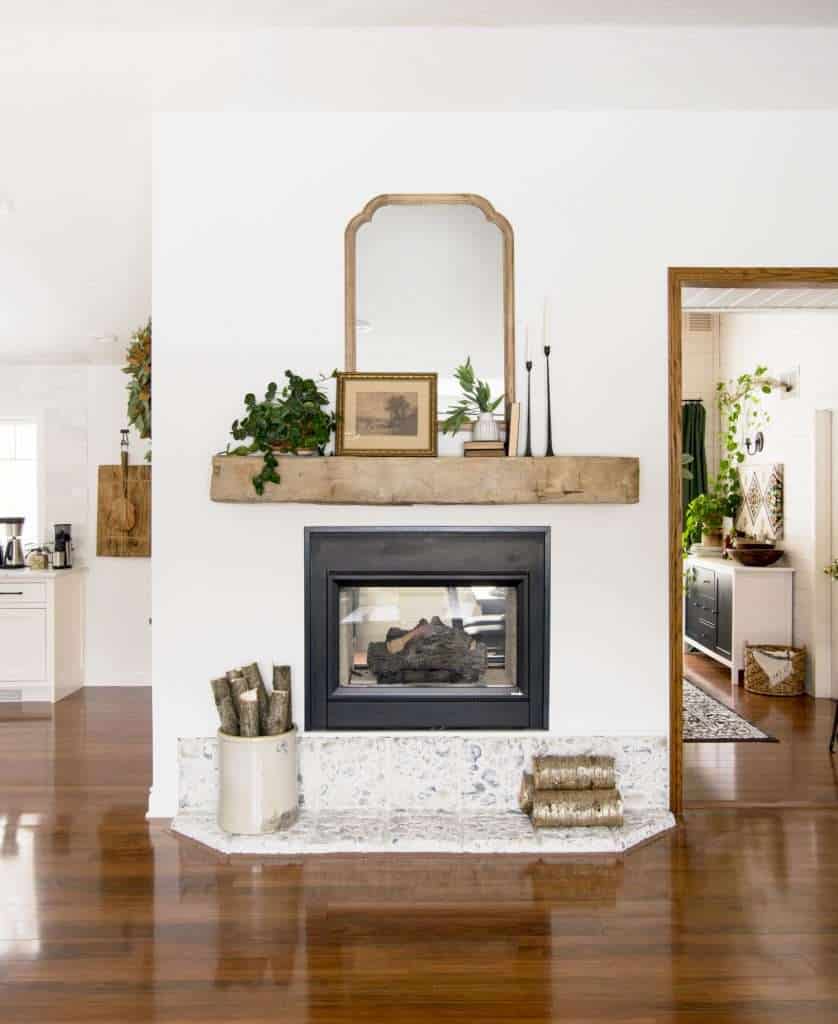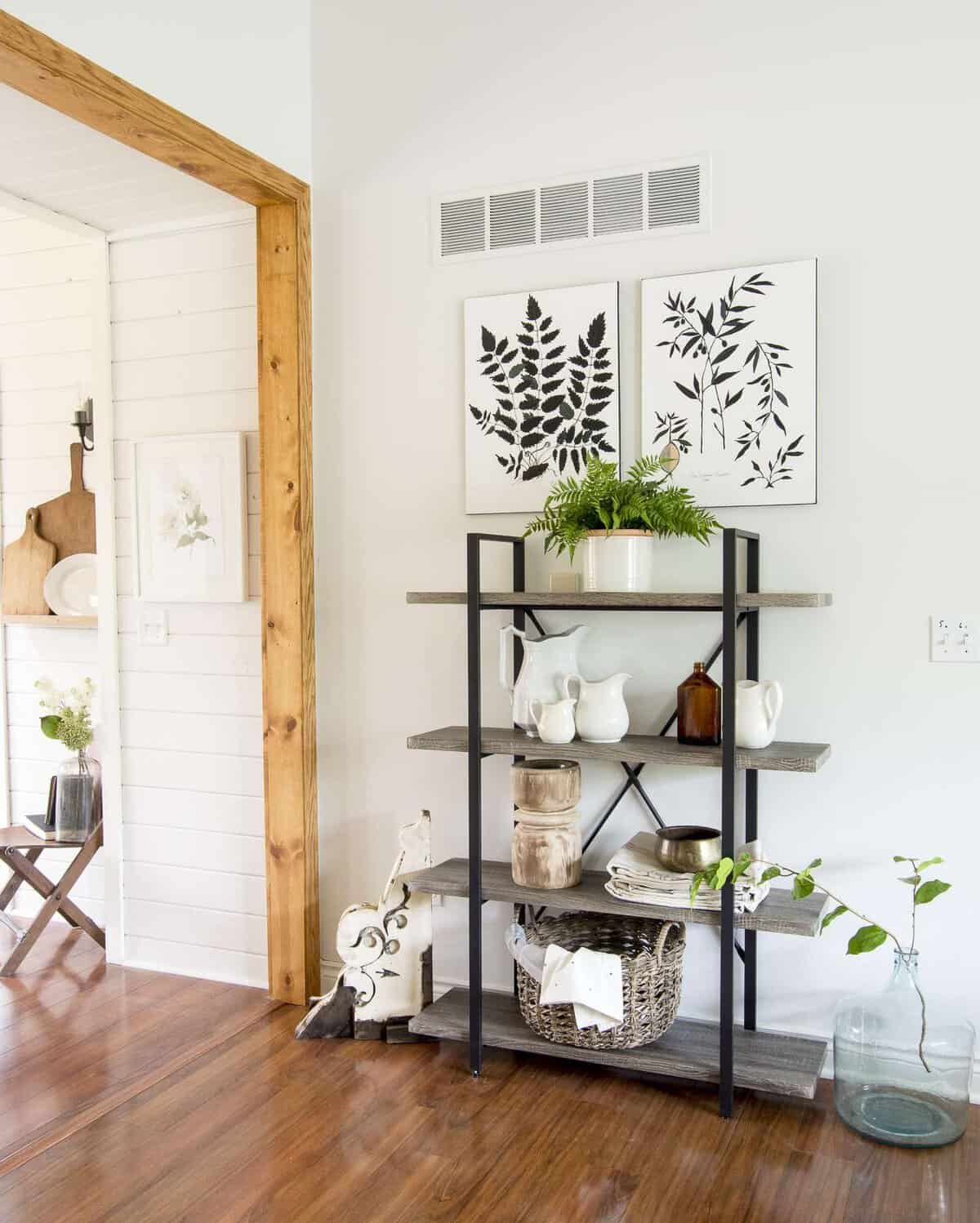 Shop this Space

You can see how I transformed our river rock hearth with a DIY german schmear in this post!
Kitchen
Our kitchen has certainly been the most transformed area in the entire home. I completed a top to bottom budget DIY kitchen renovation the first few months we lived here. However, this last month we just finished a full gut remodel. We are so pleased with the results and are so grateful to use this space to entertain and serve.
PAINT: Our kitchen cabinets are painted in Benjamin Moore White Dove. The central island, coordinating hood and open shelving are all hard maple stained in Autumn.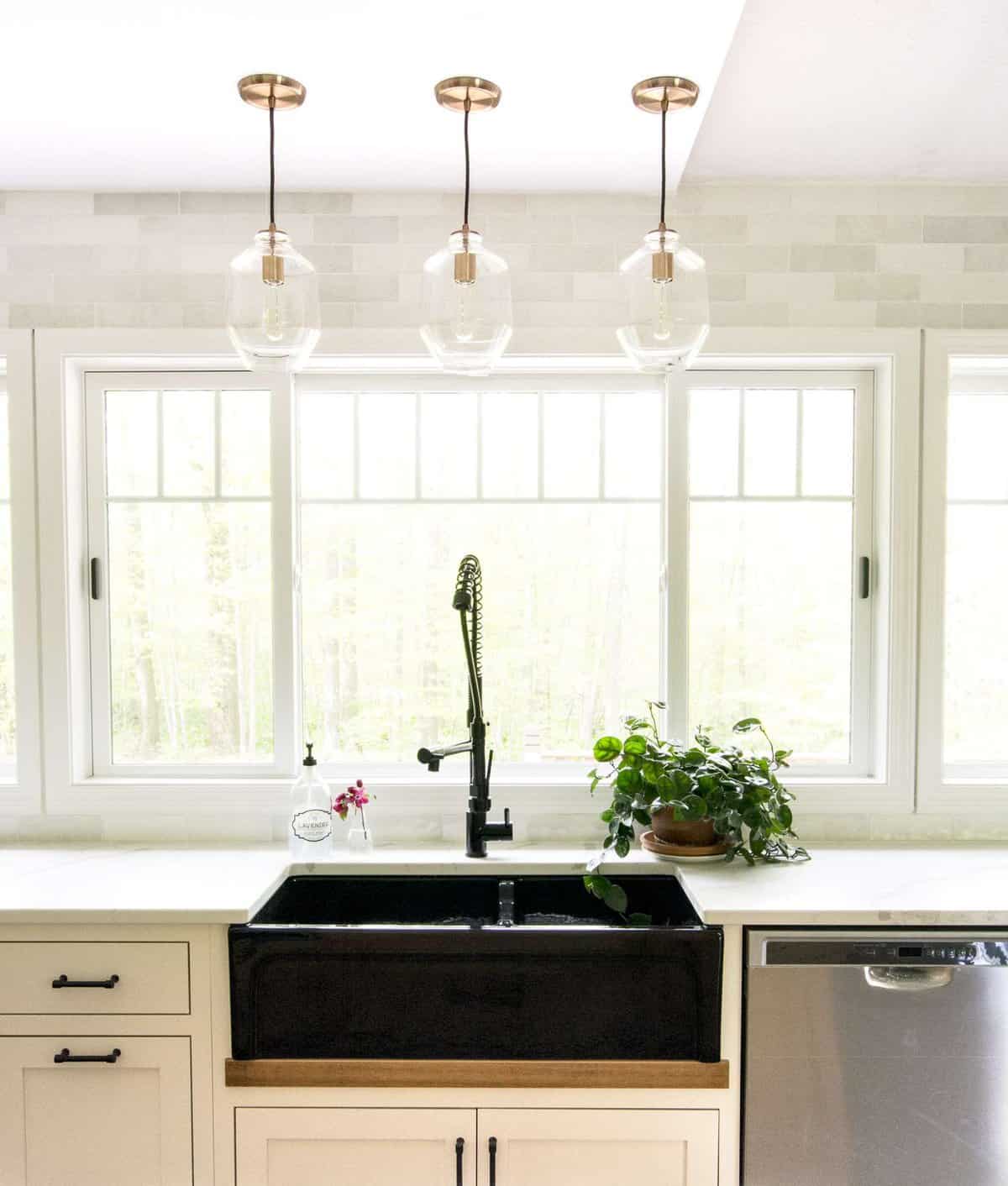 Our pendant lighting can be found here. I love how the trio of pendants add class and heighten the design in this modern farmhouse kitchen.
Shop This Space

You can find all of the details on our custom kitchen below!
Dining Room
When we moved into this home our dining room was actually an indoor spa. We knew that wouldn't work for our family so we took down a wall and converted it to our gathering space. You can see the entire transformation here.
PAINT: The walls are cedar planked and painted in Shiplap by Magnolia Home.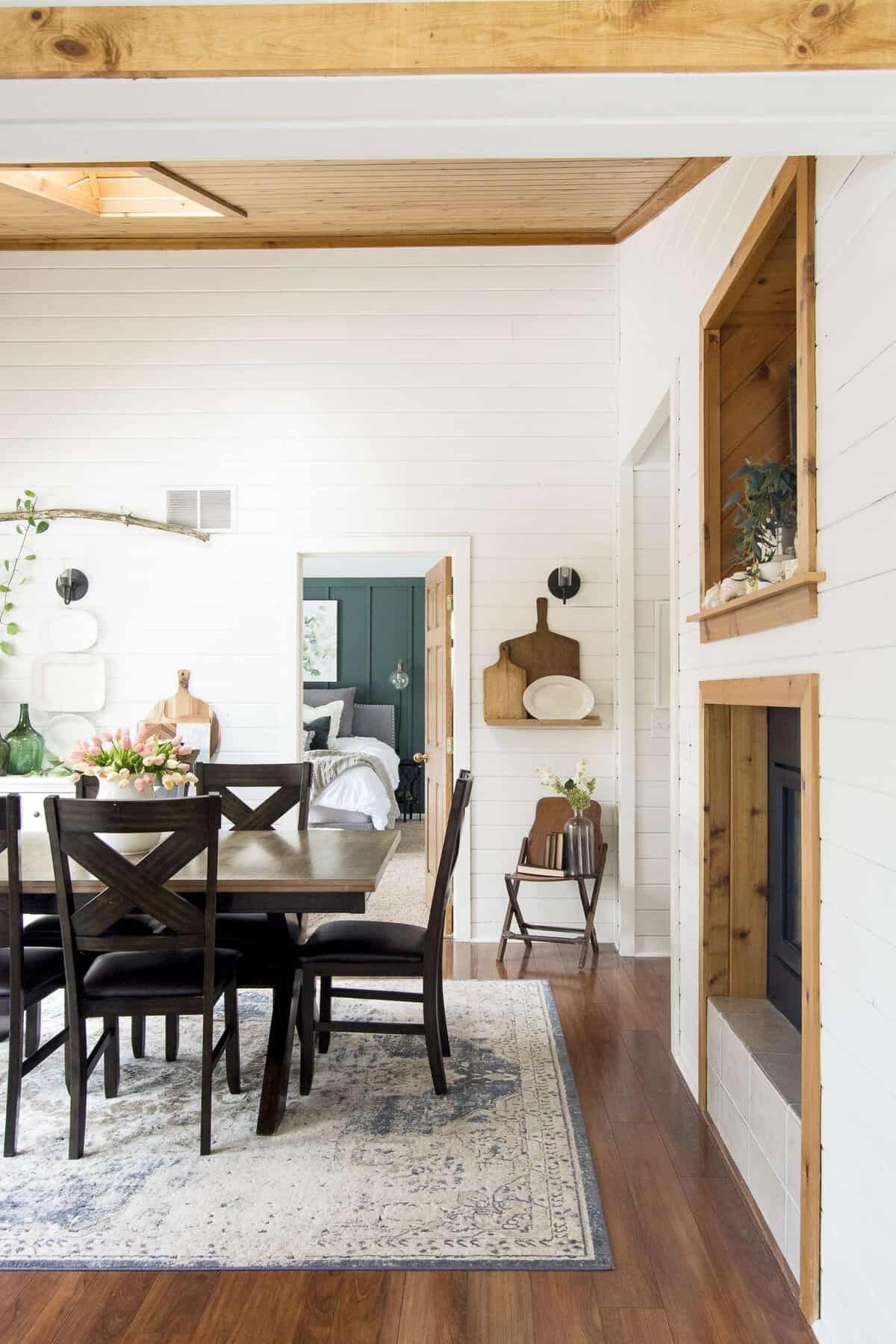 An interesting thing about our dining room is that you could see into our bedroom. It's an odd layout since it was originally a master suite indoor spa. However, for me, it shows how we have made this into a home that works for us. Just one more step in the direction of haven making.
In 2021, I DIYed a solution to the awkward layout and closed up the doorway. You can see what I did instead in this article!
The table and chairs are several years old and no longer sold by the original store we purchased them from. However, I did update this table to be two-toned! You can see that DIY transformation here.
Shop This Space

Master Bedroom
By far, the number one question I'm asked on Instagram is, "What color is your bedroom accent wall?"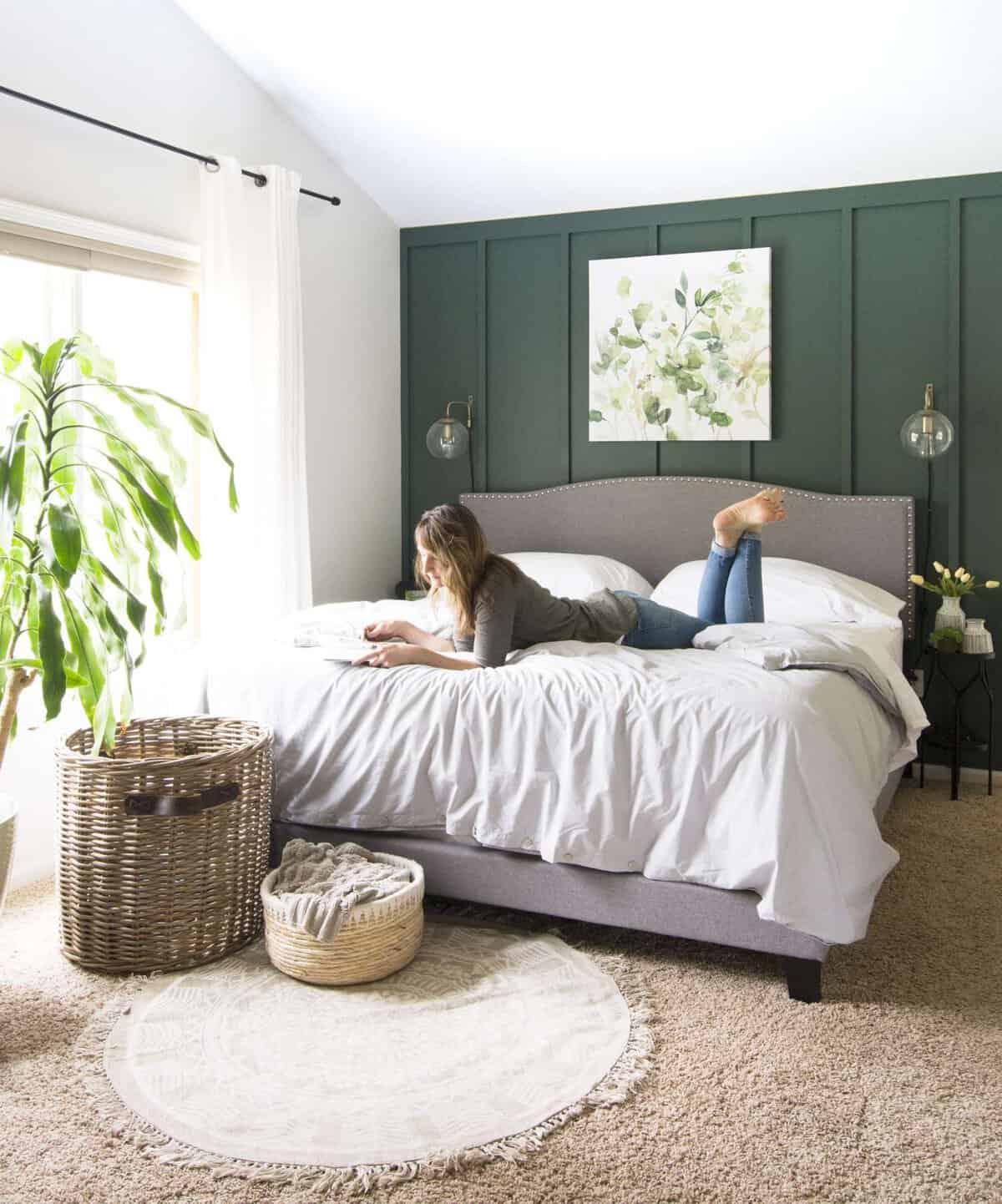 PAINT: White walls are also Shiplap by Magnolia Home. Green accent wall is Regal Leaf by Magnolia Home.
We updated our master bedroom right away when we moved in. I love the little retreat we created. See more posts on our bedroom below.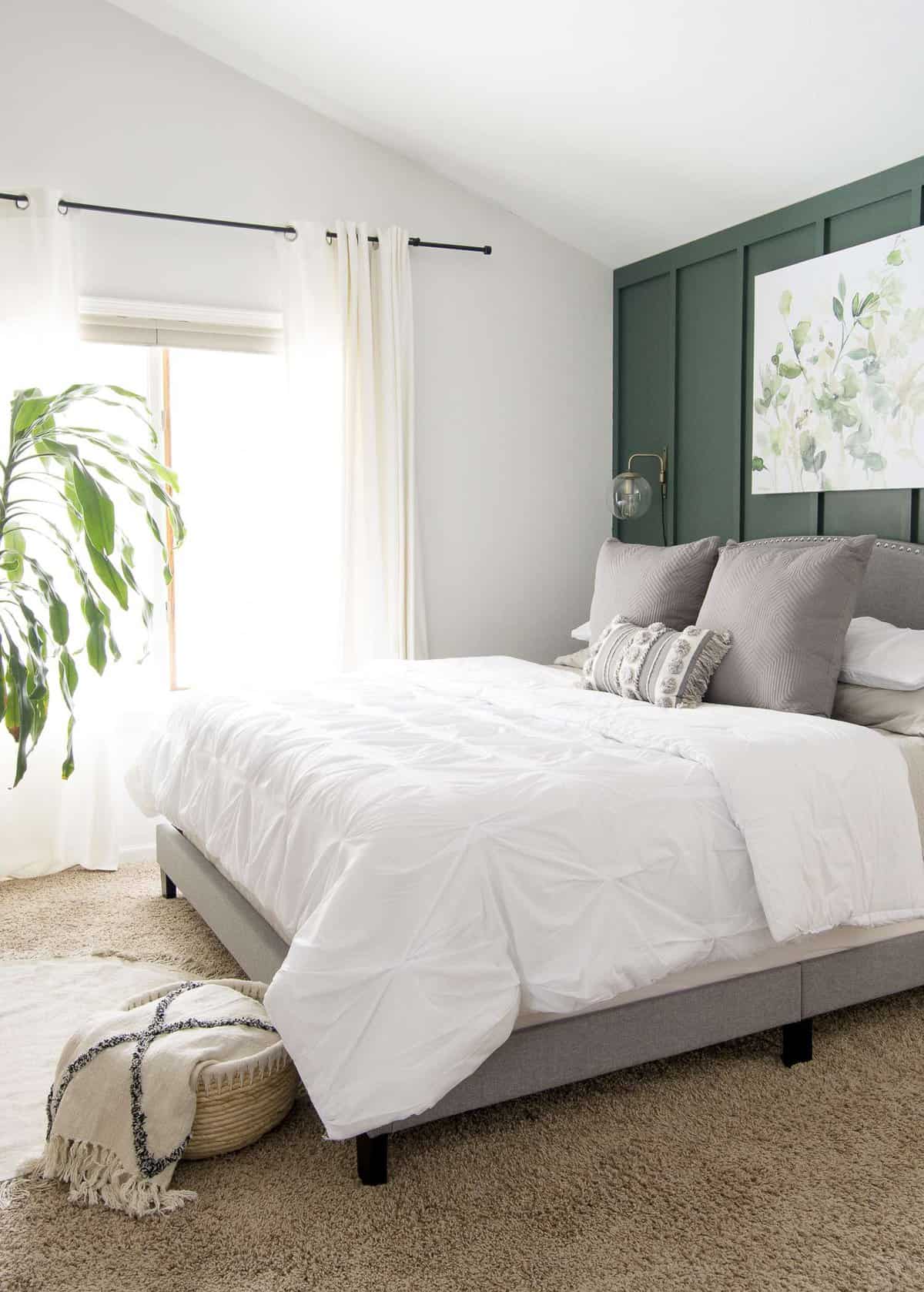 Shop This Space

Sunroom + Home Office
Off of our master bedroom is a lovely three seasons sunroom. I've converted it to my home office. I love having a dedicated space to focus on the blog and enjoy.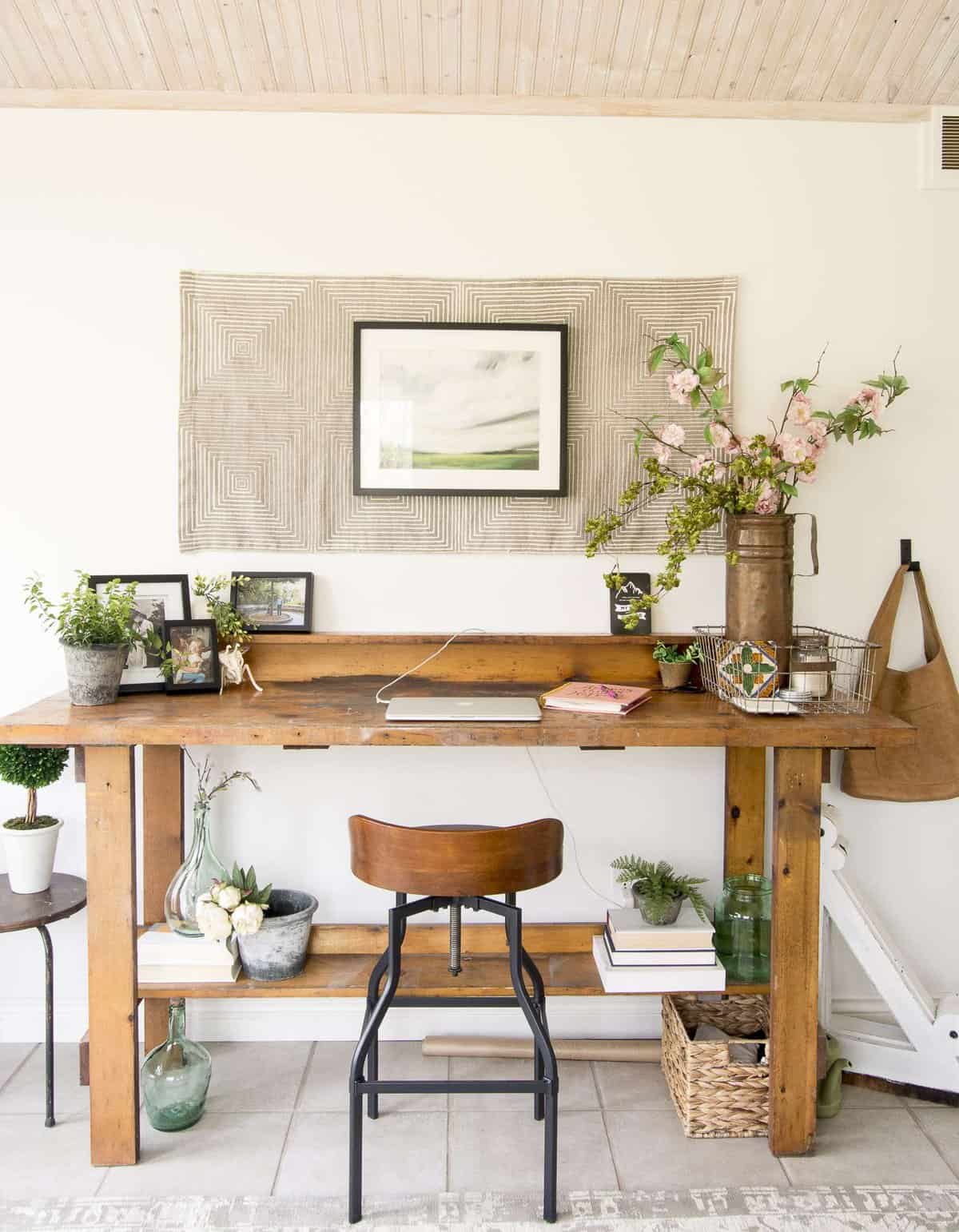 Most of the space is decorated with my favorite vintage finds. You can find this stool here.
PAINT: You guessed it. Shiplap by Magnolia Home.
You can see how I transformed this sunroom in the posts below!
Girl's Bedroom
My daughter's bedroom was so fun to design! I loved creating a space for her to enjoy. My son's bedroom is next on the docket!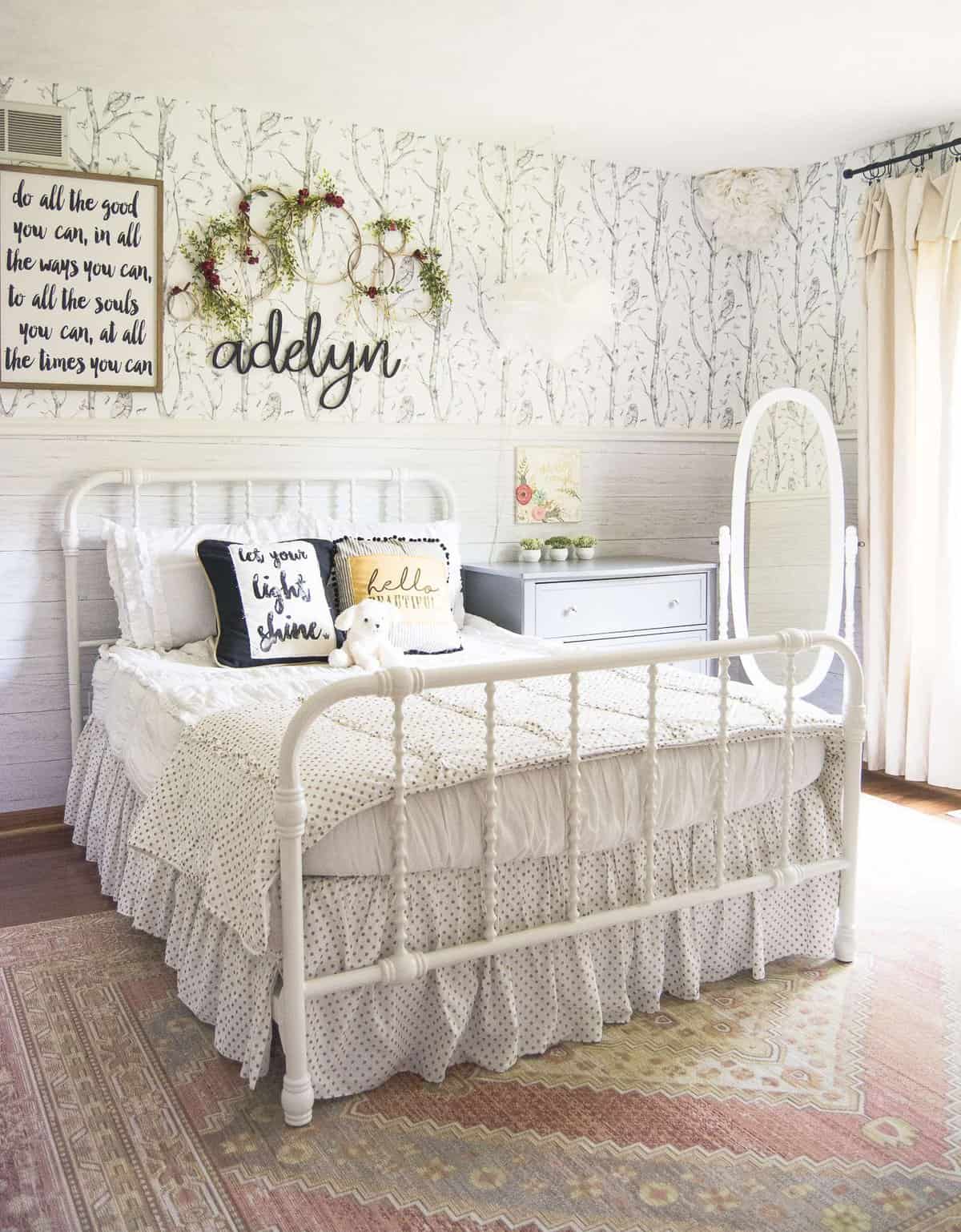 Her bedding is my all time favorite kids' bedding. It zips up like a sleeping bag to make it easier for littles to keep an organized room! I love that it also helps them feel safe to be all zipped up and cozy.
You can use code GRACESPACE for 20% off your entire order!
Shop This Space

See more details on my daughter's room here.
Basement Family Room
Last but not least, last fall I completely renovated our basement living area. We are talking floor to ceiling changes! You can see the entire series here: Basement Remodel.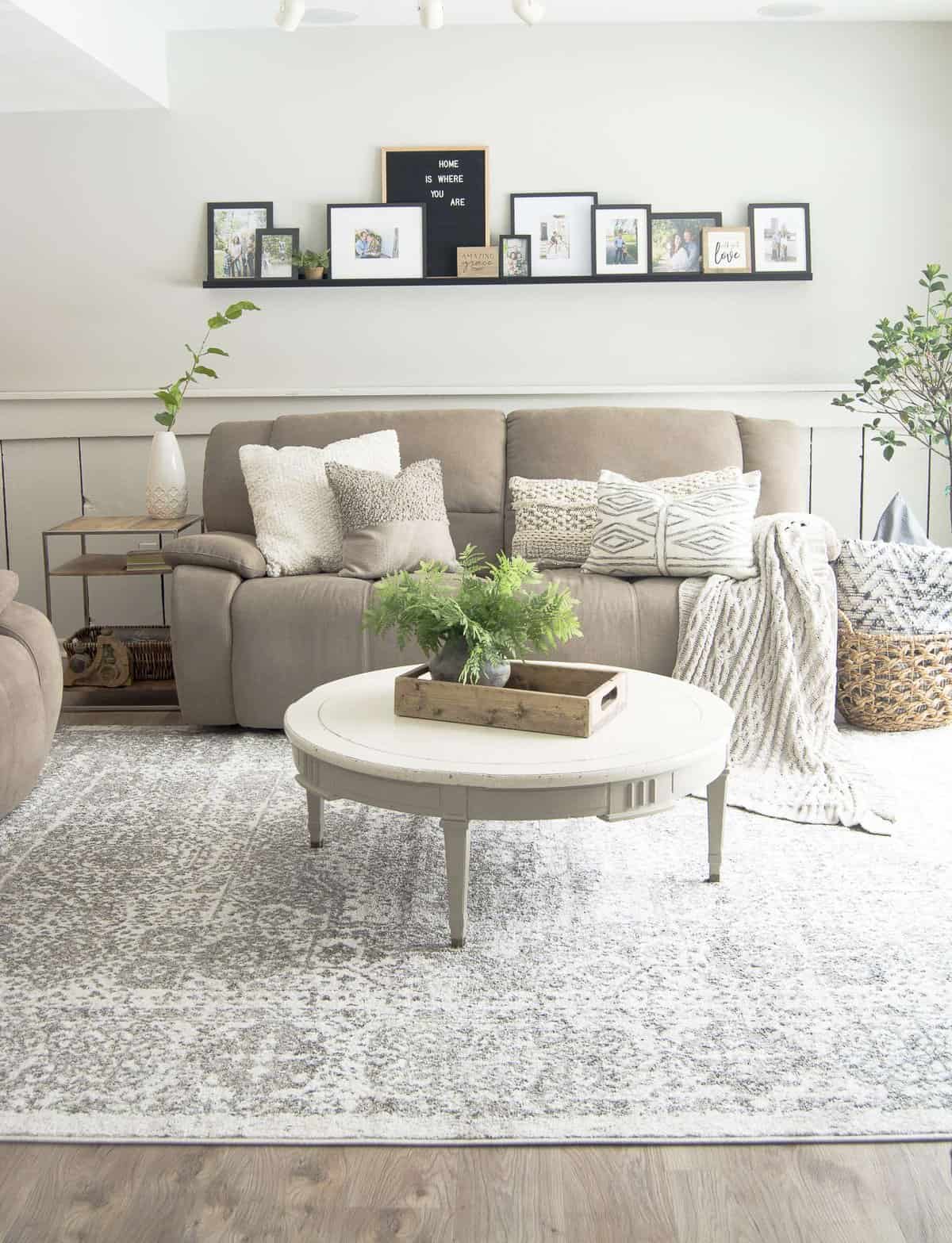 PAINT: Walls are in Yarn by Magnolia Home.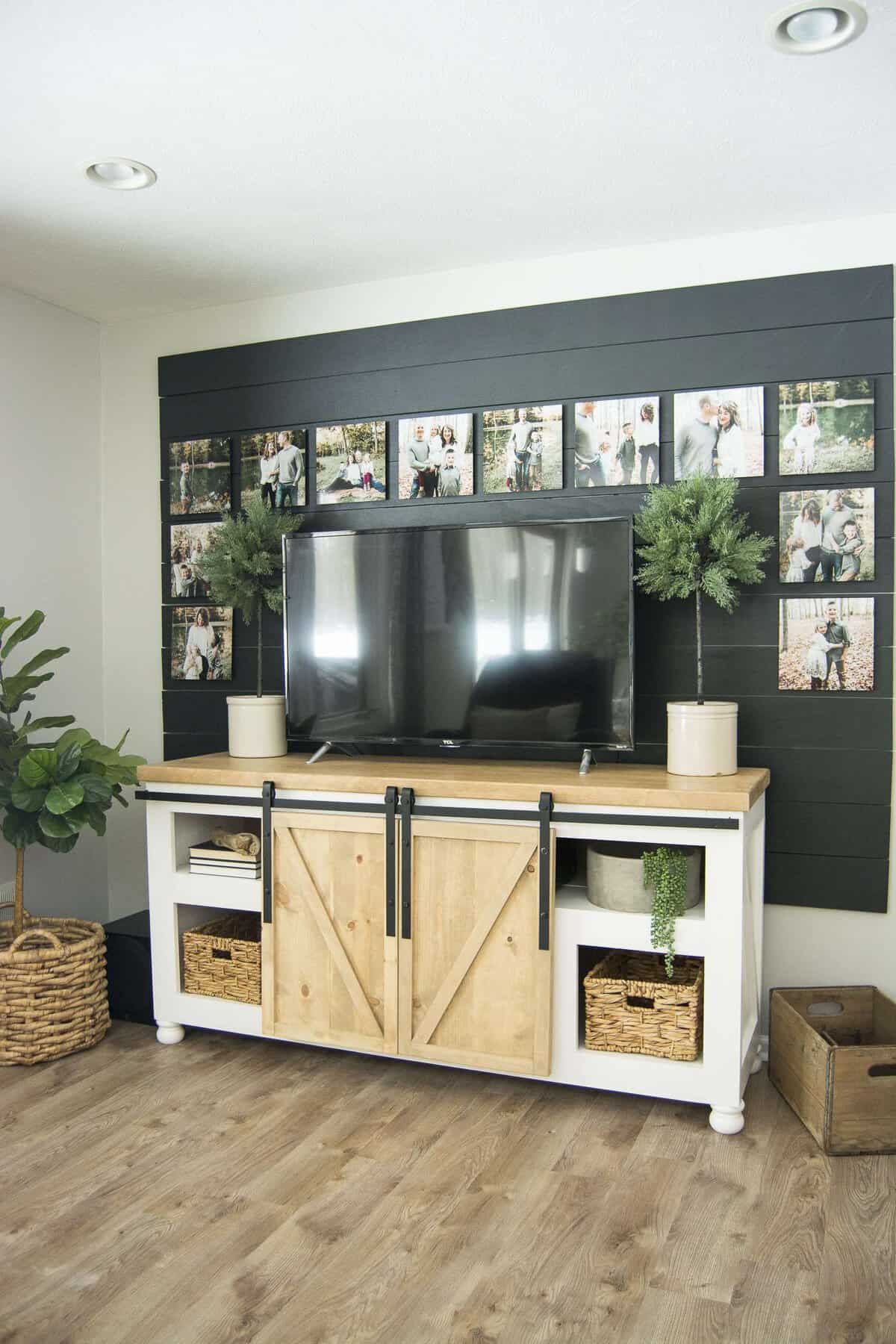 One of my favorite updates we made to this space is this DIY shiplap intended to help mask our TV. I think it does the job nicely! 😉
Basement flooring details can be found here.
Modern Farmhouse Interior Design
I hope this has been so helpful to you! One thing I highlight in my book, Designing a Life: From House to Haven, is that designing your home should involve more than simply copying design styles. You are creating a haven. A place of refuge for yourself and your family.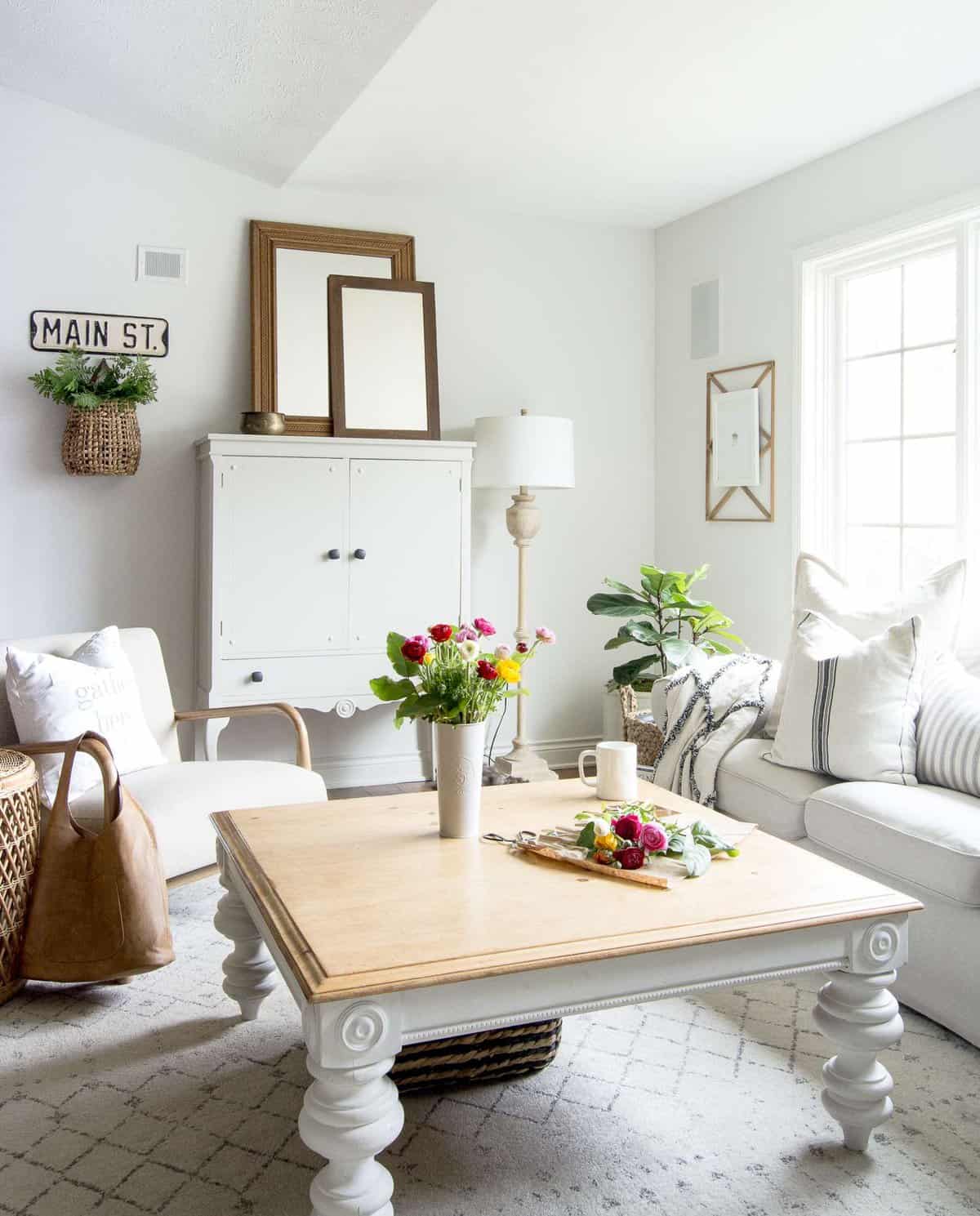 I go into depth with 10 steps on how to transform your mentality towards design and I give you practical application that you can use immediately. This life is certainly not about keeping up with the Jones's, my friends. 🙂
Best wishes as you seek to become a haven maker!