Backyard Party Must Haves for Easy Entertaining
Do you love outdoor entertaining? Once summer arrives I want to be outdoors every second I can. Entertaining outdoors is one of my favorite things since it is so low key, low maintenance and fun! Here are my top three must-haves for a fabulous backyard party that serves your guests with ease. It really is easier than you think!
Thank you Brawny® Tear-A-Square® for sponsoring this post. Think of all the ways you can Put a Square There!
Backyard Party Must Haves
The first thing I like to do when preparing for a backyard party is to decide where it should be located. We have a very large backyard with a pond on one side, woods behind, and an open field on the other. So, depending on what we will be doing, we determine which area to host our guests. This time, I wanted to overlook the pond, but stay near the house.
After the location is chosen, it is time to do the real planning! Here are my top 3 must-haves for easy entertaining during my summer backyard parties! Nothing overly fancy. Think simple, quick and painless and you and your guests are sure to have a great time!
Disposable or Unbreakable Dishes
First, set your guests at ease by providing them with unbreakable dishes. No one wants to be the person who breaks a plate while tossing a washer. I like to offer either sturdy disposable plates and cups, or lightweight melamine dishes.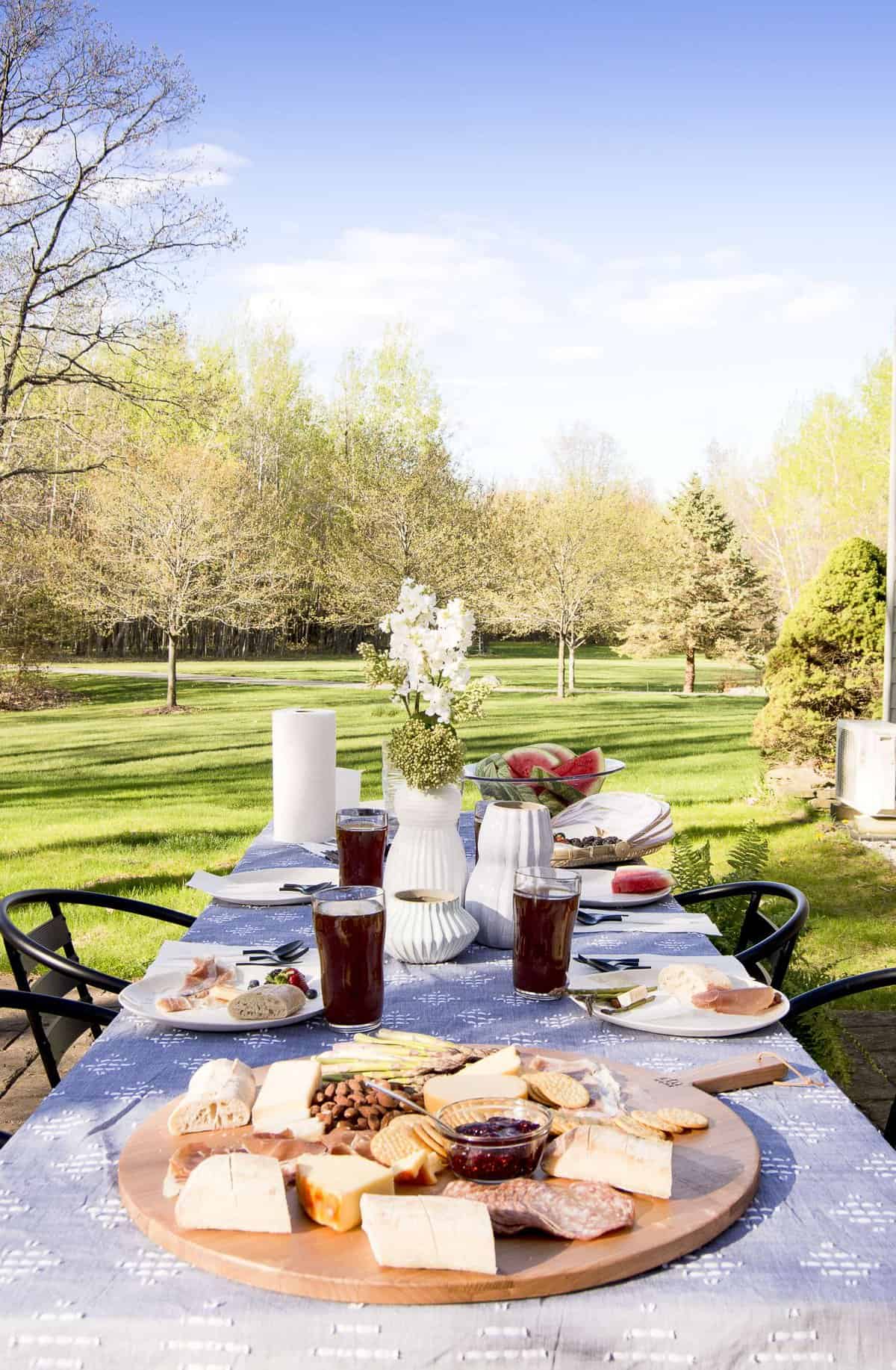 Durable & Versatile Paper Products
Second, offer a quick alternative to plates or napkins for that small nibble or quick clean up. Brawny® Tear-A-Square® paper towels are the perfect addition to a backyard party because you get to choose your sheet size.
A quarter sheet is ideal for little hands who want a slice of watermelon, a half sheet works great for a snack, and the full sheet is perfect for cleaning up spills.
The quarter sheet has especially been a lifesaver! It's the perfect napkins size and stretches my roll further. It's so nice to be able to rip off a quarter size sheet for those small spills or quick snacks.
I love that Brawny® Tear-A-Square® paper towels give me all the options I need for clean up during my backyard parties, without having to worry about my paper products flying away in the wind. Finally, my kiddos and guests can grab exactly the amount they need without the waste of a full sheet.
Provide Hand Held Munchies
One of the reasons I love a good backyard party is because of the care-free nature of them. So, make sure your guests feel the same by providing easy to eat foods. My charcuterie board will forever be a favorite because it is filling, easy to snag a bite or two, and goes a long way.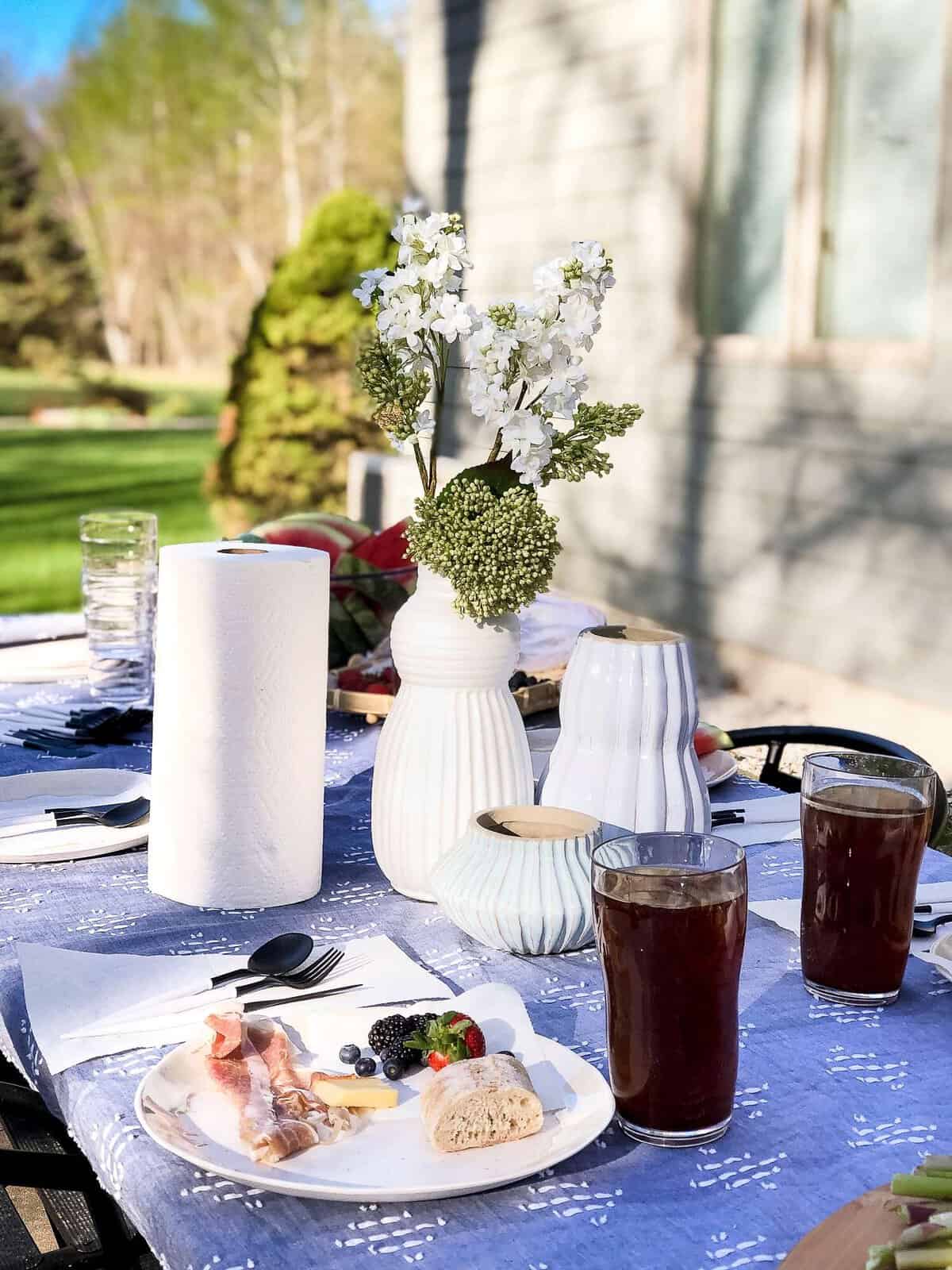 It's these kinds of grazing foods that I love to offer. And, don't forget, the Brawny® Tear-A-Square® paper towels make those fast grabs easier. I also love to offer sliced watermelon and fresh fruit.
Backyard Party For the Win
So, make sure that for your next outdoor extravaganza, you make entertaining easier on you and your guests! Offer unbreakable dishes filled with loads of easy to eat foods, alongside of Brawny® Tear-A-Square® paper towels for easy clean up. And don't forget the yard games! I think those go without saying…but I had to say it. 😉
If you're looking for more outdoor inspiration make sure to check out my posts below!