How to Style Your Back Patio for Entertaining
Do you love outdoor entertaining? It is my favorite! Simple, enjoyable, and mostly mess-free. Today I'm sharing simple ways to style your back patio with durable furniture and effortless decor for easy entertaining.
This post may contain affiliate links where I earn a small commission on your purchases.
Back Patio Design Ideas
Let's take a look at the before of our back patio. It has so much potential. The stamped concrete is my favorite. Decorative concrete adds so much customization to any outdoor space. The previous owners laid this beautiful stamped concrete on our back patio, fire pit, and walkway to our pond and entryway.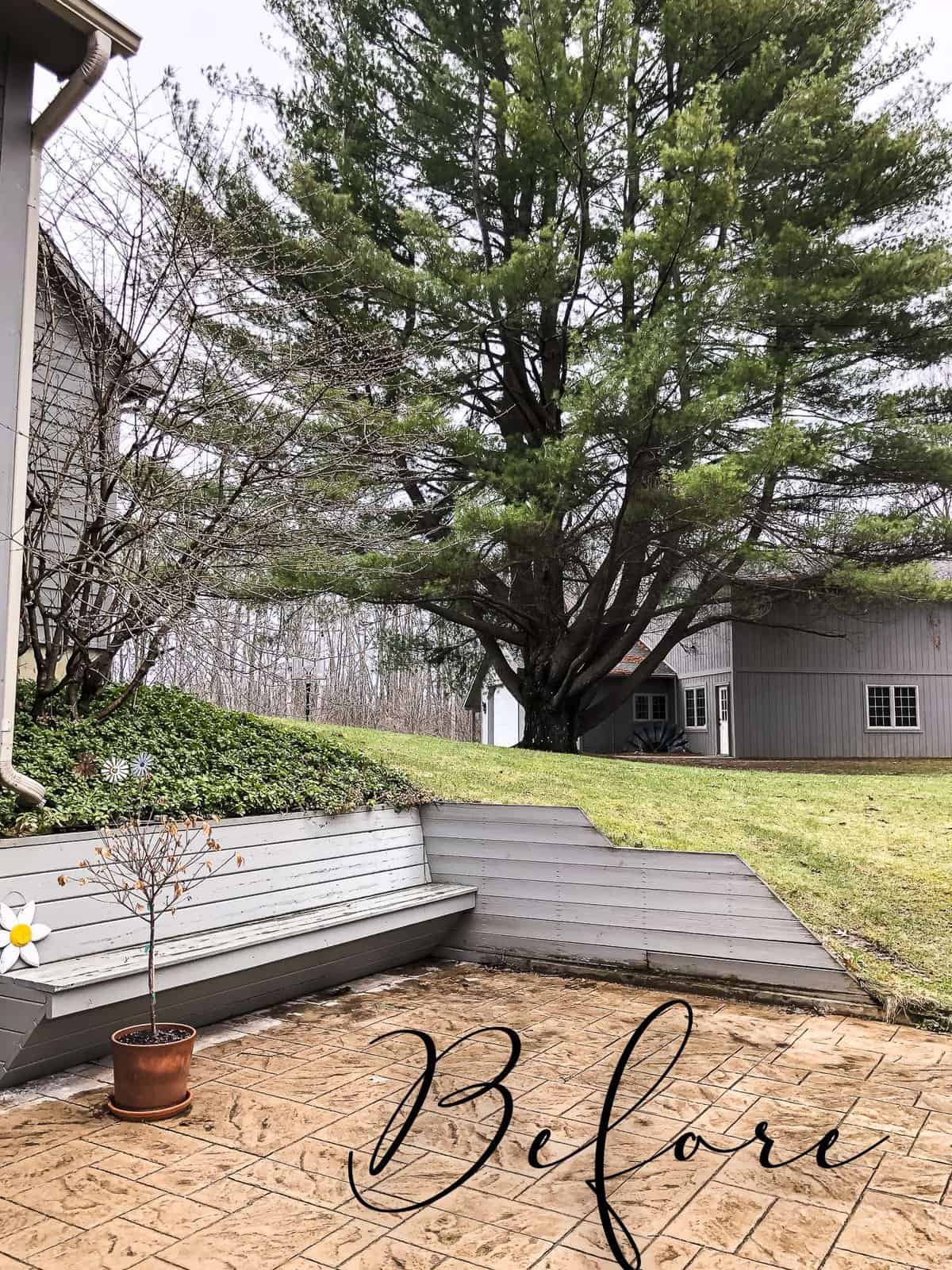 You can see how I designed our fire pit for easy outdoor entertaining in this post.
I also love our built in bench seating. It certainly needs a new paint job, but the functionality of it is amazing! So with these beautiful elements already in place, I just needed to add some functional outdoor furniture and effortless decor.
Outdoor Furniture
Last year my parents scored me this amazing long table at a garage sale. It is the perfect size to fit our bench seating. We simply needed to add durable patio chairs.
Last summer we used camp chairs which were much too low. Now with this amazing set of 4 chairs I was able to combine style and function.
I love that these chairs are aluminum so they won't rust. They are also stackable so if I wanted to move them to another location they are easy to transport and store for the winter.
Add Comfort
Besides durable outdoor furniture, I love adding touches of comfort to our back patio. Outdoor pillows and a couple of throw blankets for a chilly night can make a huge difference to guests' comfort.
I was recently asked on Instagram (where you can follow along for daily inspiration) how I store my seasonal decor. I'm blessed to have a closet devoted to decor storage. However, if you have a small space then think high and low!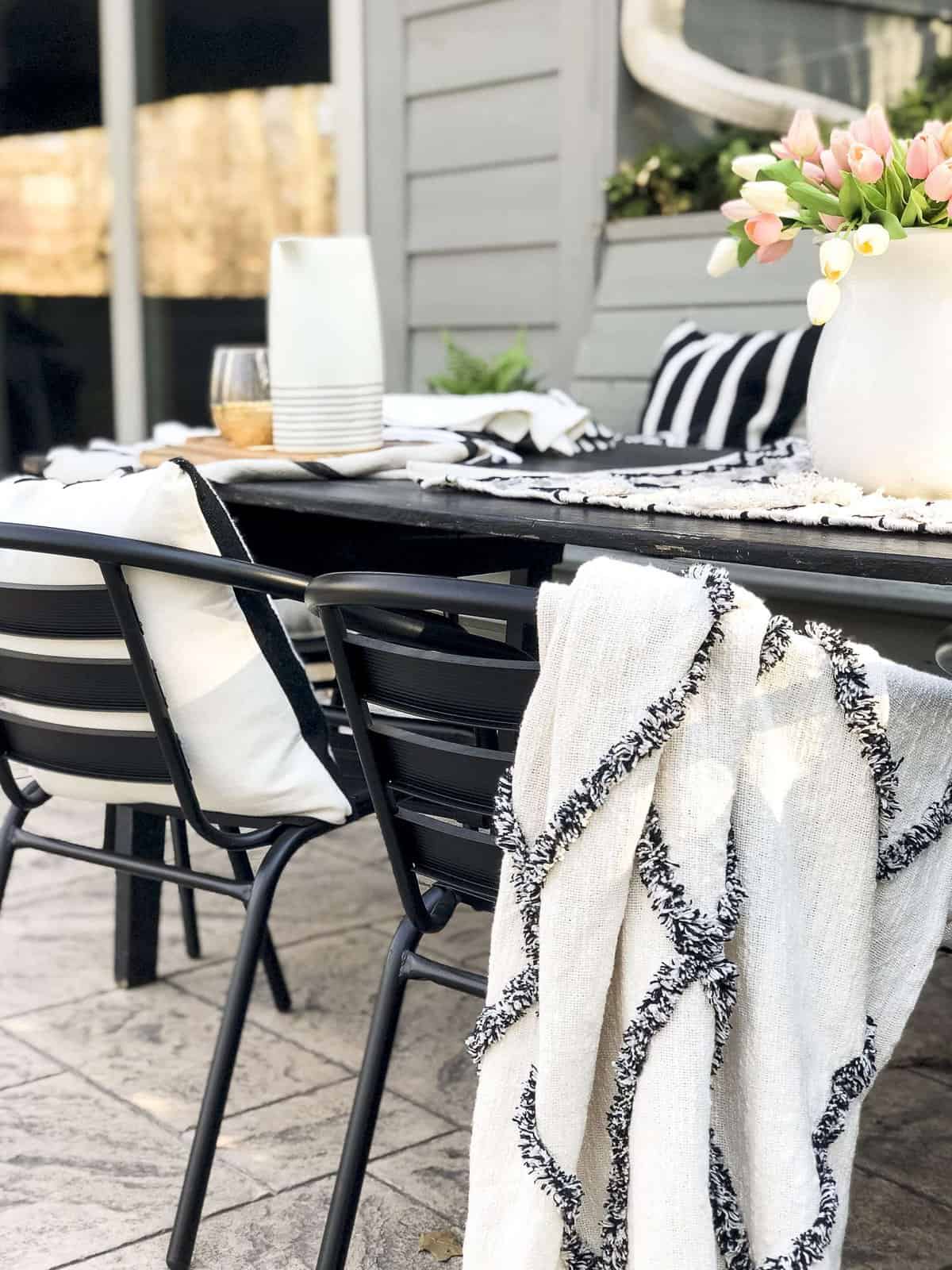 Is there a closet or other space in your home you could add upper shelving for storage? Or, can you add risers to your bed to be able to fit shallow totes underneath for additional storage space? Sometimes the high and low spaces in our home are overlooked as storage solutions so think outside the box and you'll most likely find untapped potential!
Add Finishing Touches
Once you've covered the basics with great outdoor furniture and some simple comfort items, make sure to create a magical space with easy finishing touches. I plan to do an elaborate post on how to pull off a full outdoor dining experience in the near future. But for today, I wanted to share just a few simple tips.
Fresh or Faux Flowers Go A Long Way
A simple centerpiece can elevate your back patio decor instantly. I love using live plants, but if you are looking for a way to make a space more inviting without having to care for live plants then go faux!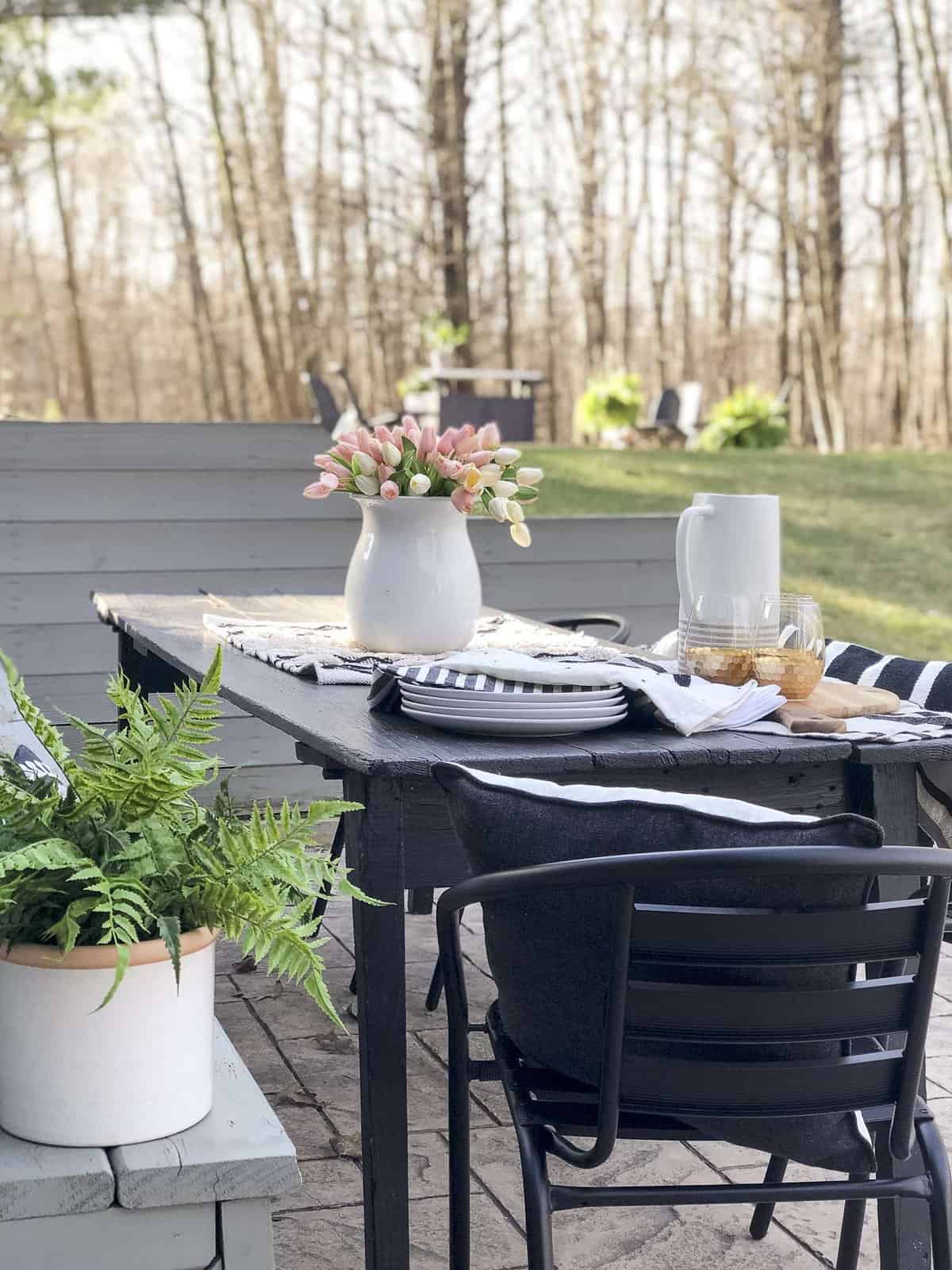 My favorite faux tulips are the easiest way to add beauty to a space. I also love this potted faux fern that can be used indoors or outdoors for any occasion.
Use Real Dishes
My final tip for how to elevate your back patio entertaining experience is to use real dishes. Yes, paper products are much easier. However, for those special occasions it goes a long way to break out the real stuff!
These pretty stemless glasses add elegant beauty to my otherwise basic white plates and pitcher. Simple touches of metal can make any basic table setting look more high-end.
I hope that these simple tips on how to style your back patio for easy entertaining has been helpful. Soon I'll have a full post on how to create a beautiful tablescape for those extra special parties! And once this Michigan weather warms up this back patio will be exploding with beautiful plants to enjoy all summer long.
Shop Outdoor Decor