Five Easy Updates to Your Outdoor Living Space
Welcome to June, my friends! Summer is all about outdoor living at the Symonds household and so I am so excited to finally be able to share our back patio outdoor living space with you! If you've followed along on our new house journey, then you may have seen my outdoor patio space inspiration board this spring, found here. I've completed one of the areas from my design board and I'm excited to share it with you!
This post may contain affiliate links where I earn as small commission at no extra cost to you.
Before I move on to our outdoor living space updates, you can see the other changes we've made to the exterior of our home here. A few simple updates go a long way! And our sunroom is a beautiful extension of our home that allows us to enjoy the outdoors with all the conveniences of remaining inside. You can see how I've updated the sunroom here as well as how I created an indoor faux flower box to enjoy all year long here!
5 Easy Updates to Your Outdoor Living Space
Ok, now on to five easy updates you can make to your outdoor living space to make it an enjoyable oasis all summer long! These design tips can be pulled off by anyone and allows your outdoor living space to be stepped up a notch with simple additions and natural elements. So here we go!
1. Create a Conversation Area in Your Outdoor Living Space
This is perhaps the most obvious update, but it is the basis for everything to follow. Outdoor living is most enjoyable when shared with a friend, or 20. 😉 So make sure that as you design your outdoor living space you create conversation areas. This might include a conversation set like the one I chose above, a gathering place around a dining table, or even a ring of chairs around a fire pit. Wherever you choose to gather, make sure that it is designed with conversation in mind.
2. Make Your Outdoor Living Space Comfortable
Nothing says "stay awhile" like plush cushions, comfy pillows and a cozy rug underfoot. Your outdoor living space can easily be as comfortable as your oversized indoor sectional if you take the time to choose your patio furniture and accents wisely.
Make sure that you invest in your outdoor set for the long term. This conversation set is plush and stylish but was affordable enough to allow me to fit some additional pillows and a rug into the budget.
3. Add Finishing Touches to Your Outdoor Living Space
I'm not one to go crazy over outdoor decor. I want to enjoy my outdoor living space. Not constantly be maintaining it. So I chose to just add a few finishing touches to make this outdoor living space more beautiful.
Simple lanterns, a side table, and a cute bucket which will double as a beverage cooler are all easy additions that won't require laborious cleaning and maintenance.
4. Illuminate Your Outdoor Living Space
I don't know about you, but my favorite time to enjoy our outdoor living space is not at 2 p.m. when the blazing sun makes me feel like I'm actually on the surface of the sun. However, the evening hours are quite enjoyable.
Adding simple string lights to my outdoor living space is a simple and affordable way to heighten the design elements all while remaining practical for evening use. Besides, everyone loves twinkling lights to create that romantic and relaxed atmosphere!
5. An Outdoor Living Space Has to Include Natural Elements!
What would an outdoor living space be without plants? Whether you have a black thumb, a green thumb, or a "I just don't want to water one more thing" thumb, you can easily add natural elements without creating a ton of extra work for yourself.
In my outdoor living space I planted two simple patio planters, one beautiful gardenia tree, and a snake plant as the coffee table accent. That's it! Granted, I am surrounded by our back yard where there are beautiful perennials planted to enjoy; however, the additions you make can be as plentiful or as sparse as your time allows.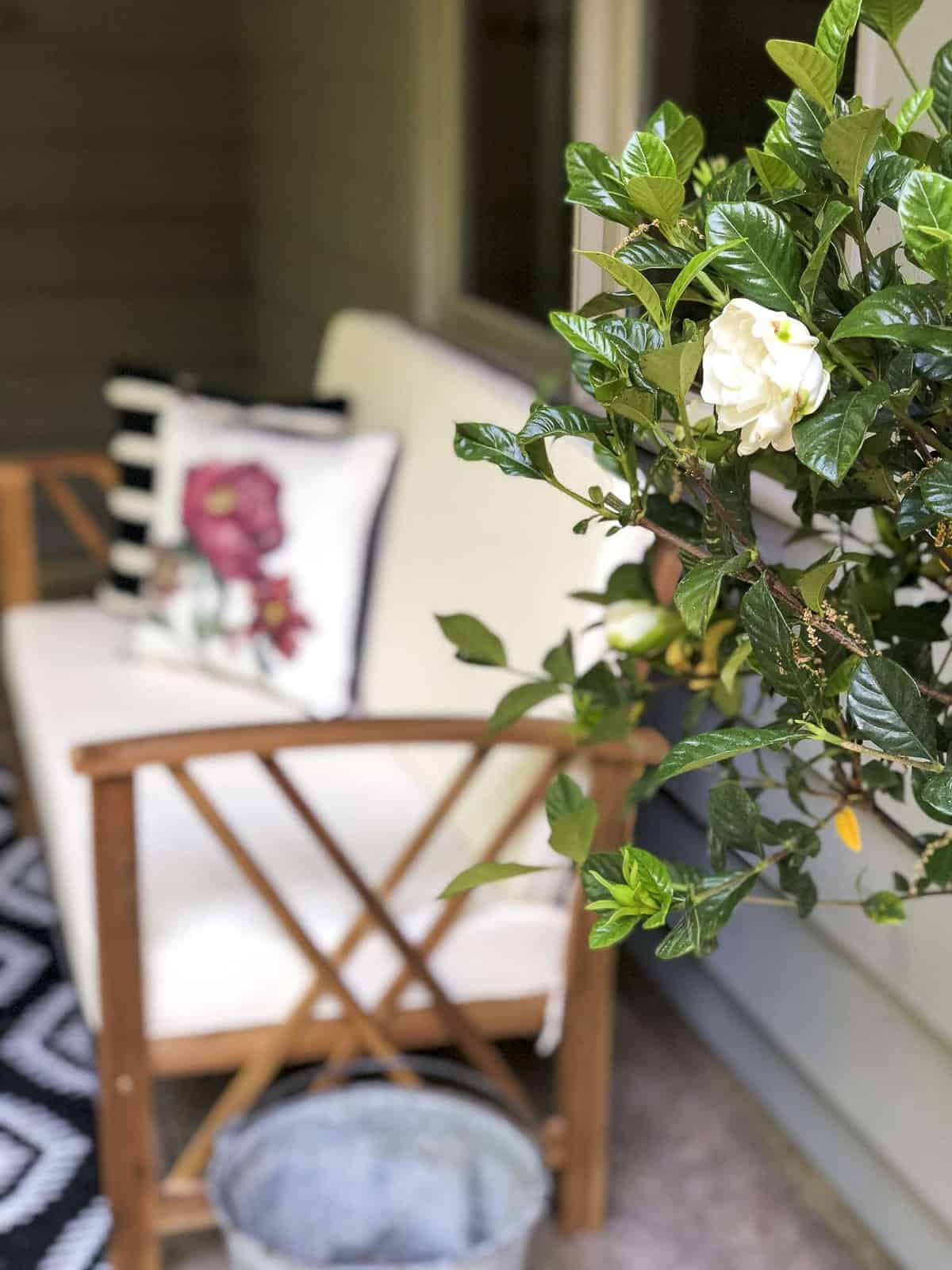 Ready to Enjoy your Outdoor Living Space?
There you have it! Five easy ways to update your outdoor living space without breaking the bank or your back. I'm all about low maintenance living when it comes to an easy breezy outdoor space so I hope that these design tips are helpful to you! The only thing that would make this space better for me right now is if it was screened in. 😉
I hope to finish the other half of my patio throughout the summer for a beautiful entertaining space to enjoy well into the fall.
How do you like to enjoy outdoor living? I hope you get plenty of time outdoors as we enter summer!
{Nature gives to every time and season some beauties of its own. –Charles Dickens}
Shop Outdoor Living