Do you love the look of marble countertops? I certainly do! It is classic, timeless and stunning. However, I don't love the idea of a high maintenance countertop in the workhorse of the home: the kitchen. So today I'm sharing why I chose a white quartz countertop instead. Consider quartz that looks like marble for a maintenance free and affordable marble alternative.
This post is sponsored by Lakeside Surfaces.
All thoughts and opinions are my own. Post may contain affiliate links where I earn a small commission on your purchases at no additional cost to you.
Why Choose Quartz that Looks Like Marble?
From the beginning of this kitchen remodel I knew I wanted to install a countertop that looked like marble. I've traveled to Europe several times and the marble there astounds me and became one of my favorite stones. However, I wanted a stone countertop that was durable and maintenance free.
That is why I chose quartz that looks like marble! I went into the showroom at Lakeside Surfaces Inspiration Gallery in Grand Rapids, MI and loved looking at all the beautiful slabs of quartz. Quartz is one of the most durable stone countertops available. It is virtually maintenance free and comes in so many designs.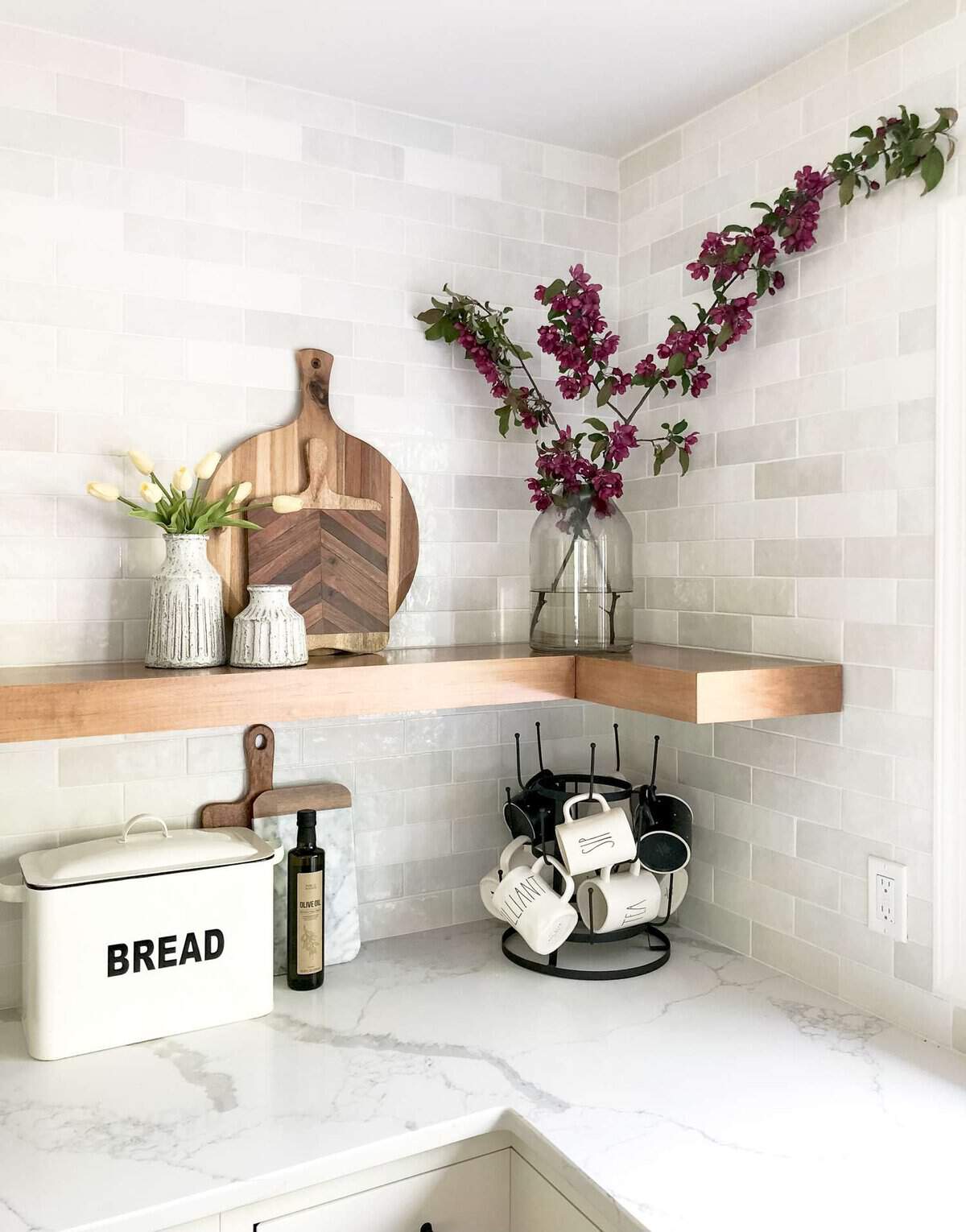 My husband loves the modern look of large veining and I love the look of traditional marble. Thankfully, we had so many designs to choose from. We chose discount quartz countertops, called Statuario Roma, in Lakeside Surfaces' budget marbles. This white quartz is absolutely beautiful and instantly became the showpiece in our new kitchen.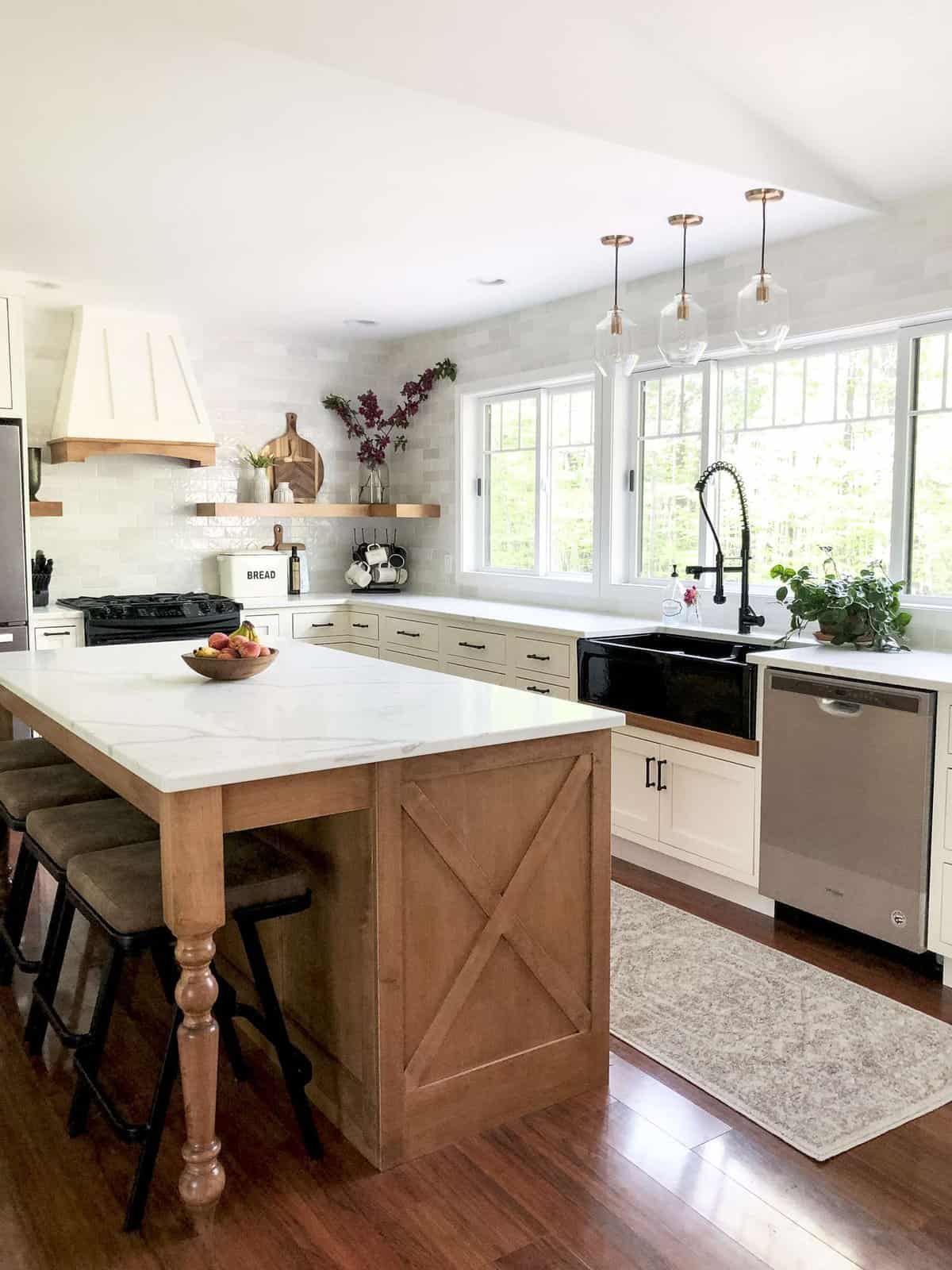 Shop My Kitchen
Pendant Lighting can be found here.

What is the Process?
We were so happy with how quickly the process went from start to finish with our new countertops. First, they came out to template our countertops to fit our kitchen layout and cabinet design.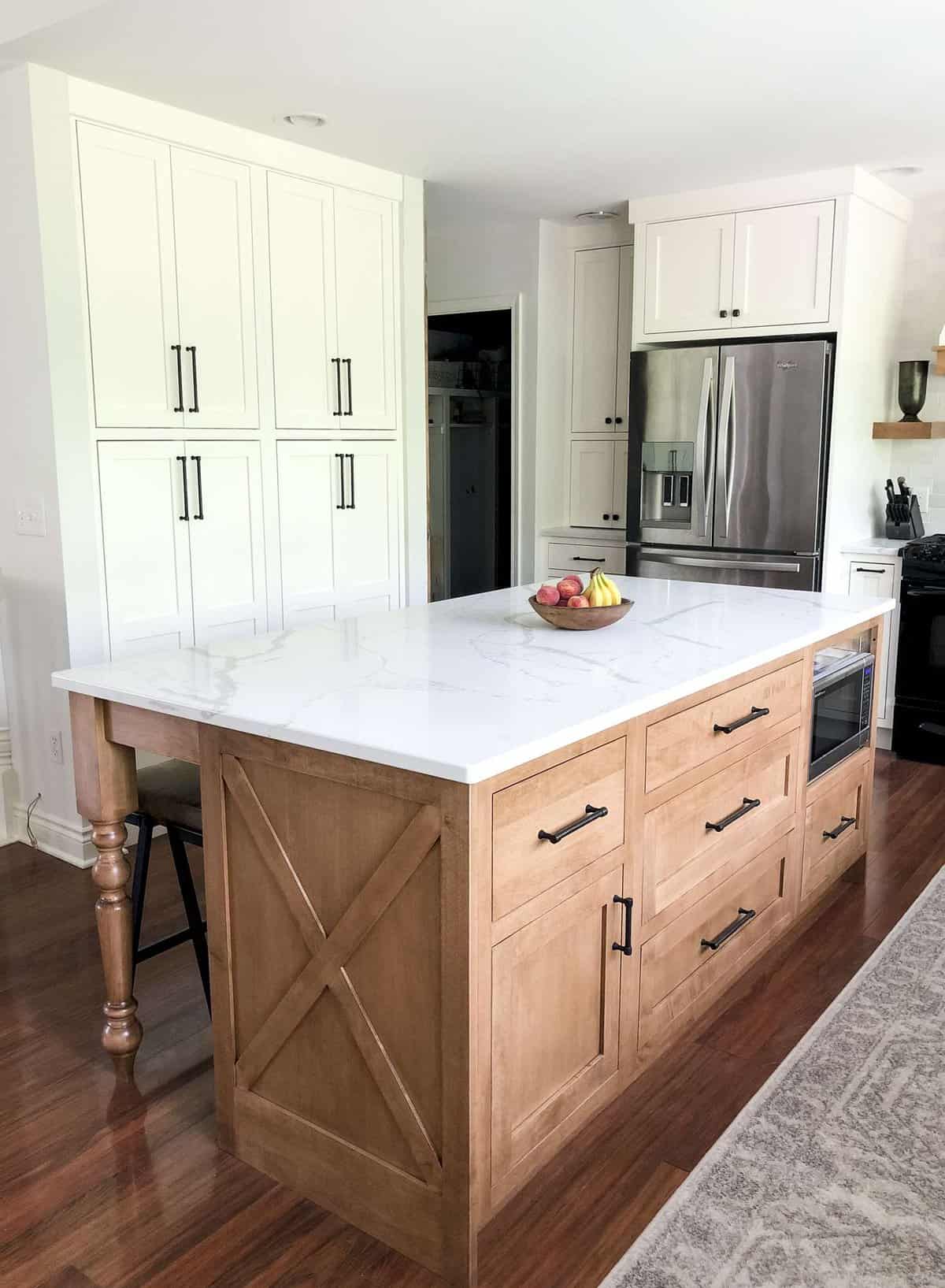 Next, I was sent a layout to approve with all of the marbling and seam details. This ensured that I knew exactly how the final product would look in our space. Two weeks after Lakeside Surfaces came to do the templating we had our new quartz installed!
How Do I Care For Quartz?
We've been living with this beautiful quartz for several weeks now and I already know two things specifically that I love about it!
It doesn't stain like granite and marble.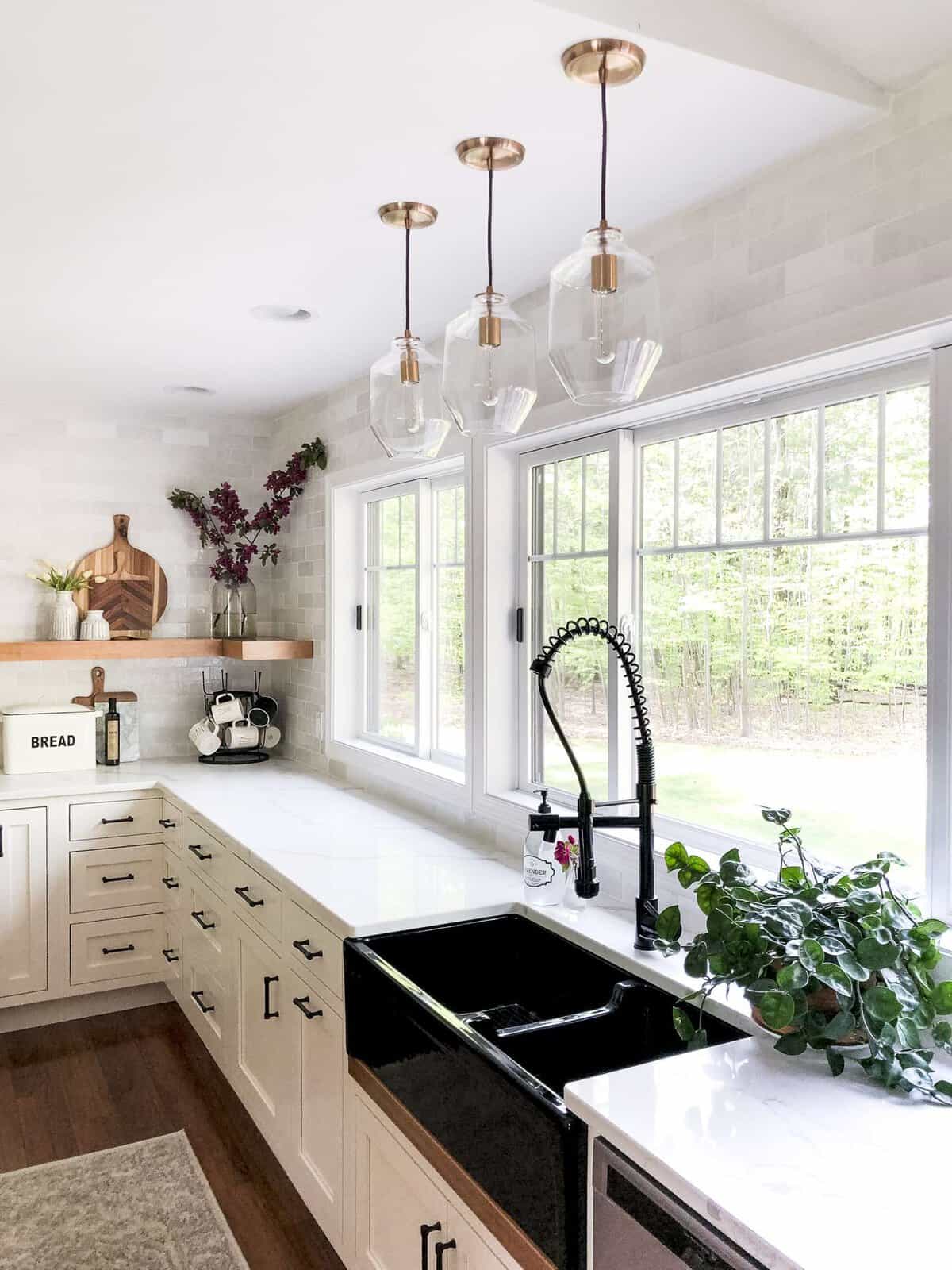 Our previous kitchen had granite and often it would show watermarks after a glass was sitting on it for two long. I know marble does the same! We also had issues with red sauces and acidic foods staining our previous granite stone countertops. With this beautiful quartz, I don't have to worry yearly sealing to prevent staining!
To care for quartz, all you need to do is wipe it down with soapy water. Gentle window cleaner also does the trick. That. Is. It. All the praise hands!
2. It is timeless.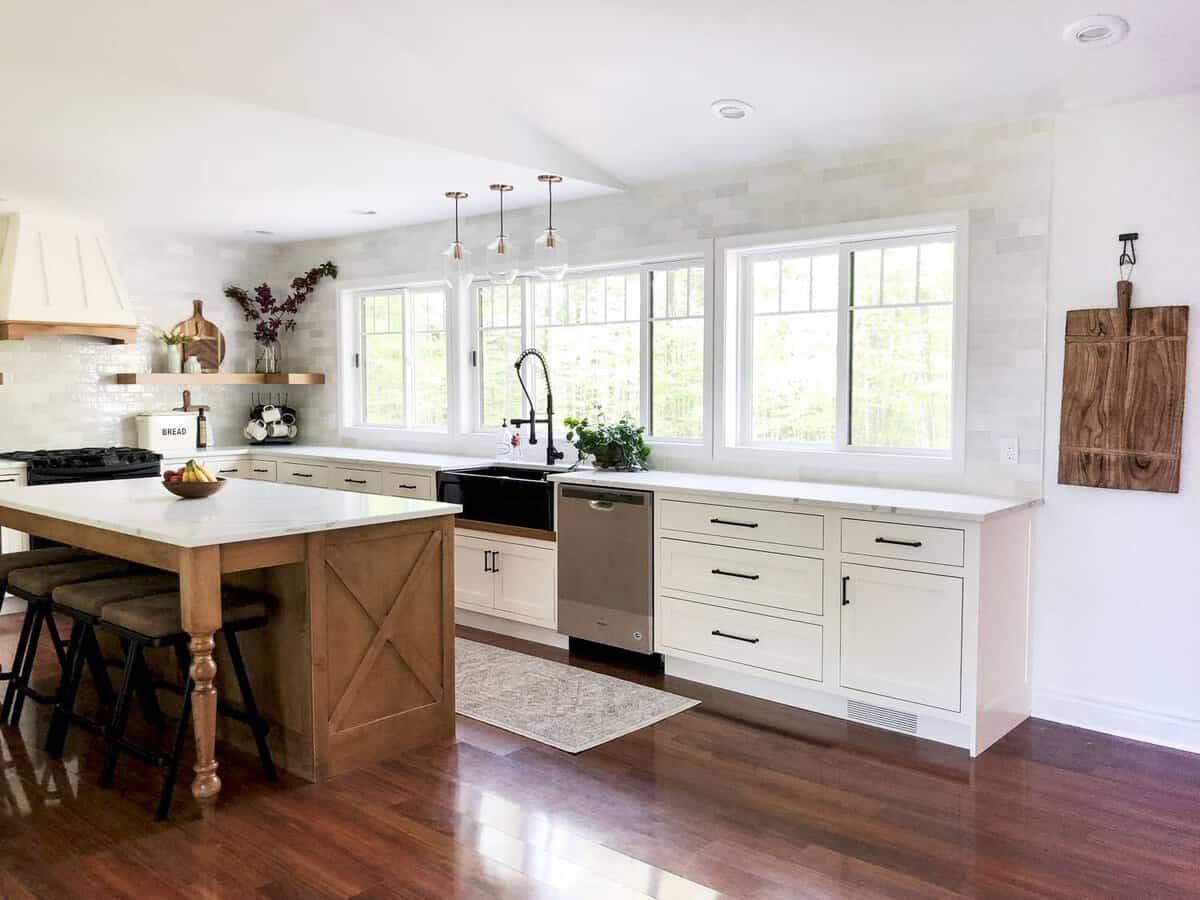 When I planned my kitchen design (you can see all the design plans here) I wanted to ensure that my kitchen wasn't trendy. I wanted the design to be timeless. That is exactly what I accomplished with my quartz that looks like marble.
You can find out all of the details for the hardware, sink and faucet that I chose in this post.
So, what do you think?! I'd love to know your thoughts on how my modern farmhouse kitchen turned out! It was truly a labor of love to design this space. We are so blessed to have worked with an amazing company in our own backyard for our new kitchen. If you are local, head to Lakeside Surfaces and tell them I sent you. 😉