Top 20 White Quartz Countertops Pros and Cons (2023)
If you're in the market for new kitchen countertops, chances are you've been surprised by how many options there are available to choose from. If you've landed on quartz, you're in good company as it's one of the most popular countertop materials available. However, now you have to decide on the type and color! So today, I'm going to help you narrow it down with the top 20 white quartz countertops pros and cons.
Why white, specifically?
White quartz is a timeless option that fits with tons of different design styles. I'm a big proponent of kitchen design that transcends trends.
Kitchens are a huge investment, so I focus on classic choices for the big budget items like countertops. This gives space to have fun with less expensive choices that can be swapped easily, like cabinet paint color.
Post may contain affiliate links for your convenience.
Are White Quartz Countertops a Good Idea?
Let's start with the most obvious question.
Are white quartz countertops a good idea? Do the pros outweigh the cons?
I've personally loved our quartz countertops because they are basically indestructible to kids. They hold up to grape juice, matchbox cars, and even permanent marker. (We've learned the lesson…)
On the other hand, we chose to replace the quartz island top with granite countertops after we extended the island in our mini remodel in 2022.
That wasn't because we were unhappy with the quartz. Rather, it was because I fell in love with the look (and cost) of a granite slab I stumbled upon in the stone yard.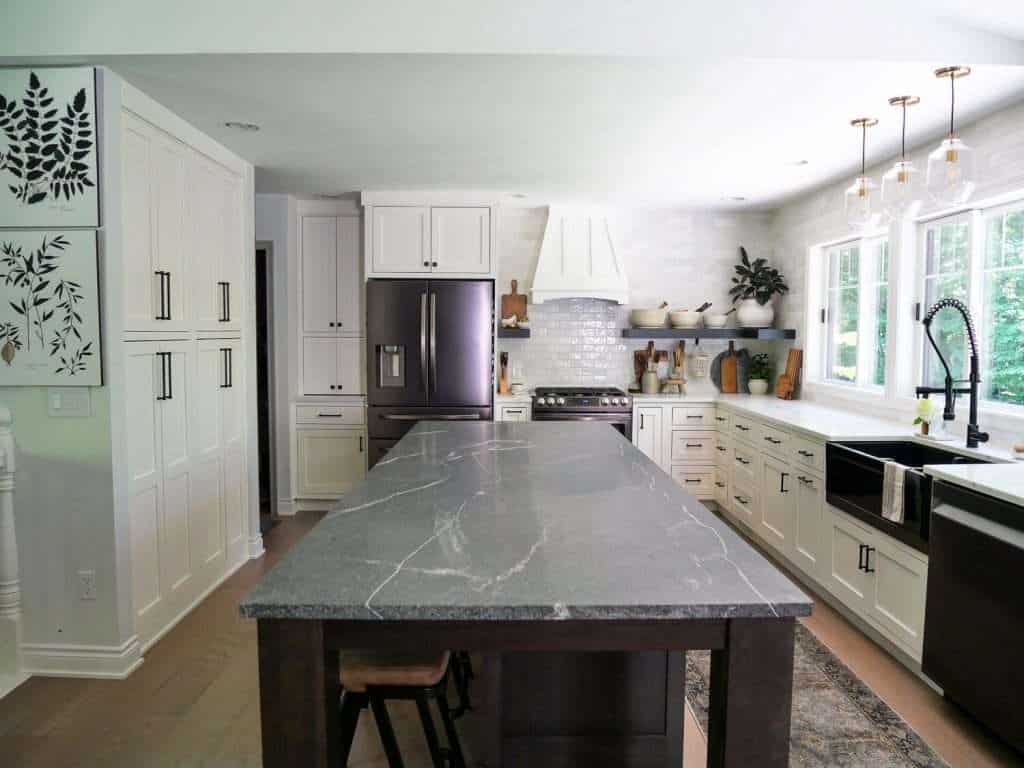 So, as you peruse this article you will see images of one kitchen with two different islands. I have been 100% satisfied with the countertop choices of both kitchens.
If I were to remodel another kitchen in the future, white quartz countertops would be top of my list of choices once again.
FAQs About White Quartz Countertops
Now, let's get away from my personal preference and down to some solid facts about white quartz.
Do White Quartz Countertops Stain?
White countertops can be nerve wracking because the color white in any other situation feels risky.
Walls painted white need consistent cleaning to not look dingy
White clothes can yellow and stain quickly
White sofas show food spills and pet residue easily
White cars need to be washed more often
So it stands to reason that white countertops would share the same fate.
Thankfully, they don't stain! Quartz countertops are not porous like natural stones and therefore do not absorb liquids. Stains cannot penetrate quartz because is has a built-in seal which is created in the fabrication process.
This is why your quartz countertops don't need a regular sealant to be applied, like granites and marbles do. The material itself wouldn't be able to absorb the sealer due to its non-porous structure.
My Experience with White Quartz "Stains"
I bet right now there is someone reading this who is saying, "My white quartz is stained." Guess what? I thought mine was too.
When we first installed our kitchen countertops I noticed that certain things would "stain" them.
Pencil lead smudges
Ink from plastic grocery bags that were damp
Black smear from delivered cardboard packages
Oil from cooking
I was very frustrated because these are things that are a part of every day life! I specifically chose quartz so I wouldn't have to deal with stains or discoloration like granite or other countertop materials.
So, I called our manufacturer to get to the bottom of it. They were so kind and actually came to my house to see what the problem was.
News flash! I was cleaning it wrong. Chances are, if you are dealing with stains there are likely two scenarios:
Your quartz has a defect
You aren't using the right cleaning method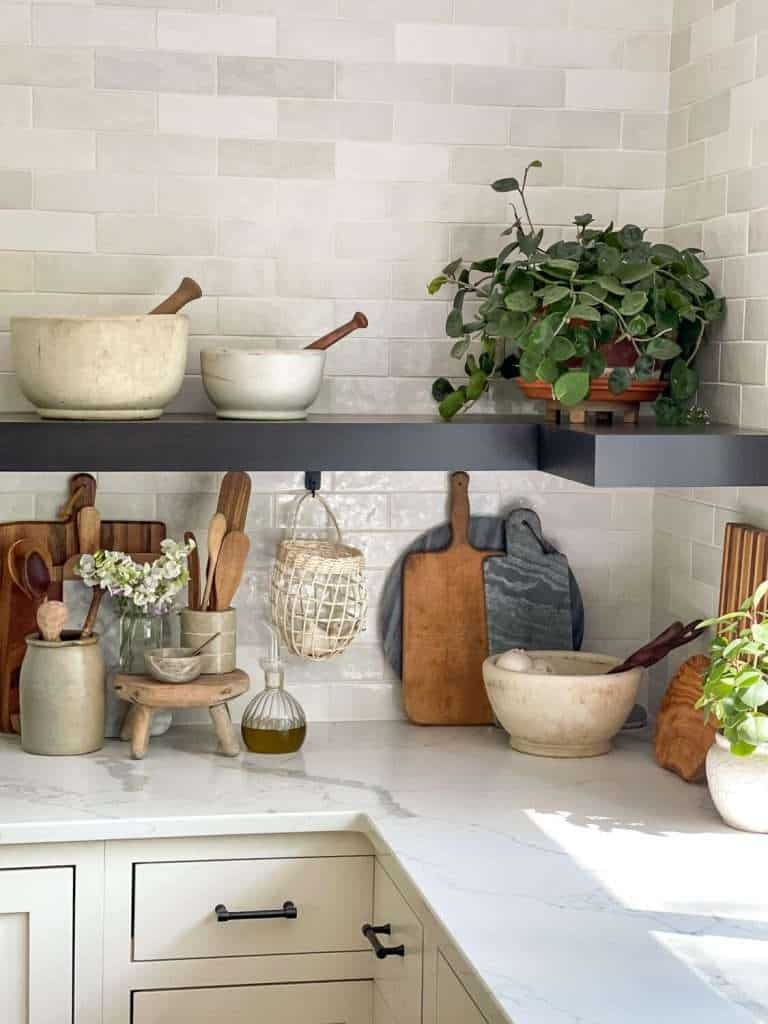 In my case, they showed me how to properly clean the quartz and it immediately removed all the areas I thought were stained!
I rounded up all of their advice and have an entire article dedicated to proper quartz care here. Head on over and see if one of these solutions works for you!
Does White Quartz Scratch Easily?
Quartz does not scratch easily. It is one of the biggest pros of this countertop material!
In fact, many salesmen have done displays at kitchen design shows where they use quartz countertops as a cutting board. This definitely proved their point, however, I wouldn't recommend it as an everyday practice in your own home.
While knives are unlikely to harm your quartz counters, it is likely that cutting on quartz will ruin your knives. Yep, that's how durable quartz countertops are.
Is Quartz Better Than Granite?
While we're tackling these FAQs, I'll direct you to a full article on the comparison between granite v. quartz.
Perhaps you haven't yet decided on quartz for your kitchen (or bathroom). This article detailing the benefits and drawbacks of quartz and granite should help you decide.
In my opinion, one is not better than the other. They both have pros. They both have cons.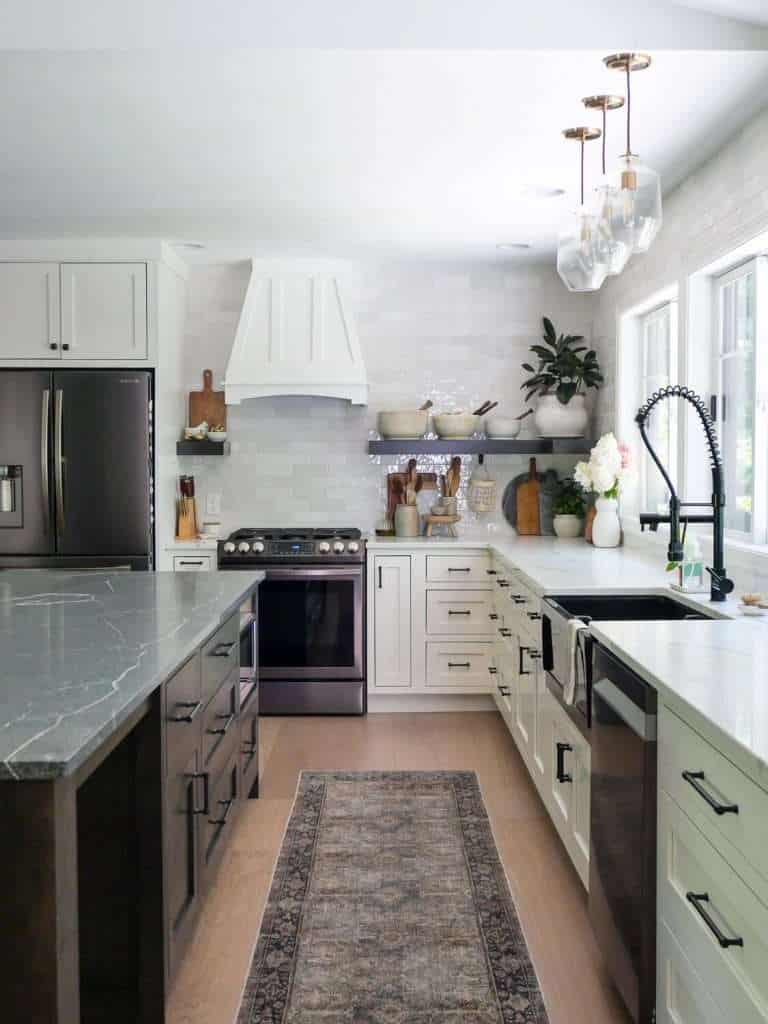 It is up to each individual homeowner to determine which material is right for their needs and how they use their space.
White Quartz Countertops Pros and Cons
Now, let's dive into the pros and cons of white quartz countertops.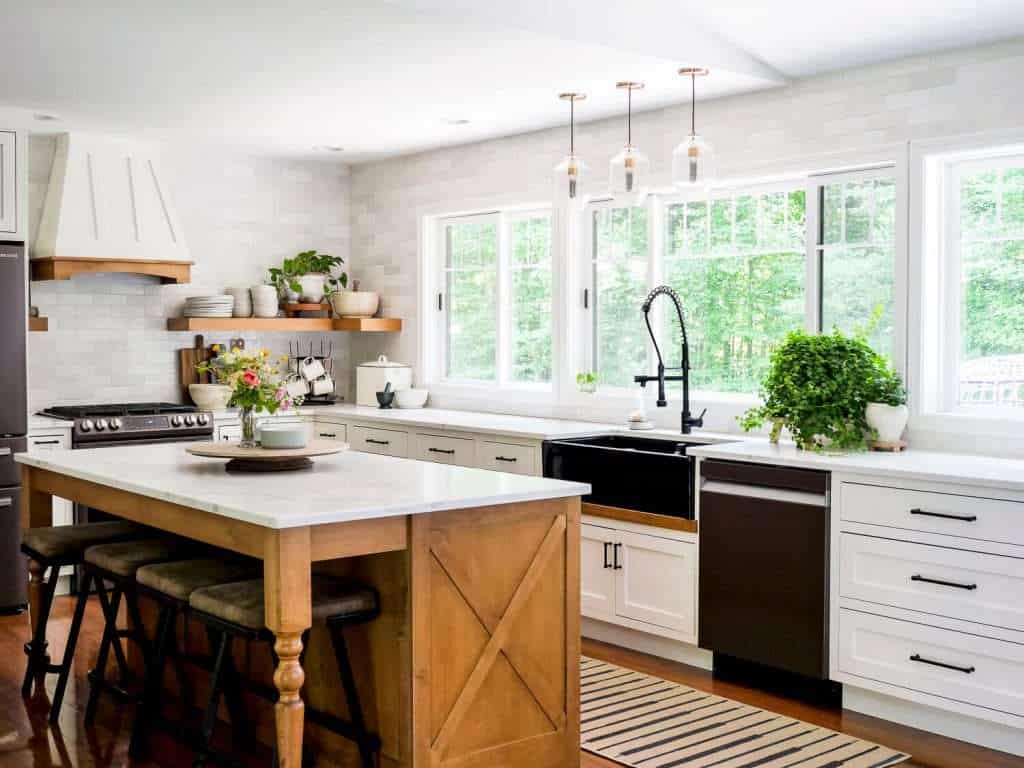 Let's start on the positive side.
What are the Pros of White Quartz Countertops?
Extremely durable, scratch and chip resistant
Non porous and highly resistant to stains
A large selection of colors (even various shades of white) and styles are available
One of the lowest maintenance options out there
Easier to repair than many other options
Uniform in design and can be manufactured to match veining on seams
Many options to mimic the look of other natural stones
Brightens a room
Makes a kitchen appear larger
Timeless color scheme
Neutral nature of white allows you to play with color and material elsewhere
Can be used as a backsplash for a seamless design
Very child-friendly for everyday use
What Are The Negatives of Quartz Countertops?
While there are many pros to quartz, there are also some cons. However, the cons in this case have nothing to do with the color. White quartz countertops have the same cons as any color quartz countertops. In this case, white is simply a design preference.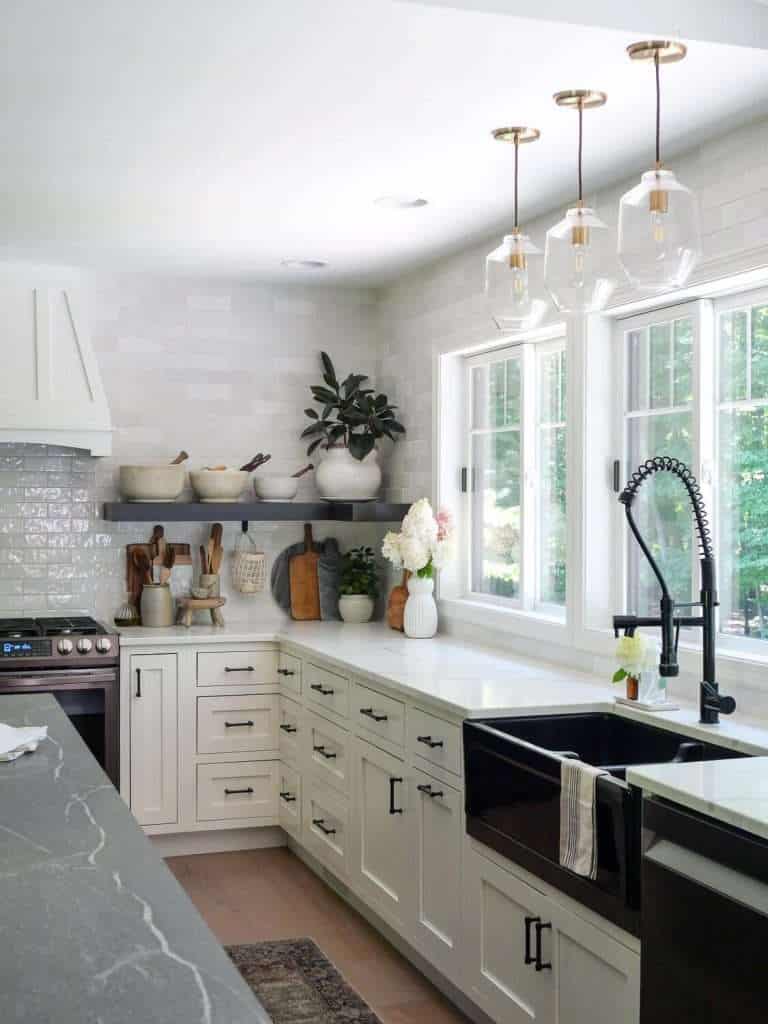 The negatives of quartz countertops are:
Excessive heat can cause damage to quartz countertops
Quartz price ranges significantly based on location, manufacturer and design
A manufactured product, therefore loses the look of natural stone
Indoor use only (so don't consider it for your outdoor kitchens!)
Heavy and difficult to move
Typically requires professional installation
More expensive than some countertop choices like butcher-block
Types of White Quartz Countertops
By now I'm sure you can tell that I'm a fan of white quartz.
I think the pros far outweigh the cons. We've had quartz for years and it is one of my favorite countertop materials.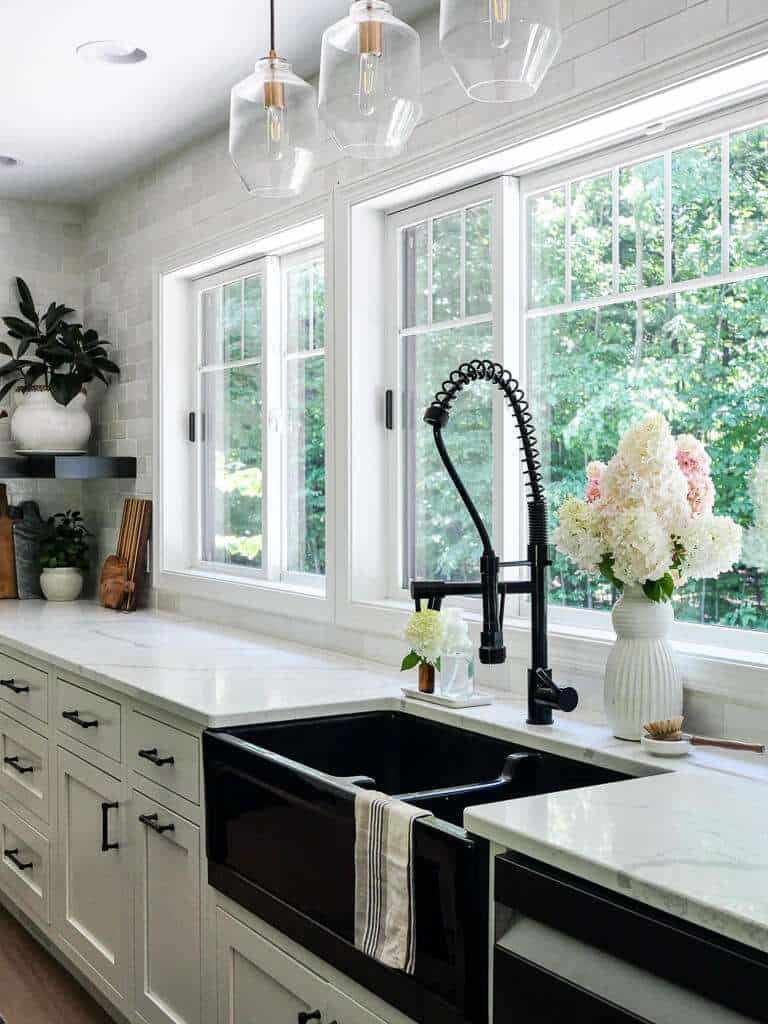 So much so that I also used it in our bathroom remodel. Both as the countertop choice and as a full height backsplash.
If you've also decided to go with white quartz, your next big decision is which type of white quartz to choose.
There are MANY varieties of white quartz countertops.
Some are solid in color. Some have subtle veining. Others are dramatic and bold.
For reference, our kitchen countertops are:
Perimeter White Quartz: Statuario Roma
Island Granite: Silver Grey Honed
I love the striking veining of the Statuario Roma quartz we have in our kitchen. It is a bright white that doesn't feel sterile.
My recommendation is to head into your local stone yard or countertop manufacturer showroom to view options in person. It makes a world of difference to see the stone up close and personal versus online.
In the meantime, you can get an idea of the styles you like with this article detailing the top quartz countertops that are marble look-a-likes!
Learn More About Kitchen Design
I hope that this article on the top 20 white quartz countertops pros and cons has been helpful to you as you plan your own kitchen remodel or build!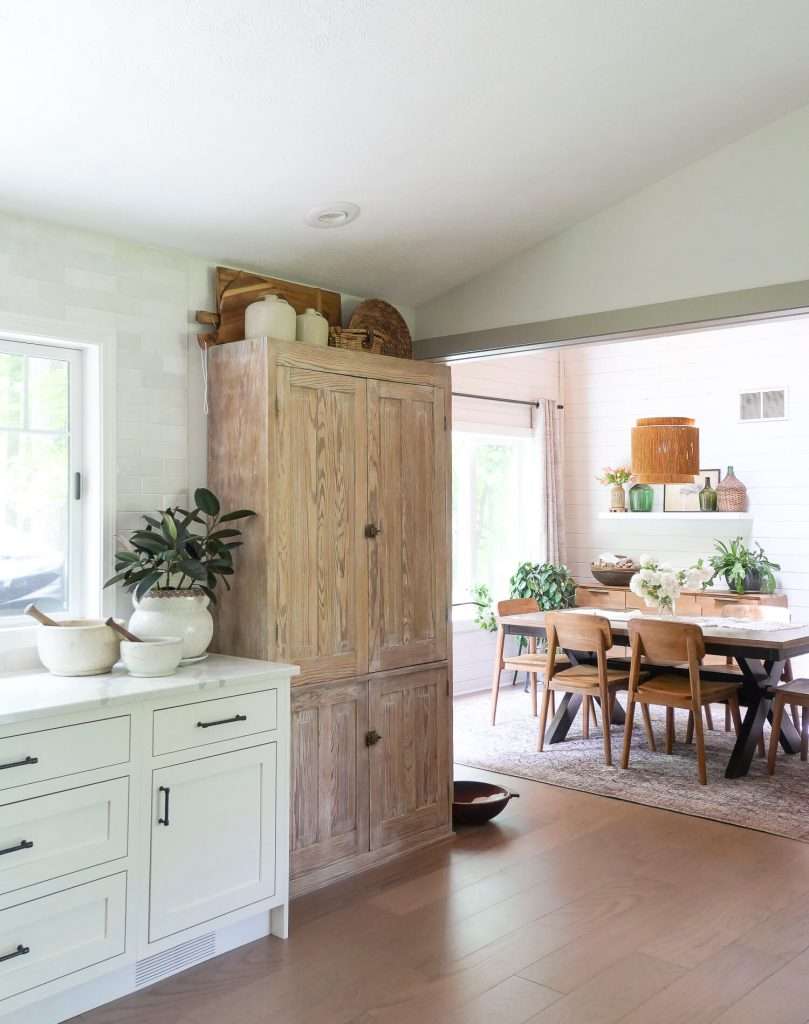 If you're looking for more details about kitchen design, make sure to browse the articles below.
Thanks for stopping by the blog today! Make sure to subscribe to get my Grace Notes directly to your inbox and to access all my insider perks. You can also follow along daily on Instagram and weekly on YouTube!
~Sarah