Guest Bathroom Essentials List for Effortless Hosting 2023
Do you want your guests to feel welcome and comfortable? Here is a guest bathroom essentials list for effortless hosting to put them at ease!
Use this free checklist to prepare for your guests so they feel at home. Bonus: it gives you everything you need to stay fully stocked for your family on a weekly basis.
This post may contain affiliate links where I earn a small commission on your purchases at no additional cost to you. This post is sponsored with thanks to Walmart.
What does every guest bathroom need?
One of the areas of my home that I find necessary to prepare prior to hosting guests is the guest bathroom.
Personally, if I'm staying in someone else's home then it is already slightly uncomfortable. Add in having to rummage through their personal items to find bathroom essentials and…you guessed it…really uncomfortable.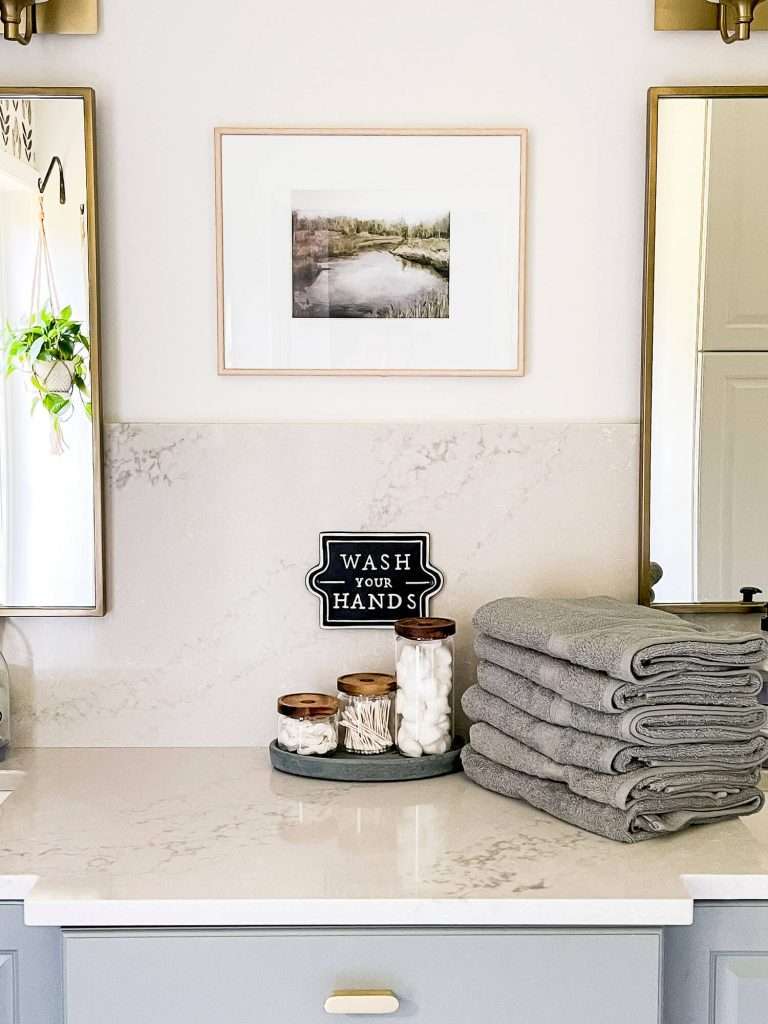 So before guests arrive, I make sure to stock up on bathroom items and put them out for easy access. Not only does this make it easier for guests, but it also eliminates the need for them to go through our family's personal items.
So the first thing that every guest bathroom needs is: accessibility.
That means taking bathroom essentials, like Q-tips, cotton balls, and towels, and putting them in plain sight.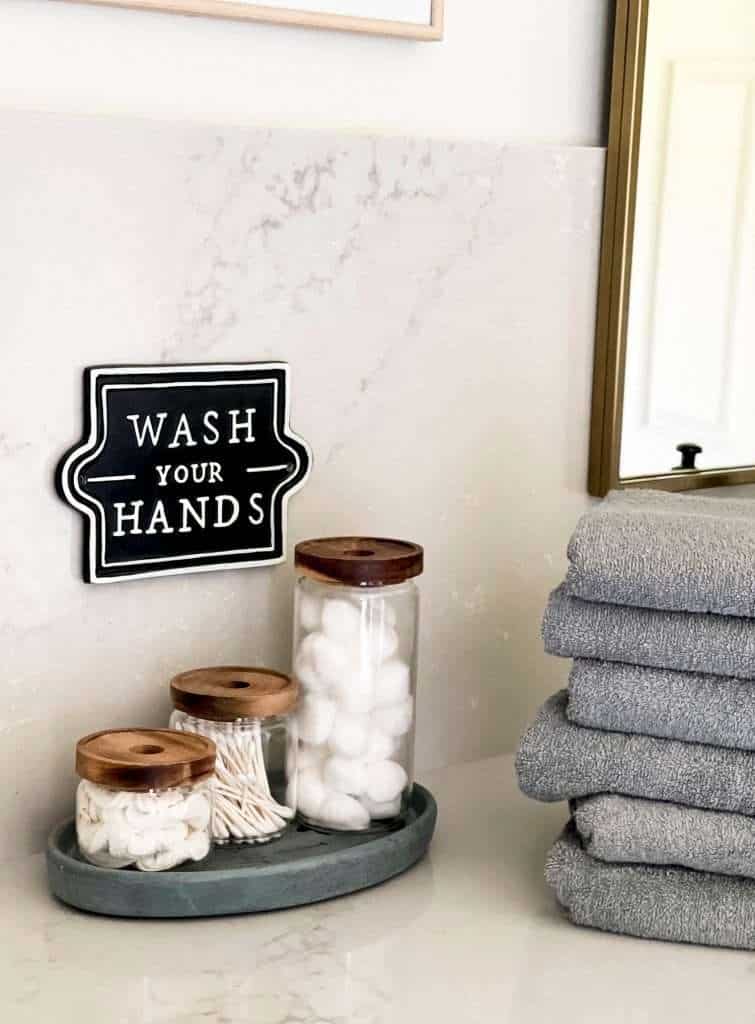 If you've read my blog for any length of time, then you know that I like to display things in an aesthetically pleasing way. That doesn't mean it needs to break the budget though.
Thanks to Walmart, I can shop all our bath essentials at affordable prices.
Plus, there is such a large variety within Walmart Home, that I can think outside the box and use products in a different way than what is intended. That is what I've done with these glass canisters from Walmart.
I actually found them in the kitchen storage section, but loved the wood top. So why not rethink their intended use and fill them with a few of the commonly used items on my bathroom essentials list?!
Now they are pretty to display and grant my guests easy access at the same time.
What should every bathroom essentials list have?
Once you have a mindset of accessibility, it is easier to consider how your guests will use the space while they are with you.
Next, let's break down the guest bathroom essentials list by category. Because what every guest bathroom should have and what every guest bathroom must have are two different stories.
Guest Bathroom Essentials List: Must Haves
These are your basic bathroom essentials that both your guests, and your family, will need on a daily basis.
Toilet paper
Tissues
Window coverings and shower curtains for privacy
Bath towels
Hand towels
Wash cloths
Bath mat
Trash can
Hand soap
Shower soap or body wash
Shampoo & Conditioner
Toothpaste
Mirror
Plunger (because no one wants to ask for that…)
One of the items I always buy new off the bathroom essentials list is fresh bath towels. Towels work hard for our family (aka…we play hard), so new towels are a necessity when I invite guests in.
These bath towels from Walmart are super affordable, last for a long time, and come in multiple colors to fit your bathroom decor style. I always purchase a new bath towel and washcloth per guest, plus two new hand towels.
Shop the Look

---
Guest Bathroom Essentials List: Should Haves
Next, let's talk about the items that are just really nice to offer your guests for an extra enjoyable stay.
Easy access to:

q-tips
cotton balls
floss
new razors
new lip balm
Mouthwash
Pain relievers
Feminine products

Clock
Lotions
Nail clipper
Hair supplies:

Dryer
Curling iron
Hairspray…etc.
Guest Bathroom Essentials List: Determined to Wow Them
And finally, let's add a few more items to the bathroom essentials list for when you really want to WOW your guests.
Candles
Essential oil diffusers
Bath robe & slippers
Bath salts
Bubble bath
Tub tray
Tub pillow
Blue tooth speakers or reading materials
I love how the simple addition of a candle creates an instant mood in a guest bathroom without feeling over the top. This Sage candle from Walmart smells amazing and I love that it comes in multiple colors. This color matched my bathroom cabinets perfectly.
Walmart has a huge candle selection to make sure so browse more scents here.
How do you accessorize a guest bathroom?
Now that we've covered the full bathroom essentials list, let's talk about how to accessorize a guest bathroom. I keep my bathroom decor fairly straight forward. After all, guests don't spend a ton of time in here.
Cute signs, simple artwork, and a clock go a long way. I love this bathroom sign that doubles as a "wash your hands" or "brush your teeth" sign.

---
Another great way to organize and accessories your guest bath is with baskets.
What do you put in a guest bathroom basket?
Baskets provide a pretty way to corral some of those "should haves" from the list above.
Use a small basket to display things like floss, new razors, lip balm, mouthwash, toothpaste, and pain relievers. This allows you to set it on the bathroom countertop for easy access without it looking chaotic.
Another great use for baskets is to display bath towels. If you want to look extra fancy, simply roll the towels instead of folding them for a hotel-style feel.
If my guests are few in number and just staying one night, I often simply set everything they'd need out by the shower beforehand.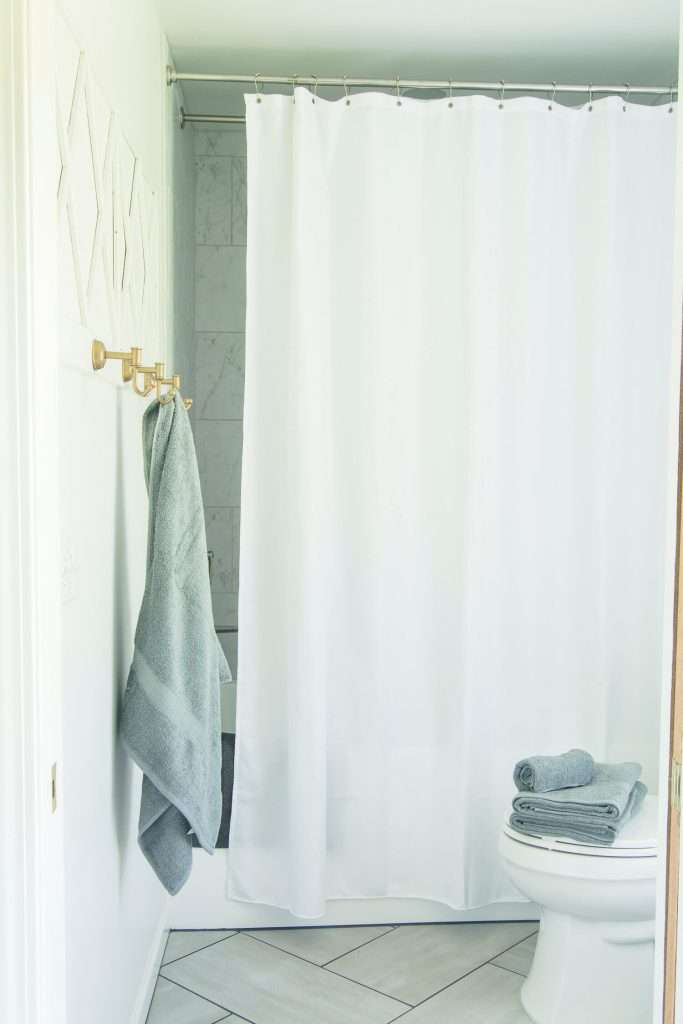 Bathroom Essentials List for Effortless Hosting
I hope this article has been helpful for you as you prepare to hosts your guests! Make sure to download my free bathroom essentials checklist.
You can do sign by subscribing via this free printable page! You will then receive an welcome email with the password to access all my freebies.
You can shop affordable bathroom accessories via the affiliate images below. I've rounded up some of the best deals for you.

---
Looking for Bathroom Design Details?
Thanks so much for stopping by the blog today! If you are looking for details on my bathroom design, make sure to check out the posts below that detail our guest bathroom remodel.
Make sure to subscribe below to access my free 3 module e-course to help you on your way to creating a haven in your home.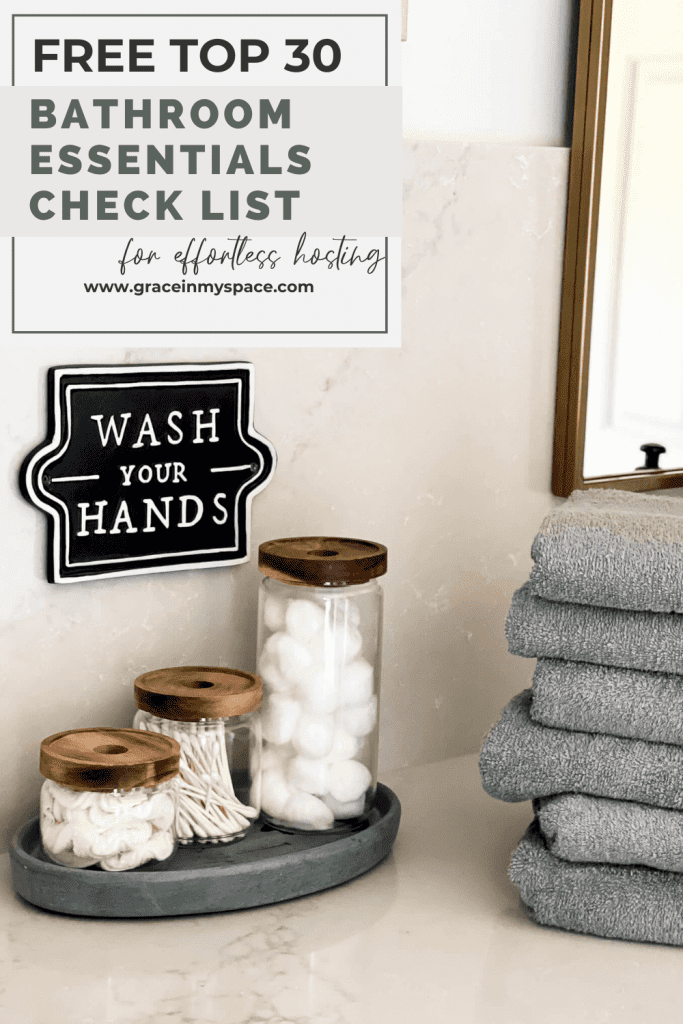 You can also follow along with me daily on YouTube and Instagram where I get into more depth on DIY projects, recipes, home styling and easy entertaining tips.
Happy hosting!
You Might Also Enjoy…