How to Mix Metals in Bathroom Finishes
My modern organic bathroom design is highly impacted by mix metal finishes! When I created my mood board, I knew I didn't want a monochromatic look. So I decided to add interest with mixed metals. Learn how to mix metals in bathroom finishes with these three simple tips.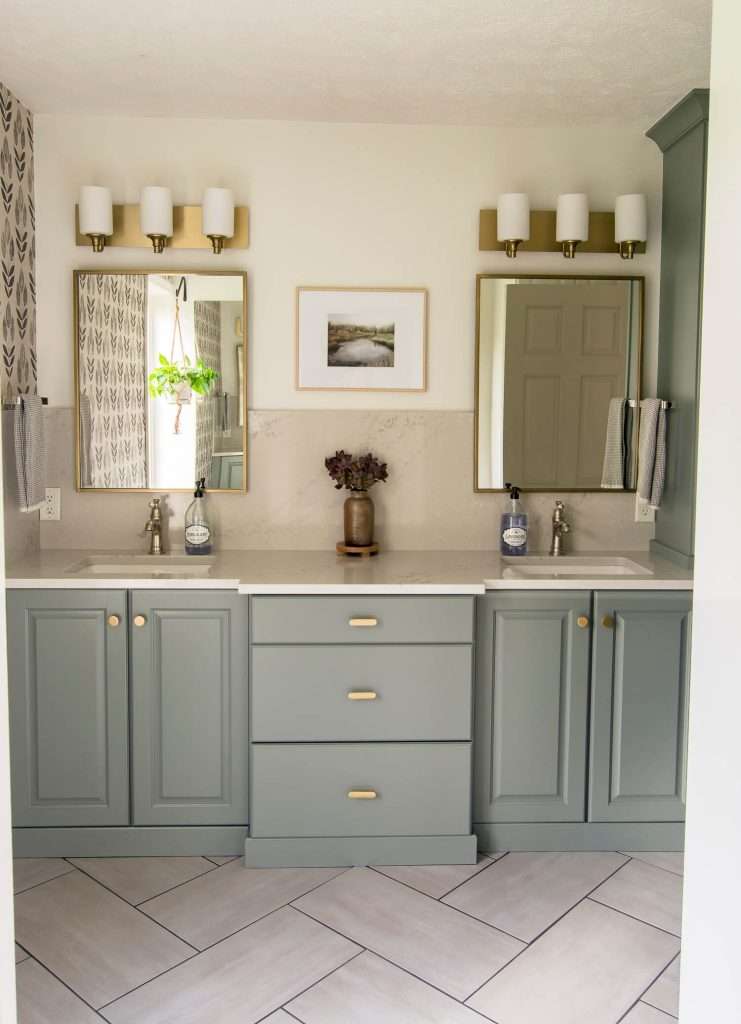 Post may contain affiliate links where I earn a small commission on your purchases at no additional cost to you.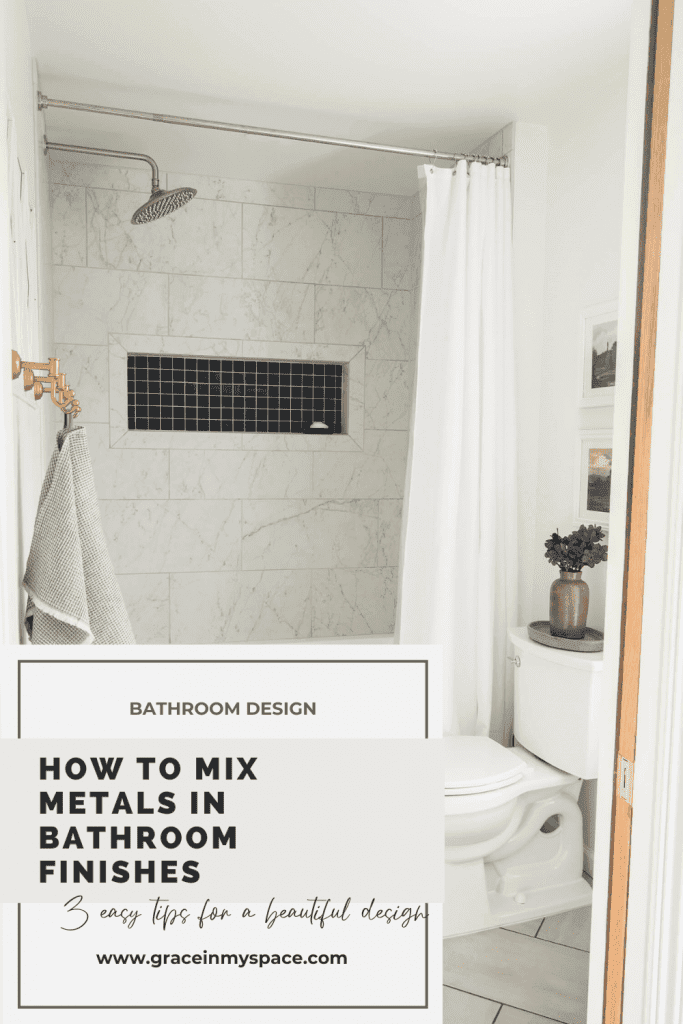 Guest Bathroom Finishes
If you missed it, make sure to check out my design board for our guest bathroom remodel. When I am doing a large remodel, I start with a simple mood board. This helps collect my thoughts into one space, visually, so that it is easier to see the big picture design.
One important thing to note in larger remodels is that designs rarely go 100% as planned. As you'll see from my original mood board, I ended up changing a few things along the way that just didn't feel right in the actual space.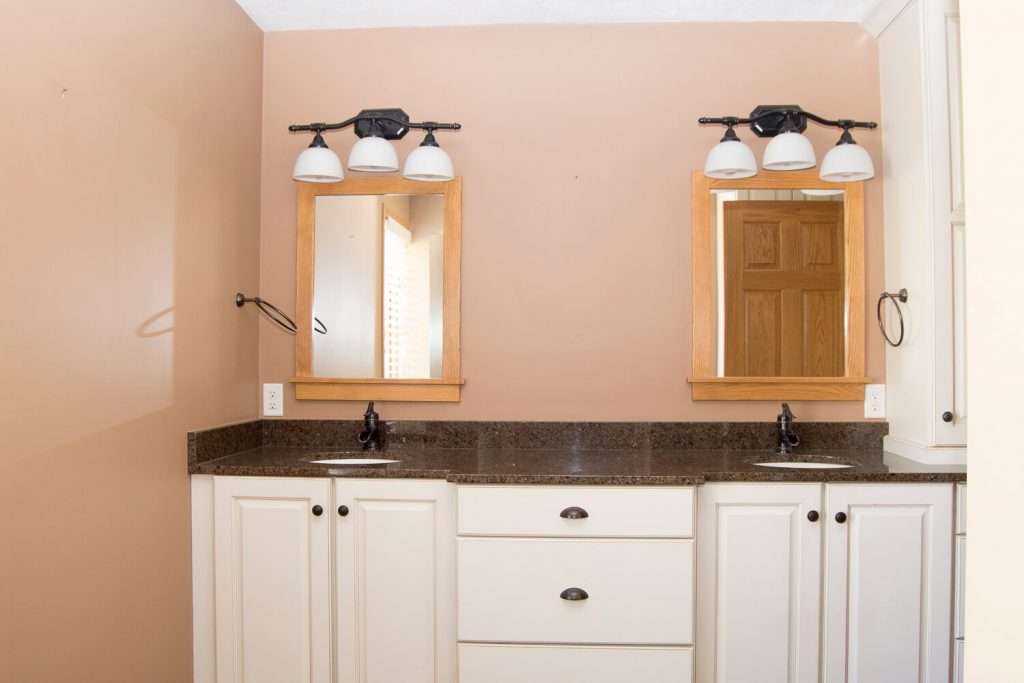 One of those items was the design for our new bathroom faucets. Another was the knobs and pulls for the cabinetry. And a big change was the final color for the vanity.
Having flexibility in design is important so that your end result is 100% what you want, even if it wasn't your original plan!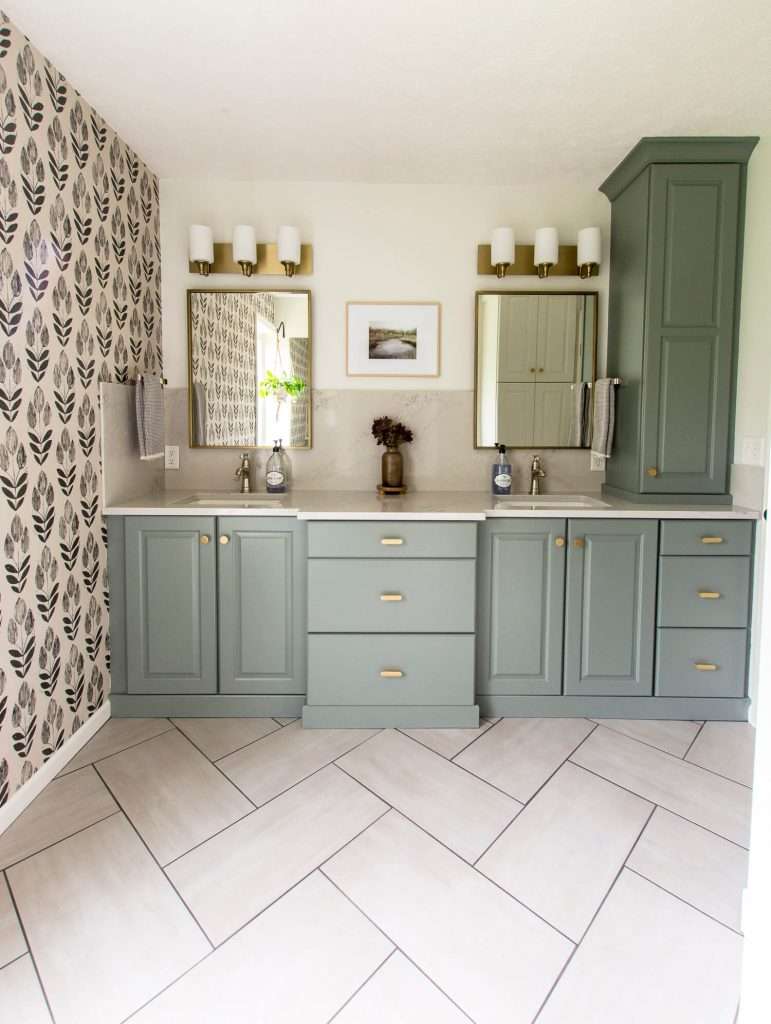 If you ever feel like you have no idea where to start in design, make sure to sign up for my free three module course on how to design your haven!
Today I'll be sharing 3 simple tips for how to design your guest bathroom finishes.
What is the best finish for bathroom fixtures?
There are so many beautiful bathroom finishes to choose from. Many people prefer to keep their metal finishes all the same color. This can be a beautiful design statement which allows the finishes to be less of a focal point and blend in with the design.
Choosing one subdued finish for bathroom fixtures, rather than mixed metals, gives room for another element to take center stage. Conversely, if you choose a bold finish, it can be the star of the show! It all depends on what elements you choose and how they coordinate with each other for your final design.
The main bathroom finishes available are:
Chrome or Polished Chrome
Satin Nickel, Brushed Nickel or Polished Nickel
Copper
Oil-Rubbed Bronze or Bronze
Brass, Antique Brass, Satin Brass, Polished Brass, Lacquered Brass
Mixed metals
Matte black, Satin Black, Gloss Black
Gold, Antique Gold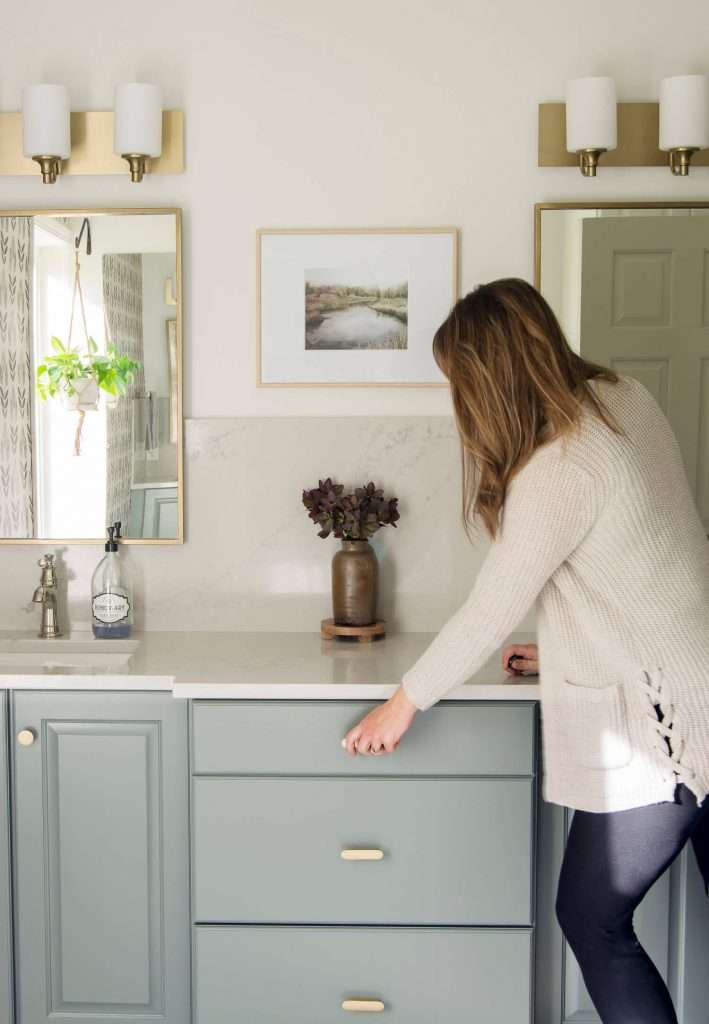 Though many designers have a favorite preference for bathroom finishes, I do not believe there is a "best" finish! Each finish option has its benefits and draw backs as far as durability, longevity, trendiness, ease of cleaning and design aesthetic.
The best finish for bathroom fixtures is the finish that you love and fits into your overall design plan!
What is the trend in bathroom faucet finishes?
When I revealed my mixed metal bathroom design I received a lot of comments about mixing brass and chrome. Some loved it and some were skeptical. And that is 100% ok! Most of us are designing for our own homes, rather than a client's space. So your design is a very personal choice and I fully believe that you should be designing for your family, rather than trends.
The only guarantee about trends is that they will eventually pass away. Shiny brass was once a very popular trend that we now deem from "the 90s". It feels dated to some. But I would bet that it will eventually become popular again!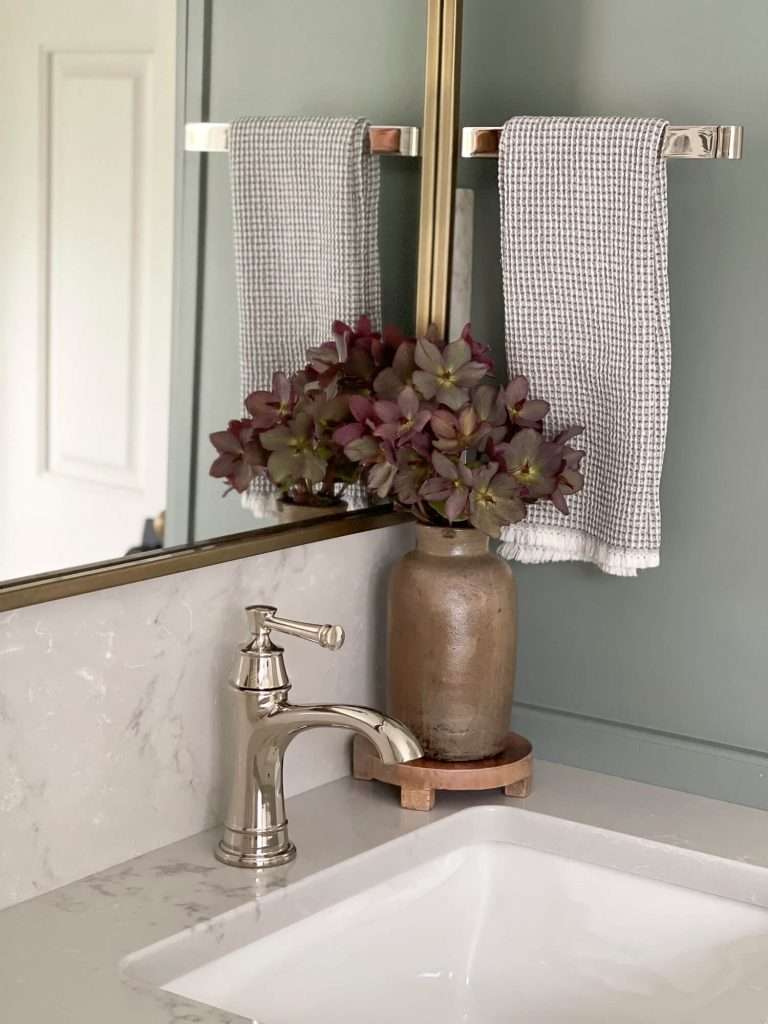 Bathroom finishes that have been trending the last few years are black, copper and brass. Nickel and chrome seem to be resurging after a stint of popularity in the early 2000s, and now mixed metals are "on trend".
Which brings us to my post today!
3 Tips for How to Mix Metals in Bathroom Finishes
First of all, is it ok to mix metals in the bathroom? Absolutely!
The mindset that all bathroom finishes need to be the same color or finish should be tossed out the door. Like I said above, keeping all finishes the same color can certainly be a wise design decision, but it isn't a rule!
I love the look of mix metal bathroom finishes, as you can clearly see in my recent bathroom remodel.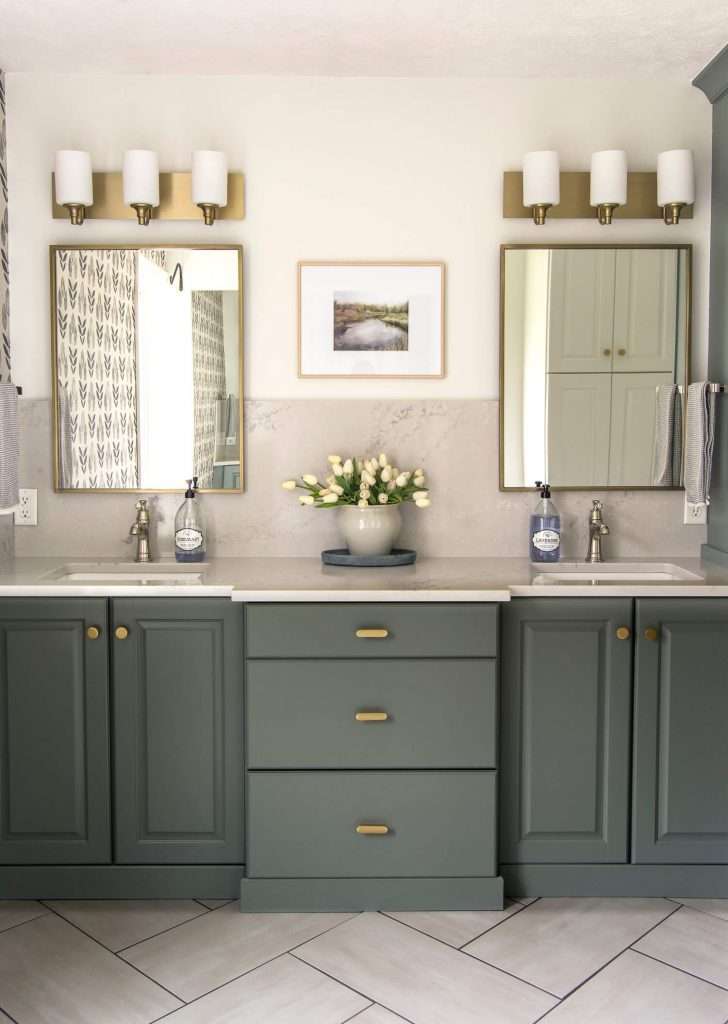 So here are three tips for how to mix metal finishes in your bathroom design! (Though, these tips can be useful in any room in your home!)
1. Stick to 2 Main Color Families
The first step to creating a cohesive looking design with more than one bathroom finish is to stick to 2 main color families. A color family is simply, one of the above bathroom finishes. In my case, I chose brass and nickel.
Let's take a look at my bathroom vanity. There are actually four different metal finishes in this space. However, there are only two color families.
Nickel

Polished Nickel (Faucets & Towel Bars)

Brass

Antique Brass (Mirrors)
Satin Brass (Knobs & Pulls)
Brushed Brass (Lighting)
Keeping your mixed metal design to two color families brings an entire space together so that it doesn't feel overwhelming.
While I have four metal finishes in my bathroom, it still feels cohesive because they are in two main color families. Conversely, if I were to have four completely different color families (Ex: black, gold, chrome, oil rubbed bronze) it would feel chaotic and pieced together.
2. Mix Warm and Cool Tone Metals
The next tip is to mix warm and cool tone metals together. Warm tone metals are brass, gold, copper and oil-rubbed bronze. Cooler tone metals are chrome, nickel and black.
My warmer tone metals are brass and the cooler tones are nickel. This creates a beautiful balance which compliments each other, rather than competing.
3. Design Mixed Metals Throughout a Room
The last tip for mixing metals in bathroom finishes is to keep the look moving through an entire room.
If you want to mix metals, then do so consistently. In my guest bathroom we have one room that holds the shower and toilet, separated from the vanity room by a pocket door.
As you can see, I brought my mixed metal (brass and nickel) into the shower room as well. This helps the room as a whole feel like the mixed metals are intentional.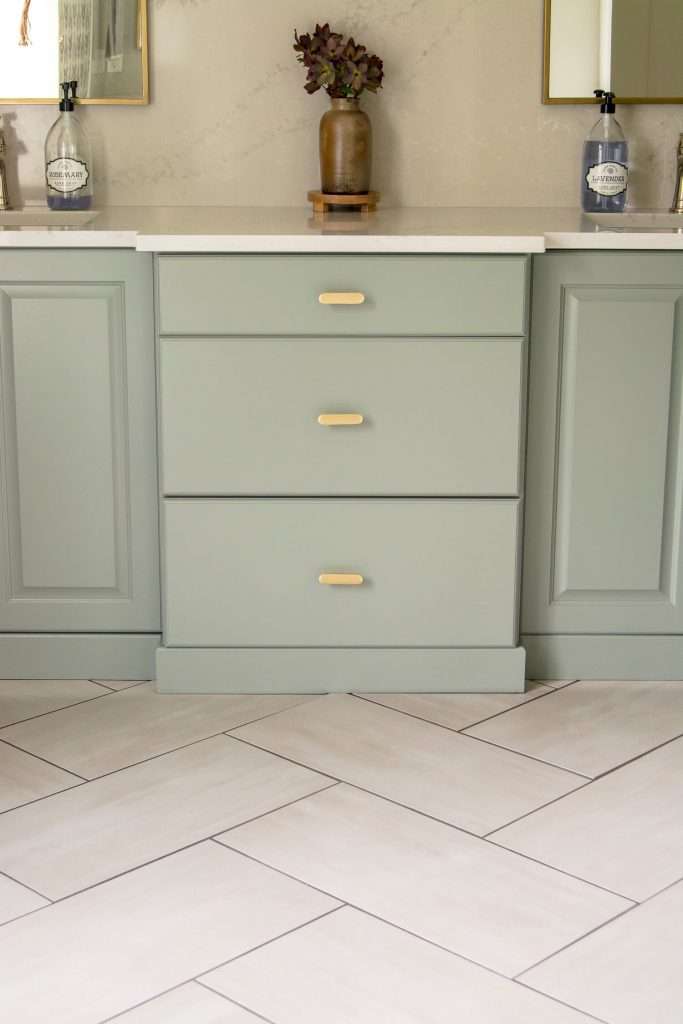 On the other hand, if I were to design all the brass in the vanity room and all the nickel in the shower room, it would feel like two completely different spaces. By mixing your metals throughout an entire space you are bringing the room together in one complete and intentional design.
Guest Bathroom Source Details
I hope that these tips for how to mix metal bathroom finishes have been helpful! Our guest bathroom remodel was so fun to design and I will have more posts coming soon with the following details:
Shower Renovation Cost
Designing a Full Height Quartz Backsplash
In the meantime, here are my bathroom sources! A huge thanks to my partners in this bathroom renovation: Signature Hardware, Atlas Concorde USA, and Lakeside Surfaces.
Shop decorative items via the images below.

---
Shop bathroom essentials via the images below!

---
Stay Connected
Make sure to subscribe to my newsletters for more design tips, freebies and fun DIY projects! And you can follow along with me daily on Instagram for behind the scenes tips and tricks for DIY projects.
Thanks for stopping by the blog today! Leave me a comment with your favorite mixed metal combination!