What to Look For When Thrifting + Easy Upcycles
Have you ever thrifted with the intent of upcycling? Thrift store upcycles are an affordable way to create a unique home with style! There are several key elements to be on the hunt for when thrifting. With these tips, you'll gain an eye for what something could be, rather than what it is. I'm excited to share what to look for when thrifting in this article! Plus, I'm giving you a front row seat to see how I updated 5 thrifted finds from start to finish.
This post may contain affiliate links where I earn a small commission on your purchases at no additional cost to you.
What to Know Before Thrifting
If you're new to the thrifting game, you should know that it can be really fun. And dirty. And disappointing. But then really exciting at the same time. It's basically a roller coaster of emotions based on what you find, how creative you can be, and how far you're willing to go to create a thrifted upcycle.
The biggest frustration for most people when thrifting is that "they never find anything". Well my friends, that is because either:
They aren't thrifting often enough. Thrift stores rotate through stock frequently. It isn't like a retail store where there are multiples of that diamond in the rough. To find the good stuff you need to visit your favorite stores frequently.
They are thrifting in the wrong place. Some thrift stores are better than others. But my best thrifted finds are usually from sources beyond a traditional thrift store. I'll share more about that next.
They are looking at the items in the store for what they are rather than what they could be.
And that is what this article is all about!
I'm excited to share what to look for when thrifting so that your mind is open to creative opportunities.
Thrift Store Upcycle
Part of today's article will be showing you how I take 5 thrift store finds and upcycle them.
What is upcycling? Upcycling is a new(ish) term for turning someone else's trash into your treasure.
You can upcycle a few different ways:
Keeping an item as is and simply using it for something different than it's original purpose.
Refinishing an item to give it new life.
Completely transforming something to reuse the material but in a totally different way.
I tend to look for items at a thrift store which I can make smaller tweaks to. This allows me to give it a new look that fits my style. Plus, it's a very quick way to transform items with a little amount of effort.
Best Places to Thrift Shop
If you're new to thrift shopping, then you might think that Goodwill is your only option. However, I often find that the term thrifting should really be broadened when looking for good upcycling opportunities.
Your geographic location plays a huge role in where to shop for thrifted finds. Some areas of the country have amazing flea markets but poor thrift stores. Others have amazing thrift stores, but aren't big on other types of thrifting opportunities.
You'll need to do some research on your area to decide which option is best for you.
This black cabinet in my living room was a Facebook Marketplace find for me. You won't believe what it looked like before I updated it! You can see the whole process in this post on how to paint wood furniture without sanding.
Best Options Regardless of Geography
Here are the best places to thrift shop for your consideration:
Local flea markets are my number one favorite thrifting opportunity. We have great flea markets in my area in the summer and fall. These may also be called junk sales, rummage sales or swap meets.
Individual yard sales, garage sales and barn sales are another great option. These simply require more travel from sale to sale and hunting the online classifieds for good ones. They can also be much more hit or miss on good finds.
Etsy and Ebay are amazing sources if you have a specific item you're looking for. This gives you access to any location in the world rather than being dependent on your local area.
Online sources like Facebook Marketplace, Craigslist, and even new shopping apps like Mercari and Poshmark can offer great options. But you will be "on the hunt" scrolling through hundreds of options to find that one good find. Determining good key word searches are key for this option.
Traditional thrift stores, of course, are always a good option. Look at thrift stores in surrounding cities as options as well.
Antique stores are an amazing option as well to find really unique items. However, they may be more pricey than other thrifting opportunities.
If you have the opportunity to hunt for thrifted items at flea markets or rummage sales, make sure to check out my 10 tips for how to bargain on price.
I think it is important to remain fair to the seller, but still get a good deal on thrifted items. This is how I manage that with class and consideration to both parties.
What to Look For When Thrifting
Now let's get into what to look for when thrifting!
There are several key elements of what to look for when thrifting. Plus, there are several items to look past when thrifting.
What Should I look For When Thrifting?
Let's start with the key elements to keep top of mind when searching thrift stores, flea markets or online.
Condition & Construction. Is it in good or repairable condition with quality construction?
Shape and size. Is it the general shape and size I'm looking for?
Potential. Is it something I can repurpose beyond its original intent?
Condition & Construction
The first thing I look for when thrifting is the condition and construction of the item.
Is it solid and durable? Will it fall apart if I try to refinish it?
Some items can be in poor condition, but still have quality construction. Those items are a GO! The lazy susan in my kitchen is a great example of this. It's finish was completely ruined, but it had great construction. You can see how I updated it in my post on how to change the color of wood!
On the other hand, something could be in good condition aesthetically, but be poorly constructed and unstable. Unless you're willing to rebuild it, those items are a pass.
Tables are a great example of where condition and construction matter.
If it is solidly built, then tables in poor condition (peeling paint, damaged veneer, outdated color…etc.) can be refinished. However, if it is poorly built, then it probably isn't worth your time to refinish unless you're willing to really rehab the entire construction of the piece.
Shape & Size
The next key element of what to look for when thrifting is shape and size.
Shape and size are two things that are more difficult to alter than aesthetic elements. So if you're on the hunt for a sideboard that is 70″ long, focus on size as you scan furniture while thrifting. Once you find the size you're looking for, you can determine if you're able to change the way it looks to fit your style.
Similarly, look for items that are the shape you want. Perhaps you are looking for a tall round lamp. Train your eye to look for that shape in the midst of thrifted lamps rather than the design or texture you're looking for. Once you find the shape you want, you can DIY color and texture easily.
Potential is what to look for when thrifting!
The final item to consider is potential.
Can ___________ item be used for something beyond it's original purpose?
What if you cut the legs off a tall workbench to make it into a coffee table? Can you use a stool as a plant stand?
Is it possible to use a thrifted canvas with an image you don't like to make your own art?
A good example of using something for a purpose other than what it was intended for is this beautiful vintage rug I found. It currently sits as a gorgeous decoration on my coffee table, but I'm planning to make it into wall art as well!
You can see how I've done a few of those things in the articles below!
This is where your own creativity is the limit of what you can accomplish!
What to Overlook When Thrifting
Now that we have those three things in mind for what to look for when thrifting, let's quickly cover what to overlook.
Color
Texture
Poor condition that is fixable
Original purpose
Color is the number one stumbling block for people when looking at thrifted finds. I cannot tell you how many pieces I've purchased for a dollar or less because they were an ugly color. After a little refinishing, they are now my favorite pieces!
Color is something you can change 99% of the time. So try to see past color and think about what you could change it to with a quick DIY upcycle!
You can see how I changed the color of this terra cotta and pottery in my YouTube video that complements this post!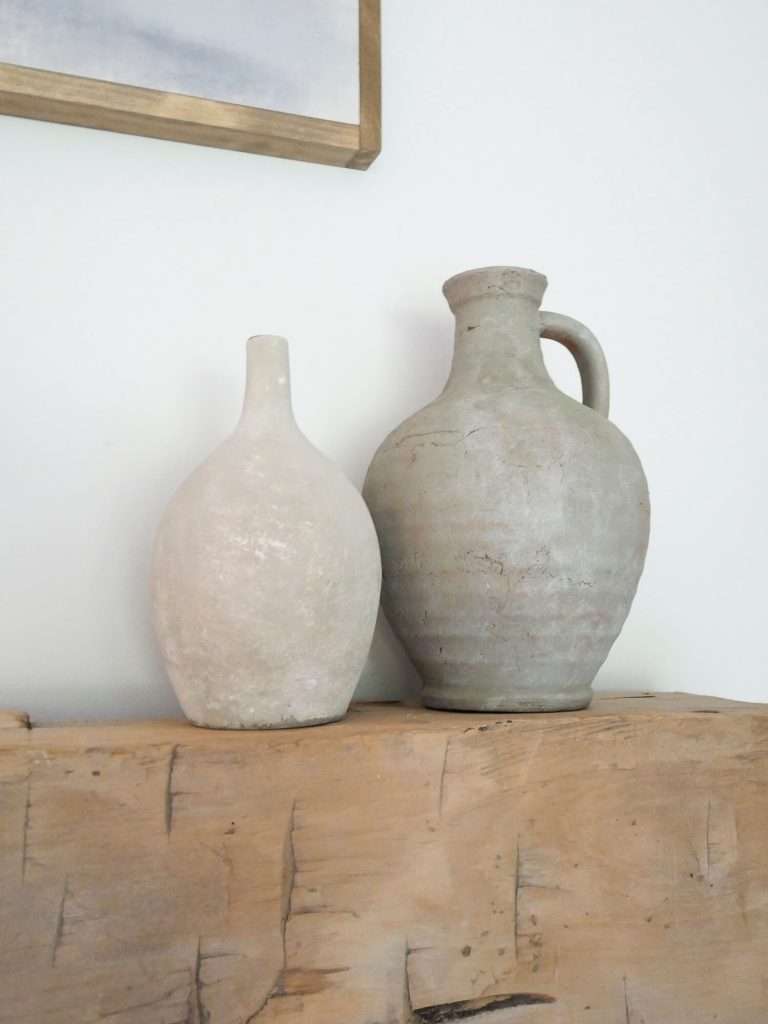 Next, texture can be a roadblock. Texture is something that can usually be added or taken away with a quick project. I love adding texture to smooth items like I did when I created my own "pottery".
And with any thrifted find, consider if you can refinish a piece in poor condition. Often those are the pieces that are most affordable and can be updated with paint or a quick sand.
Then, think outside the box! I've seen so many people use vases and turn them into cool lamps with simple light kits, which I'd like to try someday. I've also repurposed tables into benches or coffee tables, updated vintage armoires into a stand alone pantry, and much more!
How I Updated 5 Thrifted Finds + What to Look For When Thrifting Video
I hope that these tips on what to look for when thrifting (plus what to overlook) have been helpful to you!
If you want to see the full transformation of 5 thrifted finds, make sure to check out my YouTube video. I took 5 items and upcycled them to a new look that fits my style in one afternoon.
I hope it gives you some inspiration for what you can do with your thrifted finds!
Stay Connected
Thanks so much for stopping by the blog today!
Make sure to follow along by subscribing to the blog! You'll also receive my free 3 module e-course to help you learn how to design your haven. This free course helps you change your mindset towards design to have intention and purpose in creating your home.
You can follow along with me daily on Instagram and weekly on YouTube as well, where I share all the behind the scenes of my projects, tutorials and recipes!