How to Paint Wood Furniture Without Sanding in 2024
Restoring furniture is a cheap way to amplify your style. It is often much more affordable to refinish furniture rather than purchasing new. But sanding is the worst! It is messy, time consuming and tiring. I've refinished wood furniture many ways, but painting is one of my favorite options! Learn how to paint wood furniture without sanding for a durable finish with these different options.
Post may contain affiliate links where I earn a small commission on your purchases at no additional cost to you.
Can you paint over wood furniture without sanding?
The number one question I get when refinishing furniture from my Instagram community is, "Can you paint over wood furniture without sanding?"
The answer is, yes! There are actually quite a few ways to refinish furniture without sanding.
I'm going to use this new Facebook Marketplace find as an example of my favorite way to paint wood furniture without sanding!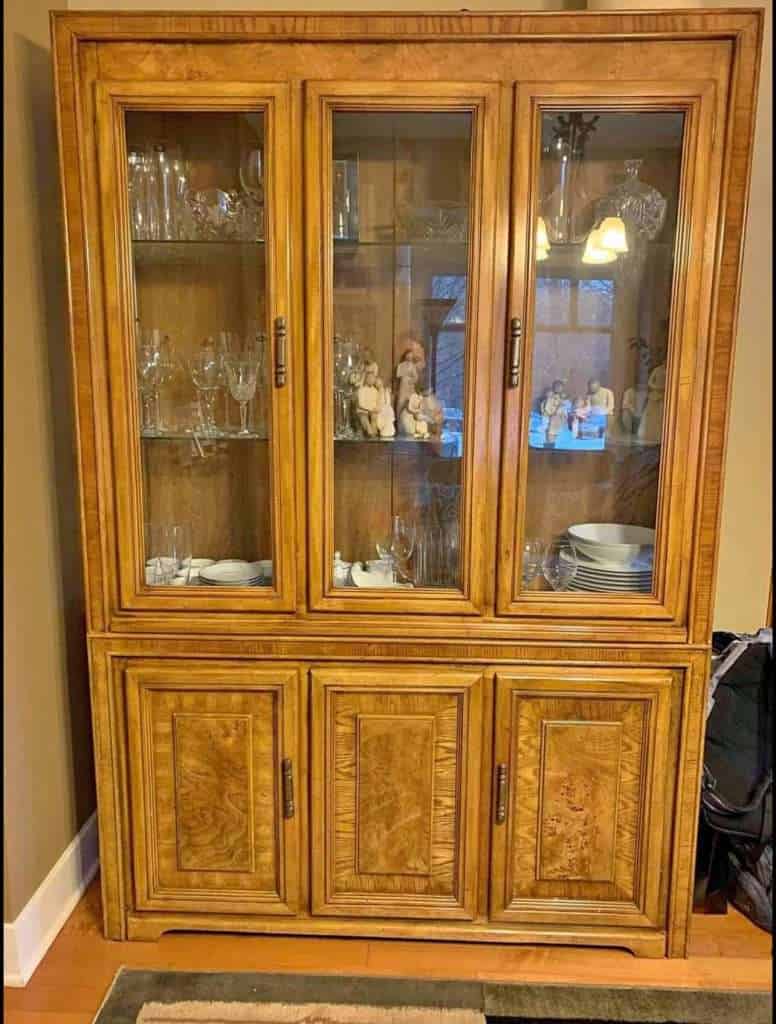 I've refinished quite a few pieces. Some I've kept wood, and some I've painted, but here are a few ideas if you've wondered how to refinish furniture!
Can you paint over varnished wood without sanding?
Often times people assume they can paint raw wood without sanding, but what about how to paint over varnished wood?
My marketplace find had a high gloss varnish on it, and I was still able to paint over it without sanding! That's because I used a two step process that is my go-to for painting wood furniture.
The degloss and prime combo!
Deglosser is a wonderful way to substitute the sanding process. It is a much less strenuous and much faster alternative to sanding furniture to remove varnish or lacquer. Combine this step with priming and you have a beautifully prepared surface for paint to adhere to.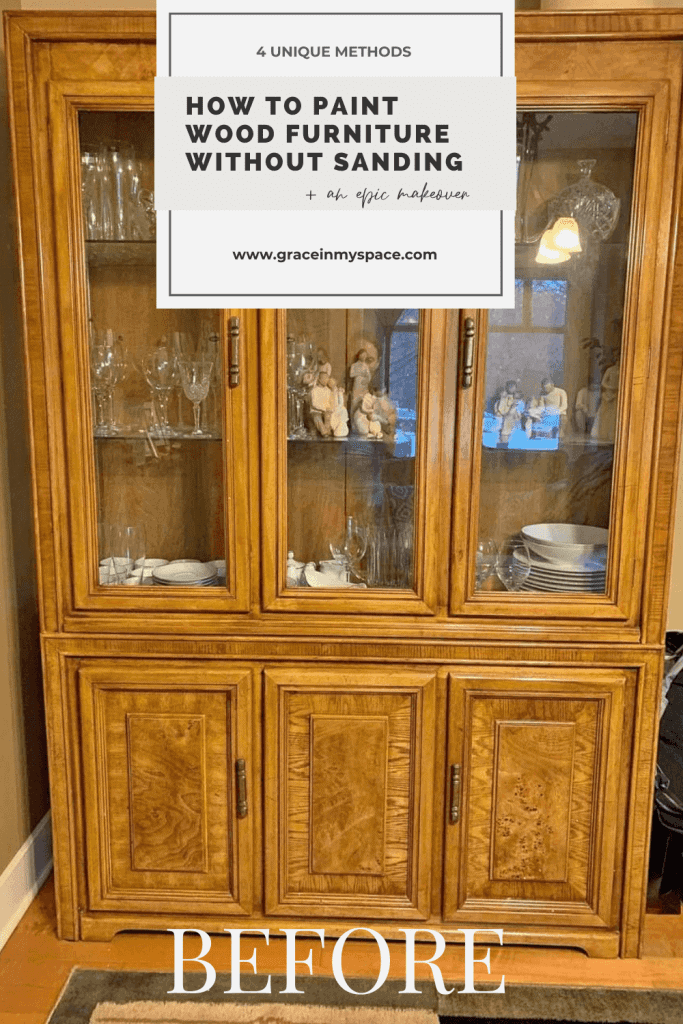 Paint is my number one go-to for quick and affordable makeovers, and I've put together an entire free guide on paint finishes! Make sure to sign up below to download this quick reference guide to help you in all your DIY needs.
Now, let's run through the process for how I updated this thrifted cabinet. Then, I will share some alternative methods to painting furniture without sanding!
How to paint wood furniture without sanding
Let's walk through this method of painting wood furniture without sanding step by step.
As I was doing this project in my Instagram stories, I had a lot of questions on why I did certain steps and what the reasoning behind them was. So here's the entire process explained.
1. Find a sturdy piece of furniture with good bones
Have you ever heard the term, "Good Bones"?
When referencing furniture, good bones means that the piece is structurally sound, has good lines/details and will be a functional piece for your family.
As you can see from the before photo above, my cabinet is a solid piece of furniture and has very clean lines (aka straight and not ornate) for a modern feeling. The shelving is exactly what I was looking for to display my favorite decor and the storage underneath is very functional.
This is the first step in refinishing a piece to bring it to your style. Make sure it is solid and functional and the aesthetics will come later!
2. Clean Wood Furniture Thoroughly Before Painting
The next step to restoring wood furniture without sanding is to clean the piece thoroughly.
I like to use TSP, which is a heavy duty cleaner. It does excellently at removing years of grime, dirt and grease. This leaves your piece with a clean finish so your primer doesn't have to work as hard.
First, clean the piece with TSP wearing durable gloves. Then, go back over the piece with clean water to clean off any film it leaves behind.
Make sure to remove doors and hardware so you can clean in all the nooks and crannies.
For a detailed cleaning process, make sure to check out this post which is applicable for prepping cabinets or wood furniture for paint.
3. Degloss Wood Furniture Instead of Sanding
The next step in this version of painting furniture without sanding is to use a deglosser.
Like I mentioned above, this is an alternative to sanding. If you'd rather not work with chemicals then sanding is the other option at this point in the process!
But since you're here to learn how to paint furniture without sanding, I'm guessing you'll choose the deglosser.
Wearing rubber gloves, simply rub the deglosser onto the wood with a clean lint free rag. You can also use steel wool, however I often find it is unnecessarily abrasive.
I like to cut up my husband's old white tshirts he wears under his dress shirts for my rags! They are a great fabric and totally lint free.
After you've applied the deglosser, wait for the allotted time on the label and then wipe down with a clean wet rag. Each brand has a slight variation to the instructions so make sure to follow the recommendations of the brand you buy.
Once you've cleaned and deglossed your furniture piece, you will want to decide if you're keeping the existing hardware or not.
Patching Old Hardware Holes
I wanted to update the pulls on my piece and found that the new hardware didn't line up with the existing screw holes.
This is an easy fix!
Simply use wood filler to fill the existing holes, sand down the surface flush, and then drill new holes in the position you need for your new hardware. I like to drill these holes before I prime and paint so I don't mar up a freshly painted surface later.
I used these classic matte black pulls for my cabinet makeover.
I love that they come in various sizes and finishes. I chose the 6″ version for the long upper cabinet doors and the 3″ version for the shorter lower cabinet doors. The 12″ option would be beautiful to make a big statement as well on tall doors!
4. The Key For How To Paint Furniture Without Sanding: Prime
The next step is to prime!
I'm always asked, "Do I need to prime furniture before painting?" And the answer isn't exactly straight forward.
For this method, yes you do. But I will share a few other methods at the end of this article that don't require a priming step!
Best Primers for Painting Wood Without Sanding
Since I am using a latex paint, a quality bonding primer is necessary. Latex paint is versatile since it comes in many finishes and colors, but it isn't the most durable option for furniture.
So priming first will ensure a long lasting finish.
I like both Kilz bonding primer and Zinsser Oil Based primer for use on furniture.
For this piece, I used oil based because it was what I had on hand. I traditionally like to work with water based paints for easy clean up but oil based is a great option as well!
One thing to look out for is that your primer works with TSP. Some primers say not to use TSP prior because it cannot adhere to a piece that has been cleaned this way. So make sure to read your labels to avoid heart ache down the road.
5. Paint Wood Furniture
You've made it!
All 4 of these preparation steps are necessary for a quality and durable paint finish when using latex paint.
If you skip the cleaning, deglosser or primer, then your paint will only have a slippery/grimy surface to try to adhere to. And paint does not do that well on it's own!
By taking the time to do a quality job on the preparation steps, you'll benefit greatly in the long run.
While you only need to apply one coat of primer, you will want to apply two coats of paint. The image above shows one coat of paint and, as you can see, it is a streaky finish. This is typical of latex paint and why I always recommend two coats for your topcoat.
I chose to use the color Black by Rustoleum which you can buy online at Walmart.
This is a bit of a chameleon color. I used it in my son's room to makeover his loft beds. You can see that amazing transformation in this post!
In his room it looks like a true black. However, on this cabinet it pulls more of a charcoal with navy undertones. Lighting is everything with paint so I always recommend color samples!
When using latex paint, a semi gloss or gloss are the most durable finishes on furniture.
I used eggshell because it was what I already had on hand and I am waiting to see if I need to add a topcoat. So far, it has been 5 months since I used the same paint on my son's loft beds and they haven't shown a scratch or ding!
I'm hopeful that the cabinet will be the same. If it ends up showing wear and tear then I will simply touch up those areas and then apply a matte poly for more durability.
How to paint laminate furniture
My cabinet was solid wood, but more often than not, thrifted furniture is laminate. So the question becomes, "Can I paint laminate furniture without sanding too?" Yes!
By using the same method as above, you can paint laminate furniture without sanding. Simply make sure the laminate itself is in good condition and isn't cracking or chipped.
The priming step is the most important for painting laminate furniture since you don't want to sand an already delicate surface. Take care to follow these same steps and your laminate furniture will turn out just as beautiful.
(Side note: see how I built this DIY beam header in this post!)
How to Paint Veneer Furniture Without Sanding
Similarly to laminate furniture, older pieces of furniture often have a delicate top wood veneer.
You can paint veneer furniture without sanding with the same steps as solid wood furniture.
However, if you have to do any touch up sanding, make sure to use a very fine grit sandpaper so you don't damage the veneer.
Additionally, you'll want to ensure that you dry your wood furniture well during the cleaning step as water can cause veneer to curl.
What paint do I use for furniture?
Now, on to the other methods for how to paint furniture without sanding!
The method above uses primer and latex paint, but what if you don't want to prime too? There are a few other paint options you can choose from.
Chalk Paint: Boasts a no-prep reputation, however the finish options and colors are limited. Top coat highly recommended.
Mineral Paint: Similar to chalk paint, but often more expensive. Top coat recommended.
Milk Paint with bonding agent: Also does not require sanding or priming, however the colors are limited and you have to mix your paint/bonding agent well.
All three of these types of paint are a great alternative to latex paint. However, most of them do require a top coat.
So if you're trying to avoid an extra step of painting, then they don't quite accomplish that. Whether you are painting a prime coat or a top coat, it's still an extra coat of painting something!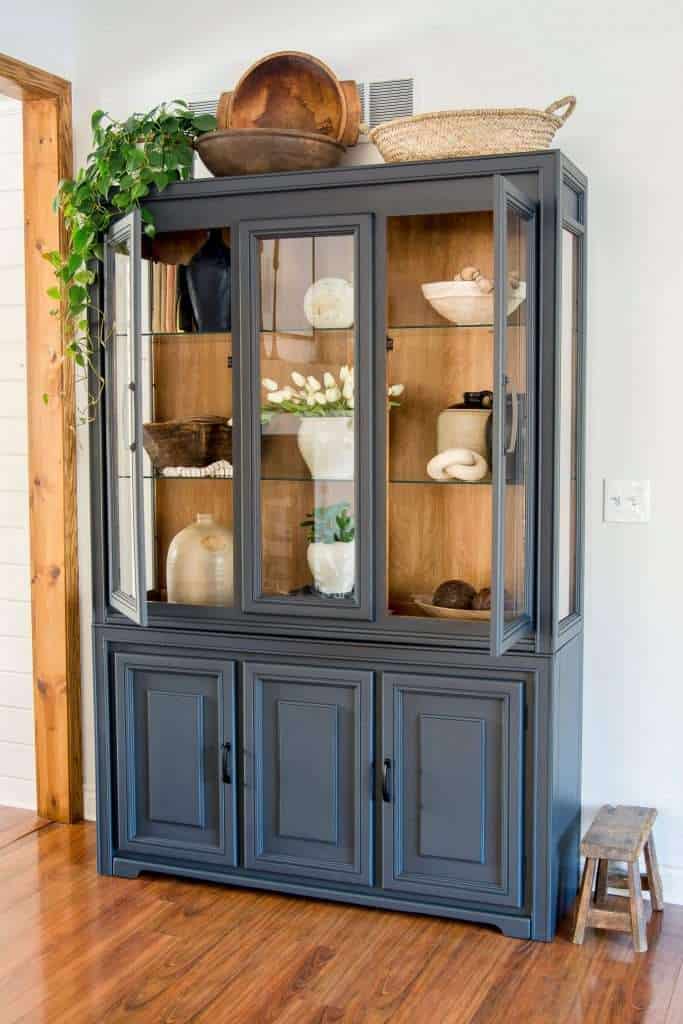 This is why I personally prefer latex. It is more affordable than chalk, mineral or milk paint and isn't any additional work in the long run.
However, I know many people who swear by these non-latex paint options and they do produce a beautiful result as well! It's simply a preference as they will all work wonderfully to update your wood furniture with paint.
How do you paint furniture without brush marks?
As you can see, I used a paint brush to do my cabinet makeover. This is a typical tool and I prefer it over small foam rollers. I think it gives a better finish and you have more control over the paint application.
I use this short handle angled brush for most of my projects and it is highly recommended.
You can see all of my favorite DIY paint tools in my Amazon Storefront for quick purchasing!
I had so many people ask how I can paint furniture without seeing the brush strokes. And I actually have a very detailed article on how to paint without brush strokes already on the blog!
This post is geared towards painting trim without brush strokes, but all of the painting techniques apply just the same to painting furniture.
Make sure you head there next to get my best tips and avoid those pesky brush strokes!
You Might Also Be Interested In
If you're looking for more painting projects, I have a ton of resources on the blog to help you.
Decor Sources
I hope this article on how to paint wood furniture without sanding has been helpful to you! DIY is one of my favorite topics on the blog and over on Instagram and YouTube.
You can find my shoppable home decor linked for you via the images below!

---
Thanks for stopping by the blog today! Make sure to subscribe to get my Grace Notes directly to your inbox and to access all my insider perks. You can also follow along daily on Instagram and weekly on YouTube!
See you next time!
~Sarah