How to Refinish a Cane Armchair
Antique cane chairs are making a comeback! The craftsmanship and detail are typically stunning features of this furniture that is hard to find in new pieces. Today I'm taking my caned chair that I've had for years and giving it a facelift for less than $10! Learn how to refinish a cane armchair in one afternoon with this easy tutorial.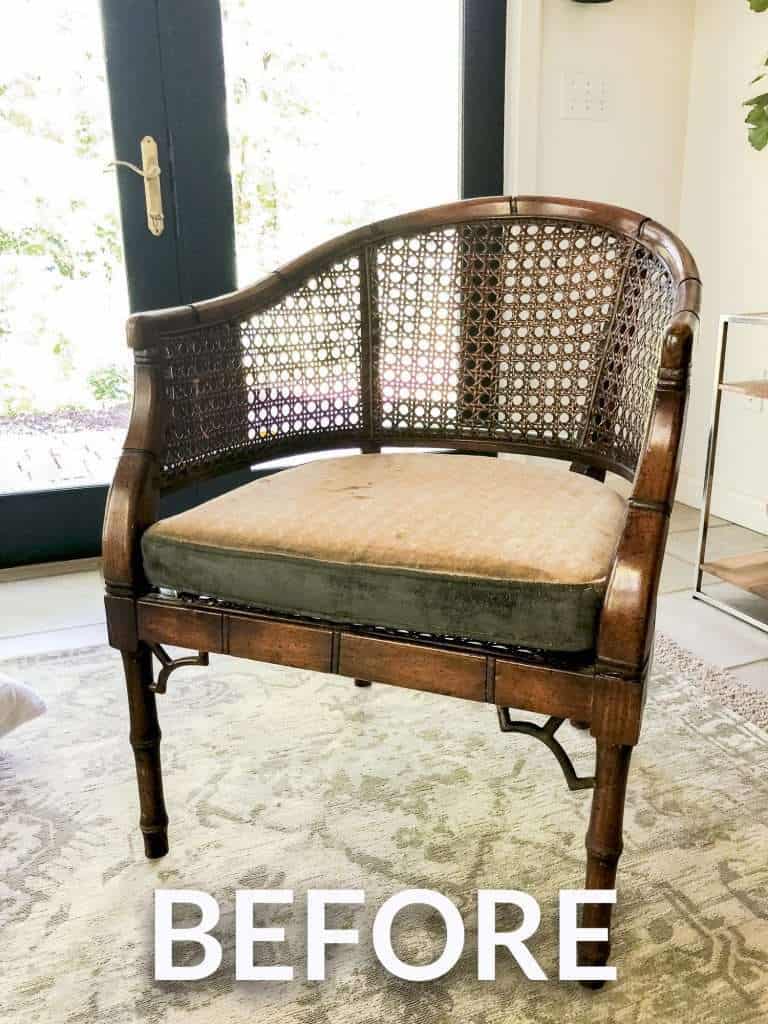 This post may contain affiliate links where I earn a small commission on your purchases.
Antique Cane Chairs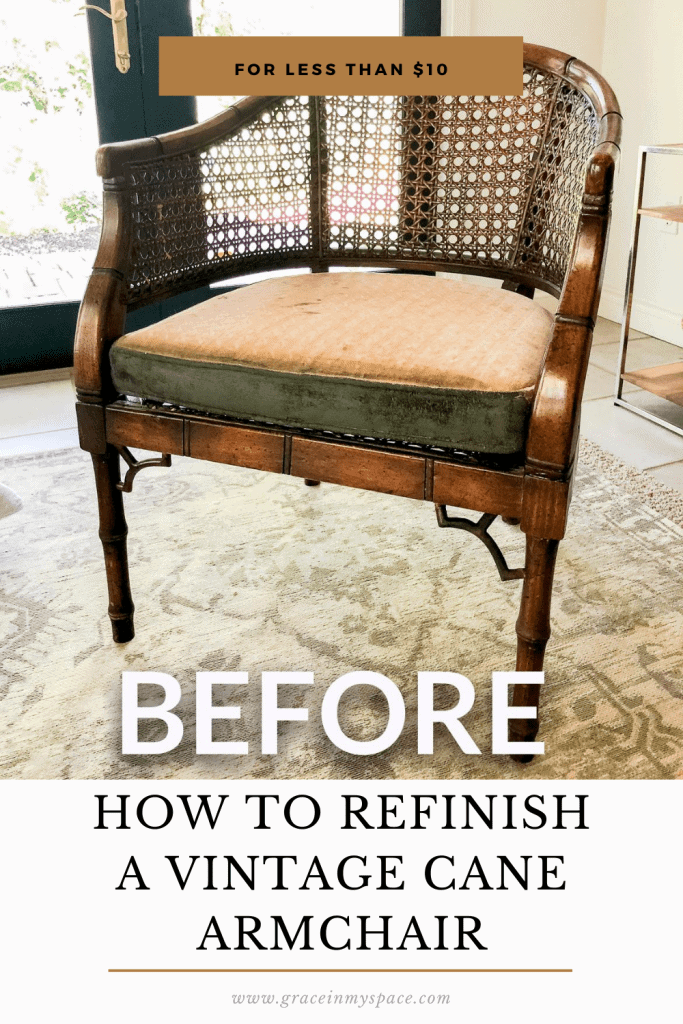 Cane chairs have a special place in my heart. My grandpa used to cane his own chairs and did such beautiful work. I have a few of his pieces and love seeing that cane chairs are making a comeback in the design world!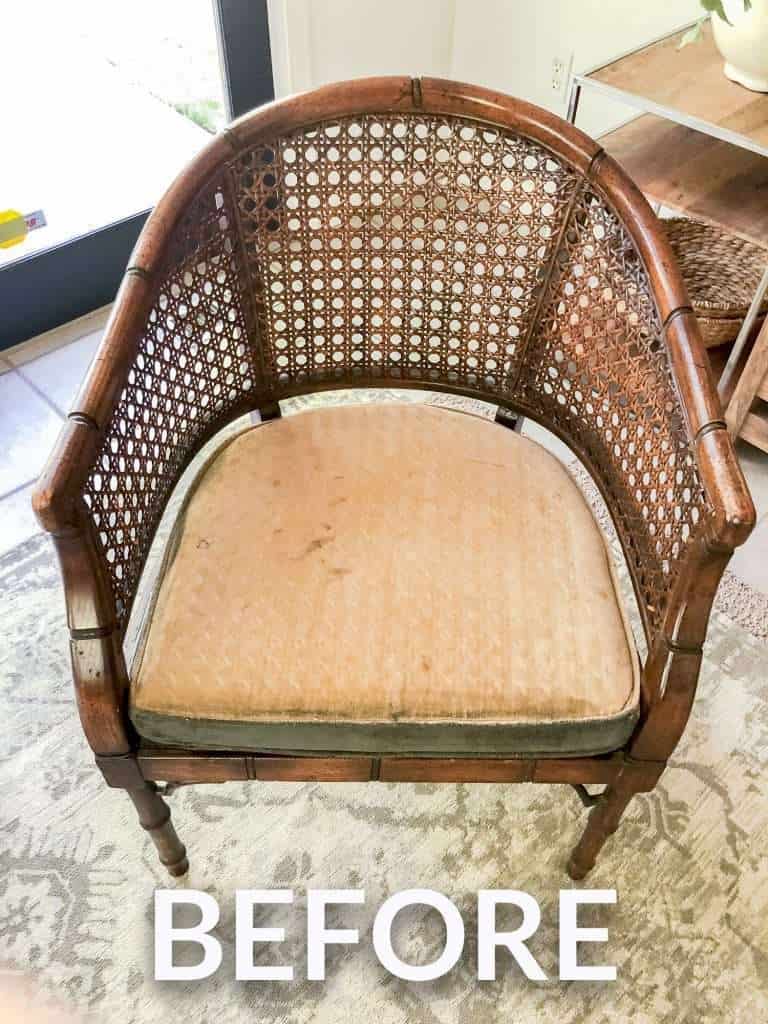 I've had this antique cane chair for years. My grandpa didn't cane this one, but I found it at a yard sale for less than $10 almost a decade ago.
I did very little work to it, and it has sat in my office forever half done with a partially painted cushion.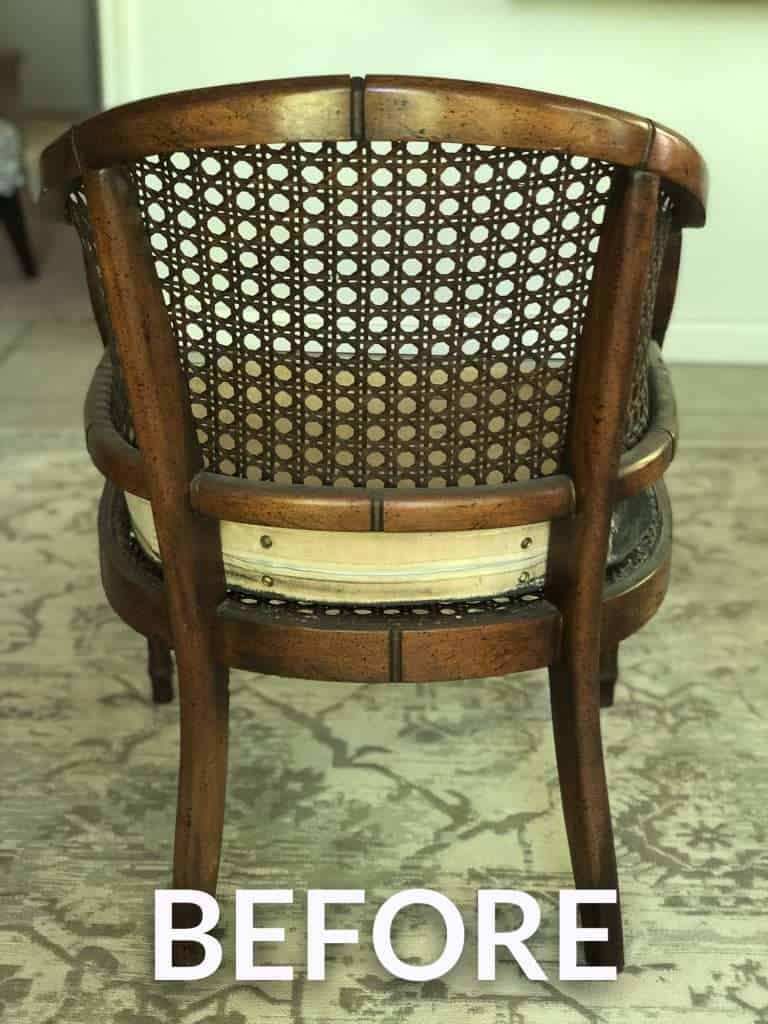 It has the most beautiful craftsmanship in both the wood frame and the caning. So I figured it was high time to bring this beauty into the 21st century with a quick update!
How to Refinish a Cane Armchair
My intentions with this project were to:
Turn it around in less than a day.
Retain the original caning.
Update the frame for a modern style.
Refinish the original cushion.
To start, I decided I wanted the frame to be contrasting to the caning. I painted it Blackboard by Magnolia Home. It is a great black that is slightly softer than jet black.
Supply List
Paint color of choice
Fabric of choice
Safety pins (or sewing machine)
Prepare The Chair
The first step is to wipe down the wood frame with a deglosser. I chose to use this product rather than sandpaper to ensure that I didn't damage the cane.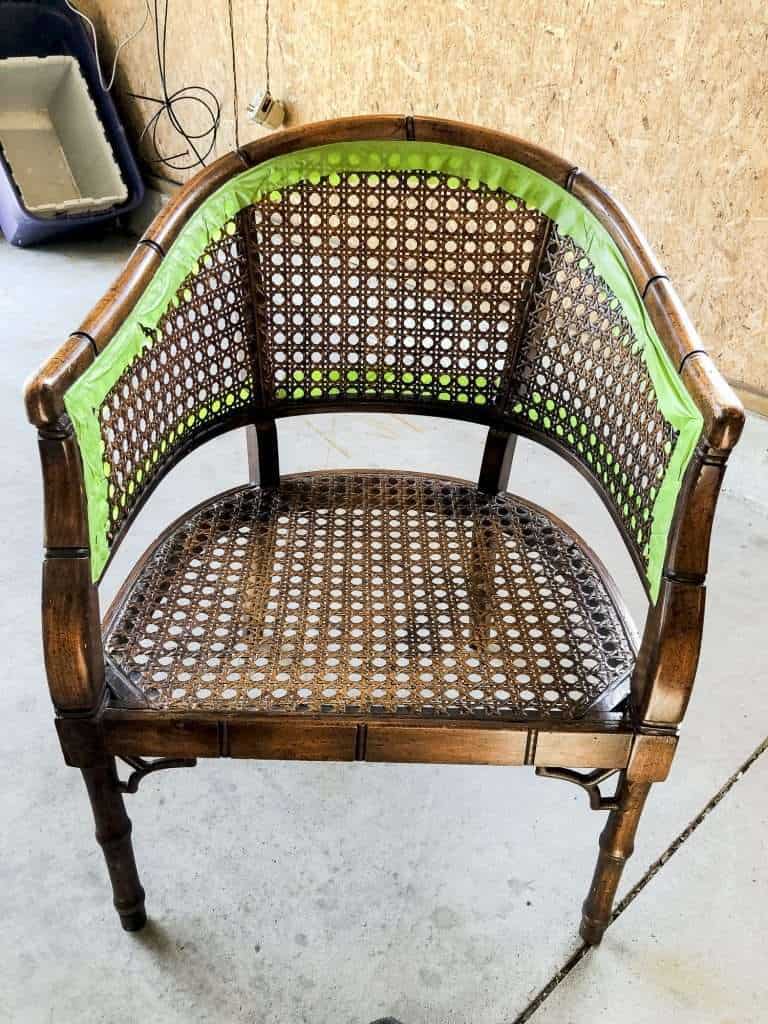 Deglosser has quickly become my favorite tool for furniture DIYs! It is faster, less messy and just as effective as sand paper.
The second step is to tape off the caning to protect it. I'm pretty good at free-hand painting, so I only taped off the areas I thought the paint might drip or be difficult to get a brush into. You might feel more comfortable taping the entire caned area!
Paint the Chair
Next, it's time to paint! I used this awesome square angled paint brush. It is small enough to get into all the tight spaces while being sturdy to brush on the paint thoroughly.
Can you see what a difference it will make to compare and contrast the wood v. black? It modernized this vintage cane chair so fast! Plus, I love that the details of the chair frame will pop since they will now contrast the cane.
I painted two coats onto the frame. You may need more or less depending on your coverage and the type of paint you use.
Tackle that Cushion
While my paint was drying, I tackled that ugly cushion! Years ago I used a fabric medium and latex paint to cover the stained beige velvet. Nowadays they make fabric paint that would be an awesome choice as well!
Since my original cushion was pretty far gone, I decided to simply recover it using affordable linen fabric and safety pins.
It is a simple way to update cushions for those of us who have zero sewing skills! If you're more talented than I, a cleaner look would be to properly reupholster the cushion. However, I make do and still love the clean updated look using this method!
Refinished Vintage Cane Chair
Ta-da! Here she is in all her beauty! (Also, you can see more details about my home office here!)
It looks so sophisticated now! I love how easy this caned armchair repair project was and it makes me regret not doing it sooner!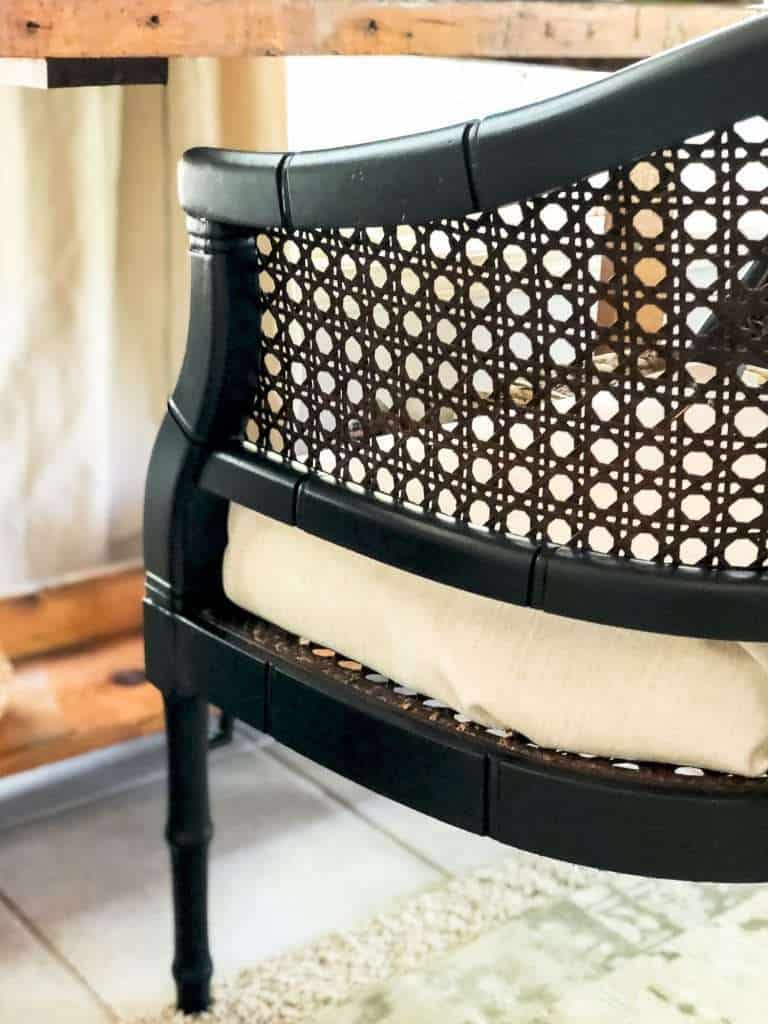 The details on the wood frame stand out so much more now that the frame contrasts the cane. The craftsmanship of this vintage chair is so beautiful!
I decided that I wanted to use it as my new office chair. However, my desk is an antique workbench and stood at 36″ tall. Since that is too tall to use this chair with, I cut 6″ off the legs of the desk and now they work so well together!
The combination of rich wood tones on the desk pairs so nicely with the more modernized armchair.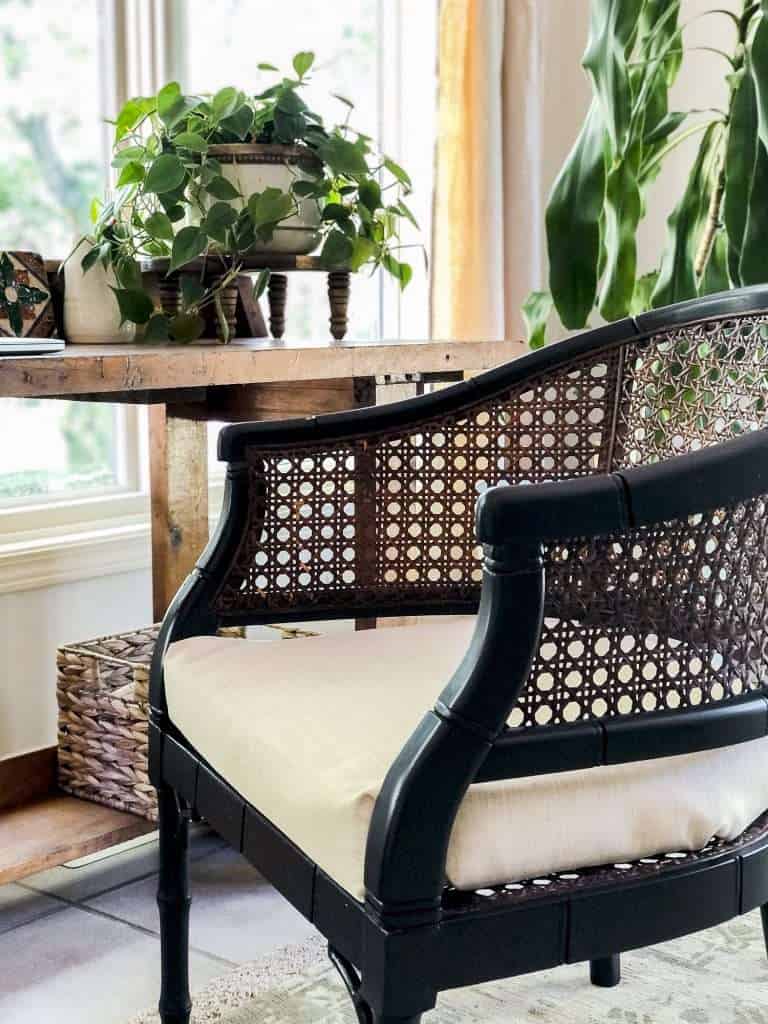 Cane & Rattan Chairs
I love that rattan and cane armchairs are coming back into style now. Rather than going out and buying new, try your hand at refinishing a vintage or antique chair!
It is really very simple as long as the cane is in good shape!
You can find them on Facebook Marketplace, Craigslist, Etsy or at flea markets and rummage sales!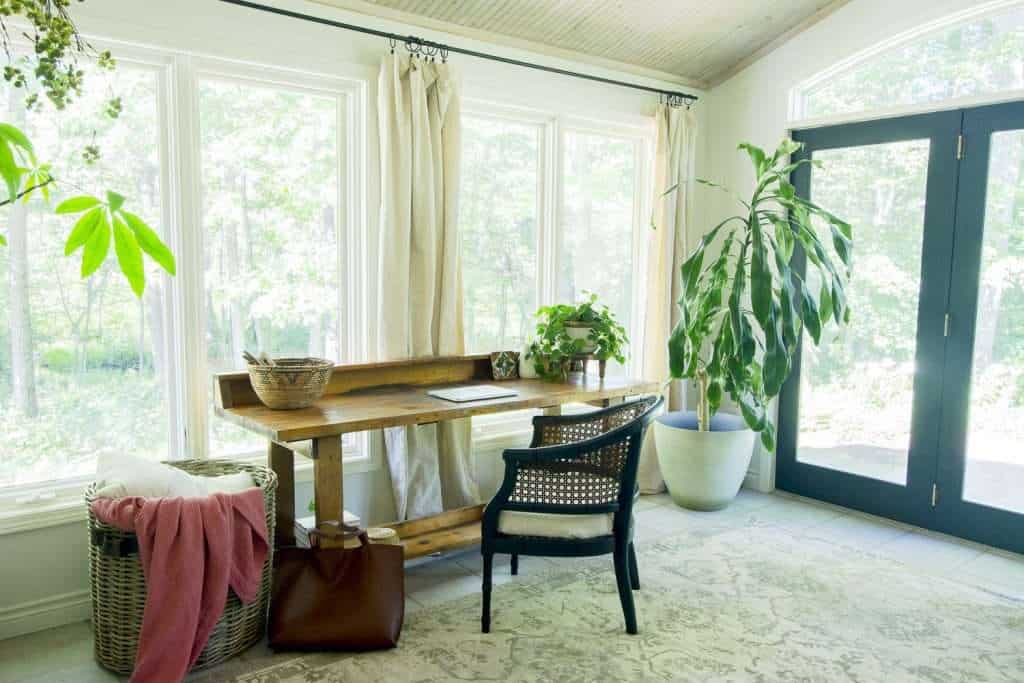 Or, if you love the look but aren't a fan of DIY, here are some new cane armchairs you can purchase right now! Just be prepared, they won't be under $10. 😉
Simply click the affiliate image to shop directly.

---
These are my top three finds for affordable cane chairs you can buy online!
Stay Connected
Thanks so much for stopping by the blog today! I hope this post inspires you to look beyond a run down piece of furniture and gives you the push to breathe new life into it!