Stylish Office Storage Cabinets For Form & Function
Is your work space chaotic, cluttered and otherwise unpleasant? Today I'm sharing beautiful office storage cabinets that offer both form and function to get your office beautifully organized.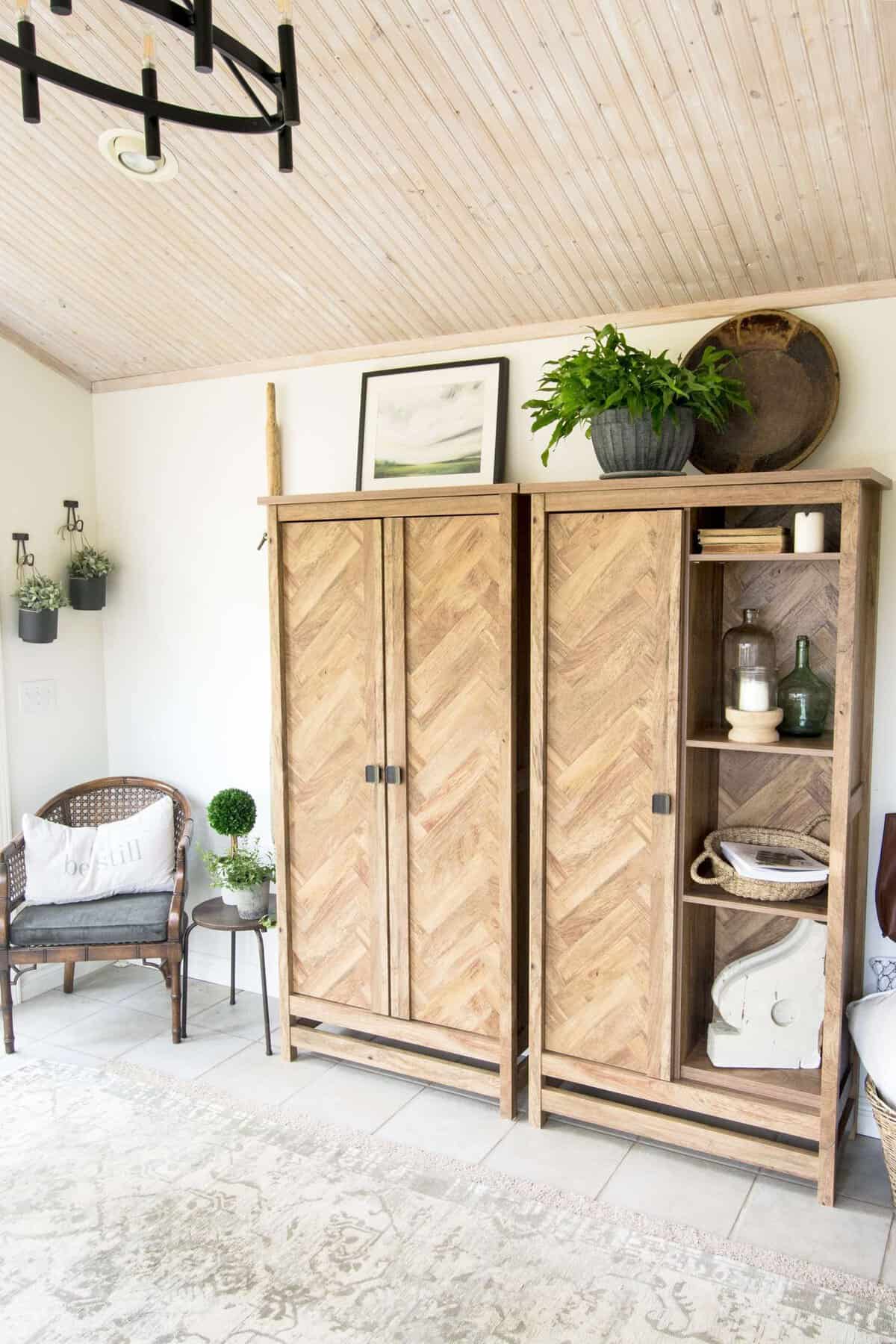 This post may contain affiliate links where I earn a small commission on your purchases.
Sponsored by Joss & Main. All thoughts and opinions are my own.
Stylish Office Storage Cabinets to Get You Organized
I have absolutely loved having a home office. This sunroom, turned home office, is such a blessing with absolutely amazing views to enjoy. However, it was honestly looking like a trash heap.
This blogging business means lots of product, lots of boxes, camera equipment galore, and the occasional yoga mat thrown in for good measure. 😉
So, since my passion is creating beautiful spaces, I decided to put a little effort into make this home office a space I actually want to work in.
The Goals
I set several specific goals for myself. This is always something I recommend as part of the design process. I cover the reasons for this in my book, Designing a Life: From House To Haven, where I teach 10 steps to creating a haven.
Setting short term and long term goals makes decorating and designing so much less stressful!
My goals were very simple:
Provide storage that can be hidden.
Offer open storage that can be decorated for enjoyment.
Be large enough office storage cabinets to fit varying heights and widths.
Be pretty. 😉
Of course it had to be pretty. But, while my goals seemed simple, I actually found it hard to find office storage cabinets that checked all the boxes.
Until I decided to get creative!
The Solution
While shopping on Joss & Main, I found this beautiful wood storage cabinet! I knew I wanted a wood finish to warm up my mostly white office. And I love the herringbone pattern!
So I chose to go with two Ringgold 2 Door Storage Cabinet in the Sindoori Mango finish, and then make a tweak to help it fit my goals!
The Design Plan
I started my office refresh by flip flopping the location of my desk. You can see what this space looked like before with all my summer decor!
My vintage workbench-turned desk was previously on the opposite wall. It has been such a blessing to move it to the wall of windows! I love having a view while I work and wish I would have done it sooner!
I also added some simple drop cloth curtains to up the cozy factor. I simply buy this size drop cloth and cut it in half to create two panels for $20!
Next, I built two of my new office cabinets. The first one I built with my husband and it took us two hours. The second one I built alone and it took me one hour.
Practice makes perfect or a lesson in marriage? I'll let you decide. 😉
As you can see, I built this beautiful cabinet differently than the directions suggest! Since I was having a hard time finding office storage cabinets that offered both hidden storage AND open storage, I decided to do it myself!
I built the cabinet on the left according to directions. The thing I love most about this piece is that the shelves can be placed wherever you want them. This allowed me to store my tall camera equipment as well as smaller items.
Next, I built the cabinet on the right fully until I got to the final door. Rather than install it as directed, I placed the door all the way to the back of the cabinet. Then, I layered the shelves in front of it.
This allowed me to keep the beautiful herringbone pattern as the backdrop but still have open shelving to enjoy!
I just love how the warm wood tones cozy up this space! It provides so much storage and I finally feel like I can breathe in this space again!
More Office Storage Cabinets
So now that you know my methods, I thought I'd round up a few beautiful office cabinets for you to peruse! These beautiful options are all stylish and functional.
And don't forget to look for opportunities to modify them to fit your goals!

---
What do you think of the new look? What space do you need some organization in? Leave me a comment and let's chat!
Join the Community
As always, thank you so much for stopping by the blog! Make sure to join the community of Haven Makers both here on the blog and on Instagram for daily inspiration!