Giving new life to a worn out wood deck completely changes the look of a home! Our back deck was in desperate need of restoration. So, I tackled the project over 6 weeks, slowly chipping away, and I'm excited to share it with you! Learn how to paint a deck with the best deck paint I've found for an amazing transformation.
This post is sponsored by Sherwin Williams. A huge thank you to them for providing the Super Deck, Deck & Dock Coating product!
This post may contain affiliate links where I earn a small commission on your purchases at no additional cost to you.
Deck Refinishing Project
When we moved into our home two and a half years ago, I knew the back deck needed to be refinished. What I didn't realize is how bad it looked!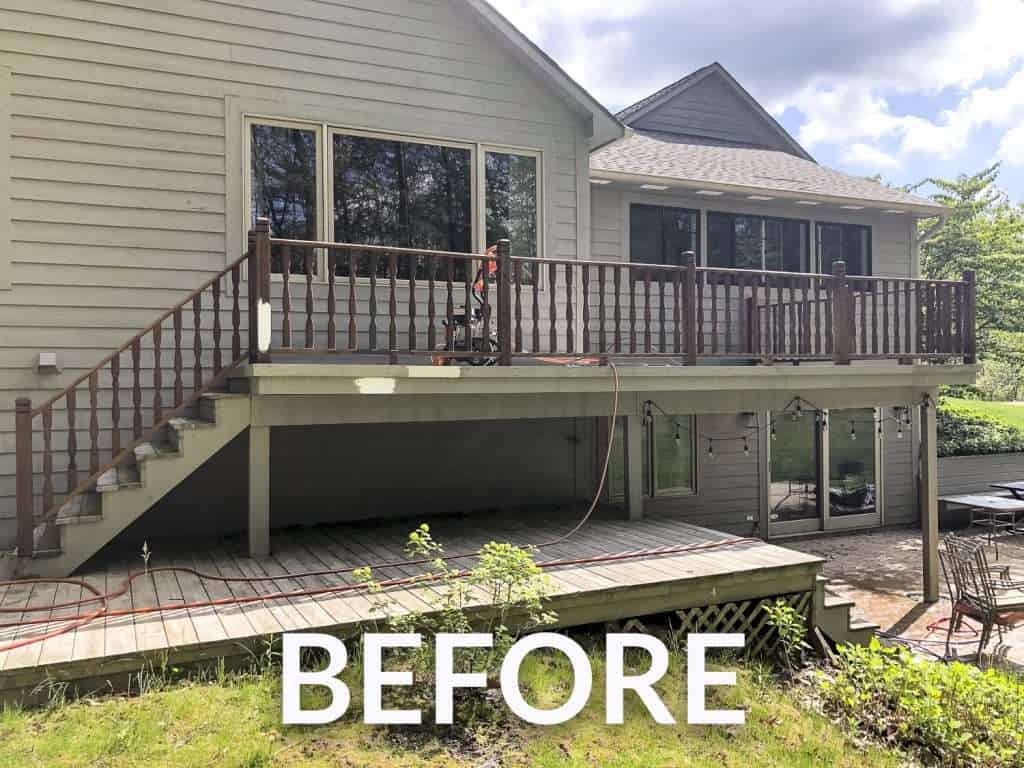 The green deck stain matched the house, but wasn't holding up well to the constantly wet environment of our shaded deck. Plus, the outdated cedar spindles were worn and chipping.
Overall, it blended into the house, but not in a good way. I knew deck paint would bring it back to life since the structure was sound. So I headed to Sherwin Williams to gather some deck paint samples!
I started out with:
Snowbound SW 7004 (White)
Iron Ore SW 7069 (Black/Grey)
Jogging Path SW 7638 (Light Taupe)
Studio Clay SW 9172 (Dark Taupe)
This was a great example of why I always recommend testing samples before purchasing paint. My original design plan included black, white and a dark taupe. I loved two of the samples I purchased, but the Iron Ore pulled more grey than I expected.
I ended up getting another sample of black paint from Sherwin Williams and was much happier with the outcome! I finalized my color scheme with:
Snowbound for the posts
Tricorn Black for the railing and stair risers
Studio Clay for the decking
After discussing my project with the Sherwin Williams store manager, I decided to go with Super Deck Deck & Dock Coating. It is a solid coating rather than a semi-transparent stain that will hold up better to our damp and wooded environment.
It was perfect for our rough wood surface and had excellent coverage!
How to Paint a Deck
Let's get to the tutorial! The first and most important step is preparing your wood deck for paint.
Wood Preparation for a Painted Deck
Thankfully, I was able to power wash our deck and it literally took the existing stain right off. If you have painted wood, you may also need to sand the surface. This will provide a good foundation for the deck coating to adhere to.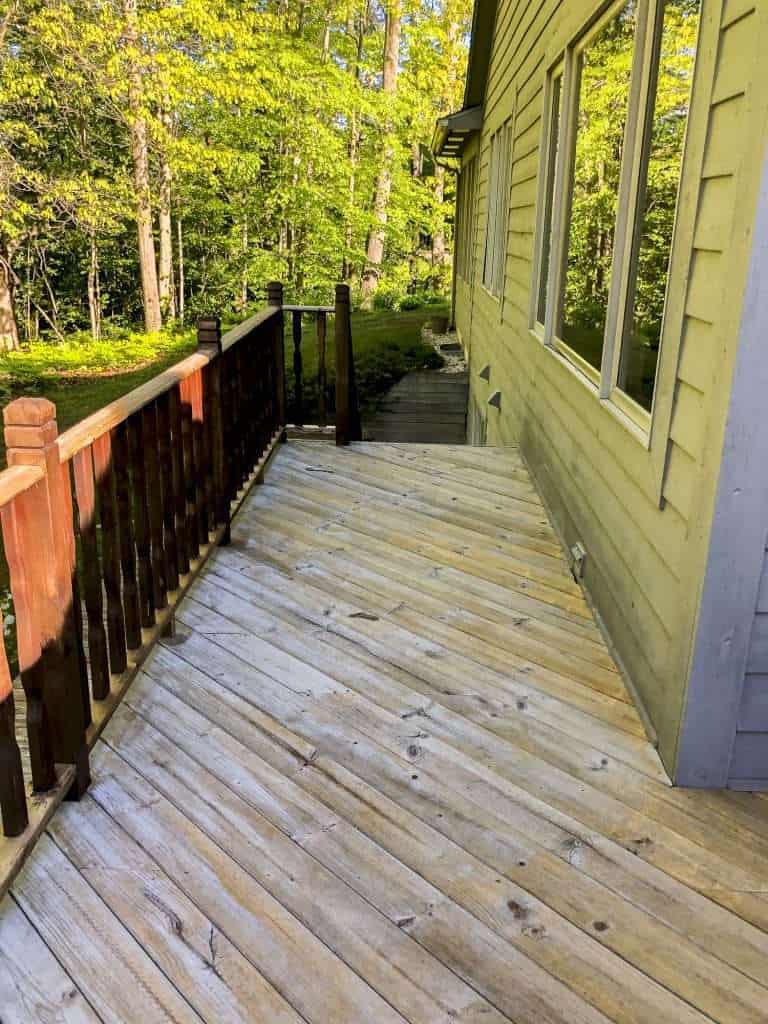 Once you've removed the previous paint/stain, let your wood dry thoroughly. The Super Deck does allow for application to slightly damp wood, however, I wanted to be sure that I wouldn't run into any issues long term.
I let my deck dry for 48 hours.
Applying Deck Coating
Once the surface was clean and dry, I began applying the best deck paint I've found!
I used a combination of brushes and rollers. We have a large deck with tons of areas that needed trimming. So I started with a brush to trim out the deck, and then followed with a roller.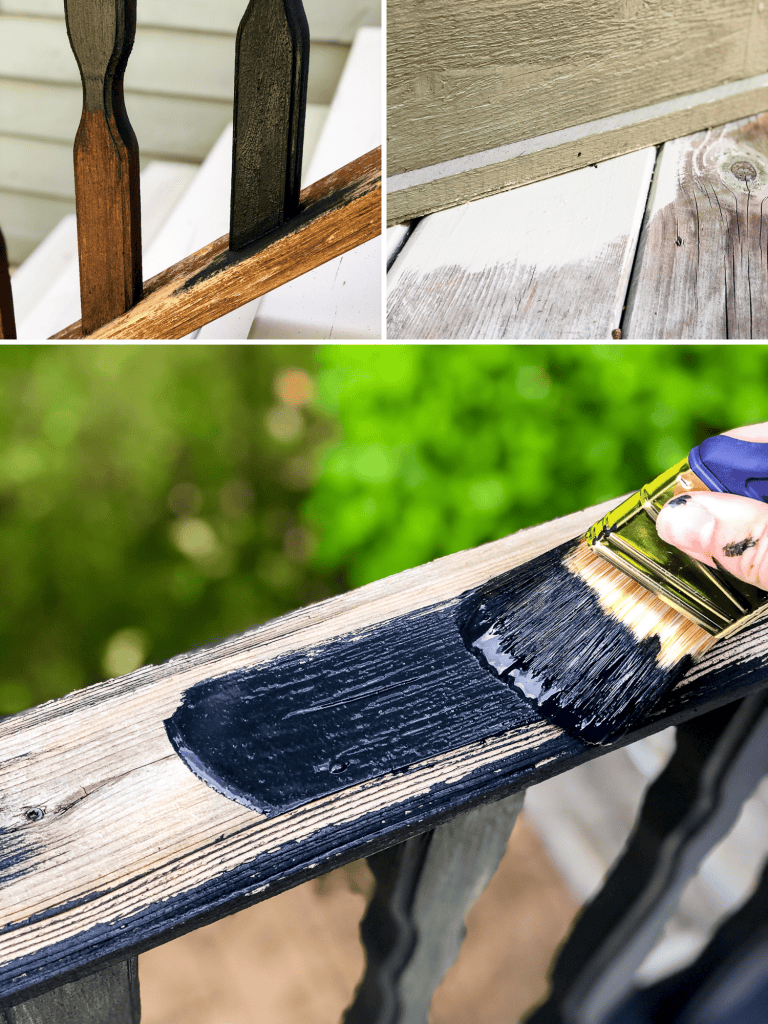 The most difficult part of the process was all of the trimming. With such an expansive set of rails and three different colors, it took a long time to get that first coat on!
I found it was easiest to use a brush to get in the crevices of the decking, and then roll out the topcoat after.
Thankfully, Aaron helped me for a bit and my mom did as well! Overall, it took me 6 weeks to complete the project. However, that was with weather delays and large breaks. I tended to work on it for a couple of ours at a time when I was able. It was definitely a marathon project!
Painting Railings & Spindles
The biggest transformation of this project was the painted railings. The railing is not my style, however, using Tricorn Black for the rails and Snowbound for the posts transformed it drastically!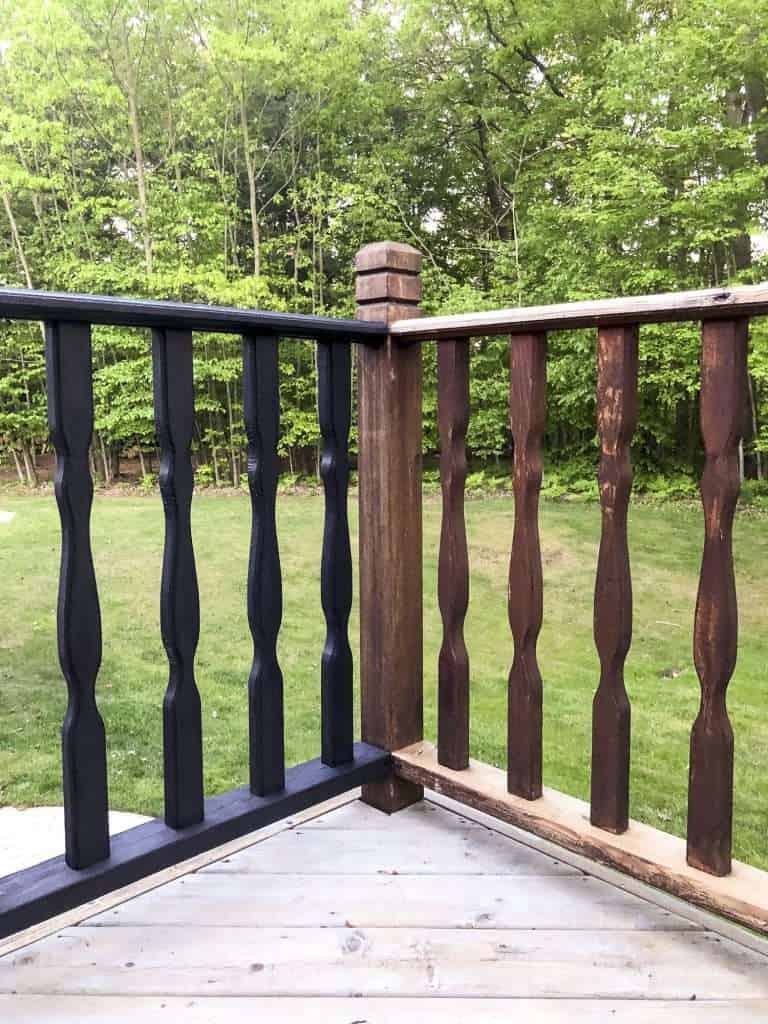 The black modernized it so quickly. It never ceases to amaze me what paint can do!
Originally, I had planned to paint the top rail white. After the first set was completed, I quickly decided to do it all black. It was too time consuming to try to alternate colors with the tedious trim work. However, keeping the posts white made a huge difference! I love the contrast.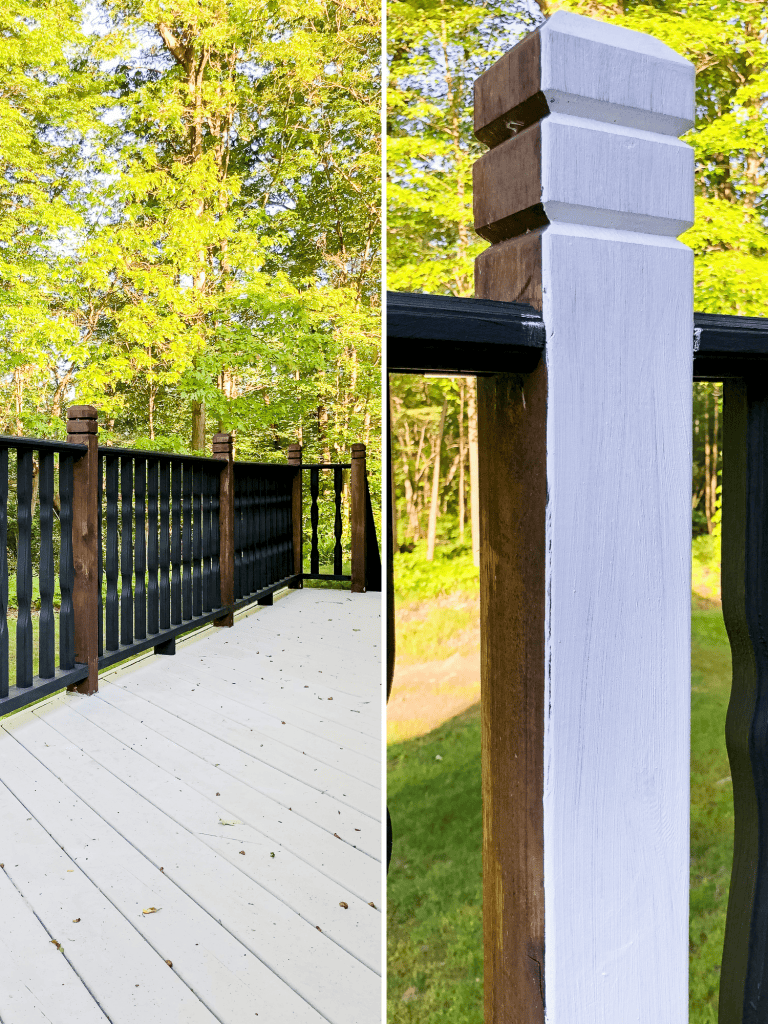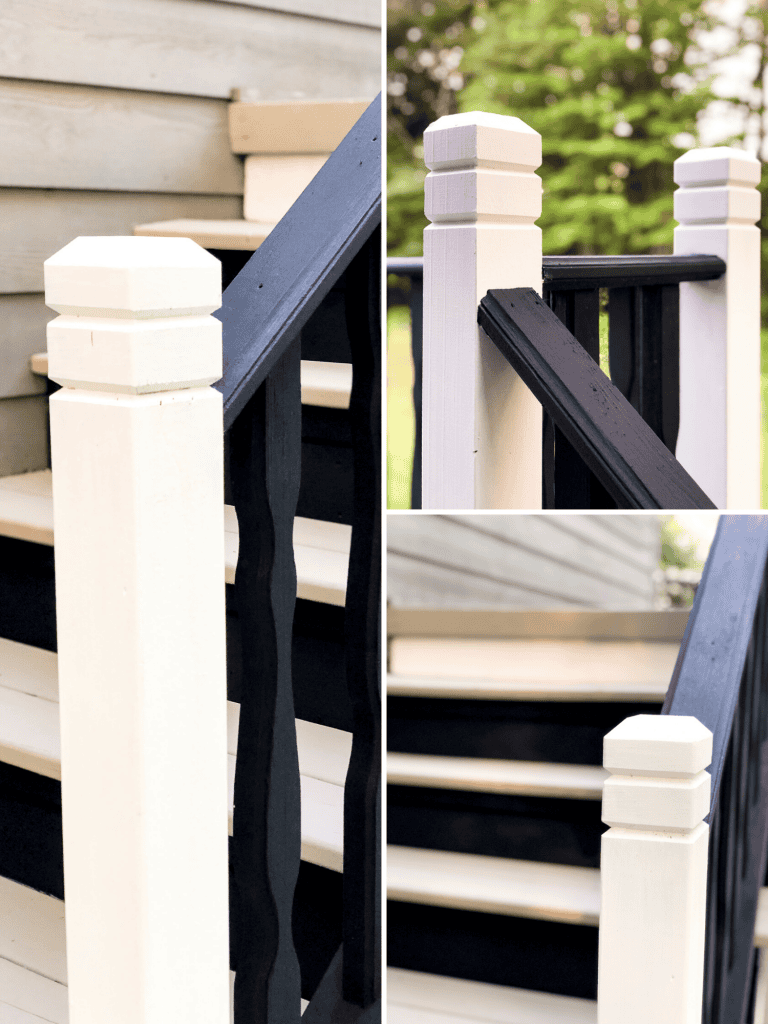 It really made the back deck feel more upscale to have the contrasting colors. Once I put that first coat of Snowbound on the posts it was like a totally different deck!
Everything required two coats, per the directions, and I must say that it really made a big difference to add that second coat! The saturation of the colors really shows and I'm so happy with my color choices.
A Complete Transformation with the Best Deck Paint
I'm so pleased with how our painted deck turned out! I searched for quite some time for the best wood deck paint and I was very happy working with Sherwin Williams' Super Deck.
I love that it is tintable to your color choice rather than being limited to pre-mixed options.
Can you even believe it's the same wood deck?!
Honestly, after painting the deck, it made me recognize how worn our house looks too! Next project, paint the house.
Before and afters are my favorite! It is amazing how much paint can transform a home.
Now our deck is so much more inviting. Honestly, we rarely used the back yard for entertaining because it looked so dilapidated. That will no longer be a problem!
Our back patio now feels complete since the deck matches it's style more. You can see more of our outdoor spaces in this post about how I designed our yard for relaxation and entertaining!
Painted Deck Ready for Entertaining
The next step of this project is to design the completed deck for entertaining!
We've lived here for three summers and never really used the deck before! I would love to get some comfortable patio sofas to create a little oasis on the deck.
The back deck offers some of the best views of our woods and creek so we'd love to entertain on it more often.
Shop Outdoor Decor

---
Looking for More Painting Tips?
Stay Connected
Thanks so much for stopping by the blog today! And a huge thank you to Sherwin Williams for providing this amazing deck paint. I'll be sure to update the post in the coming months to share how it's holding up to our harsh Michigan weather!
You can see the entire video of this deck transformation by following me on Instagram as well! I have an IGTV video sharing the up close and personal details of this project.
I'd love for you to join my blogging community for daily newsletters, freebies, DIY guides and exclusive discounts! And, join me daily on Instagram as we build a community of haven makers!