Easy Raised Garden Bed | DIY Without Tools
Raised bed ideas are so accessible these days, but I was excited when I stumbled upon this easy raised garden bed method that requires almost no tools! This is perfect for those who have no building experience, but still want to make their own DIY raised garden bed.
Keep reading for the tutorial!
This post may contain affiliate links where I earn a small commission on your purchases.
Raised Bed Ideas
All it takes is a quick google or pinterest search to reveal hundreds of raised garden bed ideas. There are so many raised bed kits, including some that I've personally used, that are great options!
However, after adding four raised galvanized beds to our garden, I wanted to bring some warmth and scale to the remaining space.
Cedar raised beds have been high on my radar for over a year. They are one of the best raised garden beds you can DIY for aesthetics. However, I wanted to get a bit more life out of my wood raised beds, so I chose to go another route!
Here's how I made a 3 foot x 10 foot easy raised garden bed in under an hour, all by myself!
Easy Raised Garden Bed
The number one reason I chose this method for my DIY garden bed is the raised bed corners.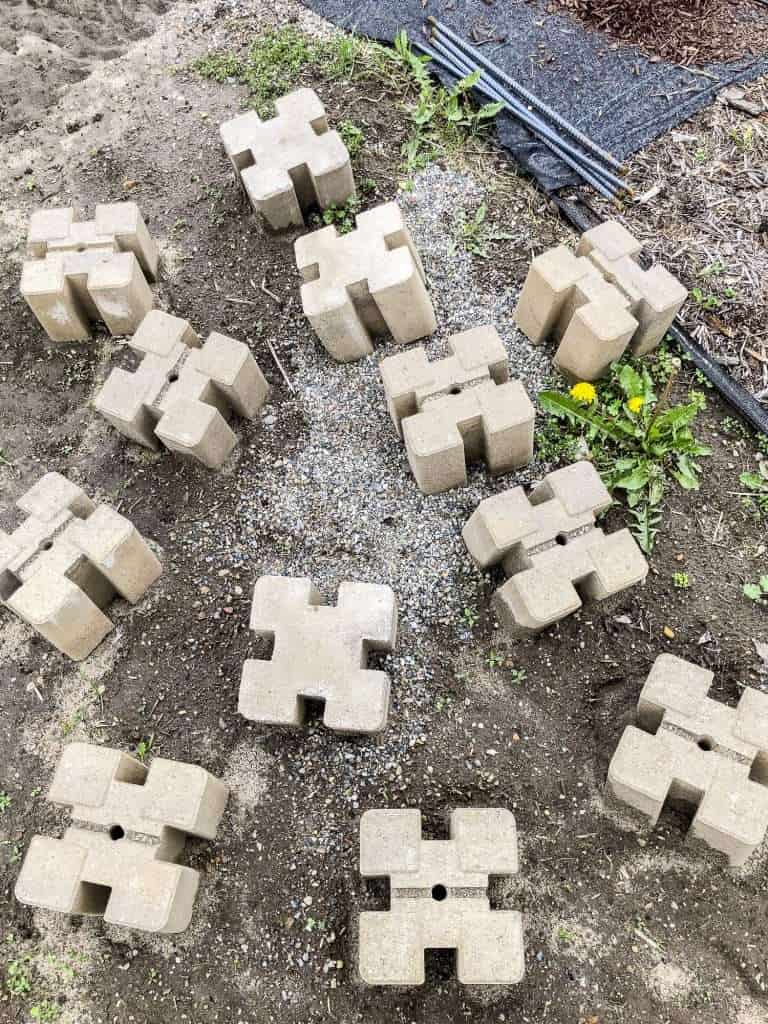 While I've built many things, wood joinery is not one of my strong DIY skills. So the thought of trying to stabilize and join a very large raised garden bed on my own didn't sound too appealing. Then, I came across these corner blocks and the whole game changed!
Raised Garden Bed Materials
For this version of a DIY raised garden bed, you will need a few materials. Thankfully, very few tools are needed and absolutely no screws!
Shop Materials

---
What Type of Wood Do I Use?
I chose to use #2 Prime Cedar Tone Ground Contact Pressure-Treated Lumber rather than Cedar. I did this for two reasons:
I wanted extra longevity from the wood.
I ONLY plan to plant flowers in this bed.
If I planned to plant vegetables or fruit in this raised bed, I would not have used treated lumbar to ensure it didn't leach into my food.
Step 1 | Level the Ground
The first step to a successful raised garden bed, no matter the method you use to build it, is to level the ground. This gives your bed a solid surface to rest and will help avoid heaving and splitting down the road.
I also chose to place cardboard down as a weed barrier. This is an optional step, however I would highly recommend this if you plan to plant flowers or vegetables that aren't deep-rooting.
Step 2 | Layout and Measure
The next step is to create your layout and measure the size of the raised bed that you desire.
This method of an easy raised garden bed is extremely versatile. You can choose to buy your materials at length and have zero cutting. Or, you can also have a home improvement store cut your boards for you.
I chose to build a 3×10 foot bed that is 18 inches tall. For that, I needed:
9- 2×6 boards at 10 foot length
4- 2 foot pieces of rebar
12- corner blocks
Adjust your materials based on how large and tall you want your raised bed to be.
Step 3 | Place Your Raised Bed Corners
Now that you have your layout, shape, and size determined, it's time to place your first two corner pieces.
The key to this type of raised bed is to ensure that your corner pieces are square and level. I slid my rebar into place in the beginning, but wait to drive it into the ground until you're sure that your corners are square.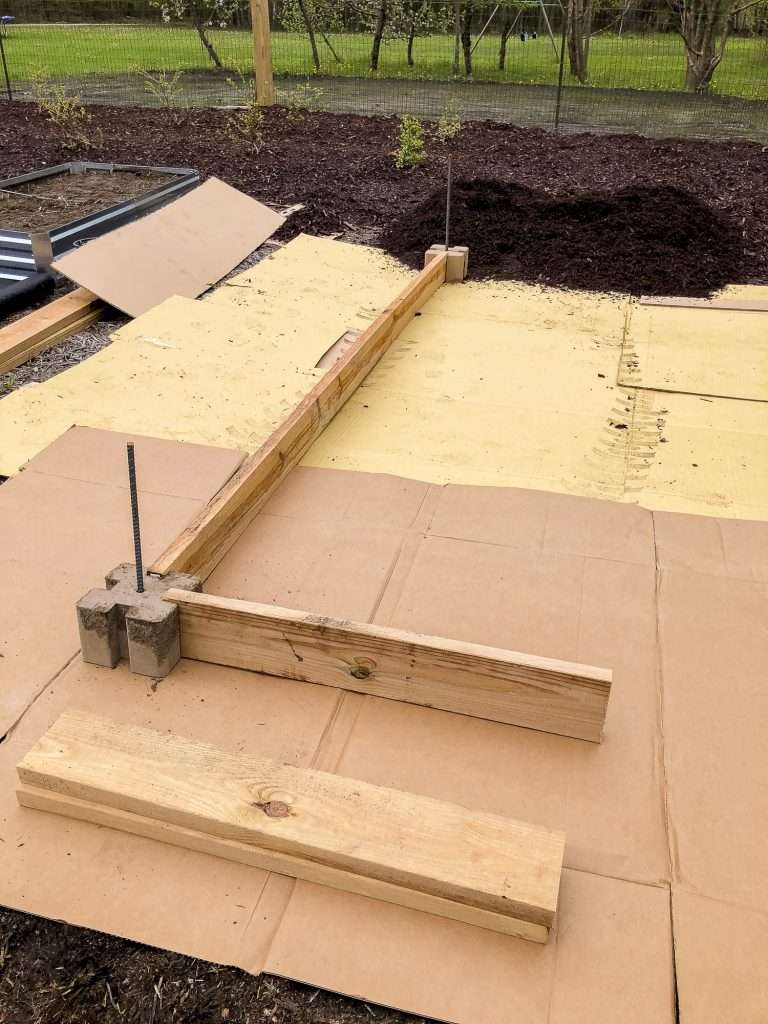 Create an L with your first two boards and square them up before proceeding.
Step 4 | Finish your foundation
Once you've squared the first two corner pieces, continue adding your 2×6 boards until you've made the full box for the foundation of your raised bed.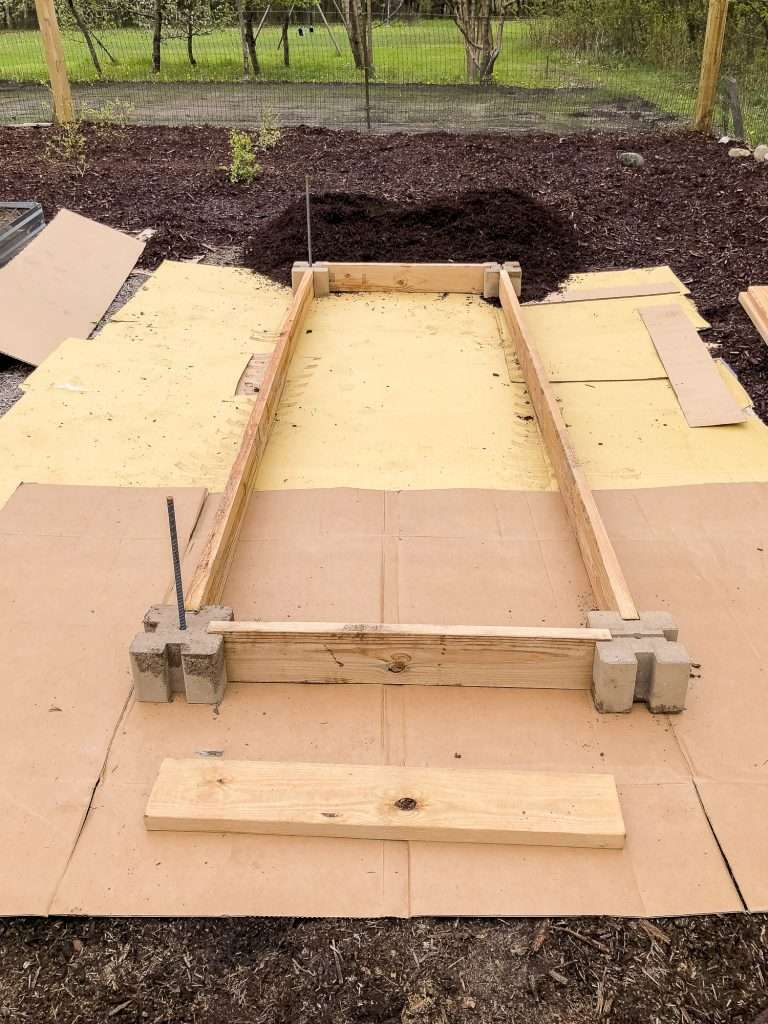 As you can see, the 2×6 boards simply slide into the slots in the blocks. Now that all four corners are in place, square up your box one more time. This will give you the foundation you need to add the next layers.
If you're finding it difficult to slide your boards into the slots, then chances are your box isn't square on the corners.
Step 5 | Add Layers
The next step is to add your layers. I chose to build my raised bed 18″ tall, so I have three layers.
Have you ever played with Lincoln Logs? This reminds me of a real life version of that childhood toy. Simply stack your corner blocks on top and then add your 2×6 boards. Go around the box until all four sides have been added.
Then, do it again! (If you are doing an 18″ tall box, of course.)
Step 6 | Drive In Rebar
The final step, once you've stacked all your layers, is to drive the rebar into the ground.
This secures the stack of blocks and gives them full stability.
You can also choose to do this before you add your third layer. Simply ensure that you leave at least 6 inches of the rebar sticking out so that the third layer of blocks has something to hold onto.
Easiest and Tool Free Raised Garden Bed
And it's complete! Simply fill with dirt and plant!
The beauty of this method is that no building experience is required. I completed this easy raised garden bed in under an hour, all by myself.
While I love our galvanized raised beds as well, the wood bed was much easier and faster to build. And it's twice their length!
Garden Update
Adding this wood raised bed was the final step to updating our garden. If you missed it, we did a total revamp of the 5,000 square foot garden this spring. You can see how we laid this flagstone path in this tutorial.
We mulched the entire raised bed area and left about 1,500 square feet for planting on the opposite side.
I decided to plant cut flowers in my new raised bed and the seedlings are already sprouting up!
DIY Raised Bed Video Tutorial
I hope this DIY raised garden bed tutorial has been helpful to you! If you're a visual learner, make sure to follow along on Instagram for daily DIYs like this one. You can check out my IGTV tutorial for this project as well!
Stay Connected
Thanks so much for stopping by the blog today!