11 Fresh Modern Farmhouse Entryway Ideas in 2023
Modern farmhouse is a classic and beautiful style. Because of that, your entryway decor doesn't have to be complicated! These simple decorating tips will keep your home up to date without changing your style. Here are 11 fresh ideas for your modern farmhouse entryway to keep your home with the times.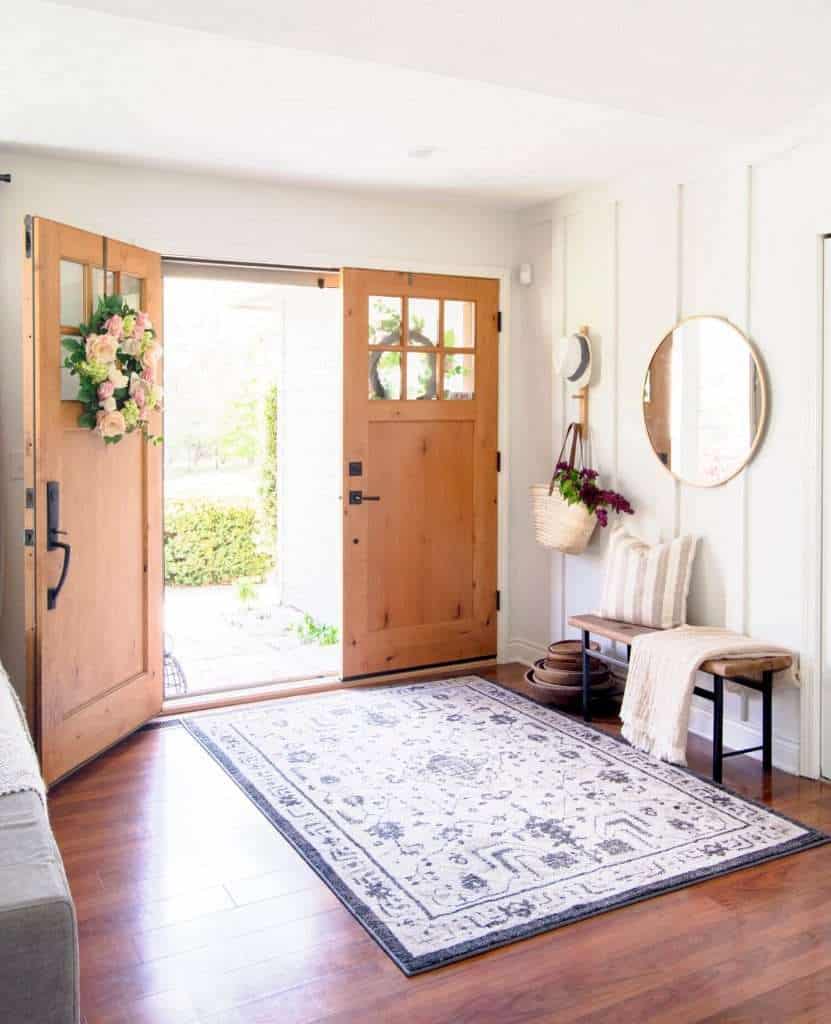 This post may contain affiliate links where I earn a small commission on your purchases at no additional cost to you.
Is modern farmhouse going out of style?
Let's just begin by asking the question that everyone is asking in 2021, "Is modern farmhouse design going out of style?"
Depends on who you ask. 😉
I am a huge proponent of not keeping up with the trends, just to keep up with the trends. Modern farmhouse is a classic style that has very classic design elements. These design elements can be tweaked ever-so-slightly to accommodate other design styles.
These small tweaks allow you, as a home owner, to keep the overarching style of your entryway, while staying current with accessories.
So if you are feeling like your space needs an update, start small.
Make a few tweaks with accessories or paint colors rather than revamping the entire foyer.
With that said, let's talk about some ways to do this very quickly and on a budget!
What is modern farmhouse decorating style?
Before we dive into the specifics, let's quickly define what elements make up this design style.
The modern farmhouse design style is less about the function of a room and more about the feel of it. Comfort plays a huge role in this style as pillows, blankets and plush furnishings are main staples.
Neutral colors paired with black and wood tones is a typical modern farmhouse color palette. Wood, white and black is the signature palette for modern farmhouse living rooms and kitchens.
Additionally, vintage pieces play a big role in modern farmhouse style. This can be vintage decor, vintage rugs or architectural pieces. And, while most furniture pieces aren't ornate, turned table legs are a huge element in this design style.
You can learn more about this style, plus how it works with mid century modern, in this article.
Want to learn more about designing your haven?
If you're new to home decor and design, I'd love to help you get your footing with my free e-course! In my 3 module course, I teach you how to change your mindset towards design to help you do more than just decorate.
Sign up for my free course and learn how to create a haven!
Modern Farmhouse Entryway Ideas
There are several main elements of designing an entryway.
Intentional Design Elements to set the tone
Furnishings for Function
Decor for Aesthetics
Let's start with the basics for a modern farmhouse foyer. These are the design elements that set the stage for the way your entryway feels and functions even before you add furniture or decor.
Color
Wall treatments
Flow and layout (Create a zone)
Every entryway will operate differently based on the existing floor plan and the needs of each family.
Some entryways, like mine, are used only for guests because there is a back entrance used daily by your family.
Other families only have one entrance, and so it needs to function differently than it would for a guest entrance only.
Your first step is to determine what feel and function your entryway must serve for your family. Let's start with color.
Choosing Color in your Entryway
Does your entryway have natural light?
Natural light is a huge factor in determining what color to use in any room. If you have no natural light, a lighter color will help the space feel fresh and open.
If you have lots of natural light, darker colors can help a space feel cozy and welcoming.
Modern farmhouse style tends to lean towards lighter colors; however, that doesn't mean you are limited to white!
White can be a difficult color if your entryway serves at the main entrance for your family. It will show more dirt and wall smudges than darker colors.
A few great alternatives are light taupes, greys and soft colors with muted deep tones.
Add a Wall Treatment
You may have noticed that shiplap has been a large trend ever since Joanna Gaines came on the scene. But is shiplap going out of style?
For many high-end designers, shiplap is a thing of the past. However, I still love it! And if you do too, then don't worry about the trends.
Adding a wall treatment is a great way to create a space with a customized look on a smaller budget. Plus, it doesn't take up any real estate in your entryway if you are already dealing with a small space.
I've done many different types of wall treatments throughout my home. I have beginner friendly tutorials on all of them, which I will link for you below.
In my modern farmhouse entryway, I installed a fresh floor to ceiling board and batten. Wall treatments are classic and have been a main design staple for hundreds of years. You can never go wrong with adding a wall treatment!
Check out these various types of wall treatments below.
Flow and Layout
The next element to consider is the flow and layout of your entryway.
Some entryways are more like a narrow hallway with walls on both sides.
Others have pony walls, some have one wall, and still others are completely open.
My entryway is completely open to our main livings areas. From our entry, we walk directly into the living room and kitchen.
For that reason, I needed to create an entryway zone since there are no natural barriers.
To do this, I used a rug to define the entry. Next, I sectioned off the living room from the foyer with a modern farmhouse foyer table. This table serves both areas by being the dividing line while functioning as its intended.
In your entryway, you will need to determine how you want it to function for your family based on the layout and flow of your space. This is a good segue to talk about entryway must haves in small spaces.
What do you put in a small entryway?
Everyone will have different needs for an entryway based on whether or not it is your main entrance.
However, in general, most families' "must haves" are:
Storage (Closets are great, but in their absence hooks, shoe cabinets and shelves are game changers.)
Bench for putting on shoes or getting dressed in snow gear…etc.
If possible, a drop zone for small items like keys, sunglasses and purses.
The end. 😉
It's amazing what is actually a necessity when we really think about it. So if you have a small entryway, focus on what is needed for functionality rather than aesthetics.
Use wall treatments, color and small wall decor to make the space beautiful without taking up any valuable floor space.
How do you furnish an entryway?
Once you've determined what you need in your entryway, then you can decide how to furnish it.
Start by measuring your space in relation to any obstacles.
In my entryway, our double doors are a major obstacle. While I love them and would never wish for anything different, their large swing in on both sides drastically limits the furnishes we can fit in this space.
Since the right side is the main non-static door we use, and also opens into the only wall we have in our entryway, I needed to find a very small modern farmhouse entryway bench to fit the space.
Finding small entryway benches is actually quite difficult! My father in law actually made this one for me to my specified dimensions, but I did round up similar styles in another article. If you also have this issue, you could make your own bench as well using my tutorial. You can view both of those resources below.
Entryway Rug
Once you've measured and decided what functional furniture will fit, the next step is to add a rug.
Rugs serve multiple purposes in an entryway. They can create a cohesive zone, like mine does, in an open concept home. They serve functional purposes for muddy or wet shoes. And, they are a beautiful design element.
For high traffic entryways, I recommend washable rugs. My favorite washable rugs (that aren't lacking in style) can be found at Ruggable. I have Ruggable in my kitchen and dining room as well, where I no longer worry about food, spills, and stains!
I have rounded up some of my other favorite family-friendly rug sites for you in this post as well.
Shop My Entryway
You can shop my current entryway rug here.
My other decor sources, and some favorite alternatives, can be found via the affiliate images below.

---
Modern farmhouse entryway decor
Now that you've figured out the overall design aesthetic you need to serve your family, and decided on the layout and furnishings, it's time to decorate!
Decorating is icing on the cake. It isn't necessary, but it just makes it all better. There are SO many options for modern farmhouse decor on the market, but I tend to focus on a few main staples.
Simple wall decor
Neutral pillows
Wood accents
Baskets (also functional)
Plants
Textiles
Simple accessories
Modern farmhouse entry table if space allows
How do you decorate a farmhouse entryway?
First, get your furniture in place. If you have room for both, choose an entryway bench and foyer table that fit your space. If you really love to accessorize, then make sure the table has multiple levels to add decor to.
Our entryway table is still my favorite many years after purchasing it.
I've styled it so many ways over the years. I love that it has hidden drawers for storage, plus a lower shelf to accessorize.
If you have room for a table, your modern farmhouse entry table decor is going to be where most of your decor is housed. It is a great space for plants, simple accessories, and textile storage.
I even like to use it to stack my pillow covers and seasonal textiles. I simply fold them and pile them up when not in use so they serve as a pretty focal point rather than being wasted in a closet.
Once you get your larger furnishings in place, add a rug and then focus on the walls.
Mirrors, wreaths and large scale art are all perfect ways to adorn your entryway walls.
The last step is accessories.
Neutral pillows (most classic for modern farmhouse style), wood accents, hooks and baskets are all excellent additions to a modern farmhouse entryway.
I love to use a simple vintage peg rail with my market bag I bought in Portugal for easy access as we head off to the flea market. If you love the look, you can easily make your own affordable peg rail with this tutorial.
11 Fresh Modern Farmhouse Entryway Ideas to Keep Current
I hope that this article has been helpful to you as you design and style your entryway decor! It is so easy to swap out a few accessories to keep your modern farmhouse entryway up to date with current styles without having to completely revamp your space.
Here are the 11 main elements we've discussed to consider for your entryway design:
Wall treatments
Color
Mirror or simple wall decor
Entryway bench
Neutral pillows
Wood accents
Baskets
Entryway table
Plants
Simple Accessories
Textiles (blankets, pillow covers, rugs)
Styling your home doesn't have to be complicated when you break it down into attainable tasks.
Thanks so much for stopping by the blog today! Make sure to subscribe to the blog for more design help, DIY tutorials and recipes!
And follow along with me on YouTube and Instagram where we dive deeper into these topics daily.