Modern Farmhouse Bedroom Accent Wall | Master Bedroom Makeover
Can we just take a moment and say, "Ahhhhh" together? Ahhhhh. That is exactly how I feel when I walk into my new master bedroom. It's been a long time coming for me to enjoy an actual master bedroom oasis. But that is exactly what I want to share with you today! Keep on reading for my modern farmhouse bedroom accent wall reveal. It's a master bedroom makeover!
This post may contain affiliate links. The Magnolia Home by Joanna Gaines paint featured in this post was provided by KILZ; all opinions and reviews are my own.
Master Bedroom | Before
Everyone loves a good before and after. Here is our new master bedroom as it was when we moved in.
This space has vaulted ceilings, large windows overlooking a wooded creek, and plenty of bonus space. However, all of that was detracted from by a bland wall color and an awkwardly laid out room.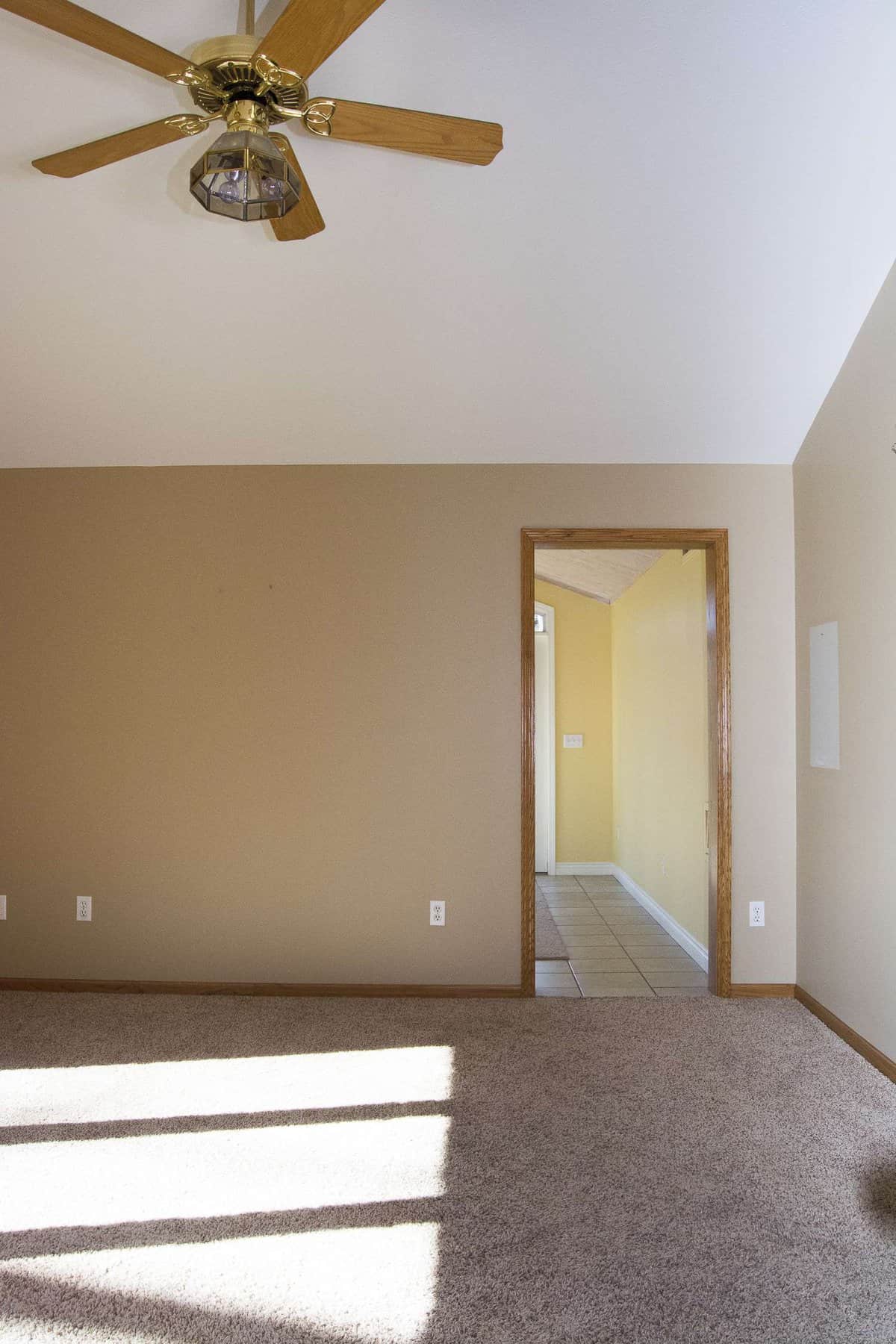 There are many odd angles to this room and three doorways to work around. Since that made it difficult to freshen the space with decor, I decided to modernize this room with a modern farmhouse bedroom accent wall and a fresh coat of paint!
In this space I've used Magnolia Home paint which is such an amazing product to work with for us DIYers.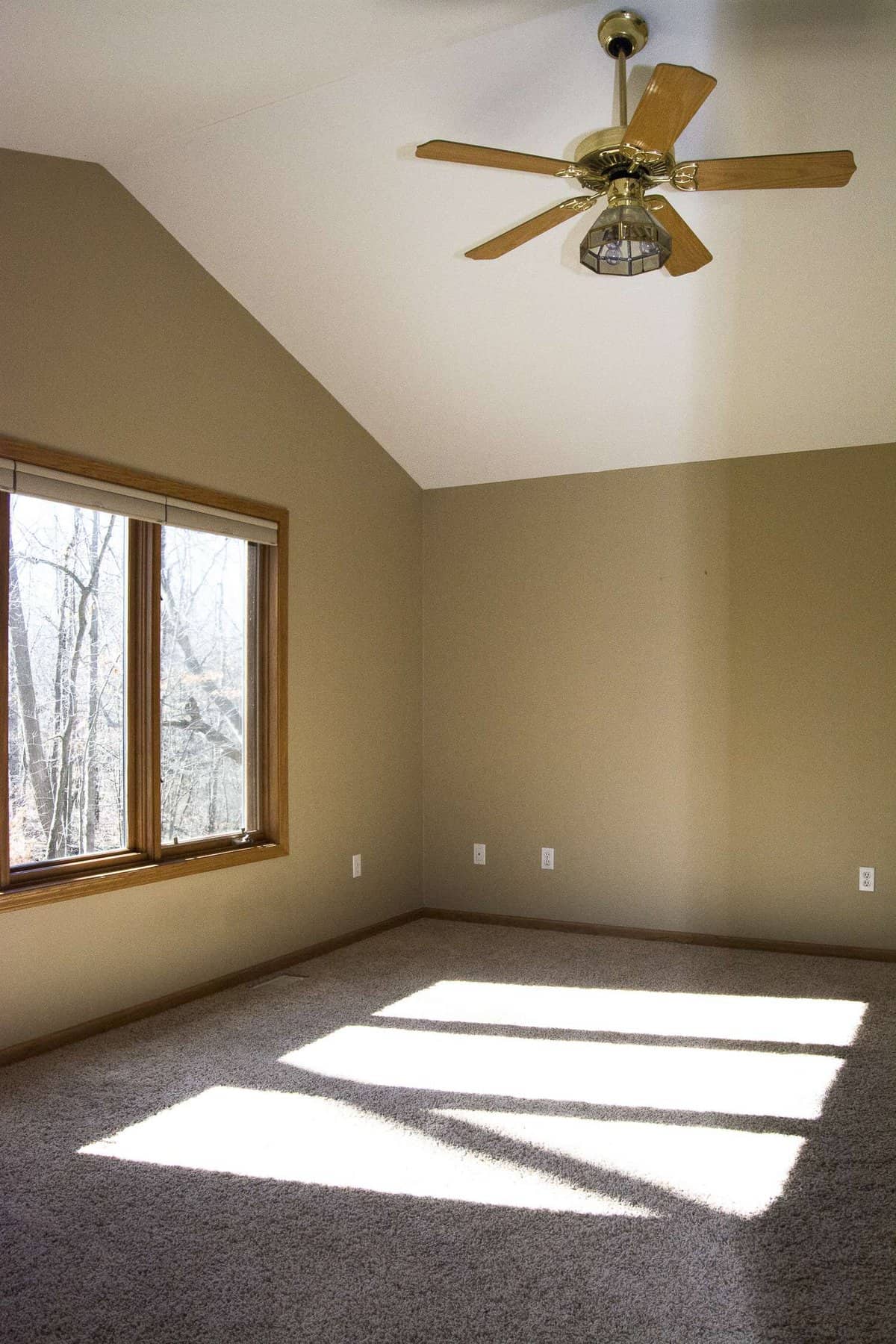 DIY is a huge part of my blog and how we've been able to do so much to our home in such a small amount of time. If you can dream it, you can DIY it! Make sure to join my blogging community for members-only freebies like my must have DIY tool list download!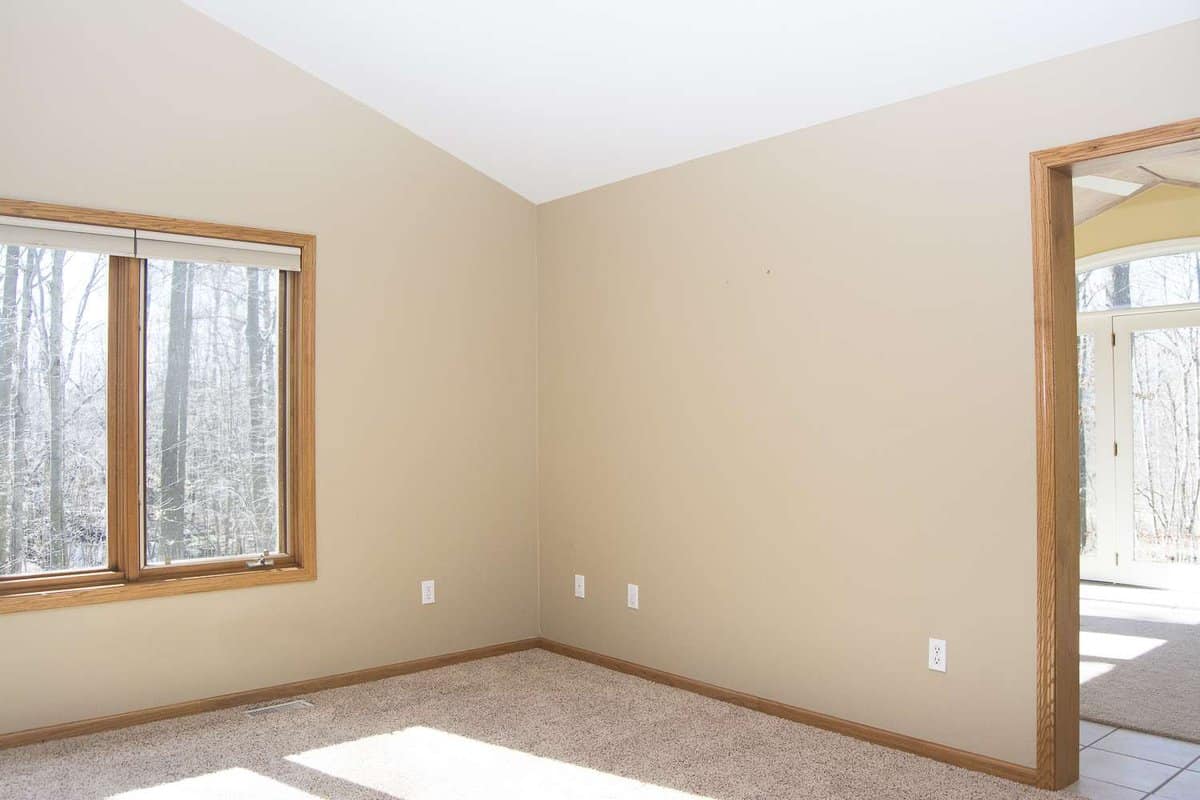 Modern Farmhouse Bedroom Accent Wall | The Process
My main goal in this space was to create a focal point behind the bed with this modern farmhouse bedroom accent wall. Using thin slats of wood to create a board and batten look is an extremely easy way to modernize a room within minutes.
The first step was to choose my accent wall paint color.
Typically, I would lean towards a neutral gray, as you can see with two of my samples. However, this time around I wanted to go bold!
I tested out a beautiful forest green color by Magnolia Home called Regal Leaf.
It changes beautifully with the light and goes from a deep forest green to a more modern green in the afternoon.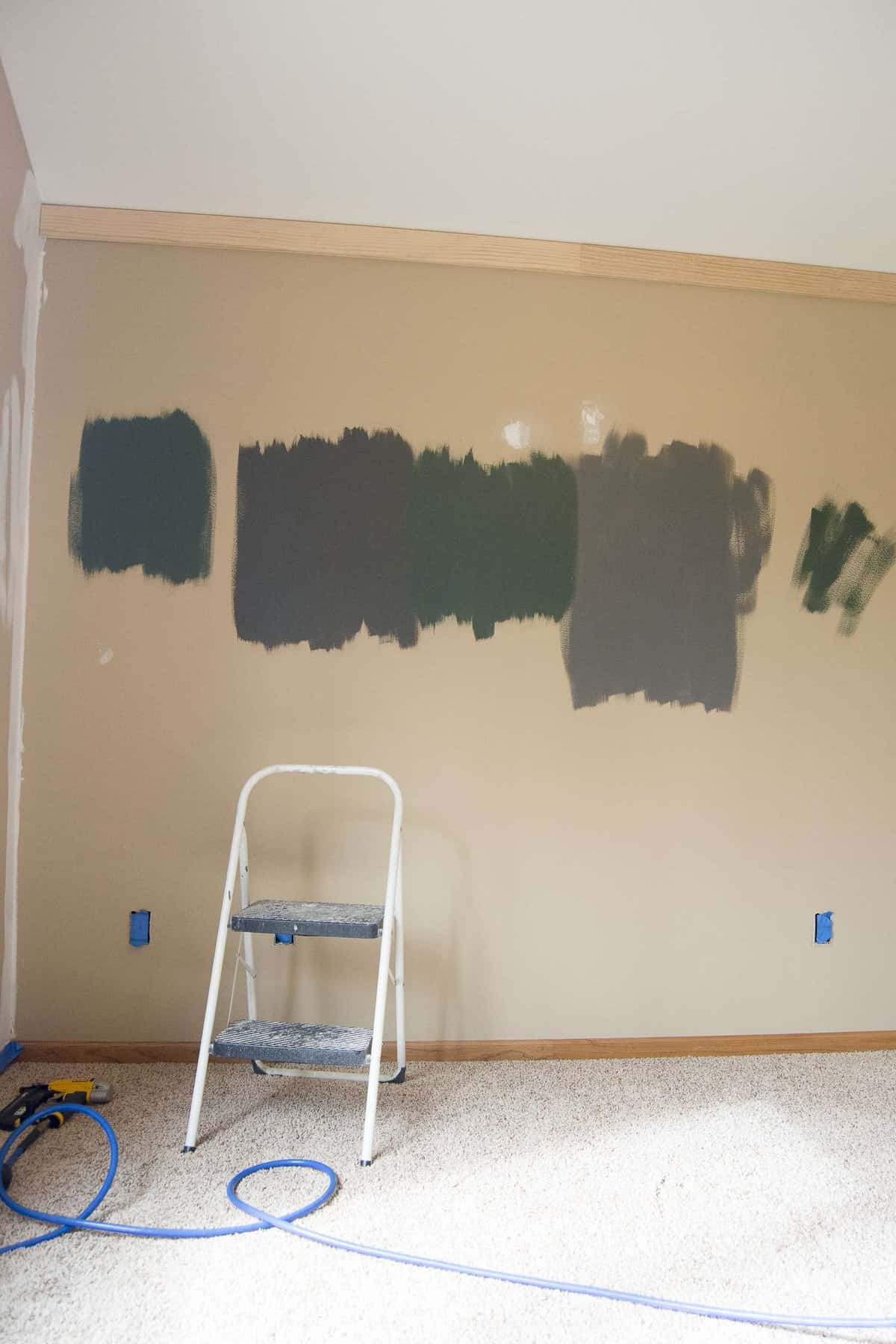 Now for the modern farmhouse accent wall!
Rather than providing a full tutorial on my process, I will send you to this tutorial where I installed board and batten in my entryway.
The main differences in my process verses this project are:
I used smaller boards as shown below
The spacing is different based on the wall size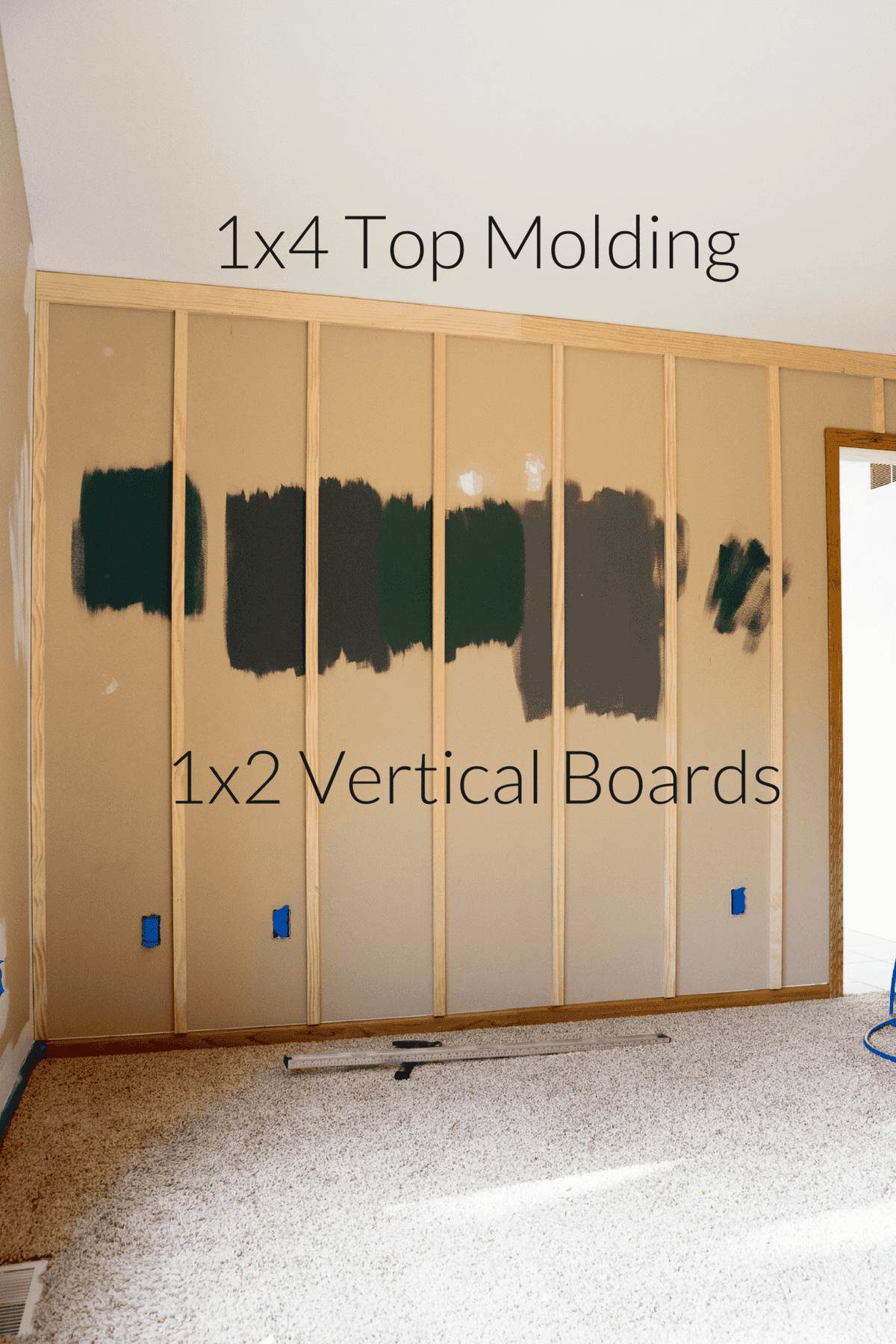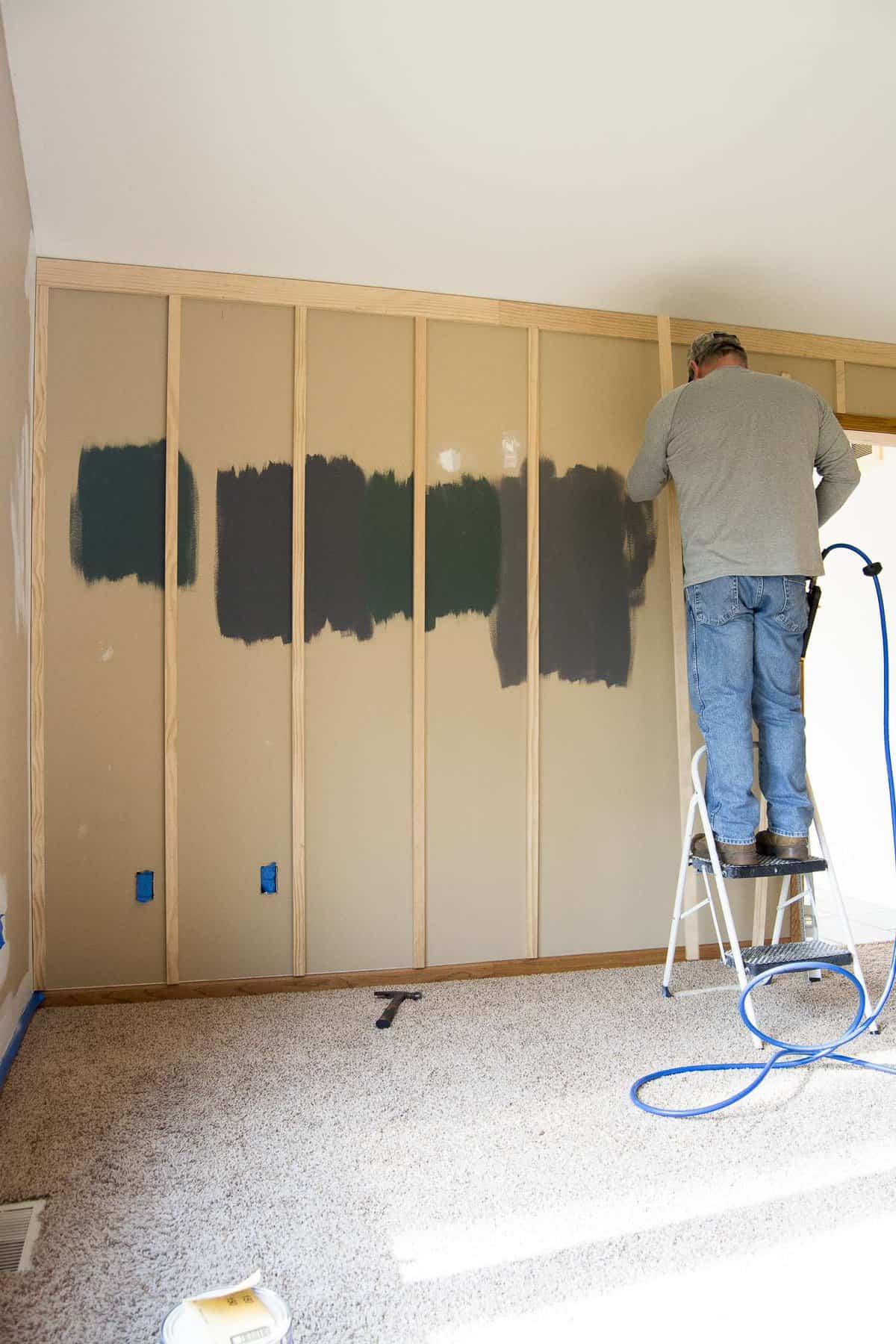 As you can see, I didn't go-it-alone on this project. Aren't dads great? I'm grateful he and my mom both have mad DIY skills and were willing to help get this project completed before we fully moved in!
I will say, the most tedious portion of this project was trimming out those slats of wood!
Luckily, it was a small wall and the process was made easy by Magnolia Home's paint! It has such great coverage that I had no problems covering the wood grain in the slats or the previous wall color.
Which wall should be the accent wall?
One of the top questions when creating an accent wall is which wall should be the accent wall? Traditionally, in a bedroom it would be the wall where you bed is placed. This creates an obvious focal point and makes it easy to dress up the space with new bedding or artwork.
Alternatively, you can add an accent wall behind a bedroom office space, or if you have the room, behind a seating area.
The rule of thumb is, whatever space you want to be the focal point is where you will add your bedroom accent wall. In my case, a dark green accent wall!
Dark Green Accent Wall
This farmhouse master bedroom accent wall is my most asked about question on Instagram. Having a green accent wall when the all white and grey trend was in play really made my bedroom stand out. I love this green accent wall still, years later, and the color is one of my favorites.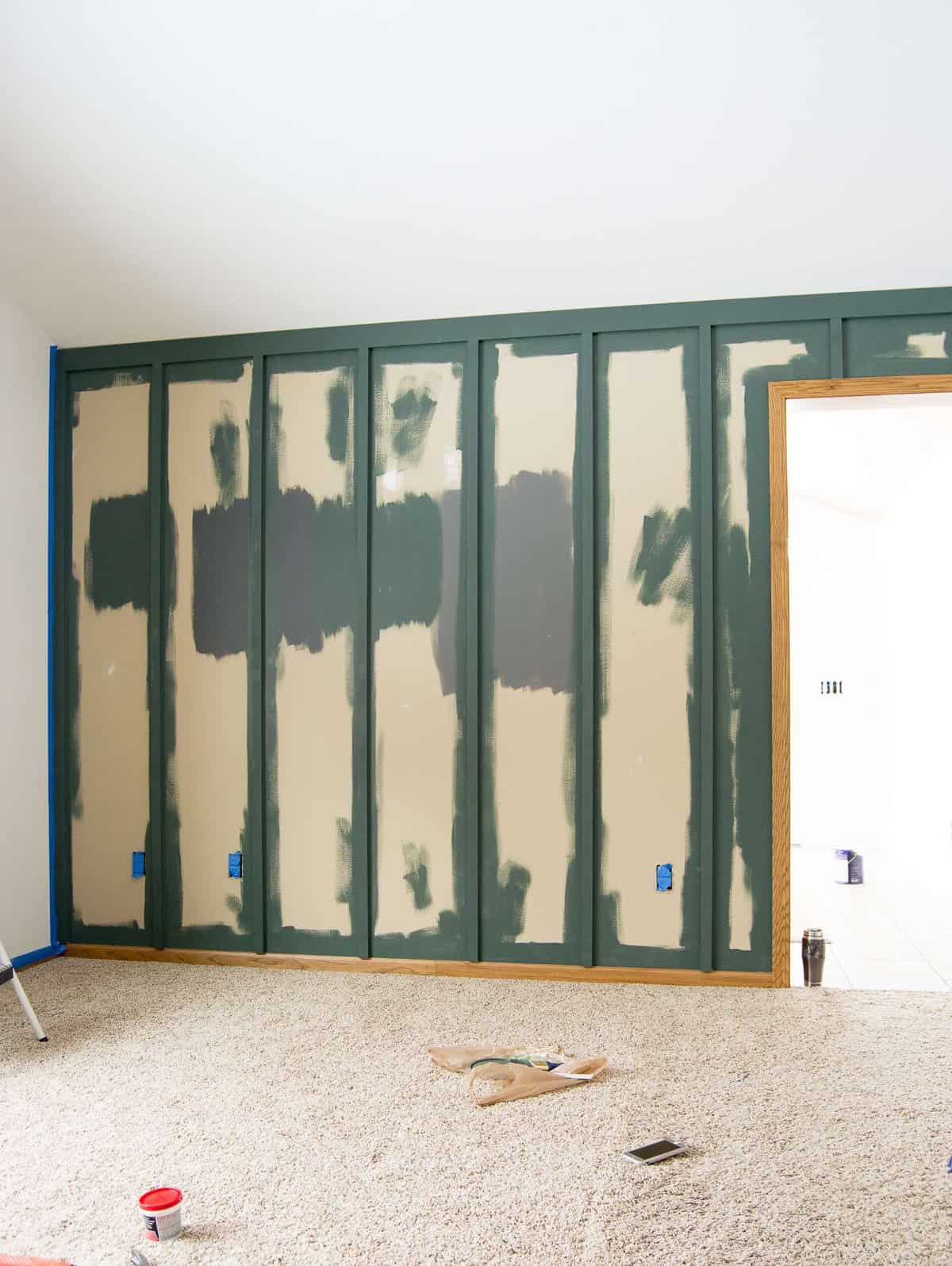 It is called Regal Leaf by Magnolia and is one of the most beautiful deep greens with a hint of softness.
Modern Farmhouse Bedroom Accent Wall | Reveal!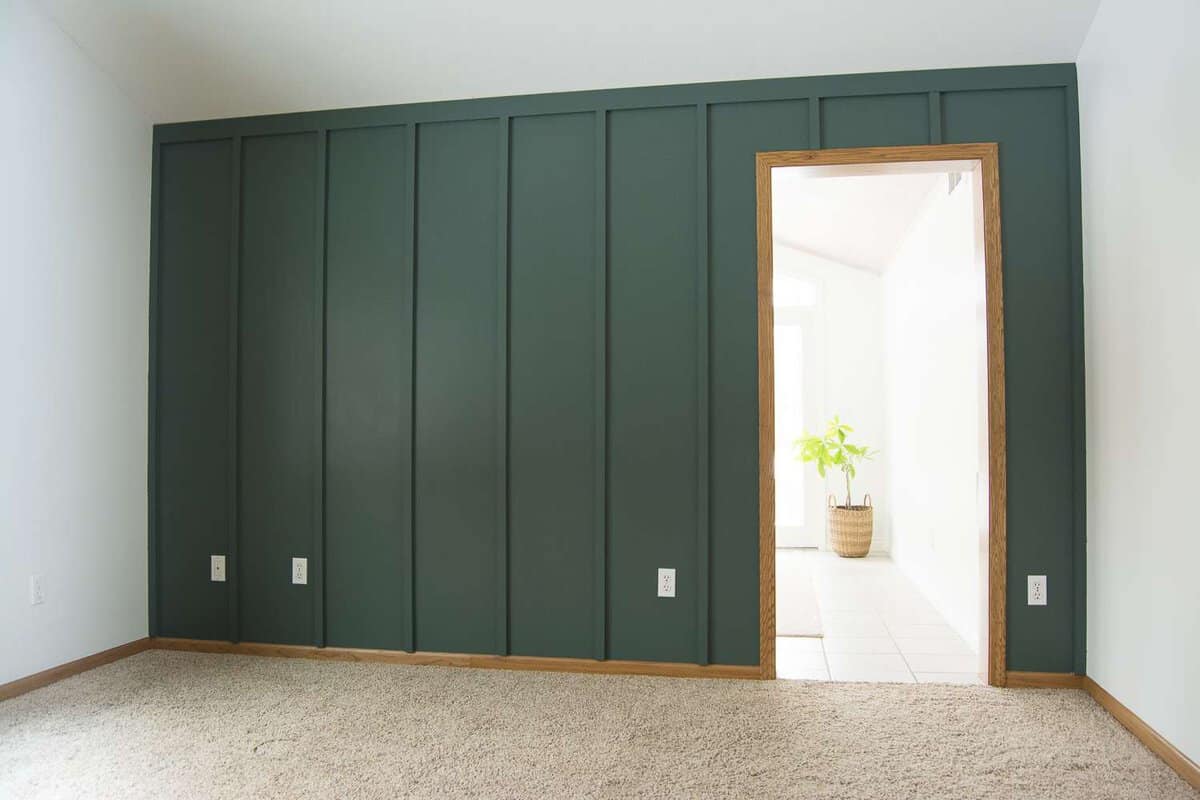 Ta-da!! Here she is in all her modern farmhouse glory. Since I went with such a bold accent wall color I used Magnolia Home paint in the color Shiplap for the remainder of the room.
The weathered white is the perfect balance to a bold accent wall.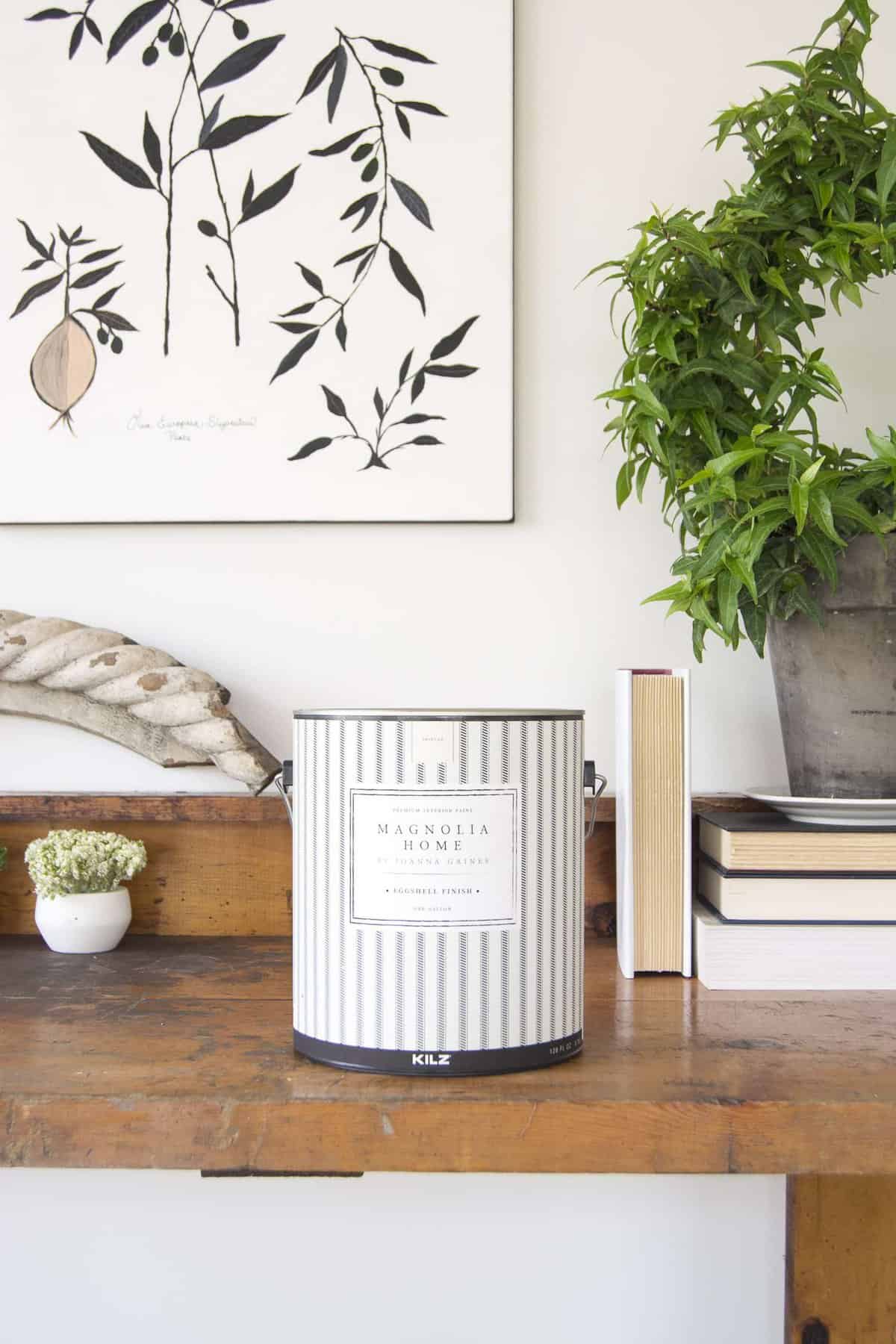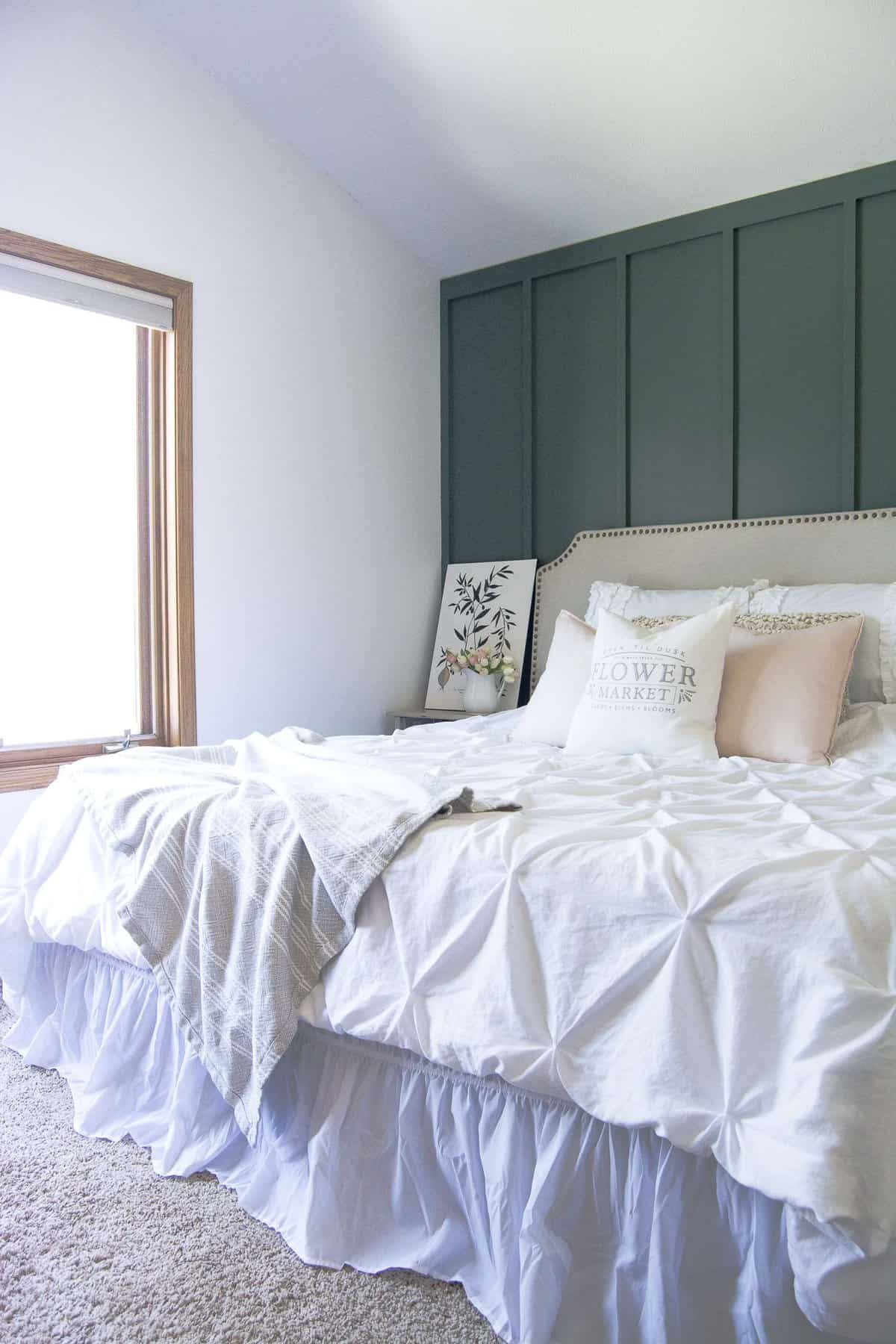 You will also be seeing a lot more of it in my home because I'll be using it in the majority of the main living area! It is such calming white so I can't wait for you to see how much it brightens a space.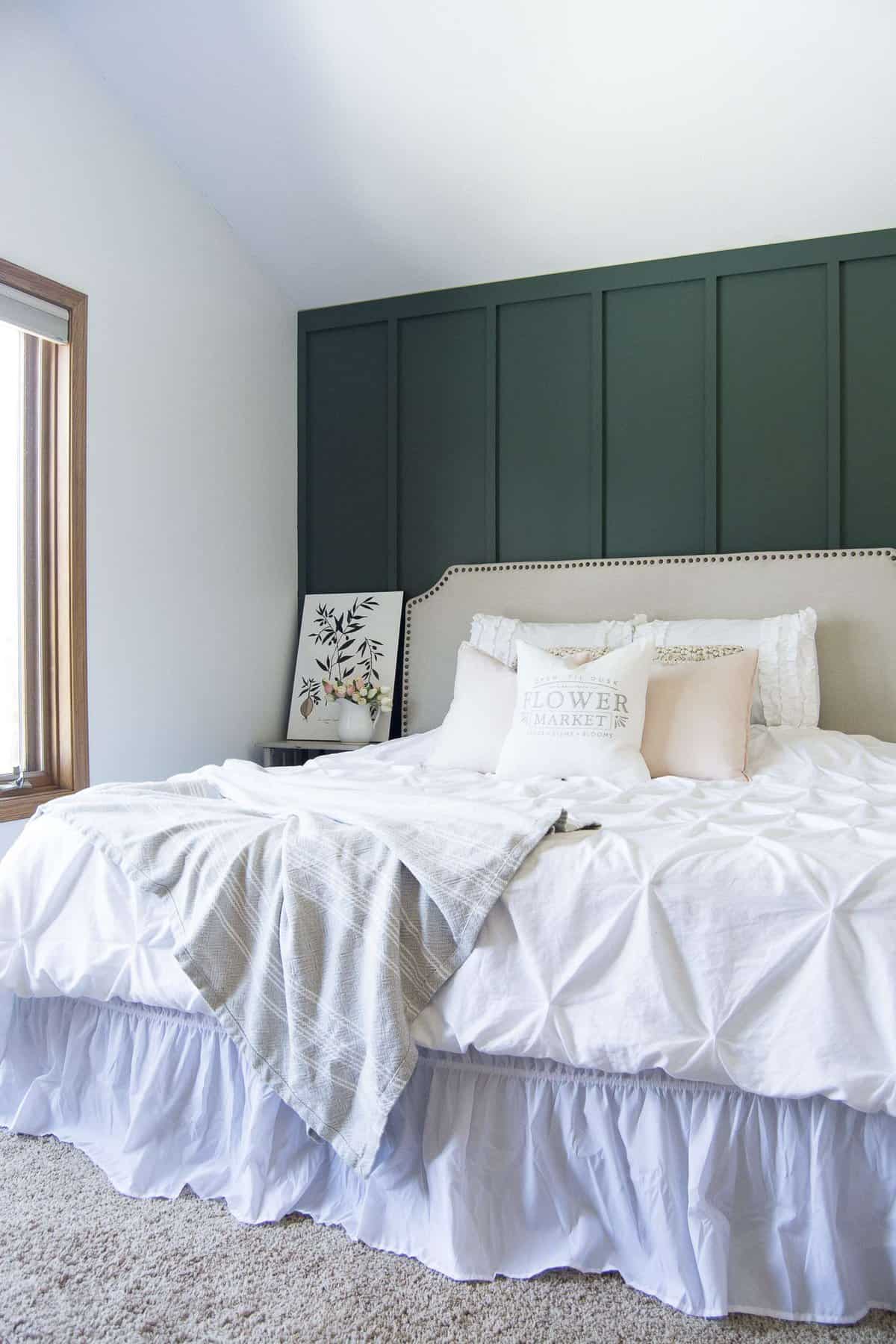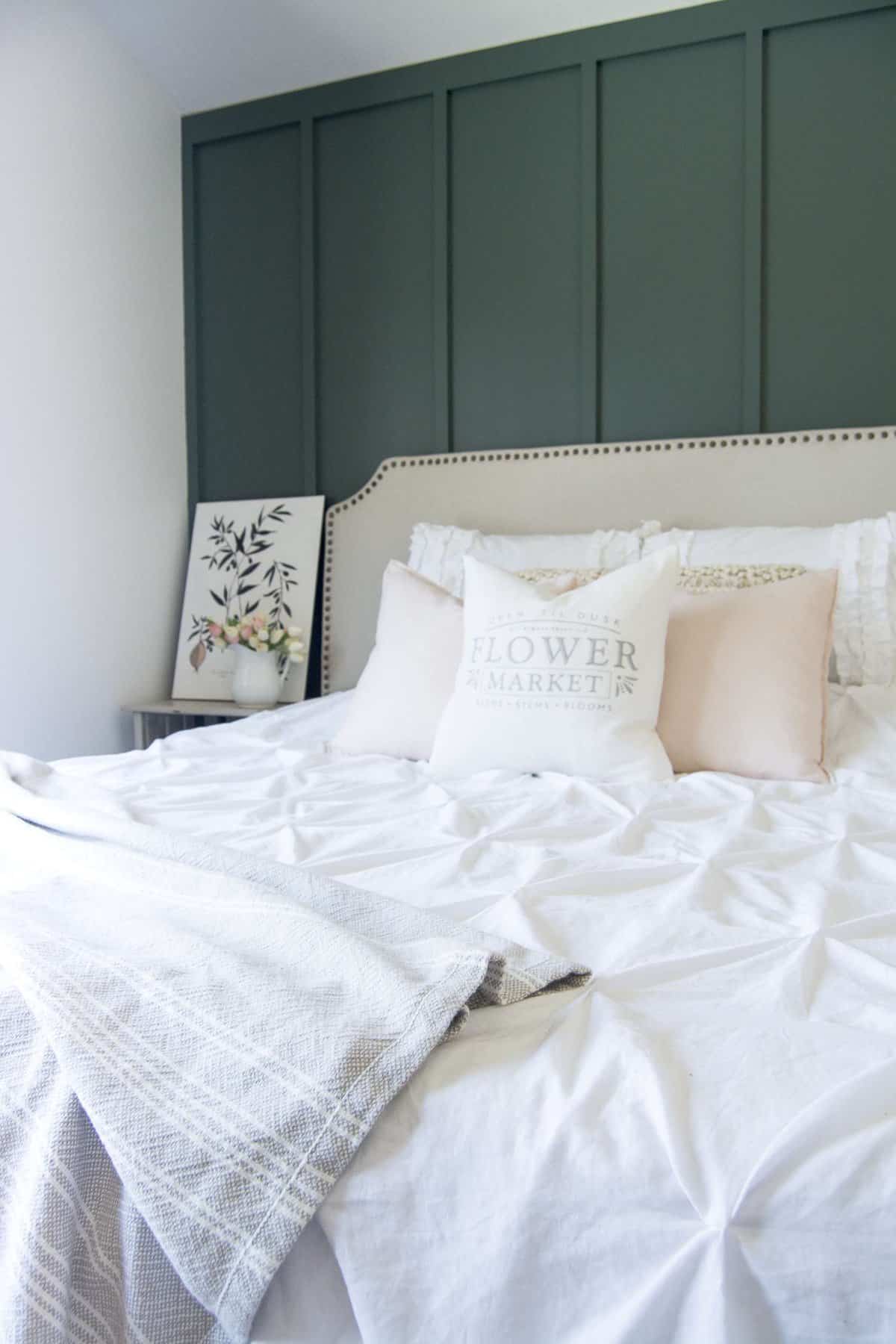 I am itching to truly start decorating the rest of this room but I couldn't resist adding some pretty accent pillows to make it feel more finished. You can similar looks to these beautiful pillows here. I love the linen texture it has to compliment the modern farmhouse theme I'm going for.
Now I'm ready to simply enjoy this oasis we've created. Who knew that a few slats of wood, fresh paint, and a little hard work could so easily transform a room?!
If you're looking for some modern farmhouse colors that are fresh yet neutral, I highly recommend Magnolia Home's Shiplap (weathered white) and Regal Leaf (green) as shown above!
To stay up to date on the rest of my home remodel, make sure to subscribe now! Hint: There are freebies involved, like my DIY tool kit printable!
Master Bedroom Decor | Shop
I can't get enough of my cozy bedding. If you'd like to get a similar look you can shop my bedroom here.
You can find the full bedroom reveal with all the finishing touches here!
UPDATE: Want to see how our primary bedroom looks with a little refresh?
If you're looking for more master bedroom inspiration, see how I've decorated it through the seasons!
Now, who's ready to create a modern farmhouse bedroom accent wall in your own home?! If you're planning any updates I'd love to hear about them! Leave me a comment below.
{We believe in seeking the balance between hustle and rest and striving to be passionate about both. – The Magnolia Manifesto}SaveSave