3 Tips for Styling Modern Farmhouse Bedding
Have you ever wondered how to layer bedding to acheive a certain style? Here are three easy tips for styling classic modern farmhouse bedding with ease!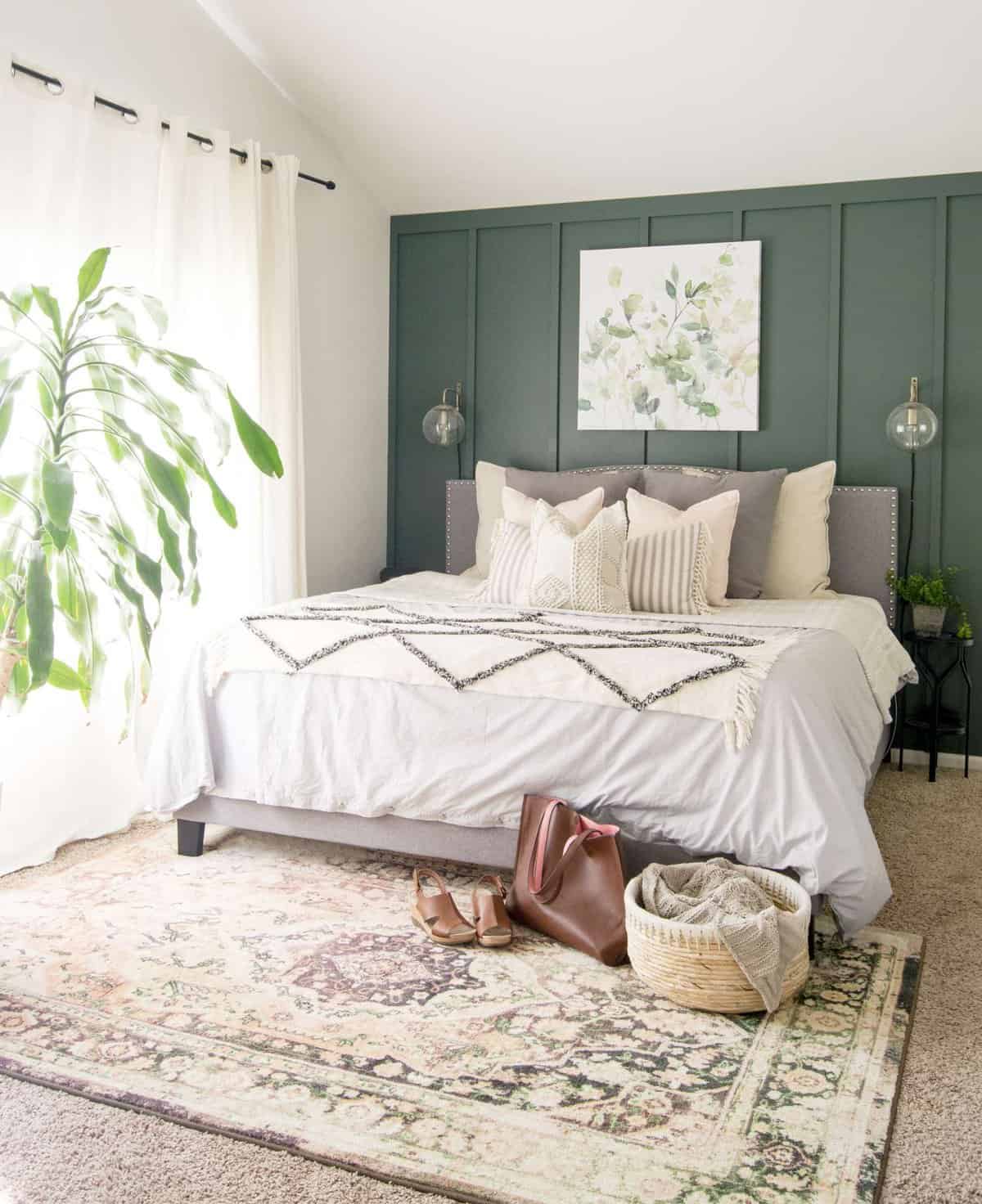 This post may contain affiliate links where I earn a small commission on your purchases.
Modern Farmhouse Bedding
If you love the modern farmhouse style, then most likely you love cozy layers with neutral textures. Previously, I've used my master bedroom as an example of how to define the modern farmhouse design style.
Today, I'm sharing three simple tips for how to style your bedding to achieve this look! I'll give you a quick tip: it's all about the layers.
If you are interested in learning more about interior design, make sure to sign up for my free 3 module e-course about interior design for beginners! I give you practical tips for how to become a haven maker as you design and decorate your home.
Modern Farmhouse Furniture
Let's start with the base. In order to achieve this look you will want to start with a bed frame or headboard that fits the modern farmhouse style. You can go two routes to set the tone with a bed frame: farmhouse or modern.
As you can see, my bed frame is a more modern style with clean lines and upholstered frame skirting. I've linked up some of my favorite modern farmhouse bed frames and head boards below if you are on the hunt!

1: Start With Modern Farmhouse Bedding
Now that you have your base, it's time to start styling your bedding! These are some easy summer bedroom ideas as well if you're looking for ways to lighten your bedding and give your bedroom a fresh feel.
I prefer cotton or linen bedding because of it's cool weight but cozy textures. My duvet cover is the absolute most comfortable and soft cover I've ever owned. It comes in multiple colors and I love that I can easily insert a heavy weight duvet insert for winter months or a lighter weight duvet insert for summer.
Pairing my duvet cover with luxurious supima cotton sheets makes a perfect combo to set the stage for the rest of your bedding.
If you're looking for patterned bedding, these are some of my favorites below. I just recommend staying fairly neutral if you want to stay true to the modern farmhouse design style. This also makes it easy to add step 2: pillows!

2: Layering Throw Pillows
After you've chosen your comforter or duvet cover, you can add layered throw pillows. I like to start with large 26×26 pillows at the back and then gradually go smaller towards the front.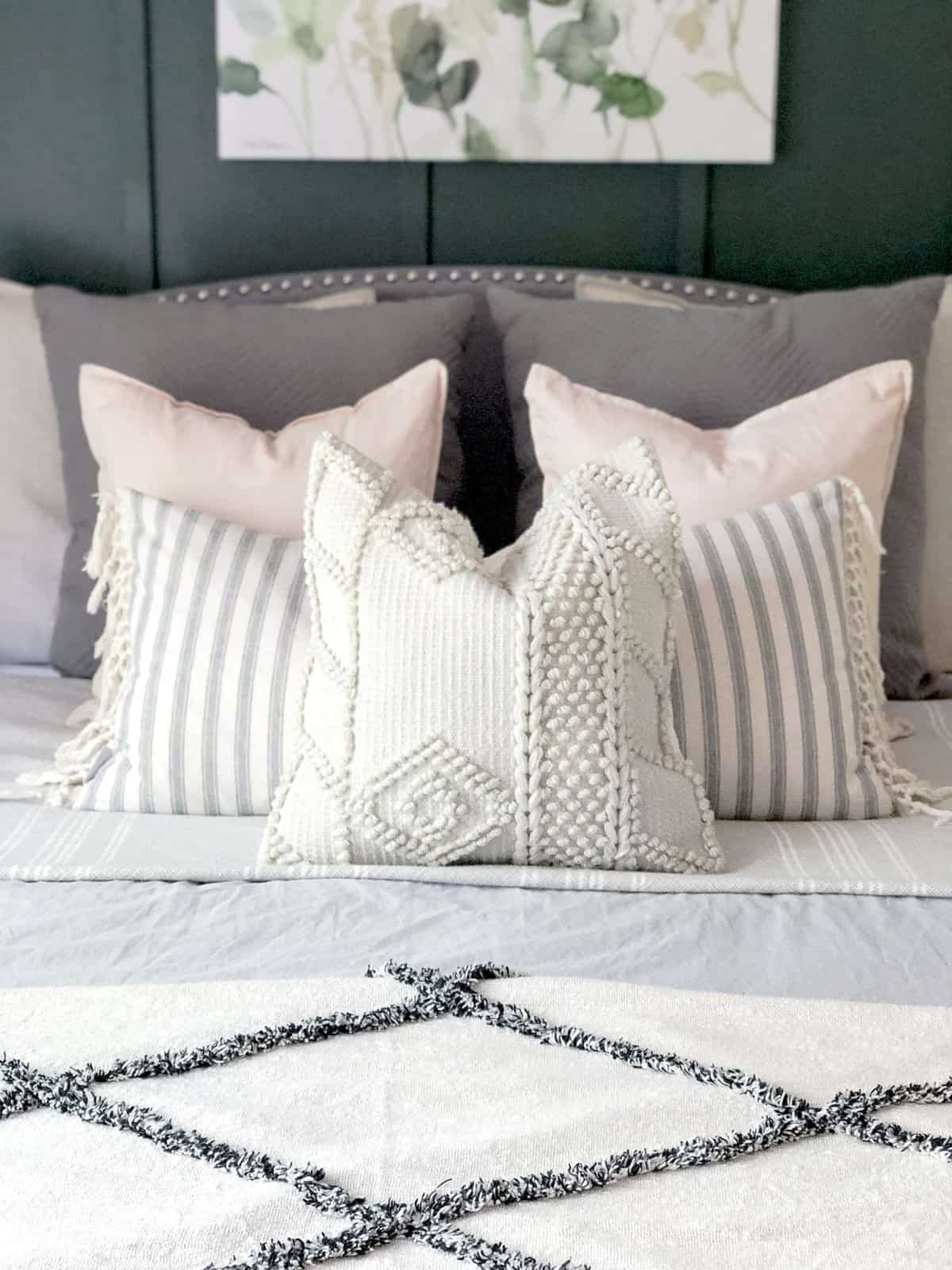 If I'm honest, and I always am, my bedroom looks like this about 4 days a year. That would be when we are hosting family for the holidays or when I'm doing a photo shoot for the blog. Ha!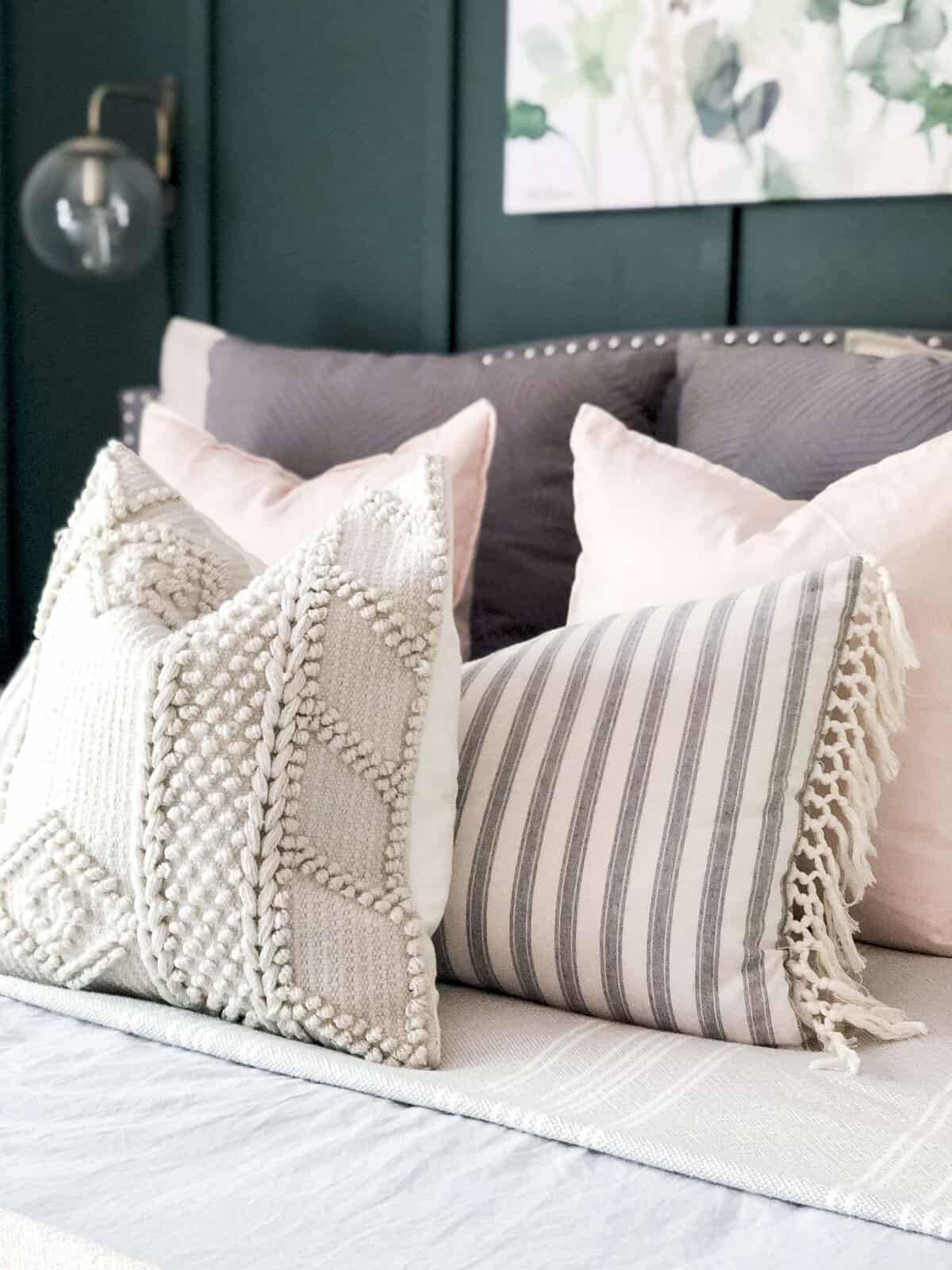 But for those who love to make their bed, the easiest pillow combo for me is:
2- 26×26 at back but pulled out slightly from the middle of the bed
2- 26×26 centered
2- 20×20 centered
1- Long lumbar centered
1- 20×20 (or smaller) centered
Alternately, I also add king size shams at the back in place of 2 26×26 pillows since those usually come with most bedding sets.
Some of my favorite throw pillows, like this nubby one up front, come from Beddy's Beds. You can use my coupon code GRACESPACE for 20% off!
Another amazing farmhouse style pillow maker is With Lavender and Grace. The majority of my living room pillows are from her shop and I love the easy going farmhouse style they offer.
3. Top with a Throw Blanket or Two
The final step in creating a modern farmhouse bedding nest, as I like to call it, is to top it off with beautiful throw blankets. My blanket shown is extremely light weight, yet cozy. It's perfect for spring-fall.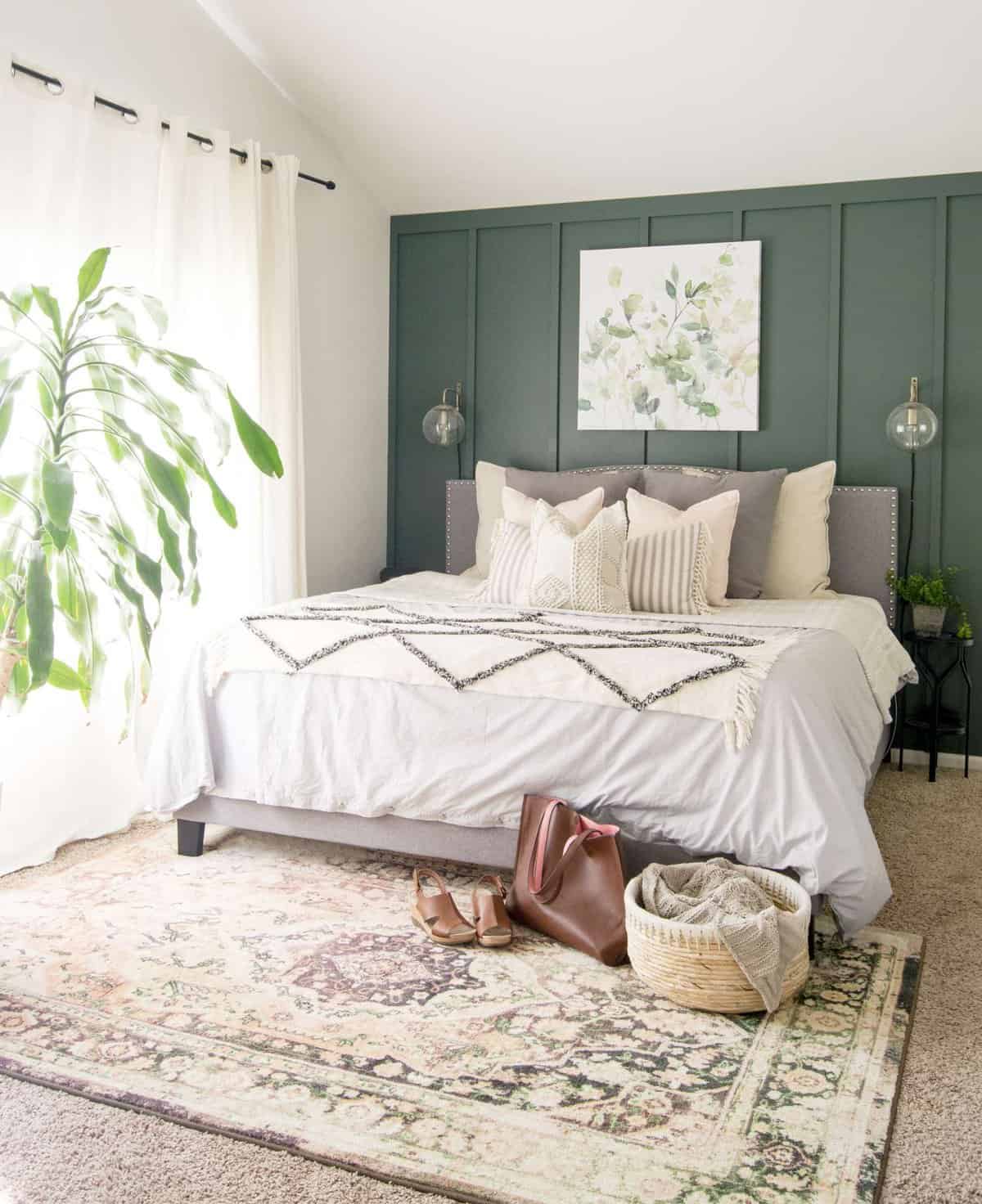 I find it is easiest to fold it in half and drape it at the foot of the bed. You can also swag it to the side for a more casual look. Below are some of my favorite modern farmhouse throw blankets.

Many of these beautiful throw blankets come in multiple colors and sizes.
And that is all there is to it! Styling your modern farmhouse bedding doesn't have to be complicated.
A common question I get is, "where do you put all your throw pillows?" I have to admit, the throw pillow situation in the Symonds abode is a bit out of control. That's why I also have a basket obsession. 😉 One obsession fixes another in this situation!
I toss all my unused throw pillows into my large rattan basket for storage. It doubles as storage and decor, in my opinion! You can find similar baskets here!
Looking for Details on My Bedroom Decor?
You can shop the look by clicking the affiliate images below!

I hope this post on how to style modern farmhouse bedding was helpful! Make sure to subscribe to my blog to stay up to date on my design tips and tricks! You can follow me on Instagram for daily inspiration as well!
And, if you're looking for an easy way to update your master bedroom with some character, consider adding DIY modern board and batten! I have a full tutorial on how we created this green accent wall in my bedroom on the blog!
You can see how I've decorated my modern farmhouse bedroom for the seasons in these posts next!