Modern Farmhouse Bedroom Decor: Finishing Touches
Hello my friends! I think I've finally finished one room in my new house! 😉 I showed you a little sneak peek of my modern farmhouse bedroom retreat here with my DIY accent wall and now I'm ready for the full reveal! Sometimes a room just needs a few simple finishing touches to really make it cozy and I feel like I've accomplished that with modern farmhouse bedroom decor!
The key to making this modern farmhouse bedroom decor cohesive was to stick with a neutral palette and invest in some fun finishes, textures and bold accents. So here we go!
Modern Farmhouse Bedroom Decor: The Finishing Touches

This post may contain affiliate links where I earn a small commission on your purchases at no additional cost to you.
Reuse Old Decor + Shop Your Home
Our new home has a very different feel to it than our previous home. The first room I invested some design time into is our master bedroom and I revamped it for a more modern farmhouse feel. I reused the majority of our old decor, including the pleated comforter, upholstered headboard, and wall decor. Next, I shopped my house for some easy additions like our old dining room curtains and living room pillows. To up the comfy factor I scattered pillows around like confetti. 🙂 Nothing says comfy like a million pillows.
Add Texture & Different Finishes for Interest
Modern Finish: Brass
Once I had everything I already owned worked into the space I went shopping for just those few finishing touches I was looking for to complete the space. I knew I wanted some wall mounted sconces because the wall space didn't allow for large nightstands on either side of the bed to hold lamps. I was excited to find these sconces that added that touch of modern to the space and didn't need to be hardwired!
Interesting Textiles: Linen, Cotton & Polyester
Next, I wanted to add some drama with bold prints on the bed. This beautiful reversible bed throw was exactly what I had in mind to heighten the design of the room. It is soft, heavy, and a great focal point for the bed. Plus, it was easily coupled with some simple linen throw pillows in black to anchor the space. Finally, the bed needed this beautiful We Still Do pillow with all that yummy texture.
One area that is easily overlooked in a bedroom is the floor! This beautiful round cotton rug adds just a touch of neutral boho design for some contrast with the rest of the modern farmhouse bedroom decor.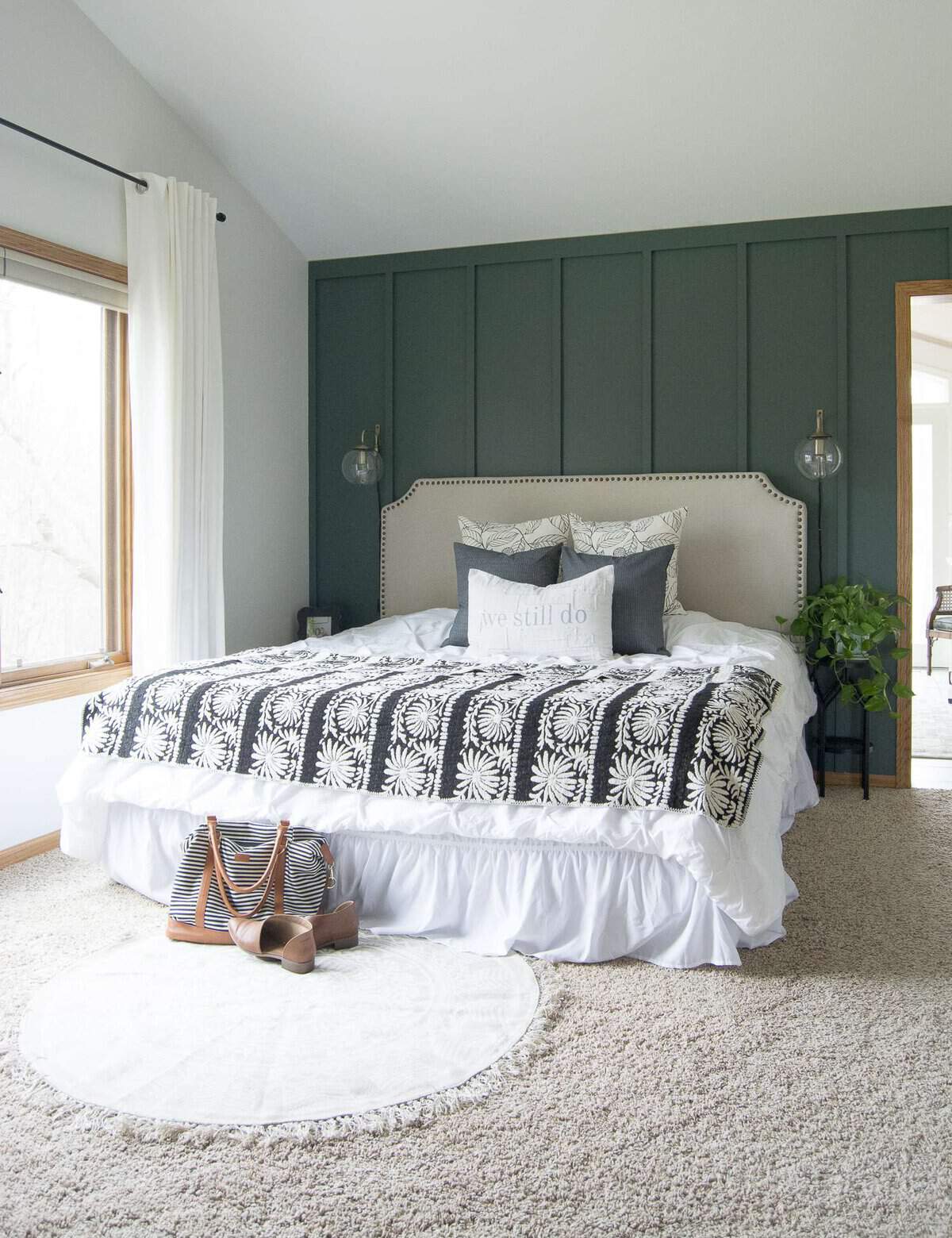 Farmhouse Touches
To tone down the modern boho vibe I, of course, had to add some farmhouse. It's hard to go for modern farmhouse bedroom decor without the farmhouse part! 😉 To do that, I added some signs and wood accents to the walls. It pairs nicely with the hope chest my grandpa refinished for me.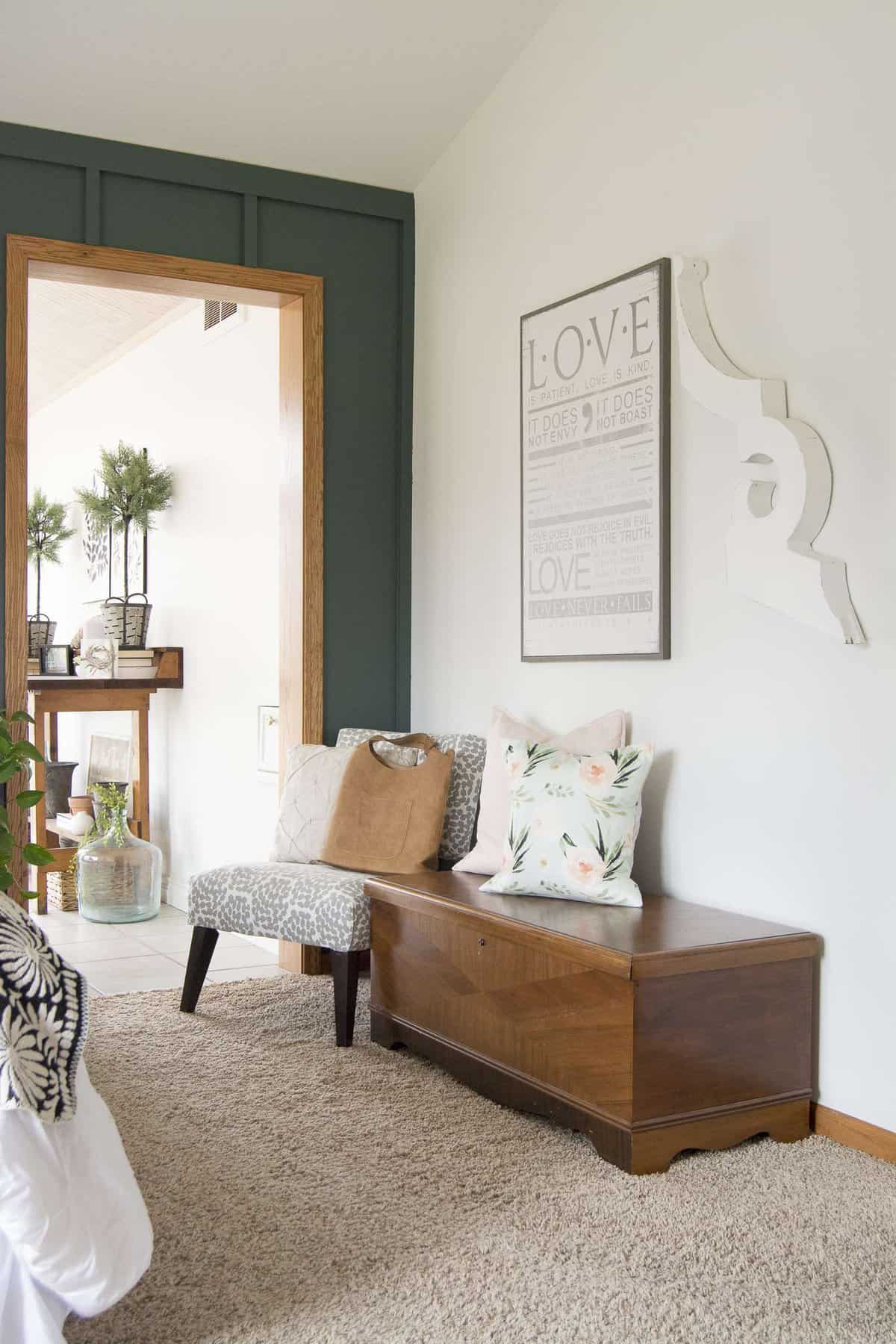 Finish It Off With Greens
Finally, to finish off the space I had to add some life with plants! Pothos are simple to grow and add a bit of livelihood to a room that regular decor lacks.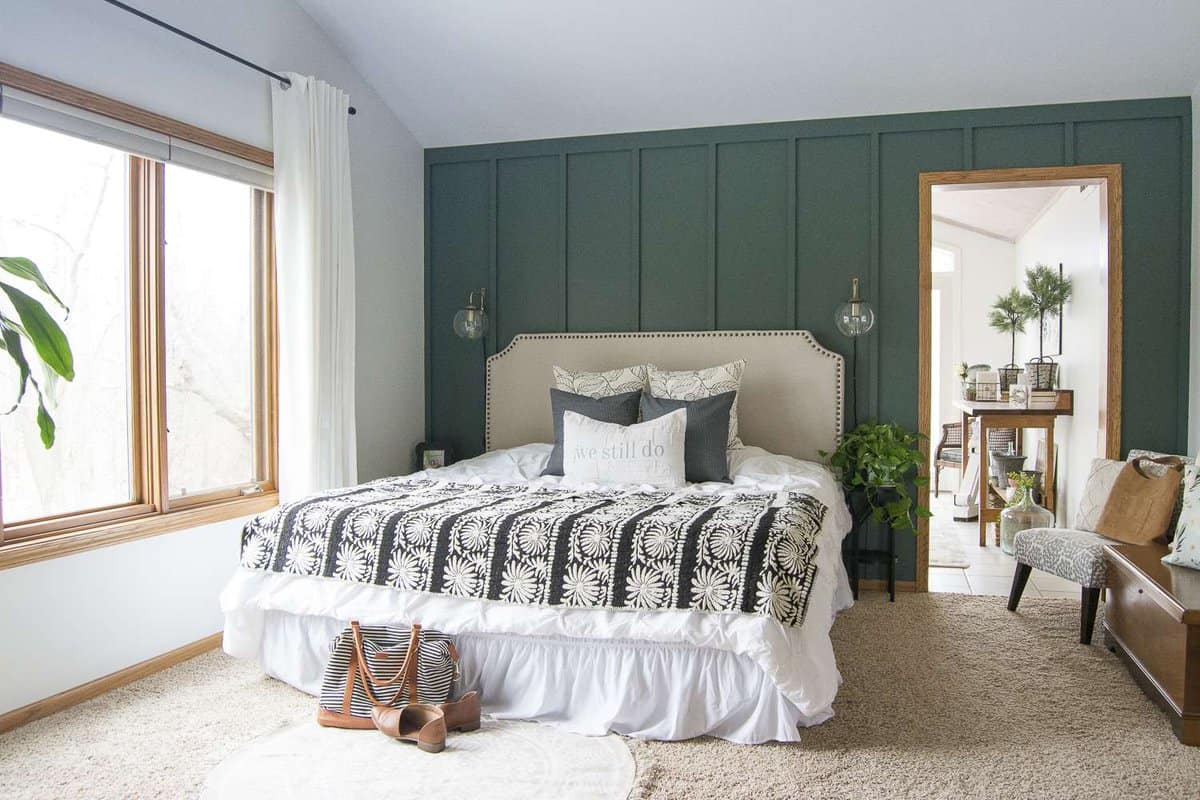 The plants also give a nod to our attached sunroom that I've claimed as my office which you can read all about here!
Modern Farmhouse Bedroom Decor Revealed
So there you have it my friends! Simple additions of a small accent rug, throw blanket, pillows and sconces and the room is complete without breaking the bank. What do you think?! As you can see, our dog Ellie thinks it's pretty cozy. 😉
What design style do you lean towards for your master bedroom? Are you a straight farmhouse kinda gal? Boho? Eclectic? Traditional? I'd love to know what you're loving right now! Leave me a comment below!
Shop the Space
Thanks so much for touring my modern farmhouse bedroom decor updates! You can shop the room by clicking the affiliate links below. Be Blessed!
{A little bit boho, a little bit modern, a smidge of farmhouse, and a whole lotta comfy.}