15 Summer Home Decorating Ideas 2023
Decorating for summer is my favorite. It is simple, quick, and unfussy. Today, I'm excited to share my summer home tour with you! Keep reading to learn 15 simple summer home decorating ideas to put into action today.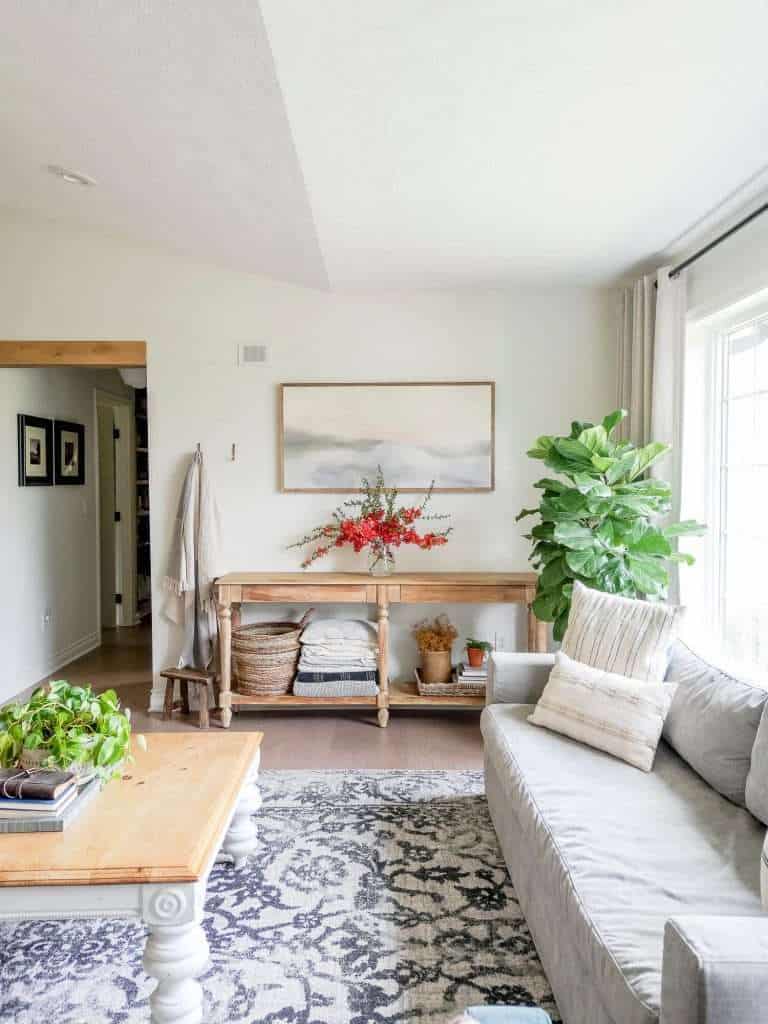 This post may contain affiliate links for your convenience.
30 Summer Home Tours to Enjoy
Joining me today are 30 bloggers each sharing their own beautiful summer home decorating ideas! A huge thanks goes to Marty from A Stroll Thru Life for organizing such talented designers and bloggers to share with us today. If you're joining me from Christy's tour from Our Southern Home, thank you so much for stopping by! Christy's home is such an inspiration for summer decorating.
After you are finished with my tour, make sure and head next to see how Doreen's summer decor came together over at Hymns and Verses. And, you can also find all 30 tours linked at the bottom of this post.
15 Summer Home Decorating Ideas
This year, my summer decor ideas are all about simplicity. After a few months of remodeling, I find myself craving simplicity. As I considered how I wanted to decorate for summer, I kept being pulled to removing decor rather than adding it.
So, today I'm sharing some very simple summer home decorating ideas that anyone can do. These don't depend on having a similar design style as mine. Anyone can implement these ideas to freshen your home for summer.
1. Simplify and Declutter
The first step to simple summer decor ideas is removing the visual weight.
After the winter and spring season full of cozy layers, summer can feel sparse at first. However, once you've decluttered and simplified, give yourself time to adjust before adding decor back in. You'll likely find that the simplicity becomes like a breath of fresh air!
2. Use Practical Items as Summer Home Decor
Right alongside my first tip comes the incorporation of practical items AS decor. This helps reduce the clutter.
Many people stow away items like blankets and books, only to be brought out when needed. In my opinion, those items we use everyday should be easily accessible. So why not use them as decor?
Hang or fold blankets out in the open or display books as coffee table decor. Then you will create a beautiful display without adding more traditional summer decor.
3. Summer Home Decorating with Plants
Obviously, plants are a big part of outdoor decorating. You can tour our 38 acre property in this video if you want to explore how we use our land!
But indoors, plants are just as important! They bring freshness and life to a home. You can check out some very easy beginner plants with my free download if you're new to plant care.
4. Bring in Cuttings for Fresh Arrangements
If you don't want to commit to long-term indoor plants, try adding a fresh arrangement!
The immediate focal point in this room becomes the flower arrangement I cut from my quince. It's simple, fast and free!
If you don't have flowering plants, don't overlook tree clippings or even pretty weeds. Queen Anne's Lace is technically a weed, but even weeds can be beautiful when grouped in a dramatic bundle!
5. Lighten Your Color Palette
Another way to change up your summer home decorating is through a fresh color palette.
Whether you change your wall color, re-paint furniture, or just freshen up pillows, a softer color palette feels fresh and light for summer. This doesn't mean everything has to be white. But softer colors tend to open up a space and give breathing room.
6. Use Happy Bold Accent Colors
Once you've lightened the majority of your color palette, it gives space to pop in happier and bolder colors.
Coral
Yellow
Tangerine
Lime Green
Pink
Red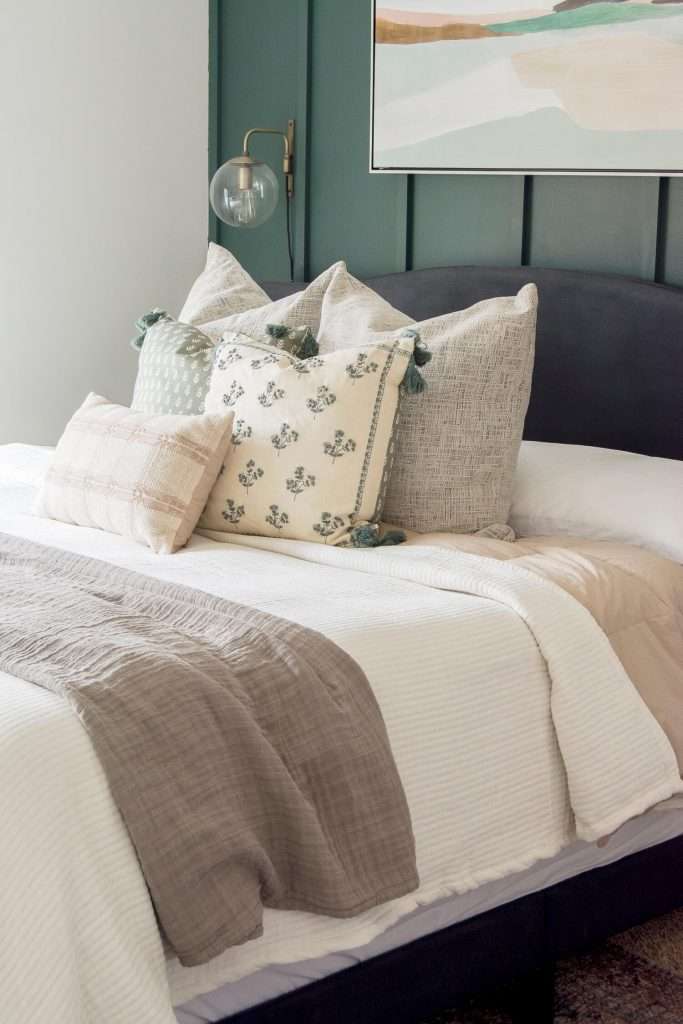 These colors are fun accents for smaller pieces like pillows, dishes and linens. They will immediately bring a fun atmosphere to your room! You can shop my bedding here.
7. Soften Textures
Another option for summer decorating is to soften your textures.
Transitioning from heavy wools to light linen blankets not only makes sense practically, but also softens a room visually.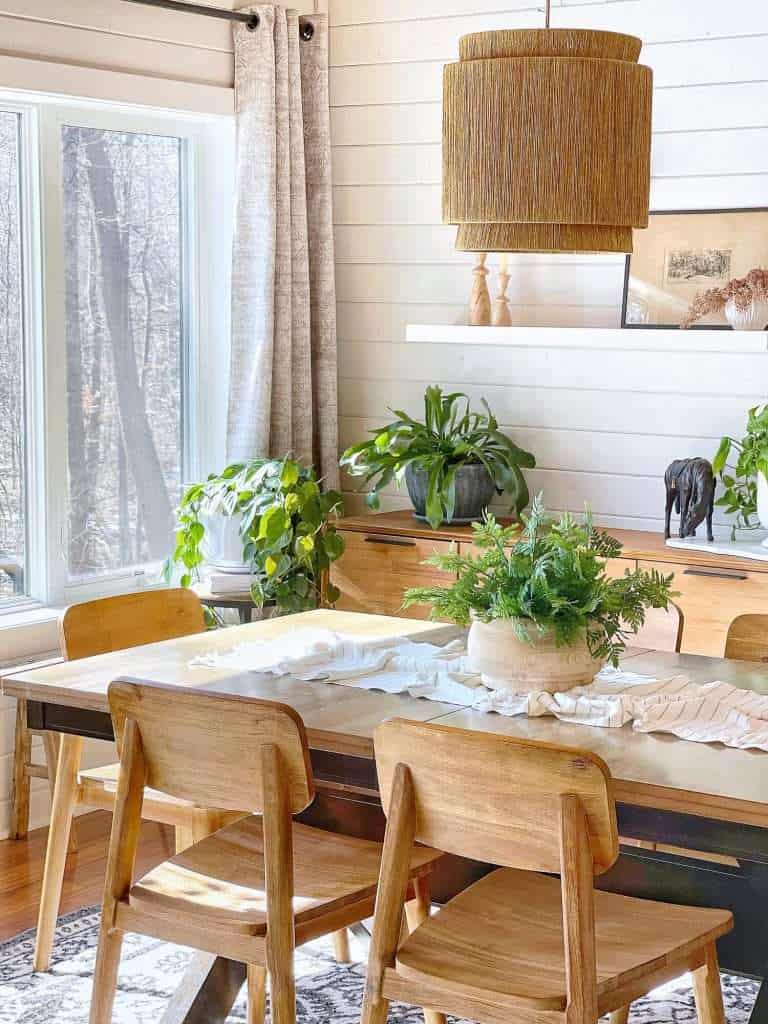 I also like to soften textures like woven baskets and wood tones. Thick, nubby baskets get swapped out for a softer weave. And rustic dark woods can be swapped for smoother and lighter wood tones.
8. Minimize Layers
One way to create a cozy atmosphere is to add layers. I especially love to do this in the fall and winter.
However, come spring and summer, I am ready to ditch the layers for a more minimal look.
I love simplifying my table decor in the living room for summer. I also fold up the majority of my blankets so only one is hanging. It feels fresh, but still cozy.
9. Lighten Window Coverings
Another option for simple summer decor is to lighten your window coverings. If you have heavy drapes, opt for cotton or linen instead.
It can also be as simple as a color change, from a darker tone curtain to a more neutral option.
10. Create Indoor/Outdoor Living
Here in Michigan, summers are the best time of year. We finally escape the cold and dry out from the spring.
I love to create indoor/outdoor living by opening up the windows and doors. You don't have to have a full-blown sliding wall to get the same feeling! Pop open your window over the kitchen sink, slide open a slider or crack the front door.
Just feeling that breeze is enough to freshen your home.
11. Add Nature Inspired Art
Another tip to create a summery feeling home is to use nature inspired art.
I do that with botanical art and landscapes. I prefer art that is nature inspired year round as well!
You can shop my botanical art and landscapes by clicking the images below. Use code GRACEINMYSPACE for 15% off the wood landscape art at Joyfully Said Signs.

12. Rearrange Furniture for Summer Entertaining
One free option for summer home decorating is simply rearranging furniture. Similarly, you can also swap decor from room to room for a fresh look.
After our flooring update I redecorated my entire house with this method and gave it a whole new look. I love reusing items in a new and different way!
13. Have Relaxing Reading at the Ready
Summer is supposed to be about slowing down and smelling the roses. So why not have relaxing reading materials quick at hand?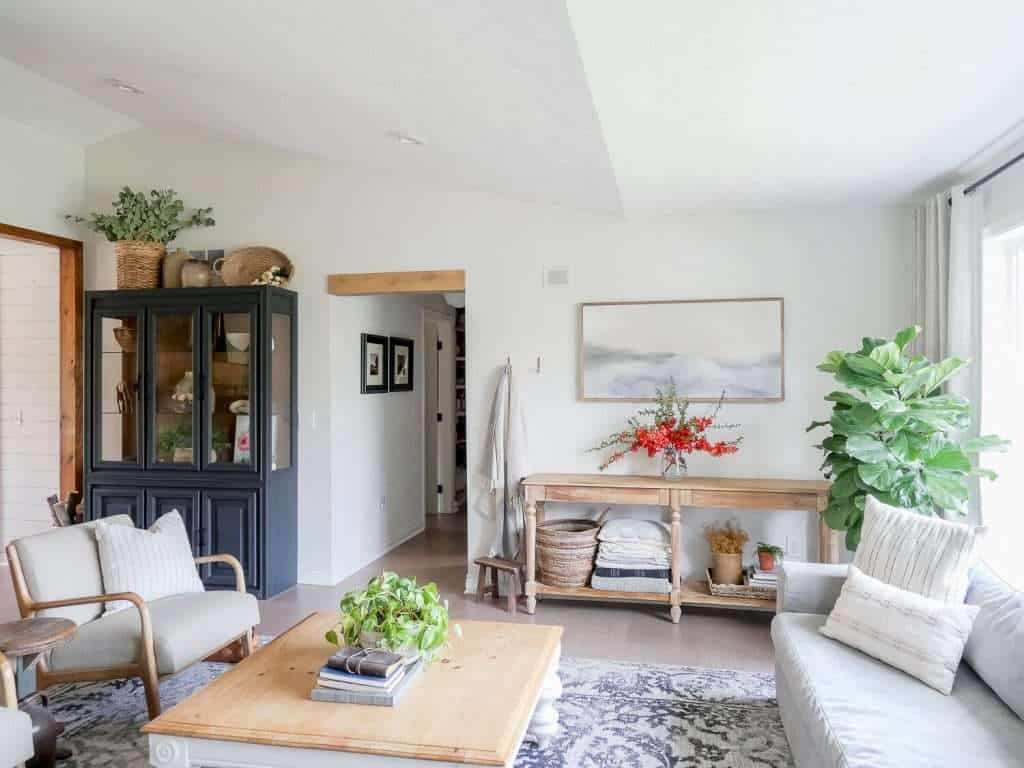 14. Create a Summer Reading Nook
You can take it one step further and actually create a reading nook!
Whether that is something you physically build, or a temporary reading corner, creating this intentional space will beckon you to rest. This is a great option for kids as well to carve out a quiet time space for the summer.
15. Set Up a Summer Game Station
However, summer is also for fun! So be intentional about setting up a summer game station.
If your family likes board games, create a game table. If they like outdoor games, have everything organized for easy access in the garage. There's always room for game night.
You can also learn 20 low-budget ways to create an outdoor living atmosphere in your home!
Quick Look: Summer Home Decorating Ideas
Let's quickly summarize these 15 simple ideas for summer home decorating.
Simplify and declutter
Use practical items as decor
Incorporate plants
Bring in cuttings for fresh arrangements
Lighten your main color palette
Use happy bold colors as accents
Use softer textures
Minimize layers
Lighten window coverings
Open the windows and doors for indoor/outdoor living
Add botanical or landscape artwork
Rearrange furniture for summer entertaining
Have books/magazines at the ready
Create a summer reading nook
Set up a summer game station
However, the best tip of all: don't sweat it. Summer is the easiest season to decorate for because it is more about removing decor than adding it. Enjoy the space for what it is and enjoy beautiful weather while you can.
You Might Also Enjoy…
Since I love to focus on the outdoor areas during the summer months, make sure to also check out these posts!
Thanks so much for stopping by the blog today! Make sure to subscribe to access all my insider perks and freebies. And you can also follow along with me daily on Instagram and weekly on YouTube!
~Sarah
More Summer Home Tours
Monday – June 6th Lineup
A Stroll Thru Life – Our Southern Home – Grace In My Space
Hymns & Verses – Southern Hospitality – Chalking Up Success
Tuesday – June 7th Lineup
Calypso in the Country – StoneGable – 11 Magnolia Lane
White Arrows Home – RemodelaCasa – Pink Peppermint Design
Wednesday – June 8th Lineup
Designing Vibes – Cuckoo4Design – Whispering Pines Homestead
Decor to Adore – Thrifty and Chic – Clean and Scentsible
Thursday – June 9th Lineup
CitrineLiving – Southern Home and Hospitality – Worthing Court
The Stonybrook House – Southern State of Mind – This is our Bliss
Friday – June 10th Lineup
Follow The Yellow Brick Home – Country Road 407 – Quarters One