20 Low-Cost Backyard Living Ideas for your Outdoor Living Areas
Outdoor living is at it's finest in the summer and fall here in Michigan. However, no matter where you live, I have some simple tips for you today to spruce up your space on a budget! Enjoyable backyard living requires only a few strategic elements. Elevate your outdoor living areas with these 20 simple and low-cost ideas!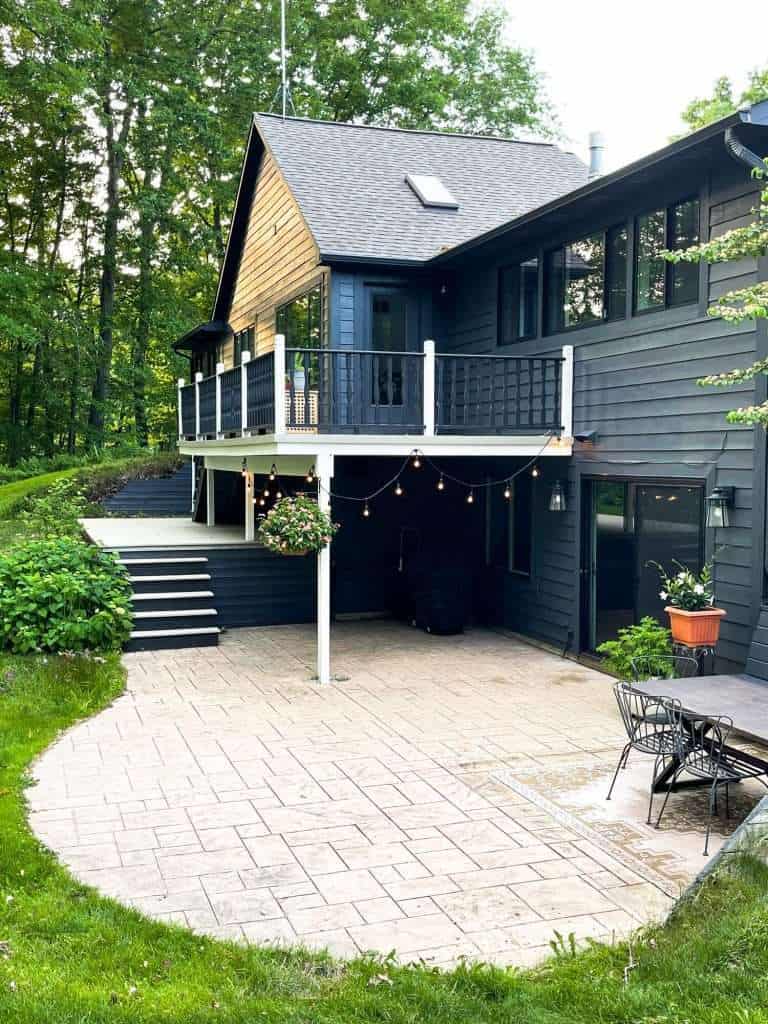 This post may contain affiliate images where I earn a small commission on your purchases at no additional cost to you.
Custom Outdoor Living
We purchased our home with 38 acres because of the land. The house had tons of potential, but wasn't really my style. Over the years, if you've followed along for any length of time, you've seen me transform the inside of our home.
Thankfully, the outside of our home had a great foundation for custom outdoor living already! The previous owners were thoughtful about their outdoor living design.
There are beautiful stamped concrete patios and walkways, and a large custom fire pit.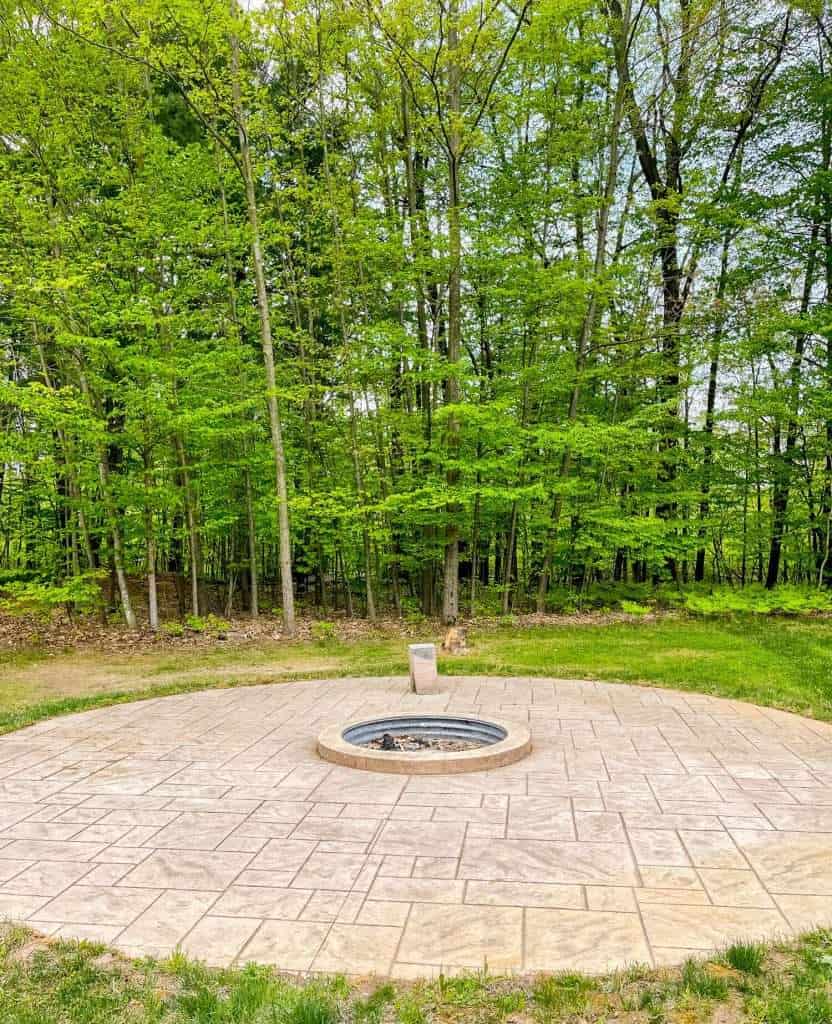 The front of our outside spaces have beautiful landscaping that I've tweaked slightly over the last few years. But for the most part, we've enjoyed the outdoor design our home already had.
Since the groundwork was already laid for enjoyable outdoor living, I've just had to add my touches to it!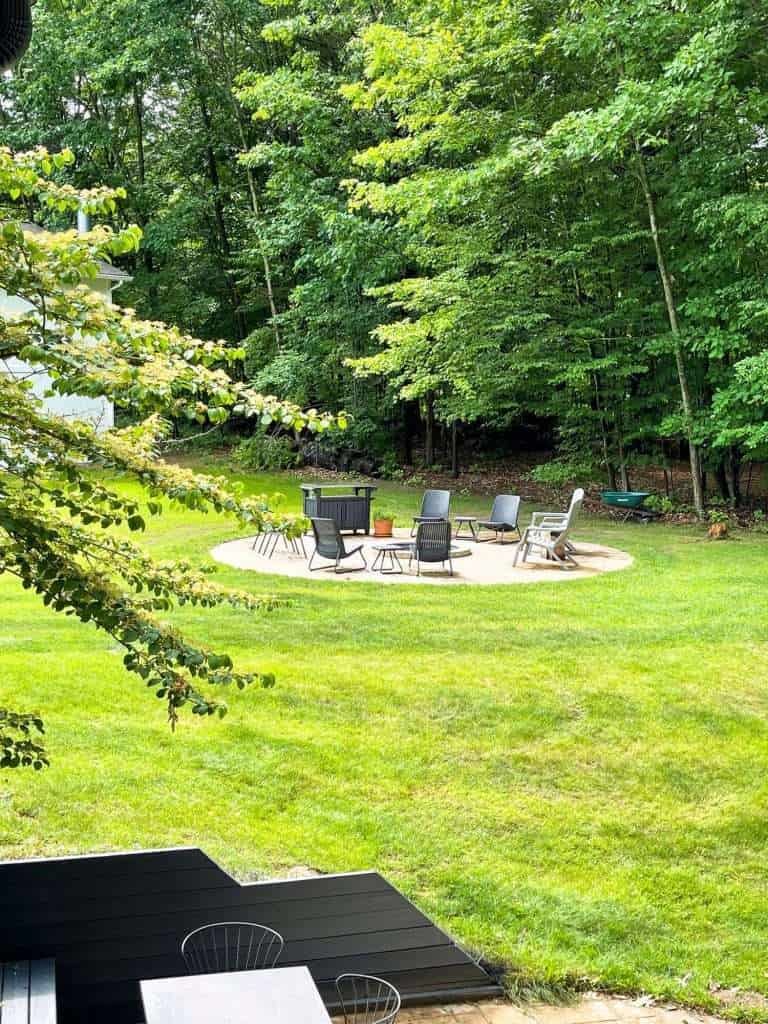 Here are a few updates we have done outdoors so far.
And our newest adventure: painting the exterior of our home!
I'll share all the details on that process in coming posts. Make sure to subscribe to the blog to be notified when they go live! You'll also get access to my free 3 part e-course where I help you start the process of designing your haven.
How do you create an outdoor living space on a budget?
Low-Cost Backyard Living Ideas for your Outdoor Living Areas
Whether you have a custom outdoor living area or a blank slate backyard to design, these 20 low-cost backyard living ideas will help you elevate your space on a budget.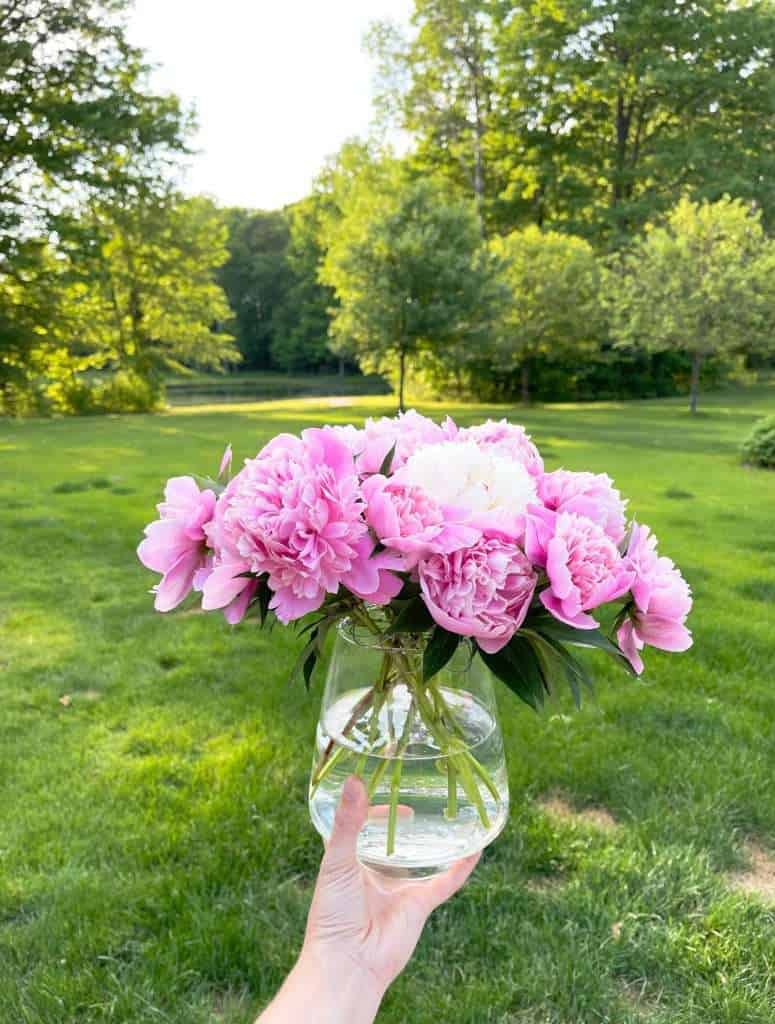 Not all changes to your outdoor living areas need to be dramatic and huge makeovers. Small tweaks can go a long way in creating an enjoyable outdoor space for your family and friends.
Set the Stage for Backyard Living
The first thing you can do to elevate your outdoor spaces is to set the stage for indoor outdoor living.
Cost: Free.
If you have zero dollars to invest in your yard, then put in some sweat equity. It will go a long way to simply do regular maintenance on your yard. First and foremost, this includes mowing and weeding.
Yuck. I get it. I have about 6 acres of landscaped outdoor spaces to maintain and it can be brutal to keep up with.
However, if you do nothing else, maintaining your lawn, shrubs and weeds will create a presentable yard and give your home some curb appeal.
This is the first step. Next, consider adding these standard landscaping elements.
Add Evergreen Shrubs
Once you're ready to make a small investment in the appearance of your home, add some evergreen shrubs. Evergreens can be kept neat and tidy to give your outdoor landscaping structure and color. Even in the winter, these will help your exterior pop.
Add Landscaped Flowers
Next, add in some landscaped flowers. Whether you like a wildflower look or more proper groupings, adding perennial flowers to your landscape brings so much simple beauty to your home.
You can also see how I use annuals and perennials to spruce up my front door for a welcoming entry all summer long.
These three tips are very basic landscape suggestions that can cost anywhere from a couple hundred dollars to thousands of dollars, if you have it professionally done.
My suggestion would be to start small. Invest in a few perennials every year to keep these updates low-cost and watch your home's exterior blossom over the years! (Pun intended)
How do you build a good outdoor area?
Create Zones for your Backyard Living Spaces
The first mistake homeowners make is treating their outdoor space as one large open area. While this can be useful for large gatherings, it more often creates a space that has no purpose.
To build an outdoor area that you will want to spend time in, you need to give it a purpose.
Create zones within your backyard. Each zone can serve a different purpose.
In my outdoor areas, we have five main zones.
Back patio for grilling and dining
Deck (Currently undeveloped but soon I want this space to have comfortable outdoor furniture)
Fire pit for camp fires/smores nights
Front field for kid's activities like soccer, swing set, volleyball, and trampoline fun
Pond pad for lounge chairs
Granted, we have a large property, so it is possible to have this many zones. If you have a smaller outdoor space, choose what is important to you for backyard living. Then, put plans into action!
Perhaps you really want to be able to eat outdoors. Set up a dining area with an affordable outdoor table. Or maybe you want to be able to have camp fires. Create a simple fire pit with some camp chairs and a fire ring.
Zones don't have to be over-the-top or magazine worthy spaces. They just have to serve a purpose!
How do I decorate my Outdoor Living Space?
Once you've laid the groundwork for backyard living and created purposeful zones in your outdoor spaces, it's time to decorate!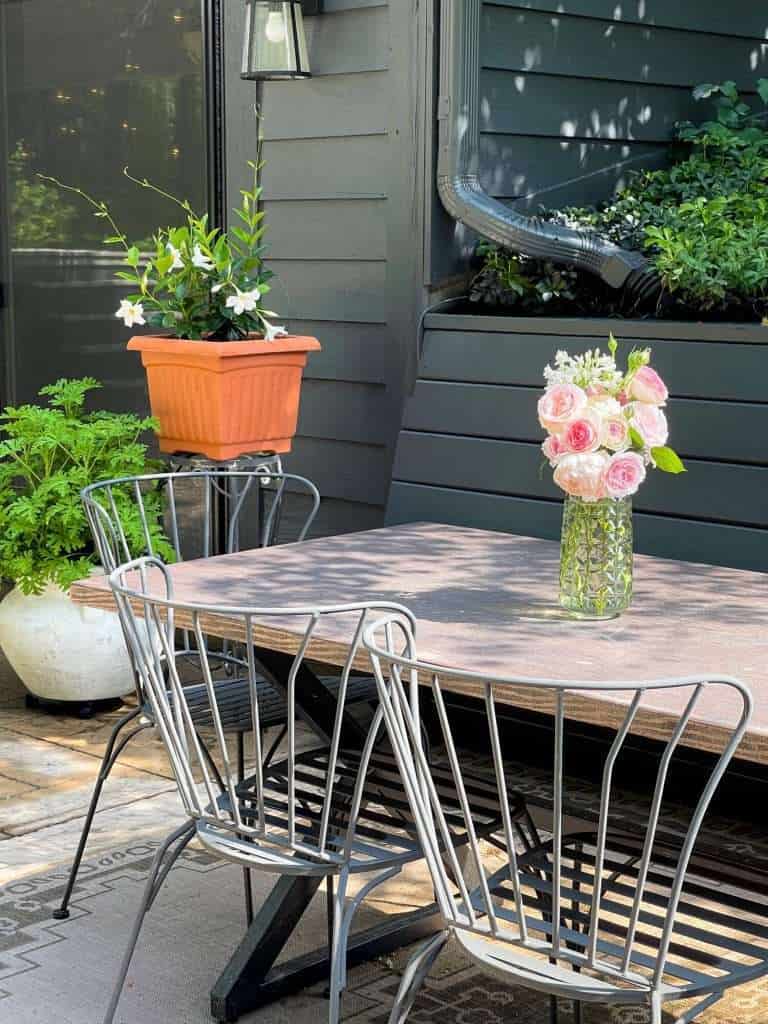 Personally, I am not huge on outdoor decorations. I've seen some absolutely gorgeous outdoor settings with lavish decor and tons of amenities.
Instead, I'm a pretty simple gal. I really just want to create a space that welcomes people to use it and doesn't take a lot of upkeep.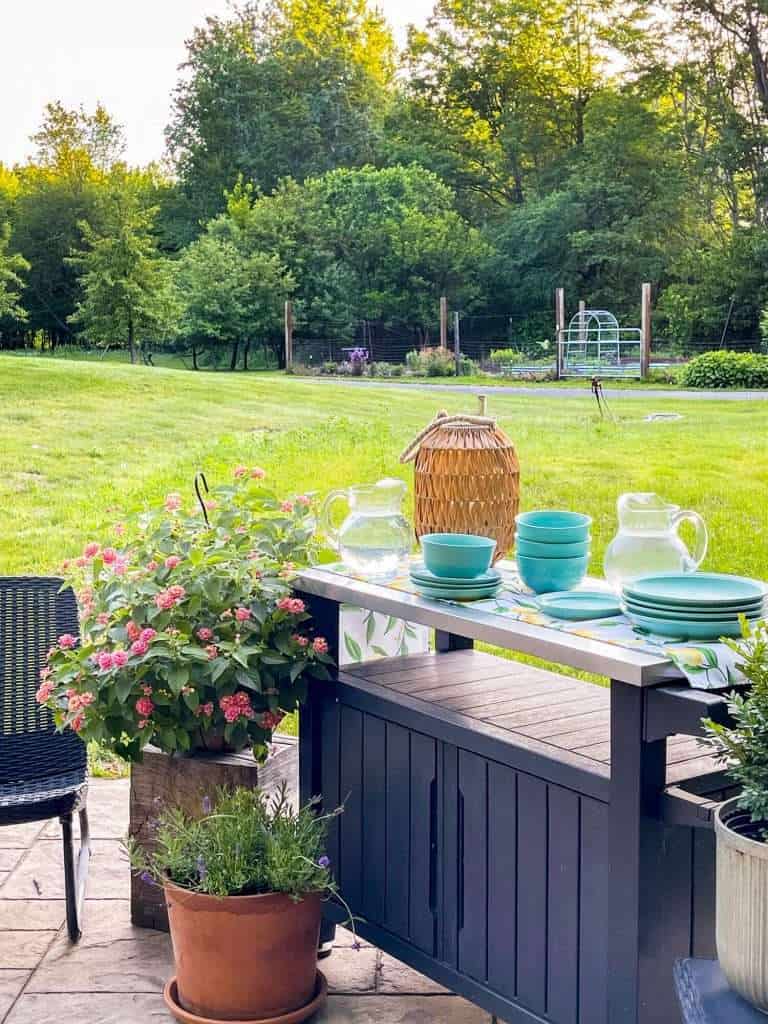 That's where the remaining 15 low-cost backyard living ideas come in!
My favorite simple and budget-friendly outdoor decoration ideas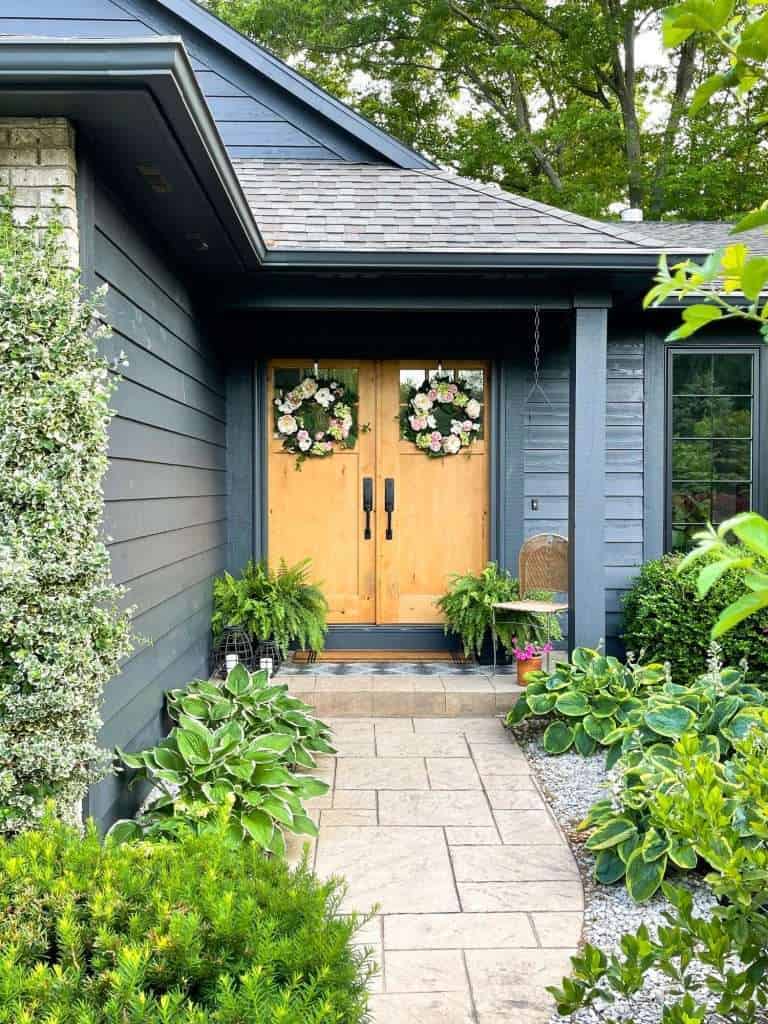 Hang baskets of flowers or ferns.
Add a simple table runner to make a dining table feel extra special.
Use fresh flowers (even just picked from your yard) on an outdoor coffee table or dining table.
Hang outdoor string lights to create a magical feel.
Lay an outdoor rug to help define your outdoor zones.
Place a simple bench in a garden to sit and enjoy the space.
Use an outdoor grill cart to make camp fire entertaining easier and have a place to put necessities.
Purchase comfortable seating so you WANT to spend time outdoors.
Intentionally place sun protection to avoid unusable spaces in warm months.
Don't forget, add bug control and pest repellant for enjoyable backyard living.

Use various herbs and plants like citronella and catnip in planters around your patio.
Install lightweight netting or outdoor curtains around covered patios.
This mosquito shield has been a huge help in our damp backyard.
Strategically place heavy duty bug zappers. I like this insect trap for it's appearance and effectiveness in large spaces.

Use a portable serving station when necessary to make serving food easier.
Go for the good dishes when having guests over to elevate the feel of a backyard party.
Or, paper plates all the way, for casual and convenient entertaining. (See how neither option is wrong and both serve a different purpose?)
Stock up on affordable yard games. These are some of our family favorites that work for large parties as well.

Volleyball
Badminton
Simple sprinklers and yard water slides go a long way with the kiddos (and select adults).

Create a theme. Have a little fun with your outdoor decorations by selecting a theme to stick to in each zone. Maybe one is a tropical paradise, another is a desert oasis, and another is a rustic camp site. Run with whatever your imagination creates!
Create a Backyard Living Space that Meets Your Family's Needs
And last, but not least, create a space for your family's needs. Have a brainstorming session with the whole family to see how you want to enjoy your outdoor spaces. If you don't like to play lawn games, then don't buy any!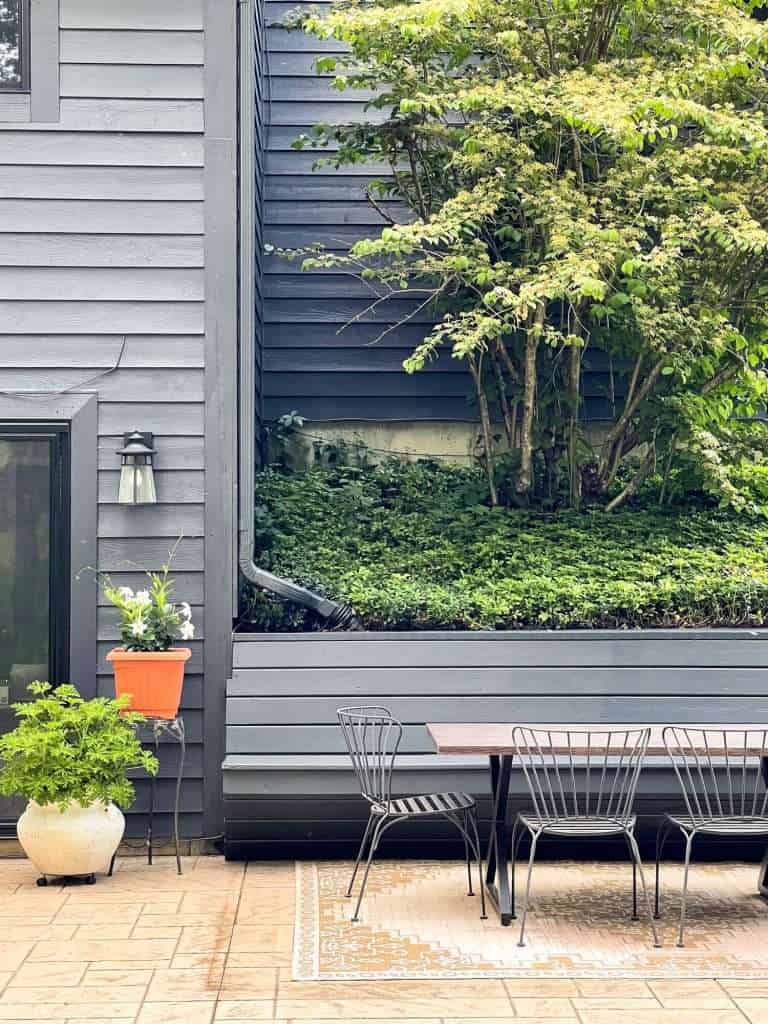 So often we tend to look to what others are doing to recreate in our spaces. But, someone else might not enjoy the same things as your family.
It's so important to design around your needs and set intentional goals to meet those needs. That is the foundation of my book, where I teach you the basics of creating a haven.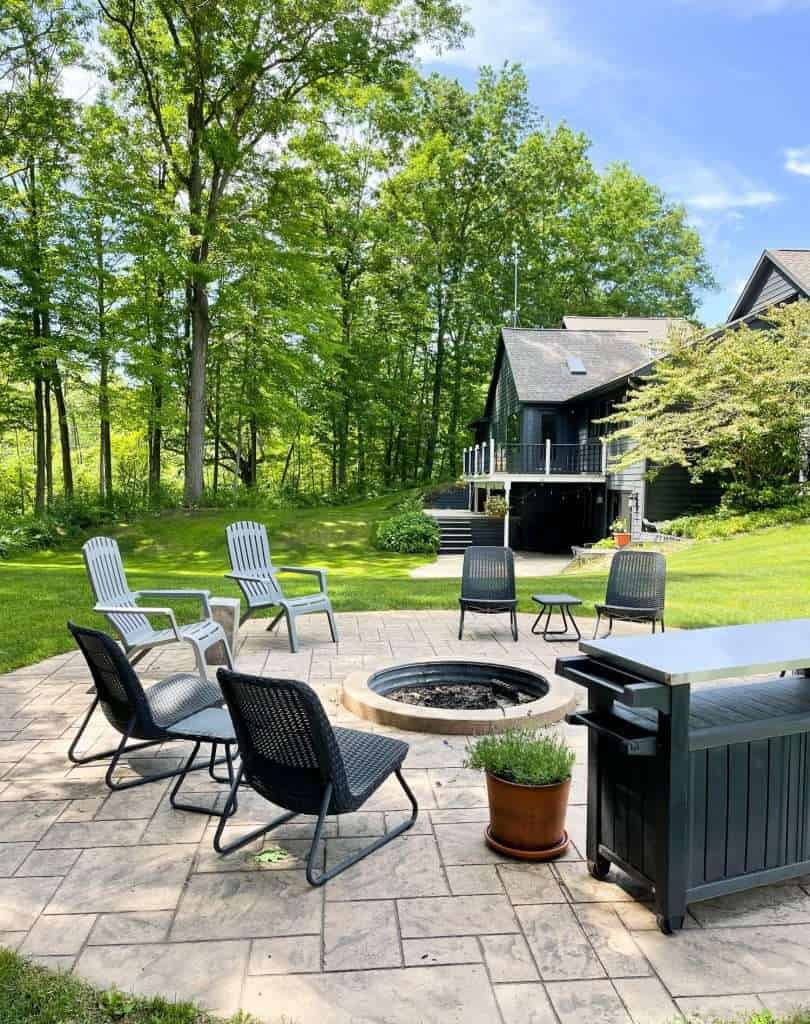 Maybe you need to carve out a very small space to put a comfortable reading chair. Or maybe you need a space for a small garden for fresh ingredients. Perhaps you need a concrete slab for your kiddos to play basketball.
Everyone has different needs and the way you design your outdoor living spaces should be personal to those needs.
Your Next Step
I hope that these 20 low-cost backyard living ideas have been helpful to spark some creative thinking for your own outdoor space!
My goal is always to give you ideas that span years instead of seasons. I hope you can take these ideas and create a space that is sustainable and enjoyable for years to come!
Make sure to write down a few short and long term action steps that you might have thought of as you read this article.
Thanks so much for stopping by the blog today! I hope you'll subscribe to follow along with me for more ideas and inspiration to come. And make sure to follow along on Instagram where I share DIYs, decorating and projects in real time!
Outdoor Decor Sources for Backyard Living
You can find my most asked about outdoor decor sources via the affiliate images below! Simply click a product image to shop.
---

---
Seasonal Simplicity Outdoor Tour
I love sharing ideas from other bloggers as well! Today I'm joining 28 other bloggers all sharing their outdoor spaces. There is something for everyone whether you live in the city, suburbs or country! Visit them via the links below.

This week I'm joining some of my talented blogging friends for the Summer Seasonal Simplicity Series: Outdoor Spaces Tours! Be sure to check out all of the beautiful inspiration by visiting the links under the images below.
Sharing Tuesday…
Inspiration for Moms // She Gave it a Go // Grace in My Space // Deeply Southern Home
Life is a Party // Nina Hendrick // Happy Happy Nester // Craftberry Bush
Maison de Cinq // Hallstrom Home // House by Hoff // My Sweet Savannah
Sharing Wednesday….
The Happy Housie // Joanna Anastasia // Cassie Bustamante // The Tattered Pew
Life is Better At Home // Tatertots and Jello // Finding Silver Pennies // Lemon Thistle
A Pretty Life // Dans le Lakehouse // Clean & Scentsible // Willow Street Interiors