How to Use Flowers that Bloom All Summer in Your Porch Decor
Creating a welcoming entrance to your home is as easy as incorporating flowers that bloom all summer. Flowering annuals accentuate a welcoming environment and add beautiful curb appeal to your home. Here are several colorful annuals that are showstoppers that I love to use each year, including bold and care-free Wave Petunias and a new variety this year, Beacon Impatiens.
A big thanks to Wave Petunia for sponsoring this post.
All thoughts and opinions are my own. Post may contain affiliate links where I earn a small commission on your purchases at no additional cost to you.
Summer Container Gardening
One of my favorite past times is gardening. Even more so this spring and summer as our lifestyle has changed dramatically due to quarantine and stay at home orders.
Gardening has been an amazing outlet for me, an enjoyable family past time, and a great way to be outdoors and enjoy an activity that promotes a healthy lifestyle.
Container gardening is a huge part of my gardening experience, and I love that I'm able to create a beautiful and welcoming entrance with flowers that bloom all summer!
Flowers that Bloom All Summer
Perennial gardening is a huge part of my garden experience; however, perennials have their blooming period and then they are done. So I turn to annuals for flowers that bloom all summer long.
Colorful Annuals
My showstoppers this year for our large planter are Wave Petunias. Their colorful display is absolutely breathtaking and they keep blooming all summer long! I can't wait for them to fill in. They will mound and trail along the sides of my planter for a stunning display.
The colors I'm using are beautiful pinks and purples for my Wave Petunias. Easy Wave Rose Fushion offers a solid medium pink to pair with the variegated variety of Shock Wave Purple Tie Dye.
Together they will be a mass of color around the edges of my planter. Bonus: They are easy to grow and maintain throughout the growing season.
In the center, I used Echinacea Artisan Collection Red Ombre and Celosia Sol Collection Lizzard Leaf Foliage. The echinacea is actually a perennial so I plan to transplant it in the fall into my perennial beds!
White Annuals
In addition to the more colorful varieties, I also like to mix in white annuals for my front porch. These Beacon Impatiens are the perfect neutral companion to the Boston Ferns I use each summer.
Impatiens are a great addition to a container garden because they are so easy to grow, even for first time gardeners.
I used white Beacon Impatiens to line the stage at my wedding, so seeing these brings back such fond memories! This year, Beacon was selected by the official Botanical Artist for the GRAMMY Awards as well! They brought the red carpet to life with 22 topiaries of Beacon White Impatiens atop a lavish carpet of Beacon Red Impatiens. It was stunning!
I will update you on how these beauties fill in as the summer goes on!
Mixing Annuals and Perennials
Finally, I love to line the walkway to our front doors with perennials that provide a green backdrop for my Wave Petunias. Hostas, hellebores, and ferns are greenery options to fill in a lush garden while letting the colorful annuals shine.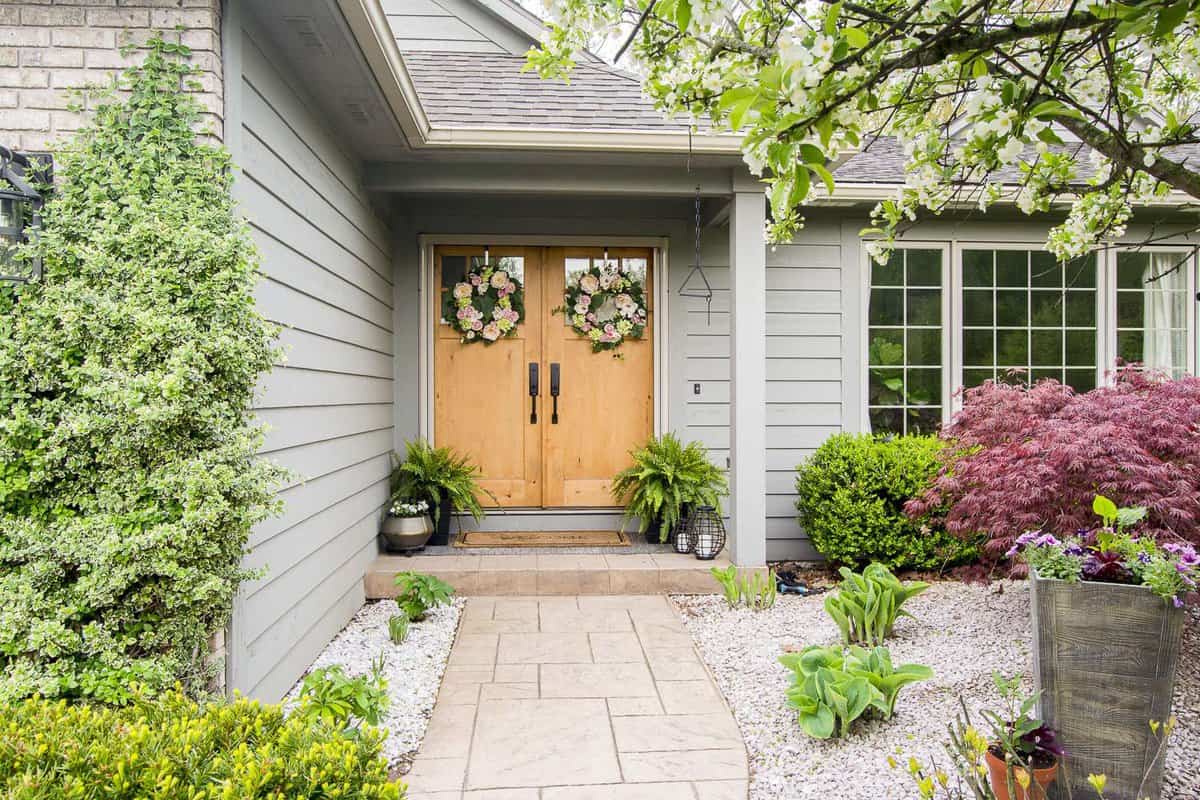 And for the finishing touch, I use colorful wreaths for the front doors. I always try to keep our front stoop a bit more simplified since it isn't very large. Using smaller containers on the steps allows for enough space to walk without it being bland or boring.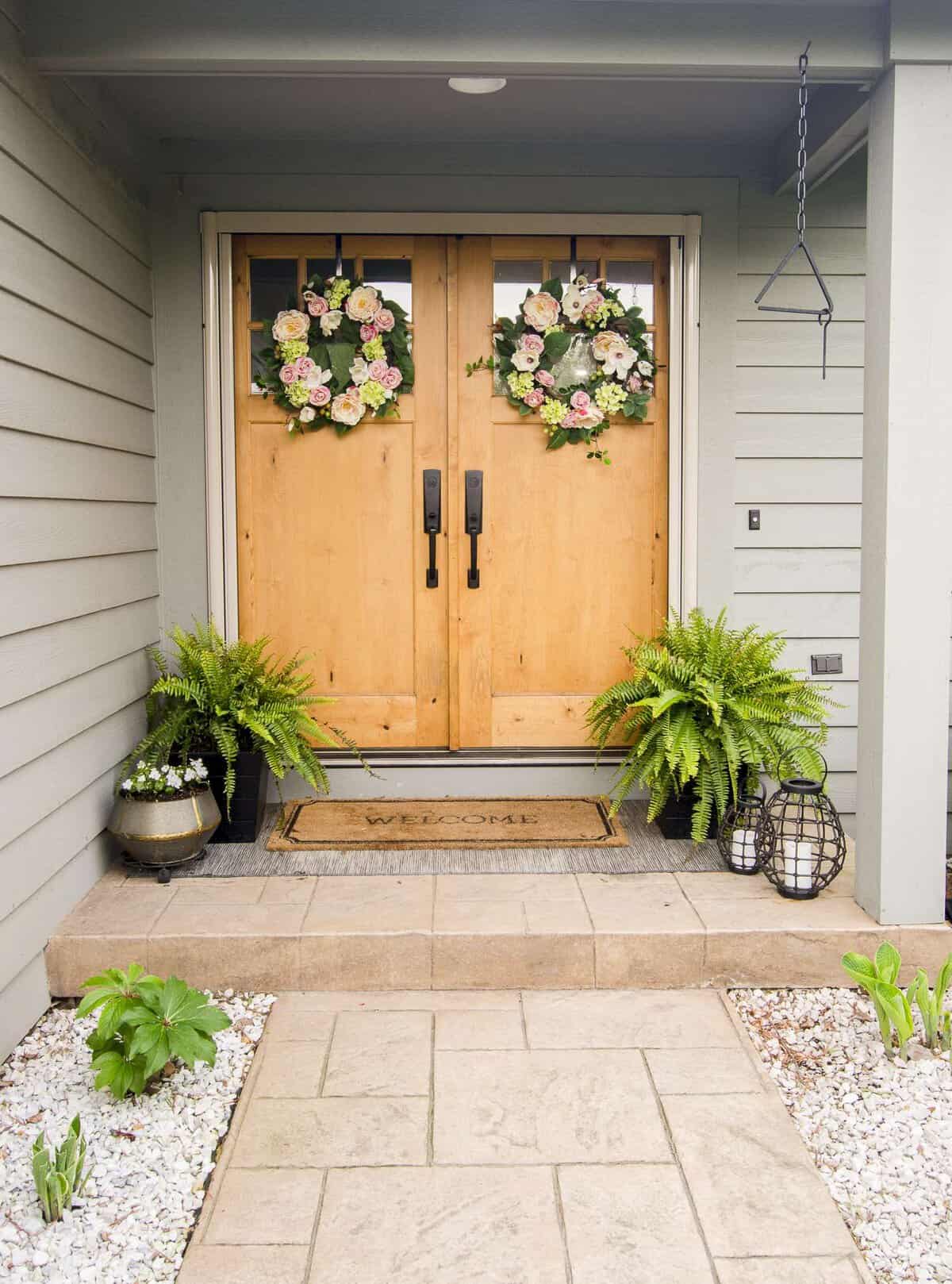 ---
Stay Connected
Thanks so much for stopping by the blog today! Make sure to visit your local garden centers for these beautiful annuals. Wave Petunias are also at all major home and garden retailers, including Home Depot, Menards, Lowe's and more!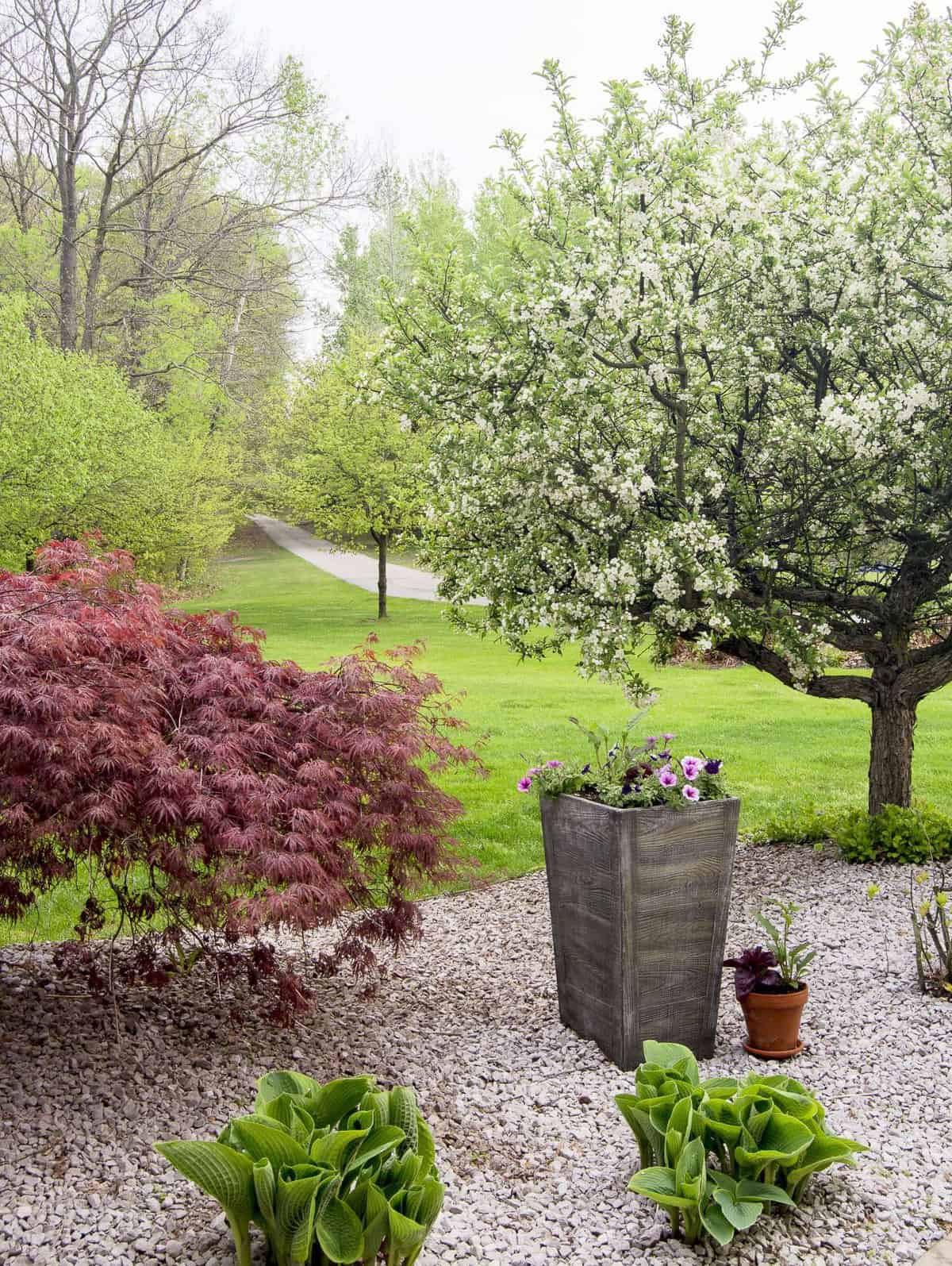 Make sure to check out more of my outdoor gardening adventures as well!