10 Best Kitchen Styling Tips (2023)
Kitchen styling can feel daunting to achieve a balance between design and functionality. Personally, I like to keep my kitchen fairly clutter free. While I wouldn't call myself a minimalist, I like to be intentional in what I display as kitchen decor. No matter your kitchen design style, these 10 best kitchen styling tips make it easy to create a beautiful heart of the home!
Post may contain affiliate links where I earn a small commission on your purchases at no additional cost to you.
Kitchen Styling 101
When we purchased our home, the kitchen was the first thing I designed in my mind. The previous kitchen was much smaller, dark and drab. Since we love to entertain, I knew I wanted to renovate the kitchen with a full gut remodel at some point.
Due to several circumstances out of our control, we ended up remodeling much sooner than I had anticipated. However, I'm so glad we did! Now our kitchen is my number one most asked about room in our home.
So I want to give some kitchen styling tips for all those who ask me about it daily.
There are a few different mindsets when it comes to kitchen styling that are at opposite ends of the spectrum.
Kitchens are a workhorse and don't need decor.
Kitchens should be beautiful, even at the expense of functionality.
My mentality lands somewhere in the middle.
Kitchens should first be functional, and then enjoyable to be in. But always both!
To achieve that goal, let's answer some commonly asked questions about kitchen styling.
Before we do that, I want to mention that I do have a free e-course available for those who need a little help in this area! You can sign up for my 3 module e-course that will help you create a haven in 10 easy steps via the form below.
How do you style a kitchen?
First and foremost, styling a kitchen should have three main components in mind.
Layout and design
Functionality
Finishing touches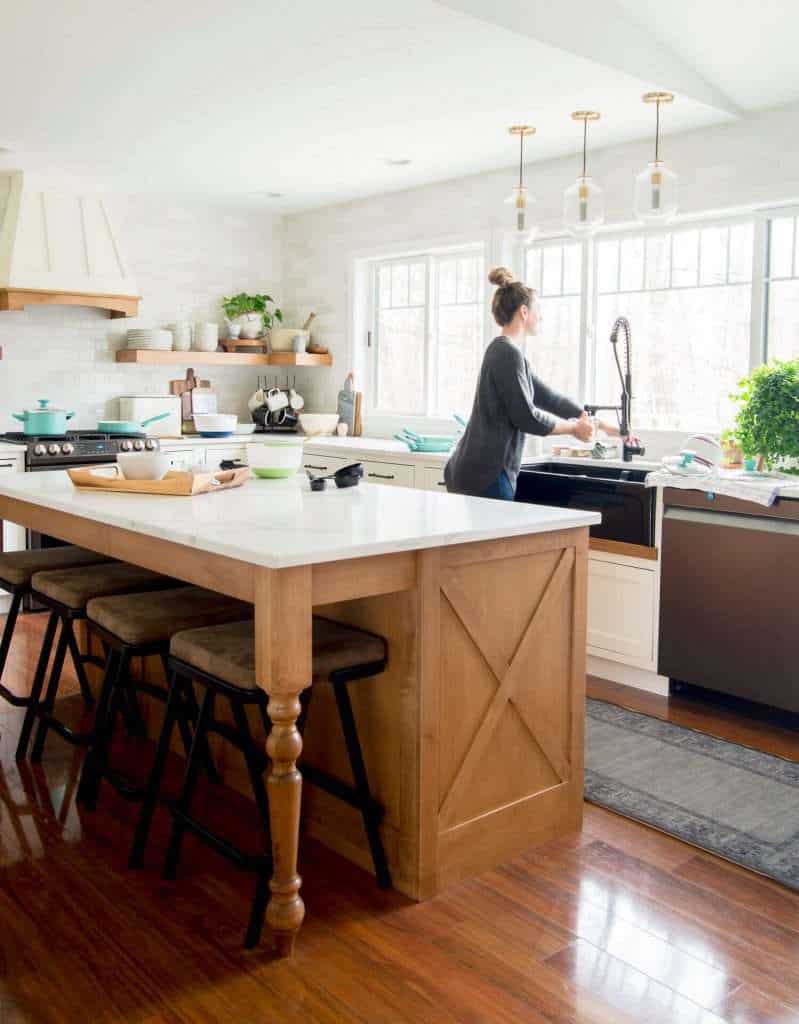 Layout and Design
Kitchen Layout Assessment
Everything starts with the design and layout. Most of the time, we can't control the layout of a kitchen unless it is a new build or full remodel. That's ok!
Even when working with an existing kitchen layout, you can make small tweaks to the space to help it function better.
First, assess where your main functional items are in the room and how they form a shape. Things to consider are your refrigerator, range, sink and workspace.
Then, draw out how you move around the kitchen when cooking or cleaning.
Literally, take a moment and go into your kitchen right now. Pretend you are making dinner. How do you move around the space?
Are you constantly running from one end to the other because your baking supplies aren't by your oven? Do you have to move things out of the way to access frequently used small appliances?
Would it be helpful to swap the location of items that are used daily like utensils and dishes to be closer to the serving or eating area of your home?
Often what happens when we move into a home is we unpack everything, do our best to put it away where we think it will work best, and then it remains there forever.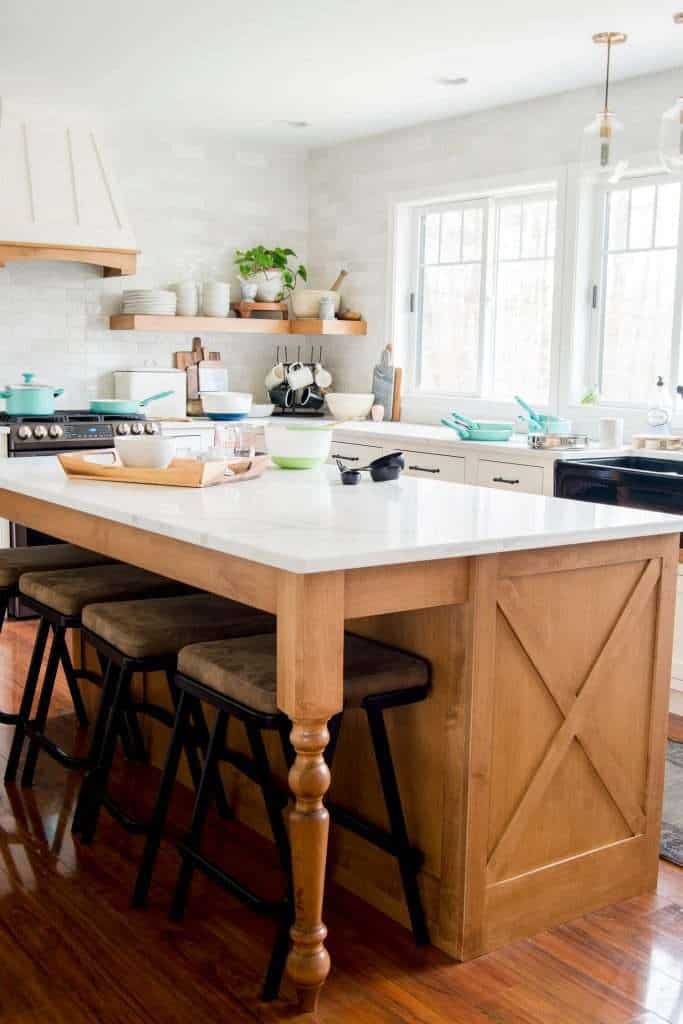 Instead, take some time to actually assess whether or not the location of functional items works for your space. If things need to be adjusted, then take an hour and rethink HOW you use the space and where to store functional items.
Kitchen Design as a Styling Element
Next, let's consider your kitchen design. This is where I want to camp for a moment on the topic of kitchen styling.
More often than not, when people consider the phrase "kitchen styling," they think about dish towels, signs, and cute decor.
When I think about styling my kitchen I want to start with the overall design.
Using large scale design as the main way to style a kitchen is the easiest, most functional, and longest lasting way to style a kitchen.
Main design focal points give life to kitchen styling without actually having to use any decor. Here are some examples of design focal points that create a styled environment on their own:
Full height backsplash
Intentional details in cabinetry (wood design, glass front, wood species..etc)
Countertops
Open shelving
Lighting
Hardware
Many times people think they need to completely renovate a kitchen to get a new look, however swapping out one or two of these key elements can change the look of a kitchen on a smaller budget.
You don't need to do a full gut remodel to get a new look to your kitchen design!
How Can I Decorate My Kitchen on a Budget
So far we've talked about optimizing your kitchen with a functional layout, using design as a styling element and updating your kitchen design with budget-friendly projects.
These are the key elements to laying the foundation for a beautiful and functional kitchen! The final step is to accessorize!
There are a few main areas that are easy to decorate in a kitchen:
Kitchen Countertops
Shelving
Wall Decor
Let's break each one down with some styling tips.
How to Accessorize Kitchen Counters
I am not a huge fan of filling my kitchen countertops with decor. I have a lot of counter space, so some might say that I actually have a lot of decor out, but my ratio of counter decor to countertops is fairly small.
If I had less counter space to work with, I would basically remove everything you see on my countertops except the items I use daily and 1 plant. Because I deem plants essential. 😉
However, this is completely a preference! I like less countertop decor because it gives me more kitchen workspace. Someone else might love the layers of countertop decor and the encumbered workspace doesn't bother them.
No matter your preference, here are a few kitchen styling ideas for a kitchen countertop:
Layered cutting boards (Display the ones you actually use daily!)
Plants (If you're a plant newbie, make sure to check out my indoor plant care posts.)
Risers for soap, plants, or other small decor items. These help grouped items to feel more cohesive.
Quality kitchen knife set (When you're selecting items like this, shop first for functionality and then find an option that's pretty too! It can serve double duty this way. We've loved this knife set.)
Fresh flowers (Even better if they are free from your garden.)
Tiered trays with smaller decor tchotchkes that you love! (This elevates the decor upward instead of taking up valuable counter space.)
How to Style Kitchen Shelves or Display Cabinets
Next, let's take the decor upward.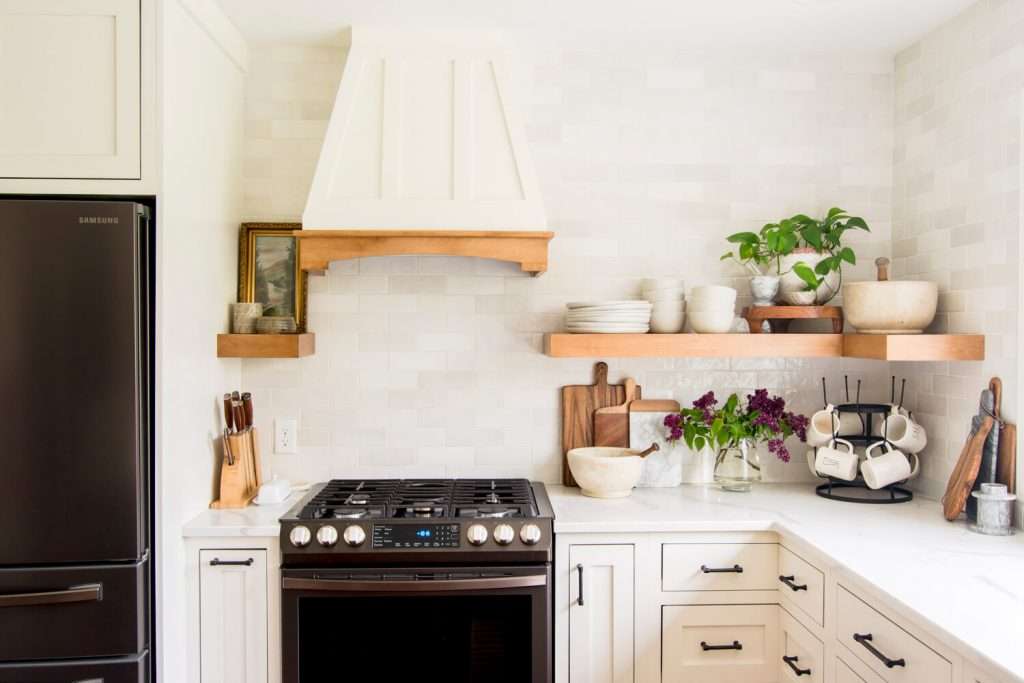 I've styled my kitchen shelves dozens of ways! If you're a visual person, peruse my kitchen archives for tons of ideas on open shelf styling for every season.
I like to rely on color and natural elements for seasonal kitchen styling.
But my favorite type of kitchen shelf styling is a combination of everyday items, a favorite collection, and an unexpected element.
Above, you can see that I have my everyday dishes displayed first for functionality. Then, I layer in a collection of mortar and pestles that I've found over the years. And a final unexpected element is a small antique painting.
This is a great equation for interesting kitchen styling that remains functional:
This equation can be used on display cabinets with glass fronts, on top of upper cabinets and on open shelving.
How to Display Wall Decor in a Kitchen
The final area where you can use styling strategies in a kitchen is on the walls.
I've chosen to keep the majority of my kitchen walls decor-free because I used a full height backsplash as my design element.
However, if you have some open wall space, here are a few ideas that I've used in the past!
Large scale wall hangings help a space feel decorated without being cluttered.
Oversized cutting boards can be displayed on a wall that give a nod to the functionality of a kitchen while showing off beautiful wood details.
Menu boards or family organization centers are a perfect way to keep kitchen wall decor practical.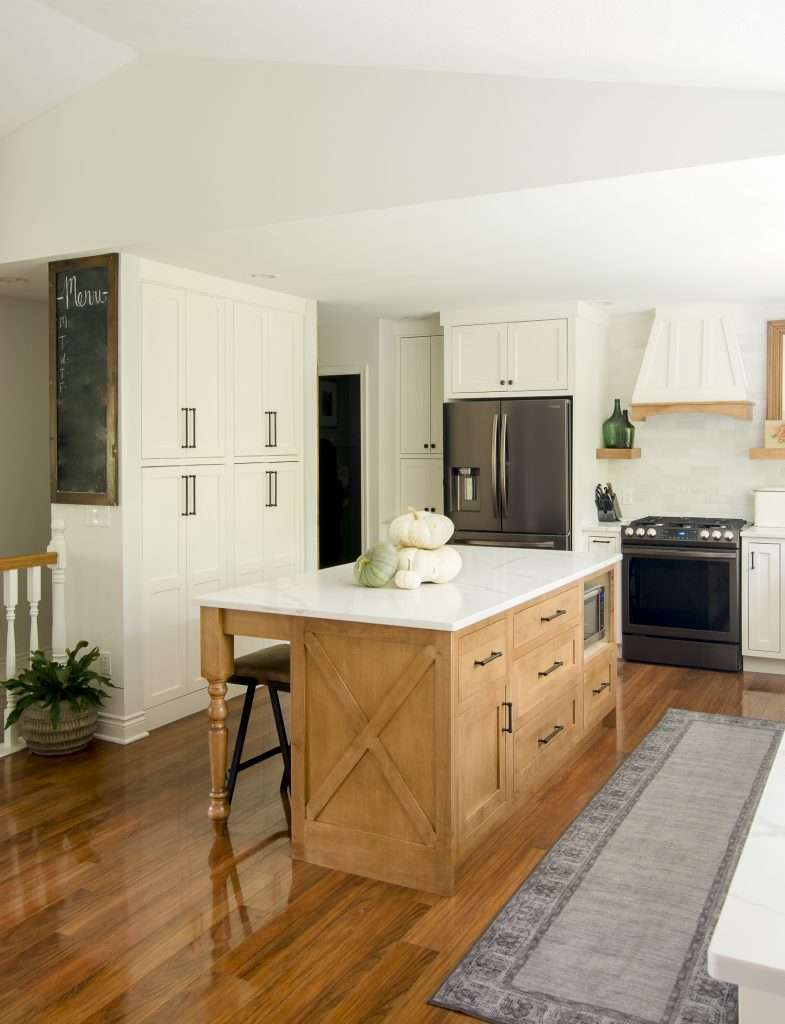 Additional Kitchen Styling Accessories
Of course, you can always add finishing touches to your kitchen styling with these kitchen accessories:
A beautiful area rug that fits your space. I love using these washable rugs in my kitchen since they are beautiful and practical.
Hand towels that are stylish and absorbent. You can find some of my favorites in the source book below!
Cute trays, risers or soap dishes that serve a practical purpose while adding style.
Mug racks, dish racks and other practical storage solutions that display everyday dishes.
Bar or counter stools, if needed, are a great opportunity to add in some fun personality!
10 Best Kitchen Styling Tips
Here's a recap of the 10 best kitchen styling tips to help you create a beautiful AND functional kitchen.
Consider your kitchen layout as the foundation for good kitchen styling.
Use design as your first styling element.
Make budget friendly updates to intentional areas of your kitchen before considering decor.
Layered cutting boards
Always, add plants! Even if you can only commit to faux plants, they always bring life to a room.
Use risers for soap, plants, or other small decor items.
Invest in a quality kitchen knife set and display it with other practical items.
Add fresh flowers whenever possible.
Style tiered trays with smaller decor tchotchkes that you love!
Think on a larger scale when decorating kitchen walls.
And remember, this simple kitchen styling formula:
Kitchen Styling Design & Decor Source Book
If you are looking for sources from this article, you can find them via the links below!
Kitchen Design FAQs:
Kitchen Decor Source Book
While some of my kitchen decor is no longer available, or is one-of-a-kind, you can shop the available kitchen decor items via the affiliate images below.

---
Stay Connected
Thanks so much for stopping by the blog today! I hope that these 10 tips have been helpful as you decide how you want to style your kitchen!
Make sure to subscribe to the blog to register for my free haven-making e-course! And you can follow along with me daily for real-time projects, tips and recipes over on Instagram!