15 Best Tactics for Low Maintenance Flower Beds in the Midwest
Low maintenance flower beds are a dream: all the beauty without all the work. Beautiful flower beds are something I enjoy and add so much curb appeal to our 38 acre home. However, I want low maintenance front yard plants that I can enjoy without slaving over. So today, I'm sharing 15 best tactics for low maintenance front yard ideas in the Midwest (and beyond)!
This post may contain affiliate links for your convenience.
Easy Landscaping Ideas for Front Yard
When we purchased our home, much of the landscaping was done already. Some of it I loved, some, not so much. We've tweaked it over the last four years by ripping out some of the unruly shrubs and replacing it with my favorite low maintenance plants.
If you'd like a full tour of our 38 acre property, make sure to check out this video!
However, what I knew from the start was that I needed low maintenance front yard landscaping. With 38 acres to maintain, I could not keep up with landscaping that was labor intensive and high maintenance.
Instead, I wanted the front yard landscaping plants to take care of themselves and be stunners at the same time. Sounds realistic, right?
Turns out, it is!
While no landscaping is 100% maintenance free, there are many ways to create low maintenance flower beds and landscaping that offer beautiful curb appeal without spending hours of daily maintenance.
Big Picture Strategies to Designing Front Yard Landscaping
First, here are the overarching strategies to a low maintenance front yard. Then, we will get into the details.
Design your landscaping for your zone. (i.e. Don't include tropical plants in a northern climate.)
Create flower beds that are realistic in size to what you have time for. (i.e. Don't design 10 flower beds when you have 15 minutes a day to devote to them.)
Use 95% perennials to 5% annuals to cut down on cost and planting time each year.
Keep in mind what kind of obstacles you may need to overcome on the front end. As you design your front yard landscaping, make a list of things that could cause issues down the road, and then come up with solutions before starting. Do you have deer, rabbits, moles or other critters that will be a nuisance? Choose plants that are resistant to these animals. Do you have a sloping yard that washes out easily? Invest in a retaining wall to keep your investment in place. Is your water source far away? Run water lines for easy hose watering.
Think through the seasons. Plan for something to be visually appealing whether it's summer or winter.
Automate as much as possible. Underground sprinkling is an absolute game changer. If you can't afford it, invest in soaker hoses or sprinklers that you can strategically place in your flower beds.
Now, let's get into some more details for low maintenance front yard ideas and simple flower beds that will thrive in the Midwest!
15 Tactics for Low Maintenance Flower Beds
Whether you need landscaping ideas for the front of your house, backyard, side yard, or dedicated garden, these 15 tactics will help you enjoy your landscaping!
Here's a quick summary of the items we will cover next.
Stone/rock v. mulch
Professional grade landscape fabric
Preen applied seasonally
Drought resistant perennials
Play with pattern
Repetition of plants
Mixture of trees, shrubs and flowers
Vary heights of plants
Leave a spot for annuals for full season color
Create landscaping where there is a water source (or add one) to avoid lugging heavy water containers
Nix straight lines and design with curves for landscape boarders
Metal or brick edging
Evergreens for year round color
Vary plant color for interest
Avoid invasive vines or ground covers
Best Structure and Materials for Low Maintenance Flower Beds
First, let's talk about materials. Using high quality materials will go a long way in keeping your garden and landscaping maintenance free (or close to it).
Weed Prevention
Once you've designed the layout of your flower beds, invest in professional grade landscape fabric to cut down on weeds. My favorite weed barrier can be found on Amazon or Walmart. It is what I've used in our huge garden and has held up so much better than any other brand.
Additionally, you can use cardboard and newspaper for more organic options.
However, weed barrier is not 100% impenetrable. Think about it, even cracks in concrete grow weeds! So you will have to make sure to remove any sprouting weeds as soon as you see them to stay on top of it.
I also love Preen applied seasonally as it dramatically reduces weeds before they start.
Stone v. Mulch
Next, you will need to decide whether you want to include stone/rocks or mulch/bark in your flower beds. This will create a beautiful cohesive garden, and can also aid in weed prevention.
We have rock in our front yard and mulch in our garden. Both have pros and cons.
Rock/Stone
Doesn't deteriorate or discolor
Easy to spot and treat weeds
A large variety of options
One-time cost
Extremely low maintenance
High-heat environments may not do as well since rock holds heat and increases evaporation
Difficult to remove if ever needed
Mulch/Bark
Natural visual appeal
More affordable on the front end but needs to be replaced as it deteriorates
Retains soil moisture
Nourishes soil as it breaks down
Easier to work with as it isn't as heavy
More protective of plants
Can become infested
Less color varieties
So, depending on your needs, choose rock or mulch that fits your desired look and practical needs.
Flower Bed Boarders and Edging
The next material to consider is your flower bed boarders or edging.
If you are looking to add raised flower beds, make sure to check out this article where I shared my favorite no-tool needed raised bed option. I built this myself in an afternoon and it is such an affordable and easy raised flower bed.
If you are installing ground level landscaping or flower beds, then consider a low maintenance edging.
I like this metal edging for its simplicity and long lasting durability in our flower garden.
Additionally, you can use no dig edging or affordable pavers laid vertically and then butted up horizontally for easier mowing around flower beds.

---
The benefit to using flower bed edging is that it creates a tidy appearance for your front yard landscaping. It is an easy dividing point between flower beds and grass, and gives you more control over the shape of your landscaping. It also prevents rock or mulch from overflowing into your lawn.
When designing the shape of your landscaping, consider adding curves. They elevate the look of a garden drastically and provide interest and flow. Plus, curved boarders add dimension to your front elevation for a high end look.
Best Plants for Low Maintenance Landscaping
Next, let's talk plants! Plants in the North or Midwest need to be hardier than southern climates. Your most important factor in choosing plants will be determining which gardening zone you live in. Then, purchase plants that are going to survive there!
You can find your gardening zone here.
If you are looking for low maintenance flower beds then focus on these types of plants:
Hardy perennials that come back every year to reduce planting time. (Additionally, well established perennials require less watering than annuals.)
Drought resistant plants that don't require hours of watering.
Evergreen shrubs for year round beauty.
Non-flowering trees (to avoid seasonal clean up)
Non-invasive vines or ground cover
Robust and large bloom plants for the biggest show without multiple plants (ex: hydrangeas, hibiscus, rhododendron, tall grasses, dahlias)
In my front yard flower bed, I have a repetition of various hostas, hydrangeas, boxwood, evergreens, and spirea. Additionally, we have flowering and non-flowering trees, and a Japanese maple for color. With that in mind, let's talk about designing your flower bed for interest!
Best Landscaping Design Plans for Interest
For some additional simple landscape ideas for the front of your house, keep these landscape design rules in mind:
Play with pattern. Where you place your plants is as important as what plants you have. Create a pattern in your flower bed by grouping like plants in sections for a statement making display. Conversely, you can alternate plant placement for a more whimsical look.
Repetition of plants. Next, make sure to repeat the same plant in your flower bed. Whether you repeat in groups, like I talked about above, or you repeat plants by placing them throughout the garden, it will go a long way! Plant repetition helps your garden feel cohesive and also cuts down on maintenance if you choose hardy perennials.
Mix trees, shrubs and flowers. As you design your flower beds, make sure to mix trees, shrubs and flowers. Use ornamental trees to provide shade for shade plants. Include evergreen shrubs for year round color. And add flowers for a striking display.
Vary heights of plants. Along with mixing trees, shrubs, and flowers, make sure to vary the height of your plants. This also goes along with playing with pattern. Place the tallest plants in the back and gradually work to the shortest in front. This will create visual appeal, but also be easiest to maintain so you aren't climbing through tall plants to get to shorter ones in the back.
Leave a spot for annuals for full season color. This can be in your flower bed or in pots. If you have a bit more time on your hands, plant annuals sparingly for full season color. Perennials are beautiful, but most bloom and then they are just foliage. So if you want season-long color, annuals are the way to go!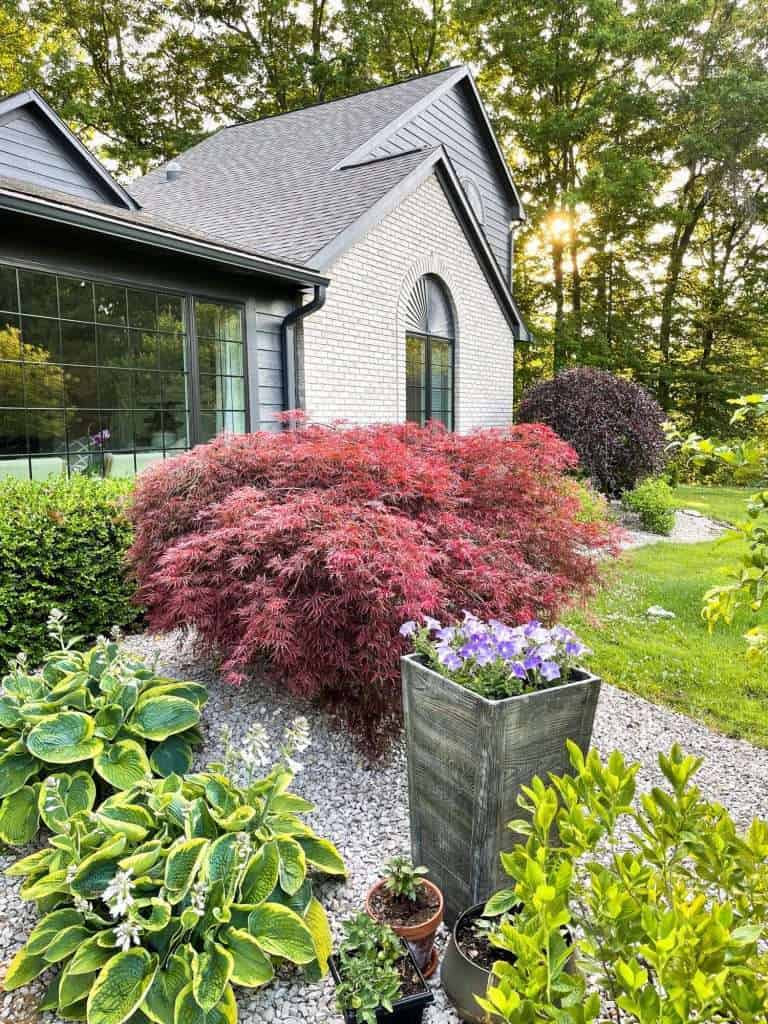 Best Tools for Low Maintenance Flower Beds
Now that we've come this far, it's important to note that even if you do all of the above, you still have to maintain your gardens.
Regular maintenance make it possible to have low maintenance landscaping. Without regular maintenance, things will quickly get out of control, overgrown, and weed infested.
However, with weekly care, you will find that you can keep up with your landscaping using these helpful tools.
Let's break it down by the necessities versus tools that are extremely helpful time saving tools, but you can still get away without them.
Garden Tool Must-Haves
Quality Pruners
Quality Shovel
Small shovel
Hori Hori Knife
Knee pad
Mulch fork
Weeding tool
Garden Clippers
Gardening Gloves
Long handled hoe
Garden Tool Would-Be-Nice-To Have
Electric Hedge Trimmer (If I had to choose one tool from this list to be on the must-have list, this hedge trimmer would be it!)
Lawn edger
Skinny rake
Weed Whip
Tree saw or mini chain saw
Tool organization system
I've rounded up my full list of favorites for you to shop all in one spot here.
What's Next (For Me & For You)
Next in our landscaping adventures is the barn!
See all that dirt on the right side? That's where we cannot grow grass due to very sandy soil and shade. I'm determined to landscape this shaded area this summer with plants that can handle anything. Stay tuned!
In the meantime, check out these other posts which I think you'll find helpful related to this topic!
Stay Connected
I hope that this has been helpful as you seek to create low maintenance flower beds and front yard landscaping! Make sure to subscribe to the blog for all my insider perks.
You can also follow along with my daily on Instagram and weekly on YouTube for live projects, tutorials, styling and gardening tips!
Thanks for stopping by!
~Sarah