$250 DIY Bathroom Remodel on a Budget
Do you need a budget bathroom makeover? I certainly did as we continue to remodel the Haven Cottage. Come remodel my bathroom with me for $250! I'll teach you some pro tips for how to do a DIY bathroom remodel on a budget and still have amazing results.
This post may contain affiliate links provided for your convenience.
Budget Bathroom Makeover | The Before
Let's take a look at what we were working with over at the Haven Cottage.
That's a lot of red.
The cottage bathroom was very builder grade with cheap cabinets, plain fixtures and a no frills style.
It is a very basic bathroom, but it did have a few things going for it!
Nice flooring
Neutral countertops
Double vanity
So as I planned the design, I kept coming back to how to update a bathroom that is boring without actually replacing the builder grade elements. My goal was to keep the existing vanity. Then, I knew I could work around the basic countertops since they are at least a neutral color.
The rest of the design becomes aesthetic at that point!
Let's dive in to how to remodel a bathroom on a budget.
(Not to fear; I'm also giving you tips if you need to replace more expensive items like flooring or countertops!)
DIY Bathroom Remodel on a Budget | The Plan
My plan for remodeling our bathroom on a budget revolved around paint, affordable fixtures and a statement maker.
The statement maker helps detract from the elements that aren't my favorite, but weren't in budget to update! Never underestimate the power of distraction.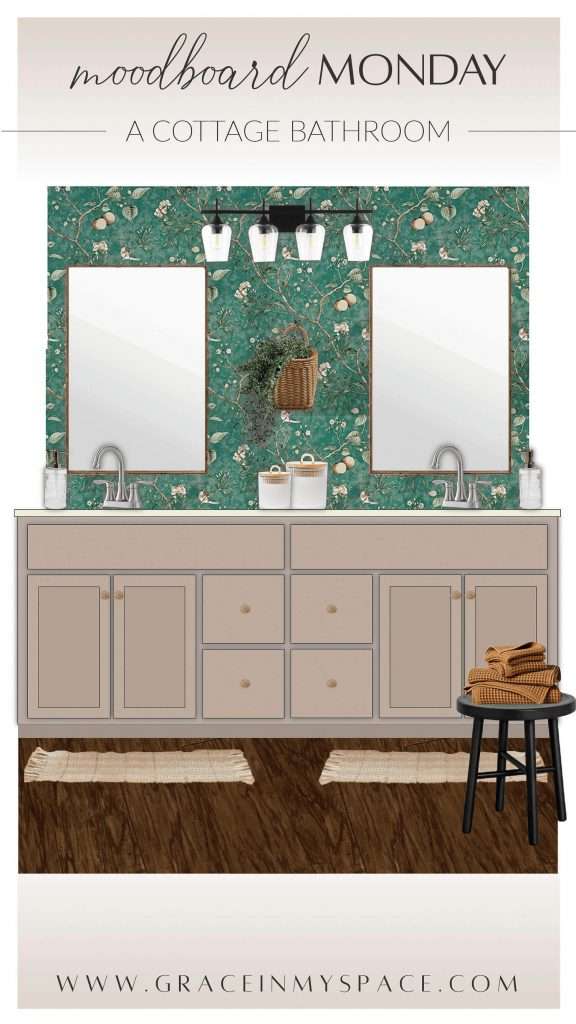 Here are the steps to see how my design came together.
Decide what bathroom elements I would not change to stay in budget. I kept the existing:

Towel Rings
Faucets
Countertop
Vanity
Flooring

Determine how to update the other elements to coordinate and mesh well with what I kept.

Add wallpaper as the design focal point
Paint the vanity
New light fixture with coordinating metal finish to the existing nickel faucets.
New mirrors to play off the new cabinet hardware and wallpaper.
The starting point to the entire design occurred when I found this vintage inspired wallpaper. It was just the statement maker I needed to create visual interest in the bathroom to help distract from the builder grade elements.
It kicked off a flow of design from one piece to the next. Since the wallpaper has birds, trees and woodsy elements, I pulled out those themes to choose wood mirrors and cabinet hardware.
From there, the vanity paint color easily fell into place with a light taupe to play off the fruit and floral color of the wallpaper.
Low Budget DIY Bathroom Vanity Makeover
Now, when deciding how to remodel a bathroom, one of the most important budget friendly decisions you can make is to update the existing vanity or bathroom cabinetry.
Buying new cabinets or vanities is a huge expense. On the other hand, it doesn't take much to update a bathroom vanity with paint and new hardware.
If the structure of the vanity is too plain, you can always add trim to beef it up as well!
You can see how I took flat panel closet doors and added very simple trim to create dimension in this post.
This is one of the simplest ways to create a more custom look. You can make cabinet doors and drawer fronts even more customized with more detailed trim, fluting or even a custom design!
For our bathroom vanity makeover, I simply painted it the same color as the doors and trim in the rest of the cottage.
The color is Studio Clay by Sherwin Williams. It is the same color we used on our exterior deck makeover.
I love that it is a more saturated taupe with mushroom undertones. It worked very well with the wallpaper.
And it provides a neutral vanity color while creating contrast with the creamy vanity countertop.
Once the vanity was painted, I replaced the previous nickel hardware with extremely affordable wood knobs.
Since the knobs come unstained, I used coffee to stain them and then sprayed them with a coat of poly for protection and durability.
The total cost of the DIY budget bathroom vanity makeover was $20!
DIY Bathroom Remodel | The Finishing Touches
Now for the finishing touches! This DIY bathroom remodel on a budget was easy to complete with a modern light fixture and polished mirrors.
Let's grab a quick before and after to take a closer look at how easy it is to update a space with some finishing touches.
To complete the look, I chose a black finish for the vanity light fixture to coordinate with the other nickel finishes in the room.
If you're new to mixing metals, make sure to check out my blog post on how to mix metals in bathrooms. The same principles apply to kitchens as well!
With all of the main design elements in place, all that was left was accessories.
I went with very streamlined wood mirrors that would not compete with the bold wallpaper. I found my set of 2 mirrors for $70 at Home Goods (a STEAL!). This mirror is a great look alike if you don't want to go on the hunt.
After all the necessities are chosen, it is simple to add some accessories. I love plants in a bathroom if it's doable with lighting. Other than that, some nice hand towels and bathroom countertop accessories are all that's needed!
I also added a cute Water Closet sign for a finishing touch, as well as a nice step stool for the kiddos.
Shop WC Signs

---
Sometimes all you need to do to create an elevated look is go with a more quality material for everyday items. Wood instead of plastic, glass instead of rubber, metal instead of PVC. Quality materials can go a long way!
Options for Updating Flooring & Countertops
Since our DIY bathroom remodel didn't include having to update two expensive elements, flooring and countertops, I wanted to address some affordable solutions!
If you need to update your flooring, paint is an amazing option. You can paint just about any flooring material, including outdated tile or linoleum. If you go this route, make sure to clean and prep especially well. Then, use a paint specifically formulated for floors for best durability.
If you have outdated countertops, but new counters aren't in budget, consider paint again!
Beyond the normal countertop refinishing kits, you can also think outside the box.
In our guest house bathroom makeover, I used a $3 can of appliance epoxy to refinish the pink countertops. You won't believe how they turned out! You can see the before and after in this post.
That has held up great for our guest house. It would be a band-aid fix for a bathroom that gets daily use, but for a low-use bathroom it was perfect. It is also a great intermediary until you're ready for new countertops down the road.
Stay Connected
I hope that these ideas for a DIY bathroom remodel on a budget have been helpful to you!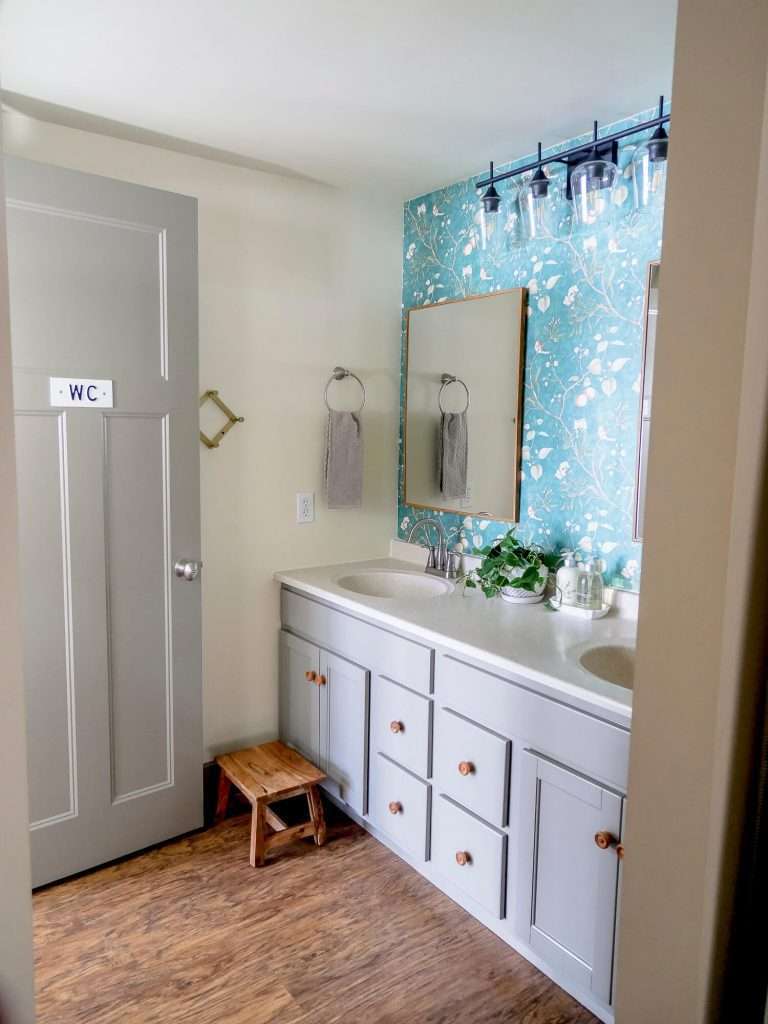 You can see how this space came together in my recent YouTube video where I share the entire makeover!
Shop the Look

---
Make sure to subscribe to the blog for all my insider perks! You can also follow along with me daily on Instagram and weekly on YouTube for in the moment projects.